A hands-on introduction to information technology

Google IT Support is intended to introduce you to the field of computing and information technology to prepare you for entry-level jobs in IT support. The course covers the essentials of troubleshooting, customer service, networking, operating systems, system administration, and security. Upon successful completion, you will be eligible for an IT apprenticeship or full-time work opportunity through one of the many industry partners.
This hands-on introduction to IT course uses the Google IT Support Professional Certificate, developed by Google and hosted by the Coursera online learning platform. There are thousands of open entry-level IT-related jobs in the Cincinnati region, and this program will provide you with the requisite knowledge and experience necessary to find work immediately in several types of IT-related roles. No experience is necessary for this program. 

Check back for next session dates. You may join our email list to receive updates.
The University of Cincinnati provides all students as part of our certification programs access to career development tools and services through UC's NEXT Apprenticeship Program, including 1 on 1 career counseling and support. Students who complete our programs gain access to exclusive job boards, resume review tools, personal branding tools, and career guidance including resume reviews, networking, and interview skills.
UC is an approved provider of tech training eligible for the Ohio TechCred. Employers who are approved for this funding will be reimbursed for their employees training.
Prospective Students: Ask your employer to apply for the Ohio TechCred. Once they are approved, you may enroll and your employer will pay for your tuition. Once you complete the program and earn your certificate, your employer will be reimbursed.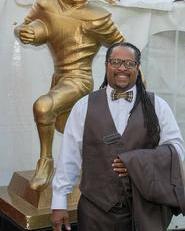 Kenny R. Pope
Asst Professor - Educator, CCPS IT Co-op
150K University Pavilion
Kenny Pope is a first-year doctoral student in Educational Studies, Educational Policy and Higher Education track and is advised by Dr. Antar Tichavakunda. He currently works as a faculty member in the Division of Experiential Learning and Career Based Education (ELCE) here at UC. Kenny's research interest are focused on Diversity, Equity, and Inclusion in Information Technology. He has a B.A from Wittenberg University in Springfield, Ohio and a Master's in Education from the George Washington University in Washington, DC. Kenny is a Cincinnati native who enjoys traveling the world, playing golf, coaching baseball, cheering on the Bearcats and all sports related video game competitions, especially virtual reality.