UC/PNC Economic Outlook Conference
February Roundtable event examines prospects for the U.S. and local economies in 2021
The UC Real Estate Center's February Roundtable program presents its 27th year of PNC Bank's partnership with the University of Cincinnati to co-host the UC/PNC Economic Outlook Conference.
Over the years, this annual event has drawn capacity crowds to various downtown Cincinnati venues to hear experts' views on the Cincinnati and U.S. economy, major real estate sectors, as well as market forecasts and economic projections for the current year and beyond.

While this year will mark the first PNC Economic Outlook Conference to be held virtually, the series will again welcome PNC Bank's senior economic advisor, Stuart Hoffman. Hoffman will deliver his economic forecast and viewpoints for the coming year, which are always focused, timely and thought provoking. Joining Hoffman as a featured speaker this year will be Greg Valliere, chief policy strategist for AGF Investments. Valliere will build upon Hoffman's economic commentary and deliver his insights on how policy direction in Washington, DC may be impacted.
"I have had the privilege of hearing Stu and Greg give their thoughts on a variety of economic and policy topics," noted Pam Weber, senior vice president at PNC Bank. "Being immersed in these topics on a daily basis gives them a unique perspective on current and future trends."
"We are very privileged to have Stu and Greg join us," said Carl Goertemoeller, executive director of the UC Real Estate Center. "Year after year, the UC/PNC Economic Outlook event provides insightful economic commentary for the coming months and beyond, and this year will be no exception," he said.
Photo credit: Depositphotos
Stuart G. Hoffman
Senior Economic Advisor 
PNC Financial Services Group
Stuart Hoffman works with PNC clients to provide expert analysis and forecasts for national, regional and global economic and financial trends. Prior to being named to his current role in April 2017, he served as PNC's chief economist and was principal spokesperson on all economic issues. Hoffman has been recognized as one of the most accurate economic and interest rate forecasters in the prestigious Wall Street Journal economic survey covering the 1988 to 2016 period.
Hoffman joined PNC in 1980 after a six-year tenure with the Federal Reserve Bank of Atlanta. He became vice president and senior economist for PNC in 1987 and was elected senior vice president and chief economist in 1991.
He has been frequently quoted in The Wall Street Journal, The New York Times, Financial Times and Barron's. He was a regular guest on CNBC and Bloomberg TV. In addition, he was regularly interviewed by the Associated Press, Reuter's news wire services and NPR.
Hoffman is past president and lifetime member of the American Bankers Economic Advisory Committee, which meets regularly with the Federal Reserve Board of Governors chaired by Jay Powell. He also serves on the board of directors of The Economic Club of Pittsburgh, the local chapter of National Association for Business Economics (NABE), and VisitPITTSBURGH. Hoffman is a member of the University of Cincinnati Foundation board of trustees.
Hoffman is a 1971 graduate of Pennsylvania State University. He received a master's degree in 1973 and a doctorate degree in economics in 1975, both from the University of Cincinnati, where he was a Charles Phelps Taft Memorial Fellow. In 2004, the University of Cincinnati honored him as a Distinguished Alumnus and in 2011 presented him with The Carl Lindner Award for Outstanding Business Achievement.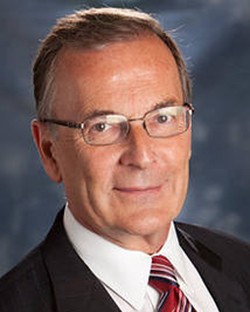 Greg Valliere
Chief U.S. Policy Strategist
AGF Investments
Greg Valliere joined AGF Investments (AGF) in February 2019 as Chief U.S. Policy Strategist. In this role, he is responsible for providing insight into how U.S. politics are shaping global markets. He brings a unique perspective to AGF with over three decades of experience analyzing policy and politics providing regular commentary and insight into Washington for financial services and investment management clients globally, including specialized coverage of the Federal Reserve, economic policy and politics. Greg began partnering with AGF in 2017 advising investment management teams on policy and the impact on global markets, providing daily market commentary for financial advisors and participating in numerous client events and roadshows. Most recently, Greg was the Chief Global Strategist at North Carolina based Horizon Investments, LLC and has nearly 40 years of experience following Washington issues for institutional and retail investors. He is widely quoted in U.S. media and specializes in coverage of the Federal Reserve, tax and spending issues, and politics. Greg is based in Washington, D.C.
The Real Estate Center, in conjunction with our Premier Partner, PNC Bank, is proud to present our 37th season of networking, national and international speakers, and access to industry leaders.
In 1983, the UC Real Estate Roundtable was created to establish and maintain links between the university and the business and real estate communities. The Roundtable series features guest speakers who present their ideas, thoughts and perspectives on topics that impact the real estate industry. The Roundtable Series strives to:
Encourage interaction between real estate professionals and UC students and faculty.
Address issues and topics relevant to the real estate industry and leading professionals.
Expose real estate professionals to industry research conducted at UC and elsewhere.
Our programs are currently virtual events and free of charge. To learn more about the Roundtable Series, visit business.uc.edu/roundtable