Senior peer career coaches graduate with resumes ready
Experience has built confidence in themselves and others
Each spring, the University of Cincinnati's Division of Experience-Based Learning and Career Education recognizes students for outstanding achievement in experience-based learning programs.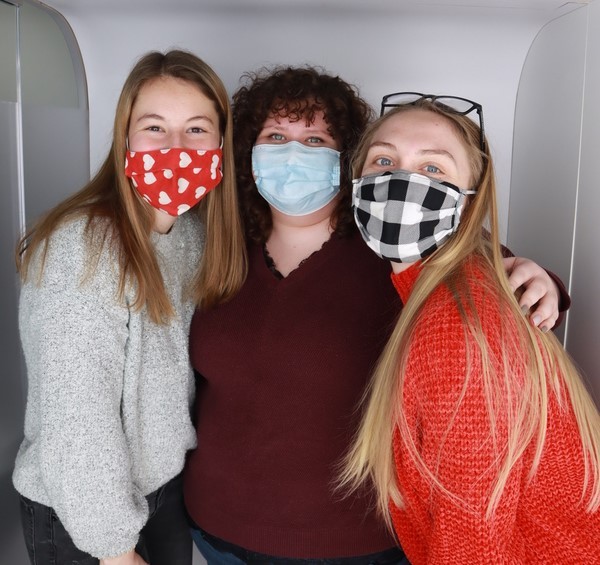 This year, we recognize three seniors for their contributions and service as peer career coaches in the Bearcat Promise Career Studio, a program of Experience-Based Learning and Career Education.
Peer career coaches cover the Studio's walk-in services, which include resume/CV and cover letter reviews, mock interviews and answering general career-related questions about how to find an on-campus job, how to prepare for a career fair, and how to maximize a Handshake or LinkedIn profile.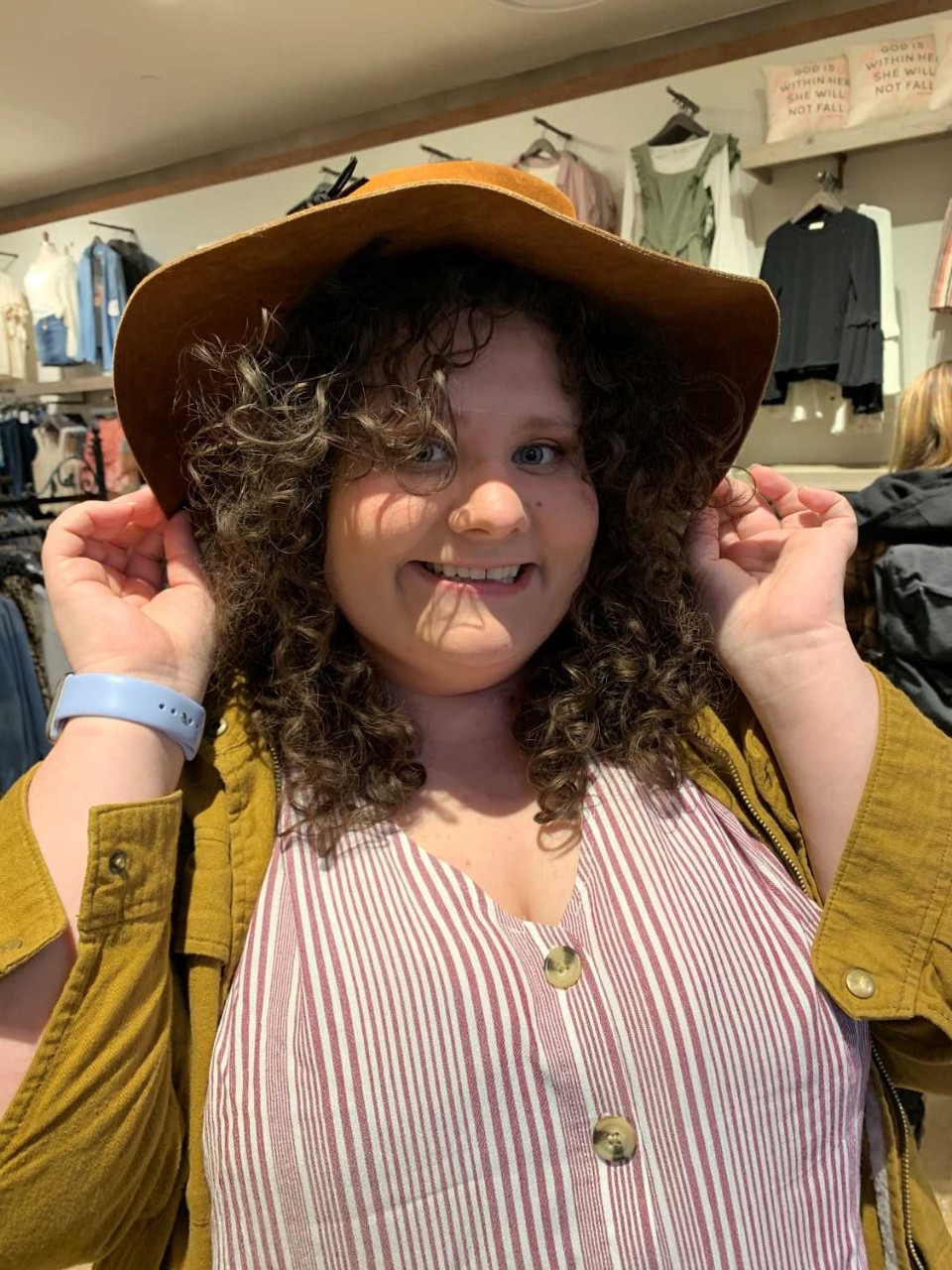 Since starting work with the division in summer 2018, Mya Jones has learned a lot about working as a professional and gained confidence in her abilities. "I have learned a lot about my own strengths and struggles and how to address those in my everyday life," she says.
A psychology major, Jones actively pursues her interest beyond the classroom. She works with the Neurobehavioral Research Team at Cincinnati Children's Hospital Medical Center, is a research assistant for associate professor of psychology Quintino R. Mano, Ph.D., and has been doing some work on the Ohio child welfare system with professor emeritus Steven Howe, Ph.D. Jones is also president of UC's chapter of Psi Chi, the international honor society in psychology. In her spare time, Jones enjoys doing escape rooms with friends and tackling complex recipes.
After graduation, Jones will continue to work with the Neurobehavioral Research Team at Cincinnati Children's Hospital Medical Center as a clinical research coordinator.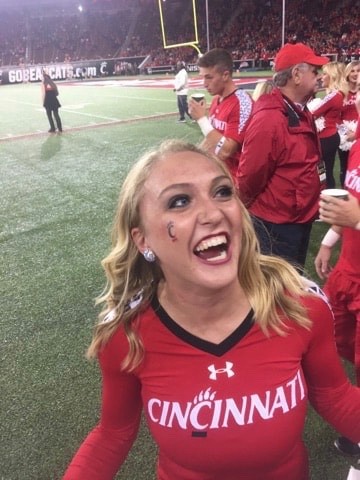 Kayla French has been a peer career coach since January 2019. She says, "Working as a peer career coach has given me the ability to help students realize their potential and the opportunity to instill confidence in them to succeed in the professional world."
French came to UC as a student-athlete with the UC Dance Team. She has actively contributed to student life at UC as a resident advisor, student orientation leader and member of the Programs and Activities Council and Dean of Students Advisory Council. In August 2019, French spoke at New Student Convocation to offer advice, share her story and welcome incoming Bearcats.
French graduates this spring with a degree in organizational leadership and a minor in psychology. After graduation, French will complete an internship at a school in Nicaragua with an organization called Amigos for Christ.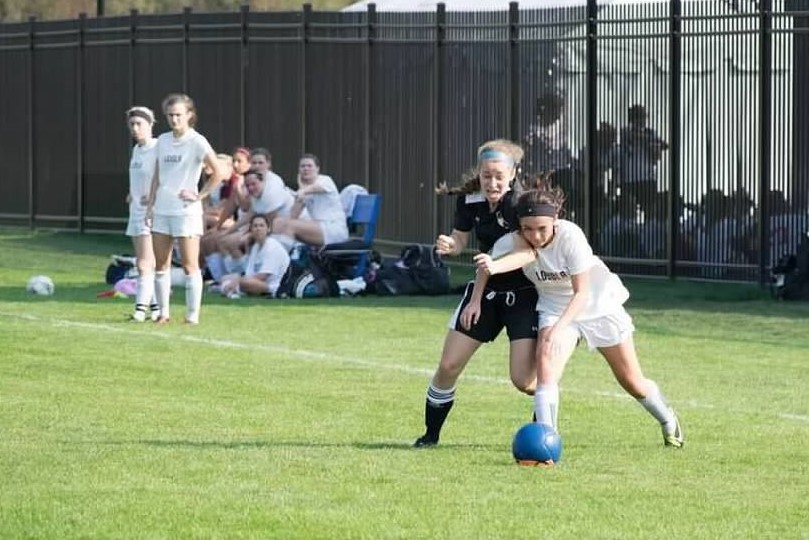 Toledo native Emily Kozak has been a peer career coach since August 2019. The experience has helped her develop professional skills and become more confident working with others. She is president of UC's women's club soccer team and an avid member of the Cincy Snowcats Ski Club. Kozak says that being a peer career coach and working with her team have been highlights of her college career.
Kozak has accepted a full-time job as a regulatory document specialist with Medpace in Cincinnati, where she looks forward to putting her English degree and certificate in copyediting and publishing to work!
How the Bearcat Promise Career Studio supports students
The Bearcat Promise Career Studio is a place for all students, including undergraduate and graduate students, to prepare for their professional future. The Studio offers services to support students in their career development – from career exploration and thinking about major options, to connecting students with experiential learning opportunities, to helping students make plans for continuing education and finding employment.
The Studio has continued to provide both in-person and virtual career coaching services during the pandemic. Students can access walk-in services with peer career coaches and schedule appointments with professional career coaches via Handshake. The Studio team has even been able to add new services during the pandemic, including a free professional headshot booth.
Use of the Studio is growing. In Fall 2020, the team served more than 700 students. Already this semester, the team has served more than 725.
Career Studio director Ellie Bridges wants students to know that whether they are just starting to think about career or have a well-developed plan and just want a few pointers, the Career Studio is here to help. She adds, "If you're unsure where to start, I recommend stopping in during walk-in hours or scheduling a casual conversation with your career coach who can help you make a plan."
About Experience-Based Learning and Career Education
Faculty and staff in Experience-Based Learning and Career Education at the University of Cincinnati facilitate real-world work experiences for students, teach students to prepare for their professional lives, and provide career services to students and alumni. At the same time, we connect employers and external partners with the talent they seek in a variety of arrangements both inside and outside the classroom.
Feature image at top: Tangeman University Center on the University of Cincinnati's Clifton campus. Photo/UC Creative + Brand

Career Resources at UC
Learn more about the Bearcat Promise, a pillar of UC's strategic direction Next Lives Here
1
First-gen UC undergrad beating the odds, finding her voice
December 7, 2022
Many non-traditional students find a home at the University of Cincinnati, and Emily O'Bryant is no exception. A student who comes from a history of displaced housing as a ward of the court, O'Bryant is a first-generation student pursuing her bachelor's degree in communications through the College of Arts and Sciences.  "I am an independent student. My birth mom had me at 14 and I ended up in multiple homes throughout my childhood," says O'Bryant. "Neither of my parents made it out of the eighth grade. I went through a few different types of care when I was younger all over the place, but as an adult I wanted to be better and do better."  Only 26 percent of first-generation students complete at least a bachelor's degree, according to data from the Pew Research Center. In addition to the usual struggles associated with adjusting to college culture, there are myriad additional barriers that first generation can students face, including lack of support from family and peers, college preparedness, racial disparity and financial stability.
2
How to spot a fake
December 6, 2022
University of Cincinnati chemists, geologists and art historians are collaborating to help area art museums answer questions about masterpieces and detect fakes — and teaching students about their methods.
Debug
Query for this