Vagal named to 2021 ELAM fellowship
Expert will use prestigious fellowship to help further build UC's radiology department
As a practicing radiologist in Mumbai, India, in 2002, Achala Vagal, MD, knew nothing about Cincinnati when her husband, an engineer, told her of an opportunity for him to be transferred there. She searched online and quickly learned that Benjamin Felson, MD, had once chaired the University of Cincinnati Department of Radiology. That was good enough for her.
"I told my husband, 'you're taking that job because I want to go and learn from these experts who have learned from Dr. Ben Felson,'" Vagal recalled. "Dr. Felson is a pioneer of radiology."
Once in Cincinnati, Vagal continued her training at UC, where Felson served as chair of radiology from 1951 until 1973. She completed fellowships in neuroradiology and body imaging, and then joined the radiology faculty in 2007. She also completed a master's degree in clinical and translational research in 2014.
"I absolutely love them," she says about her colleagues. "They are the nicest and smartest and most humble people. I grew in radiology, leadership and research so much, all because of their support and encouragement. I was a true outsider, but I felt so welcomed and I still feel that. UC has given me a lot."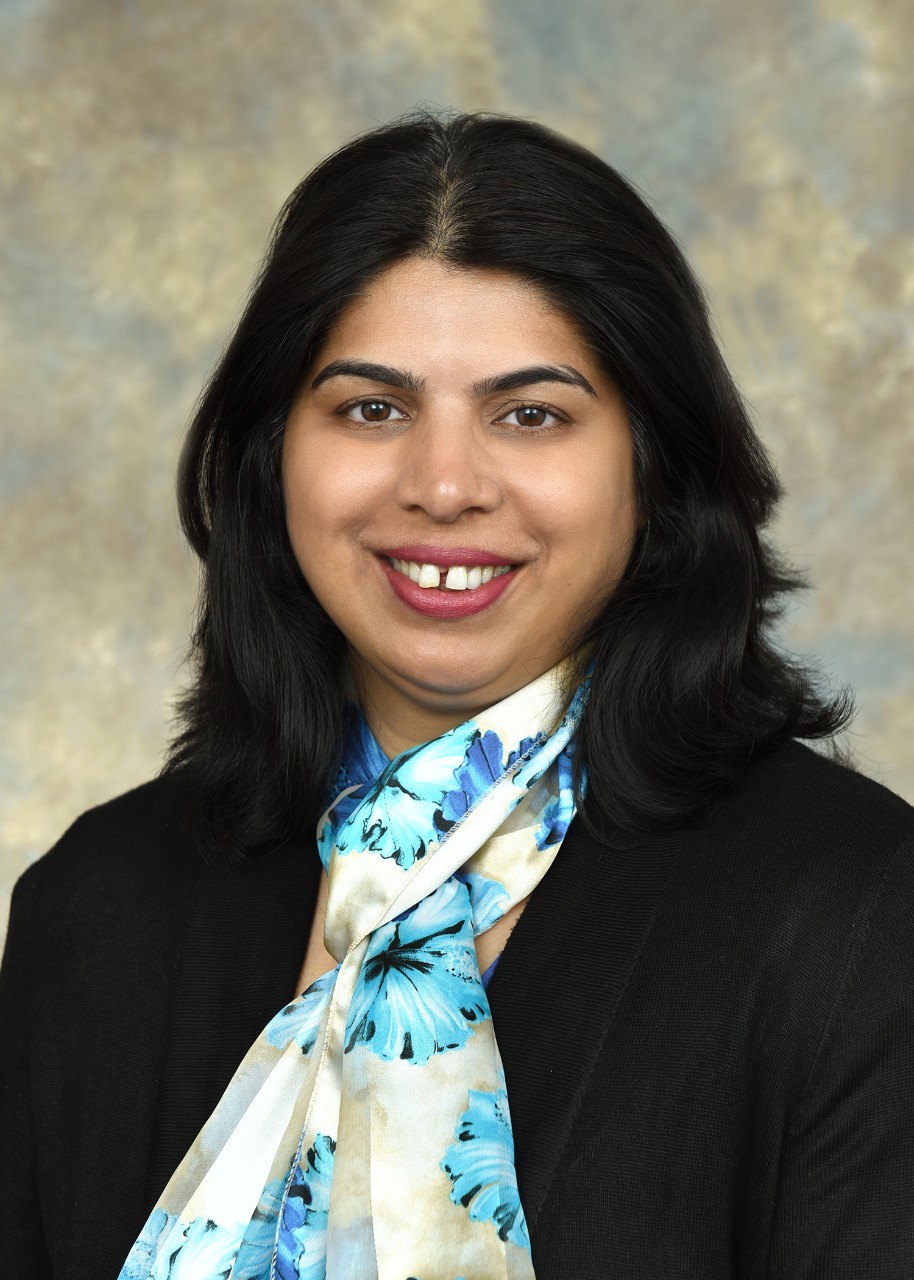 Vagal, now a professor and vice chair of research in the department, wants to continue giving back to UC and expects that what she will learn during the Hedwig van Ameringen Executive Leadership in Academic Medicine® (ELAM) fellowship will help her do so. Vagal learned last week she is one of 70 women from across the country selected this year for the prestigious program.
ELAM is for women faculty in schools of medicine, dentistry and public health. The program is dedicated to developing the professional and personal skills required to lead and manage in today's complex health care environment, with special attention to the unique challenges facing women in top leadership positions.
"I am super excited. This is such a prestigious fellowship. My learning journey as a leader has just started and I have a long way to go. I was surprised, but my mentors had a lot of confidence in me," she says. "I have an army of mentors, in and out of radiology, including the UC Stroke team."
One of Vagal's mentors and biggest supporters is Mary Mahoney, MD, Benjamin Felson Endowed Chair and professor in the Department of Radiology.
"I am thrilled to support Dr. Achala Vagal's journey in leadership development through the ELAM program. I know how much she will benefit from this leadership training," says Mahoney, who was an ELAM Fellow in 2015-2016. "She has a wonderful combination of energy, talent and interpersonal skills. The ELAM program is an opportunity for Dr. Vagal to broaden her leadership experiences and acquire the skillset to move into new leadership roles. I am delighted to support her development and look forward to her success."
Vagal also is elated with the support she received in her application to ELAM from Andrew T. Filak Jr., MD, senior vice president for health affairs and Christian R. Holmes Professor and Dean of the College of Medicine. She notes the time he took to understand her career aspirations and help her devise a mentoring plan. She says she "felt like a winner" even before she was selected for the fellowship because of the institutional backing she has received.
Vagal is eager to begin the fellowship in May.
"I think I'm going to grow a lot. For me, learning is what you have to do constantly. It's important to be involved in programs where you see health care from a different angle, a different perspective," she says.
She is hoping to learn more about administrative functions at an institutional level, particularly strategic operations, financial planning and research planning. She says she wants to better understand the "bigger picture" of the college and university, especially its research missions, and is ready to dive into the project required during her ELAM fellowship by creating a plan for a larger, comprehensive imaging management and research center at UC.
"We are already supporting a lot of departments and trials outside of radiology. I want to take it to a national level. I tell people I have a bold vision of building this world-class imaging and research center at UC and I want us to get more national and international visibility as a premier site, whether it is imaging innovation, imaging collaboration or imaging research," Vagal says. "That's what I like to call the massive transformative purpose. I think you have to have that to move the needle and to get people excited about your dream vision. I definitely want to use this ELAM year to literally rally the troops from all tiers."
Vagal hopes to also enhance her leadership abilities toward her long-term goal of serving as the chair of a radiology department or research leadership at the college level. But she quickly stresses that climbing a career ladder is not her primary goal.
"I want it to be more of an organic growth because it's about the mission and, if the mission is being achieved, then the career growth happens naturally. I don't care what level I'm working at, my personal mission is to empower individuals, teams and the institution to be bold changemakers."
"One of my favorite quotes is 'get a mission not a career,'" Vagal adds "When you have a visionary mission or this massive transformative purpose, then that helps galvanize the career and build community, not the other way around. My mission is to be a very effective leader as I grow."
The numerous College of Medicine faculty who have preceded Vagal as ELAM Fellows both inspires and awes Vagal.
"I have been extremely inspired by the people who have come before me, whether it is my chair; Dr. Dawn Kleindorfer, who has now moved from UC to be chair at Michigan; Dr. Liz Leenellett; Dr. Melanie Cushion; or Dr. Christy Holland. I've talked with them, I've seen the way they work. I've seen how they have become movers and shakers. I want to be like them," she says. "It also speaks a lot about the college. People have to believe in you to apply to ELAM. People who have actually done the program are doing such good work and I've seen them not only at the UC level but I've also seen them doing some groundbreaking work at the national and international level. That's a huge part of why I am so inspired."
With expertise in stroke imaging and advanced neuroimaging of cerebrovascular diseases, Vagal is actively involved in national and international collaborations and has extensive experience in leading imaging core labs for large, multicenter stroke clinical trials. She leads the UC Imaging Management Center and Imaging Core Lab, and is currently leading imaging of nine National Institutes of Health- and industry-funded studies, including contact PI of two R01 grants. She serves on multiple committees and in leadership positions with national and international radiology organizations and on editorial boards. She received the Stroke Innovation Award at the 2019 International Stroke Conference, the 2019 American Society of Neuroradiology's Women in Neuroradiology Leadership Award and the 2020 Radiology Society of North America Honored Educator Award. Earlier this month she received one of the 2021 Faculty Core Values awards from the UC Office of Research.
As a very active clinician, researcher and educator, Vagal does not see the ELAM fellowship as more work. She says she loves what she does and believes it "a privilege and an opportunity I have been blessed with. I am a big fan of energy management, not time management. I'm very particular about the story that I tell myself. I don't tell myself that I am too busy. Busy has a negative connotation. But the story is that I am fully optimized doing the things I love so that my energy is sustained."
Vagal is devoted to mindfulness and meditates daily to keep herself balanced. She practices yoga each day and is a certified yoga instructor. Meditation helps put things in perspective and helps her enjoy everything she does by focusing on the process, not the outcome. She also contends that it is important to not take herself or her career too seriously.
"Many people have come and gone before us and the world does not stop. In the bigger scheme of things, we are just a tiny, fleeting speck," she says.
College of Medicine ELAM Fellows
2020-2021
Irene Hamrick, MD (Family and Community Medicine)
2019-2020
Elizabeth Leenellett, MD (Emergency Medicine)
2018-2019
Tiina Reponen, PhD (Environmental and Public Health Sciences)
2017-2018
Maryam Fouladi, MD (Pediatrics)
2016-2017
Dawn Kleindorfer, MD (Neurology)
Christy Holland, PhD (Internal Medicine)
2015-2016
Denise Adams, MD (Pediatrics)
Mary Mahoney, MD (Radiology)
2014-2015
Patricia Mary Manning-Courtney, MD (Pediatrics)
2012-2013
Mercedes Falciglia, MD (Internal Medicine)
2011-2012
Evaline Alessandrini, MD (Pediatrics)
2010-2011
Melanie T. Cushion, PhD (Internal Medicine)
2009-2010
Shuk-mei Ho, PhD (Environmental Health)
2008-2009
Gurjit Khurana Hershey, MD, PhD (Pediatrics)
2007-2008
Marsha Wills-Karp, PhD (Pediatrics)
2005-2006
Maria Britto, MD (Pediatrics)
2003-2004
Gail Slap, MD (Pediatrics)
2001-2002
Uma Kotagal, MBBS (Pediatrics)
2000-2001
Lori Stark, PhD (Pediatrics)
1999-2000
Laura Wexler, MD (Internal Medicine)
1998-1999
Paula Hillard, MD (Pediatrics)
1997-1998
Sandra Degen, PhD (Pediatrics)
Featured photo of Achala Vagal by Colleen Kelley/UC Creative + Brand.