Engineering student shifts from the stage to the lab
While pursuing his theater dreams, Garek Bushnell was pulled to a new passion: chemistry
Garek Bushnell came to the University of Cincinnati with a singular goal: to study acting. He graduated in April 2021 with his bachelor's degree in chemical engineering instead. Bushnell's path between these two seemingly dissimilar fields is rooted in his mindset that following your passion will drive your determination to succeed — even if that passion comes from an unexpected source.  
Bushnell was dead set against going to college upon graduating from an arts-focused high school, where he had specialized in visual arts. He was sure college wasn't the path for him. Instead, he pursued his interest in the performing arts, appearing in community and professional theater and opera for several years in his hometown of Minneapolis. 
Seeking a change — and encouraged by a friend in Cincinnati — Bushnell discovered the University of Cincinnati's highly regarded College Conservatory of Music (CCM) and decided to give it a shot. He applied and auditioned, but wasn't accepted to the program. However, he did get into UC, so he enrolled in exploratory studies and started taking general classes, with plans to re-apply to CCM. 
Bushnell was curious about chemistry and enrolled in a class, despite it not being a requirement. That class ignited in him a newfound interest for the subject, so he took another chemistry course.   
"It was the strangest thing — I just fell in love with it. I was so exhilarated by it and I was not at all expecting to react this way," Bushnell said. 
Meanwhile, Bushnell applied again to CCM and this time his dream came true — he was admitted into the acting program.
"I started the acting program and I was loving it, I was really excelling and I was being recognized for it," he said. "But all the while, in the back of my head, there's this thought of chemistry — am I really going to have to leave this chemistry stuff behind?"
Throughout the next semester, he couldn't shake the intense feeling that there was a place for him in the sciences, so he sought advice from one of his professors at CCM who helped Bushnell evaluate his options.
"He could have pushed me to stay [in CCM], but he put what was good for me ahead of just trying to keep a student in the acting program. He gave me really sound advice on making the decision, which I'm grateful for," Bushnell said.
Bushnell left the acting program and went back to being an exploratory student to try and uncover his right-fit major. Additional chemistry courses and an engineering class in modeling helped him land on chemical engineering. 
"I knew I wanted to do something chemistry related. In the introductory engineering course, I found I really liked this engineering mindset and that sold me," he said.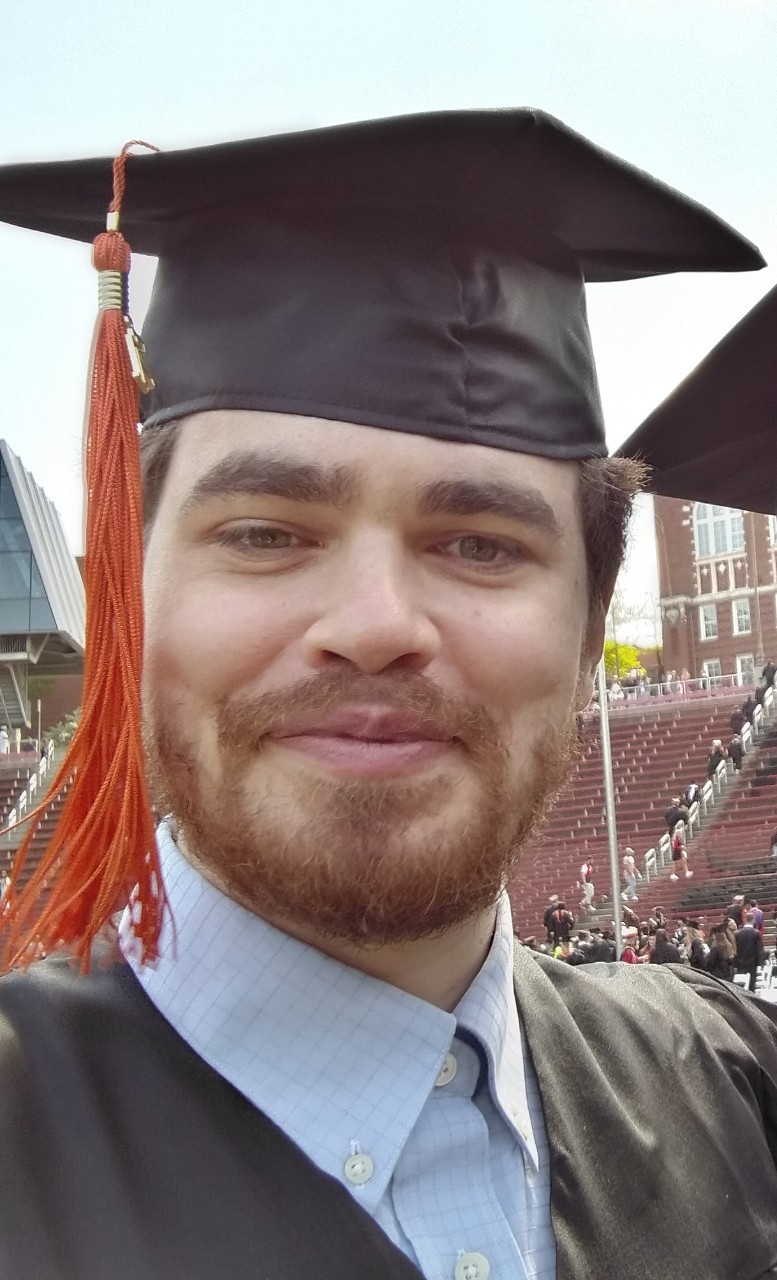 Bushnell started as a chemical engineering major in the College of Engineering and Applied Science (CEAS) and quickly discovered he was way ahead in chemistry, but behind in math. Having not particularly excelled in high school math — nor had any strong interest — Bushnell had some catching up to do. With fierce determination, he began teaching himself using Khan Academy, an online education program, and took a calculus course over the summer. He didn't just catch up in math, he flourished. 
 "I got sort of this immense running start and now I'm like this 'math person,'" Bushnell said. "I really enjoy doing the derivations of all the equations that I use in chemical engineering. I found my strength to be in the deep theory and the mathematical side of the whole enterprise." 
"I know there are many people who feel like science or math are going to be too hard for them, or maybe they didn't like math in high school. I didn't hate it, but I sure wasn't great at it," he said. "I think the sciences and mathematics are much more accessible to people than they may realize."
Bushnell used the mandatory cooperative education (co-op) program at CEAS as a way to test the waters in different roles. At a job recruitment event Bushnell attended when he was seeking his first co-op, a UC chemical engineering alumnus, who now works in supply chain for a large multinational company, gave Bushnell some advice he took to heart: use college co-op to really explore a variety of employers and potential career paths to see what you like.
During the course of his undergraduate years, Bushnell co-oped at Fortis Solutions Group, a printing and flexible packaging manufacturer; at Valeo, working in industrial manufacturing; and at AK Steel in their research center. It was at AK Steel where Bushnell discovered an interest in research while he was working on a project to predict carbon content in stainless steel.
Bushnell is planning to attend graduate school — another thing he never anticipated for himself. When Bushnell was choosing a major, a chemistry instructor mentioned that many chemistry majors go on to graduate school if they want to pursue more advanced careers in the field. Bushnell was certain he didn't want to go to graduate school, so he decided chemical engineering would set him up to work immediately after earning his bachelor's degree. But, like so many other things in Bushnell's life, a new experience changed his mind, and he was open to that change. 
"At this last co-op experience at AK Steel, I asked my supervisor what I needed to do so I could do this kind of work and he said everyone here has at least a master's degree," Bushnell said.   
As Bushnell prepares for his next chapter in his educational career, he is mindful that he was able to earn his engineering degree because his interests were motivating him to find a way to succeed. 
"It wasn't a rational choice, like 'oh, this is the way towards a good job,' it was purely a passion-based decision," Bushnell said about his move from theater to chemical engineering. "If you have a passion for something, that will propel you forward."
Featured image at top of a chemistry lab: Photo/Unsplash/Louis Reed
1
Some UC IT services will be down Dec. 16-17
November 28, 2022
Select IT services and systems will be unavailable from 10:30 p.m., Friday, Dec. 16, to 11 p.m., Saturday, Dec. 17, during a planned power outage in the university's primary data center. Many commonly used cloud-hosted services will remain available.
2
Could an energy audit save you money?
November 28, 2022
Architectural engineering students at the University of Cincinnati are helping community partners save on monthly utility bills through energy audits.
Debug
Query for this