UC researchers find receptor protein in adipose tissue plays a role in controlling blood sugar levels
Findings published in Nature's Scientific Reports
Researchers at the University of Cincinnati College of Medicine have identified a receptor protein found in adipose tissue that may play a role in controlling blood sugar and could offer an important therapeutic pathway for tackling diabetes and obesity.
The receptor is called LRP1 and it can bind with a protein called apolipoprotein A4 (APOA4), which helps with sugar uptake in fat cells and also stimulates insulin secretion. Previously, scientists didn't know much about the mechanism involved in regulating blood sugar levels because no one knew which receptor was used by APOA4.
The study findings by the researchers are available online in the Nature journal Scientific Reports.
"There are many clinical studies that show that APOA4 can serve as a biomarker for pre-diabetes and also related to coronary artery disease in patients," says Jie Qu, PhD, postdoctoral fellow in the UC Department of Pathology and Laboratory Medicine and lead author of the study. "We are trying to understand the molecular mechanisms of how apolipoprotein A4 plays such an important role in diabetes, obesity and cardiovascular disease."
Qu and her colleagues were able to inactivate LRP1 in mouse fat cells and found that APOA4 was no longer able to stimulate sugar uptake by cells. It offers convincing evidence that this is a  receptor responsible for APOA4's blood sugar lowering properties.
Patrick Tso, PhD, professor emeritus in the UC Department of Pathology and Laboratory Medicine and a study co-author, says scientists have long been convinced of APOA4's importance because it constitutes 3% of all the protein produced by the small intestine and the lack of this protein results in glucose intolerance, a hallmark of pre-diabetes.
"That's a lot of protein made by the small intestine," says Tso. "If we know how APOA4 interacts with LRP1, it is possible to make a drug that resembles a certain part of APOA4 that will interact with LRP1. That offers a possible therapeutic option for disease. Over the years my laboratory has published over 70 papers on this protein. APOA4 is an important protein."
Other researchers that are part of the study in the UC Department of Pathology and Laboratory Medicine include Sarah Fourman, research assistant; Maureen Fitzgerald, senior research assistant; Min Liu, PhD, professor; and Sean Davidson, PhD, professor. Co-authors of the study from the University of California San Francisco include Supna Nair; Juan Oses-Prieto, PhD; Alma Burlingame, PhD; John Morris, PhD; and Aditi Bhargava, PhD.
Top featured image shows Jie Qu, PhD, with Min Liu, PhD, in a UC College of Medicine laboratory. Photo taken by Colleen Kelley/UC Creative + Brand.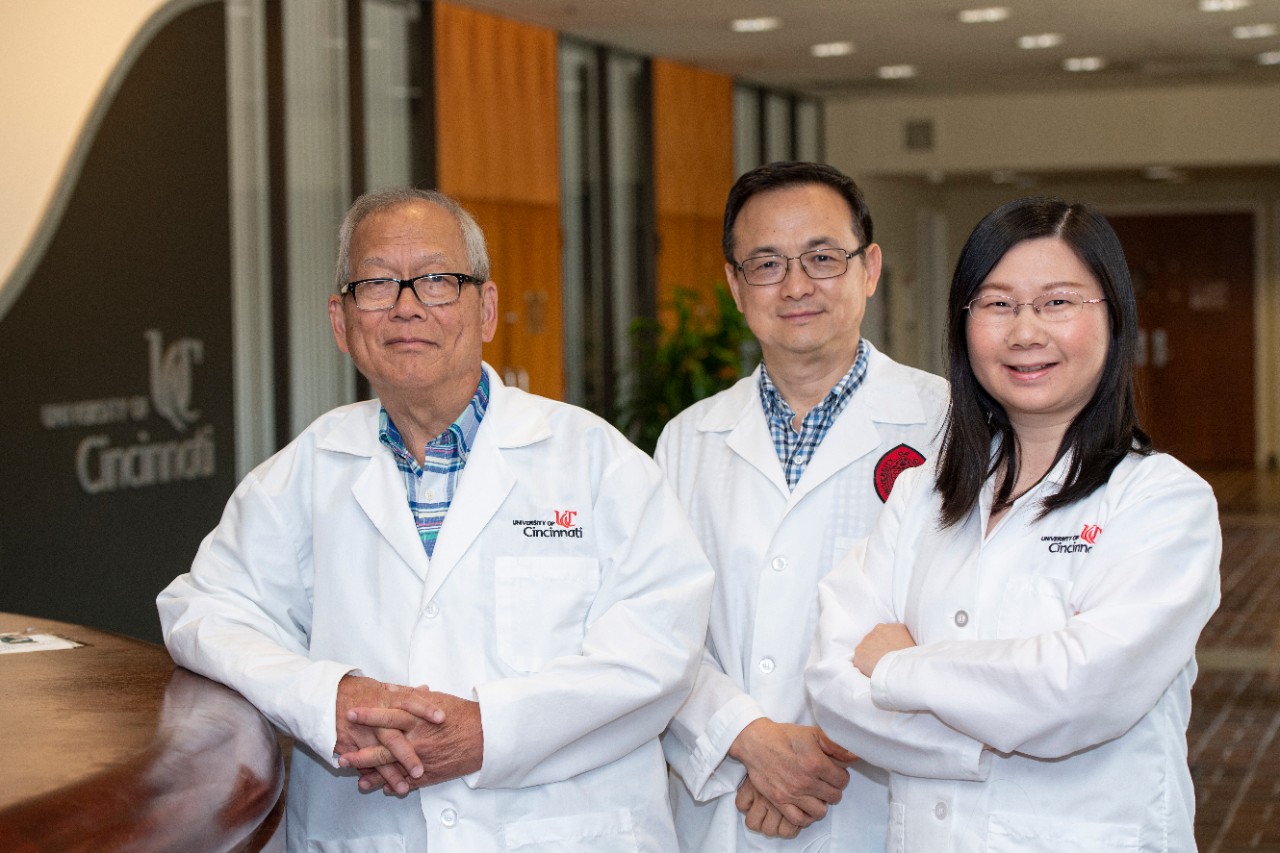 Impact Lives Here
The University of Cincinnati is leading public urban universities into a new era of innovation and impact. Our faculty, staff and students are saving lives, changing outcomes and bending the future in our city's direction. Next Lives Here.

Stay up on all UC's COVID-19 stories, or take a UC virtual visit and begin picturing yourself at an institution that inspires incredible stories.