UC Blue Ash biology lab receives special delivery from Amazon
Changes in COVID testing needs result in nearly $200,000 worth of donated equipment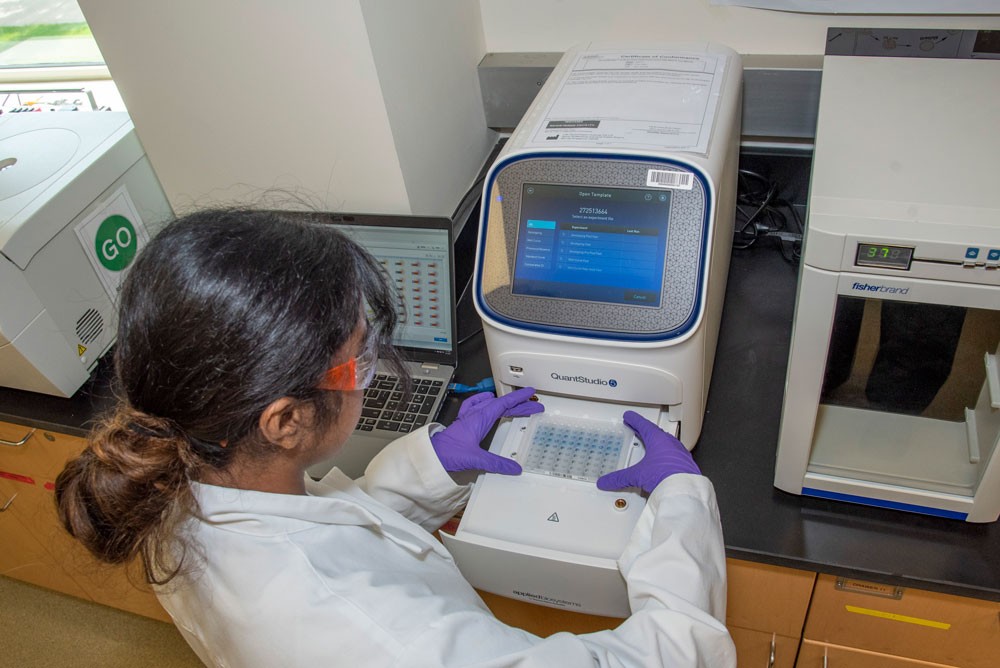 It wasn't ordered online or delivered in a blue van, but there is a lot of valuable new equipment in the biology lab at the University of Cincinnati Blue Ash College thanks to Amazon.
"Two major types of equipment we received are centrifuges and qPCR (quantitative polymerase chain reaction) systems," says Yoshi Odaka, PhD, assistant professor of biology at UC Blue Ash. "The centrifuges will be used to process samples of tissues, cells and biomolecules for lab courses and research by students. The qPCR machine is designed to detect and quantify DNA; it's a powerful tool in molecular biology."
The items are a gift from Amazon after it closed a local COVID testing lab and company leaders decided to donate the equipment and supplies to nearby colleges and universities. Mark Otten, a professor in the Biology Department at UC Blue Ash, helped with connecting the company to the college. Wendy Lemen, UC Blue Ash biology lab manager, worked with the UC Foundation and Amazon to coordinate plans for the gift and delivery of the items.
The equipment and supplies will be used to support student research projects. They include four centrifuges, three real-time PCR machines, hundreds of gloves and pipettes and two full sets of pipettors. All of the items are either new or gently used and valued at approximately $178,000.
The biology lab at UC Blue Ash already has some centrifuges, but the new models have different features and are better suited for handling live cells when conducting research. Odaka says that along with expanding opportunities for student research, the donation will also provide access to the same equipment students might eventually see in their careers.
"Centrifugation and PCR are widely used in basic and medical sciences and industries. So learning the concepts behind and how to operate these devices will be relevant to careers in biology, forensic science, food science, pharmacology, anthropology, environmental science, clinical laboratory and many more," says Odaka.
Students at UC Blue Ash are able to participate in a variety of biology research projects through their courses, as part of the college's honors program, or as participants in UC's UPRISE (Undergraduates Pursuing Research in Science and Engineering) program.
Featured Image: Anushkaa Parwade, a biology major and participant in UC's UPRISE program, works with Yoshi Odaka, PhD, on a research project using one of the centrifuges donated by Amazon to the UC Blue Ash biology lab.
About UC Blue Ash College
UC Blue Ash College is a regional college within the University of Cincinnati. It offers one of the best values in higher education with access to a nationally recognized UC education in more than 50 degree and certificate programs, as well as tuition that is about half of most colleges and universities. The college is located on a scenic 135-acre wooded campus in the heart of Blue Ash, Ohio. To learn more, call 513-745-5600, visit us online, like us on Facebook or follow us on Twitter and Instagram.