Alumni Spotlight: Eunique Avery
During National Allied Health Week, we're interviewing CAHS alumni who are making a difference
We sat down with some of our alumni who are currently working in allied health during National Allied Health Week. See what they are up to today and how their UC degree helped them get there.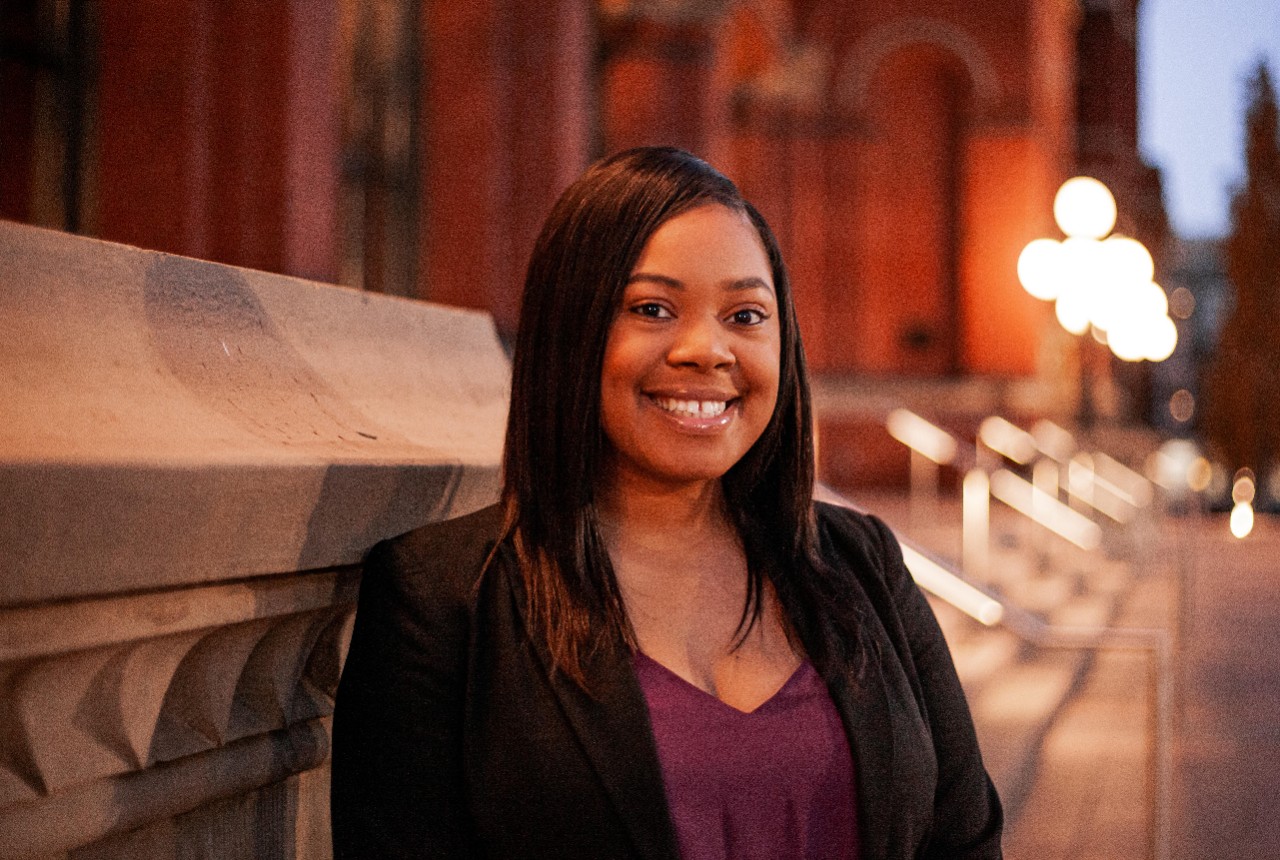 Name: Eunique Avery,  '18
Current Title: Director of Strategic Initiatives in the Office of Inclusive Excellence & Community Engagement
Current Employer: College of Engineering & Applied Science at the University of Cincinnati
Programs graduated from: Bachelor of Social Work (BSW) program
How did UC prepare you and set you up for success in your career?
While at UC, I not only had the ability to learn new things from an academic standpoint, but also the ability to learn new things about myself on a personal level. As a first-generation college student, I struggled with imposter syndrome for the majority of my time at UC. Growing up, I very seldomly received positive affirmations or words of encouragement from my teachers. Luckily, I had some really great professors like Dr. Dana Harley, Amy McMahon and Xan Boone who really went the extra mile to support their students. Throughout my experiences at UC, I began to gain the self-confidence I needed to become the best version of myself. As a social work student, I was able to enhance my cultural competency skills, attend national conferences and gain exposure in various fields within social work. These experiences shaped my decision to go on to pursue my Master's degree in Public Administration. 
What do you love most about your career or current position?
What I love most about my career is the ability to work in various spaces. Education has always been my passion. Every day, I get to wake up and work with students! In my current role, I help assist underrepresented students within the College of Engineering & Applied Science to ensure they feel empowered, encouraged and receive an equitable education. I also serve on the Equity & Inclusion council where I assist with developing new strategies to make our college a safe space for all students. I appreciate that all aspects of my career are designed with intentionality at the forefront. I am excited to see what the future holds as I seek opportunities to engage in education policy work. 
What encouragement or advice can you offer to fellow professionals in your field or others looking to enter the profession?
I would encourage fellow professionals in my field to feel empowered to cause "good trouble." A lot of the work we do to advocate for underrepresented communities can be a heavy load for one person. When we work together, support and encourage each other, we have the ability to make great strides! 
Anything else you'd like to share on your career path, current employment, fun projects you've worked on, etc.?
I wrote and self-published my first children's book "Miracle Lee's Not So Normal Family" and a proud member of Delta Sigma Theta Sorority Incorporated.
I'm also looking forward to working on my non-profit, the U.P.C Project which aims to support the educational development of black/brown students through collaboration with families, communities, and public schools. I also look forward to applying to Doctoral programs in the future.

Celebrate Allied Health Week with us! 
National Allied Health Week is celebrated during the first full week of November each year. Learn more about how we're celebrating National Allied Health Week. 
1
UC offers new social justice, Latin American studies degrees
October 7, 2020
University of Cincinnati students can now enroll to earn a Bachelor's degree in two new humanities programs: Social Justice, and Latin American, Caribbean and Latinx Studies, offered through UC's College of Arts and Sciences.
2
UC to host symposium on socially just community research
Event: March 5, 2021 9:30 AM
On Friday, March 5, The Cincinnati Project (TCP) will host its seventh-annual symposium titled "The Art and Science of Socially Just Community Partnered Research," sponsored by UC's College of Arts and Sciences and The Taft Research Center. Director of the Center for Culture-Centered Approach to Research and Evaluation (CARE) Mohan Dutta will deliver the keynote speech. Based in New Zealand, CARE is a global organization dedicated to developing community-based solutions for social change, advocacy and activism, inspired by the conviction that health is a human right. Founded in 2016, TCP unites researchers from UC's College of Arts and Sciences with community partners to benefit marginalized communities in Cincinnati, tackling economic, race, gender and health issues. Past TCP research has focused on high eviction rates in Hamilton County, resulting in city legislation to protect the rights of renters through an eviction prevention plan. In addition to the keynote speaker, the symposium will include discussion panels from area organizations such as Housing Opportunities Made Equal (HOME), the Urban League of Greater Southwestern Ohio, the Center for Closing the Health Gap, and UC faculty researchers. Topics will include ways in which community-based research can be conducted in socially just ways, in order to benefit the communities it is designed to serve. The symposium will be held virtually via Zoom from 9:30 a.m. to 1:30 p.m., and is free and open to the public. For more information or to register, please visit The Cincinnati Project.
3
UC student body leaders use platform to empower others
October 28, 2021
University of Cincinnati student body leaders have taken on a full slate of undergraduate activities, including classes, studies, Bearcats games and leading student government for UC. Elected as president and vice president earlier this semester, the students set to work delivering on their platform of diversity and inclusion, sustainability, campus spirit, mental health and accessibility.  Initiatives so far include a Mental Health Advocacy Week, a career-ready clothing drive and civil discourse training.
Debug
Query for this