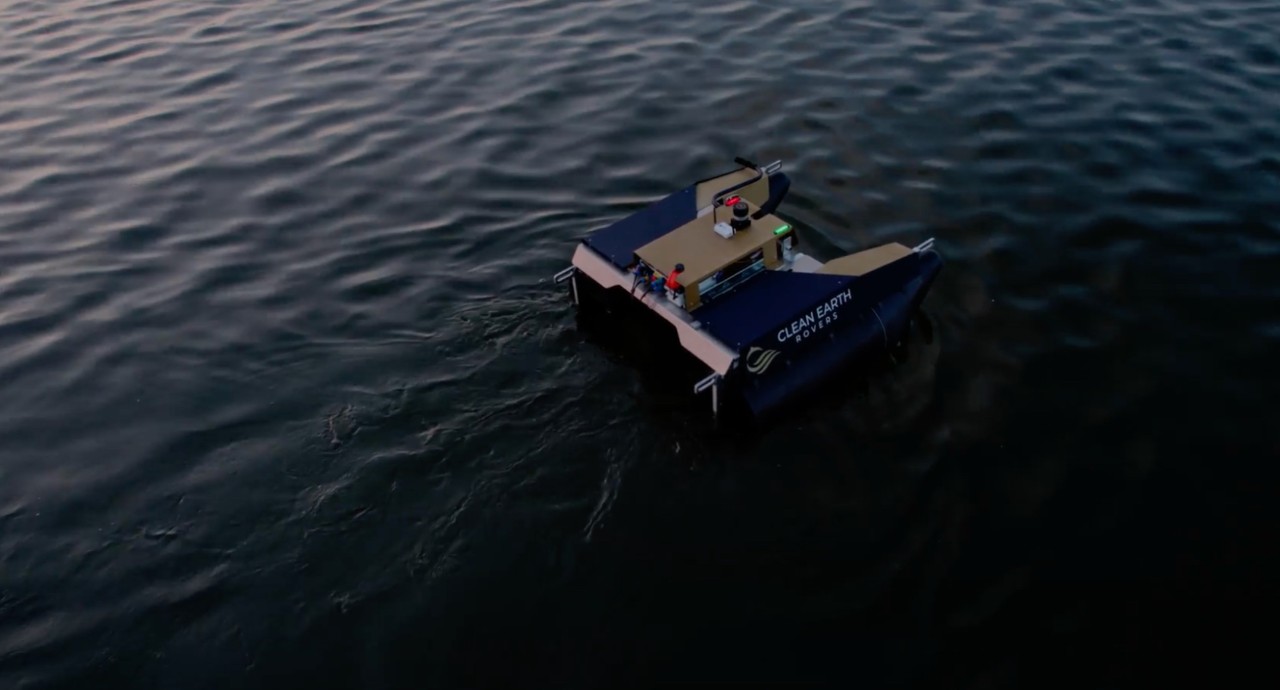 UC Venture Lab-backed startup signs distribution deal
Clean Earth Rovers prepares to ship improved product
Partnering with companies in the United States and Australia, a University of Cincinnati Venture Lab-backed startup has improved its autonomous rovers that clear debris from waterways and is preparing to ship its largest order to date.
Clean Earth Rovers (CER) has signed a distribution deal with B&B Services, a company based in Naples, Florida. The deal guarantees a minimum order of 20 rovers to be delivered within the next year. B&B Services will sell the rovers to its contacts throughout South Florida and the Gulf Coast region.
"From going down and working with this group in Florida and some of our other early adopters, it's helped us realize we're building something that is a versatile autonomous vessel that has a lot of different applications," CER CEO Michael Arens said.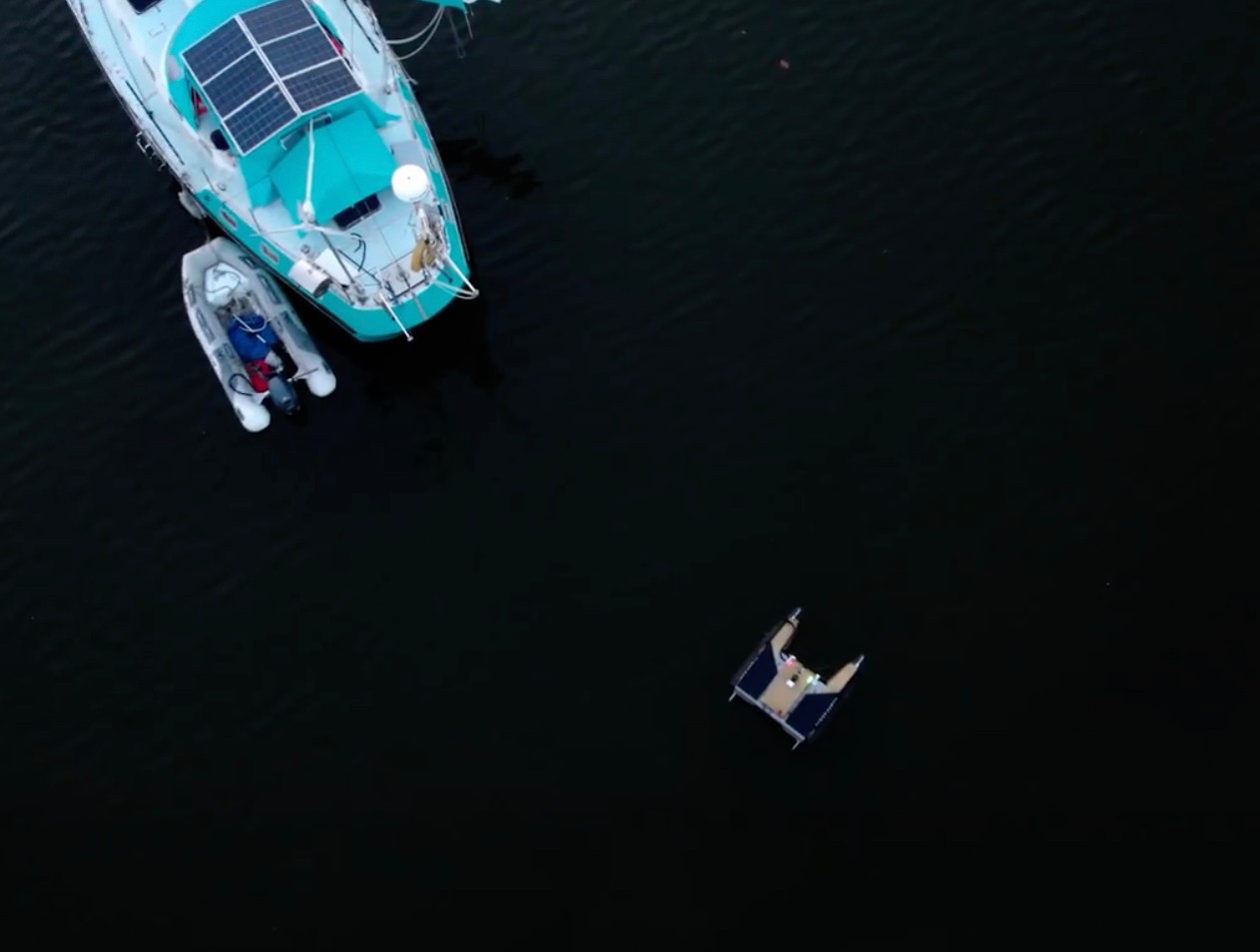 CER began with the intent of ridding the world's oceans of plastic pollution. To develop their idea into a business, Arens and CER Chief Operating Officer David Constantine enrolled in the Venture Lab pre-accelerator program.
UC's Venture Lab provides a launch pad for entrepreneurs to turn their ideas into reality. The lab is located in the 1819 Innovation Hub in the Cincinnati Innovation District, providing a connection point to talent, support and funding.
The Venture Lab pre-accelerator program is available for free to all members of the university community. The seven-week program provides guidance for launching a startup and pairs aspiring entrepreneurs with executives for mentoring.
Last fall, CER launched its first autonomous rover at Point San Pablo Harbor near San Francisco. Around that same time, the startup began conversations with B&B Services.
In December 2022, CER engineers Allen Schutte and Rob Charvat traveled to Naples to demonstrate the rover for B&B Services and received advice on how to improve it.
After a couple months of making modifications based on the recommendations, CER showed B&B Services the improved rover in February, which led to the signing of the distribution deal in March.
The rovers are being built at the UC Ground Floor Makerspace within UC's 1819 Innovation Hub. The first order of five rovers is scheduled to be shipped in May.
One of the big improvements involved changing the bag system that collects debris. CER previously used a produce-style mesh bag but at the recommendation of B&B Services switched to a Christmas tree bailer-type of netting.
The new bag system expands the capacity and effectiveness of debris collection because it has a wider mouth and can stretch more.
The rovers typically operate with two thrusters but can operate with four thrusters if needed, which offers the power to allow them to collect more debris.
CER also found a new battery supplier. Now the rovers can operate for almost 20 hours with two thrusters or 10 hours with four thrusters.
"It's leaps and bounds better than what we had before and probably far exceeds any customer requirement of how long they would need this to operate during a deployment," Arens said.
Through its work with B&B Services, CER also discovered its rovers can be much more versatile than their initial goal of collecting plastic. Now the startup is targeting cleanup of hurricane debris, oil spills, dead fish and seaweed — such as the 5,000-mile seaweed belt found near the coast of Florida — in its efforts to clean waterways.
"While our vessels are 5 feet by 5 feet, we believe that by taking a strength in numbers approach with consistent deployments, we can create a meaningful impact in remediation efforts and increase the capacity and safety of work these contractors do," Arens said.
CER also has improved its rovers by partnering with Australia-based electronics manufacturer Advanced Navigation.
Advanced Navigation's Cloud Ground Control enables fleet operations of drones or robotic vehicles to be monitored and managed in real time. Using 4G/5G networks, the company's cellular micro-modem CGConnect uses a cloud-based fleet management platform for livestreaming and control from a web browser.
"It's a very friendly and intuitive user interface that you don't need to be an engineer to understand," Arens said.
With the fleet management tool, CER' customers can monitor information such as battery life and positioning of the rovers.
Another benefit of the fleet management system is that rescue operations could explore and monitor conditions with the rovers without putting anyone in danger.
As it continues to grow, CER now is raising funds on crowdfunding site Wefunder. The startup has raised $50,000 as part of the crowdfunding campaign in addition to more than $250,000 since its launch in 2019.
Featured image at top: Clean Earth Rovers' autonomous rover. Photos/Clean Earth Rovers

About UC Venture Lab
A leading model for urban-centered universities, the UC Venture Lab activates a high density of rapidly curated startup opportunities that attract outside entrepreneurial talent and investors. We connect university students, faculty, staff and alumni to talent and funding to help launch new companies. Our team includes Office of Innovation staff as well as Entrepreneurs-in-Residence, coaches, curated service providers and subject matter experts.