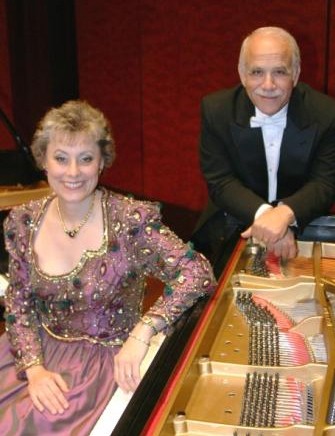 Pridonoff Duo Celebrate 25 Years of Harmonious Music Together with CCM Concert
The University of Cincinnati College-Conservatory of Music (CCM) is proud to present the Pridonoff Duo 25th Anniversary Concert, Tuesday, Feb. 12, at 8 p.m. in CCM's Corbett Auditorium. Acclaimed husband-and-wife pianists Eugene and Elizabeth Pridonoff celebrate 25 years of performing together with a special concert event featuring guest artists Percussion Group Cincinnati. Admission is free and open to the public.
In 1982, Eugene and Elizabeth Pridonoff formed the Pridonoff Duo, making their formal debut with the Cincinnati Chamber Orchestra under the direction of Paul Nadler. They were appointed Duo-in-Residence at CCM in 1986, shortly after they gave their debuts at New York's Alice Tully Hall and the Kennedy Center in Washington, D.C. They have since performed extensively throughout the United States, Europe, Mexico, China, Hong Kong, Japan, Taiwan and Korea. The New York Times has described their sound as "buoyant and rhythmically alive [and] marked by impressive unanimity of attack."
The Pridonoffs have invited Percussion Group Cincinnati, featuring CCM faculty members Allen Otte, James Culley and Russell Burge, to join them onstage for this special concert event.
"We are particularly excited to perform with Percussion Group because we made our Alice Tully Hall debut with them in 1986," said Eugene Pridonoff.
Repertoire for the concert includes Sergei Rachmaninoff's "Three Songs," Alexander Arensky's Suite No. 1, Op. 15, Maurice Ravel's "La Valse," and with Percussion Group Cincinnati, Ravel's "Mother Goose" and Igor Stravinsky's "Rite of Spring."
Continued Mr. Pridonoff, "Special arrangements of 'Rite of Spring' and 'Mother Goose' for two pianos and percussion are the result of Al Otte's ingenious application of orchestral materials into the percussion parts, giving the works unusual color and effectiveness."
__________
ABOUT THE ARTISTS
EUGENE PRIDONOFF
Eugene Pridonoff has maintained an international performing and teaching career since 1965 when he was a laureate in the Leventritt, Montreal, Brazil, and Tchaikovsky competitions. That same year, he was appointed to the piano faculty of Temple University and in the ensuing decades established himself internationally as one of the leading performing pedagogues.
Pridonoff has given solo and duo recitals and performed with orchestras throughout the world. He has been featured on NPR's 'The Sunday Show' and with Bill McGlaughlin of 'Saint Paul Sunday,' and has given chamber recitals with Lynn Harrell, Leonard Rose, Jaime Laredo and Peter Wiley. In March 2005, he and his wife Elizabeth were interviewed and featured on the cover of Clavier magazine.
Regularly performing and teaching in the Orient, Pridonoff has made five trips to Japan since 2003. In the summers he also performs and teaches at the Amalfi Coast Music Festival in Italy, the Barcelona International Music Festival, the Prague International Piano Masterclasses and International Piano Week of Belgium.
Formerly on the faculties of Iowa State and Arizona State Universities, Eugene Pridonoff has recorded for the Vienna Modern Masters label. He was appointed an International Steinway Artist in 2004. He has been a faculty member at the College-Conservatory of Music since 1980.
ELIZABETH PRIDONOFF
Elizabeth Pridonoff is an internationally known teacher and pianist who has performed and given master classes throughout the world. A graduate of The Juilliard School, she received her M.M. degree in both piano and voice. She studied piano with Sasha Gorodnitski and Adele Marcus, and voice with Hans Heinz. She also holds a B.M. from George Peabody College for Teachers, Vanderbilt University.
In the United States, she has appeared with the Nashville Symphony, Oklahoma City Symphony, Shreveport Symphony, El Paso Symphony, Cincinnati Chamber Orchestra, Northern Kentucky Symphony, Middletown (Ohio) Symphony, Boise Philharmonic, Illinois Philharmonic, and the New Philharmonic Orchestra of Irving (Texas). A first-place winner of several national and international competitions, she and her husband Eugene were featured with a cover photo and interview in Clavier magazine.
Active as a clinician, adjudicator, and lecturer, she has been a participant at the World Piano Pedagogy Conferences as performer (1996), co-chair of the Committee on Performance (1996-2000), and Interactive Sessions at the Fort Worth and Orlando Conferences in 1998 and 2001.
During the summers, she is on the faculty of the Amalfi Music and Arts Festival in Italy, the Barcelona Piano Festival, International Piano Week in Belgium, and has been invited to join the faculty at the Catania International Piano Festival in Sicily. Pridonoff has been a member of the piano faculty at the College-Conservatory of Music since 1982 and is a Steinway artist. 
1
CCM Clarinet student wins position with Evansville Philharmonic...
January 31, 2023
The UC College-Conservatory of Music proudly shares the news that doctoral student Joseph Miller will join the ranks of the Evansville Philharmonic as a bass clarinetist. The Evansville Philharmonic is the largest arts institution in the Tri-State area, and performs for thousands of audience members each year.
3
Why we still need Black History Month
January 26, 2023
While Black History Month is an opportunity for all Americans to consider concepts central to the founding of the nation — democracy, freedom and equality — the University of Cincinnati propels the diversity, equity and equality momentum by honoring Black Americans' extraordinary impact through engaging lectures, open classes, food, galas and off-campus activities.
Debug
Query for this