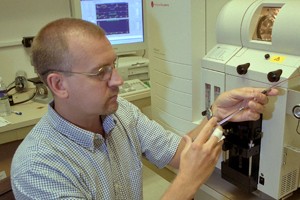 Department Head Receives Chemist of Year Award
The American Chemical Society recently named Patrick Limbach, chemistry professor and department head, as the 2009 Cincinnati Chemist of the Year at their annual meeting that took place at Miami University.
Limbach received the award for his contributions to chemistry education, as well as his research efforts in the field of mass spectrometry development and application.
The award is given out annually and requires a nomination from a colleague for consideration. Limbach is now in the company of other professors in the department who have received the award, including Tom Beck, Bill Heineman, Bruce Ault and more.
"It's very humbling and nice to be recognized by a group of your peers," Limbach says. "We have a very active and well-regarded local section of ACS, so it's nice to be recognized."
Limbach is quick to mention the support of faculty in the department for the reason behind the recognition.
"You don't receive an award like that without having the support of a great group of colleagues in the department that make these things possible," he says.
1
Why we still need Black History Month
January 26, 2023
While Black History Month is an opportunity for all Americans to consider concepts central to the founding of the nation — democracy, freedom and equality — the University of Cincinnati propels the diversity, equity and equality momentum by honoring Black Americans' extraordinary impact through engaging lectures, open classes, food, galas and off-campus activities.
Debug
Query for this