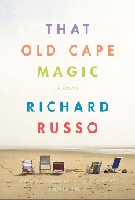 Pulitzer Prize Winner Richard Russo Comes to UC
Pulitzer Prize winning novelist Richard Russo — author of the acclaimed books "Mohawk," "The Risk Pool," "Nobody's Fool," "Straight Man," "Empire Falls," "The Whore's Child," "Bridge of Sighs," and most recently, "That Old Cape Magic" — will read from his work at 7 p.m. on Monday, April 12, in McMicken 127.
"Russo is one of our most revered novelists, one of the few living writers whose work had such equally great critical and popular success," says novelist and UC Associate Professor of English Brock Clarke. "And as those who remember his visit to campus
will testify, he's an excellent reader to boot."
What:
Richard Russo, Pulitzer Prize winning novelist will read from his works.
When:
7 p.m., Monday, April 12, 2010
Where:
McMicken 127 on UC's Uptown Campus