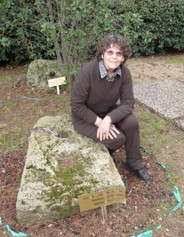 TUESDAY: Underwater Archaeology in Israel
Michal Artzy, head of the Sir Maurice and Lady Irene Hatter Laboratory for Coastal and Harbor Archaeology and professor at the University of Haifa's Leon Recanti Institute for Maritime Studies, will lecture at the University of Cincinnati on Tuesday, March 8.
Hosted by the
and the
in the
McMicken College of Arts and Sciences
, Artzy will discuss "Akko: An Ancient Multi-Cultural Harbor."
Who:
Prof. Michal Artzy, University of Haifa
What:
"Akko: An Ancient Multi-Cultural Harbor"

When:
7:30 p.m. Tuesday, March 8
Where:
Braunstein, Room 300, Uptown Campus
The lecture is free and open to the public.
The lecture will focus on one of the oldest continuously inhabited maritime cities in the world. Akko has served throughout its long history as a major crossroads connecting land and sea, East and West. Building on previous excavations, Artzy and the current American-Israeli research team are investigating Akko's history spanning the Bronze through Hellenistic periods. The team is implementing an approach that incorporates excavation, survey, conservation and community outreach to explore Akko's rich past and present.
Artzy has spent the past two decades pioneering work in coastal and underwater archaeology, particularly along the Carmel coast. Among the sites she has explored are Tel Nami, Tell abu Hawam, the oldest harbor of Haifa in the Qishon outlet, the Phoenician harbor of Athlete, and recently the renewed excavations at Tel Akko and the coast and sear near Caesarea.
For more information, contact Molly Russell at (513) 556-6657 or
.