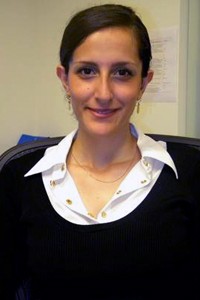 UC Geography Student Finds History of Energy to Hold Key to Developing Nations
While studying the history of human-environment relationships and energy use, recent
doctoral student Ezgi Akpinar-Ferrand realized the simple ways ancient civilizations worked could profoundly impact the developing nations of today.
In two entries of the forthcoming Encyclopedia of Energy (Salem Press), Akpinar-Ferrand discusses the bare-bones energy sources used by people in ancient Sumeria, Babylon and Greece.
"Back then, they had a more basic form of living so they were using a more basic form of energy," she says. "I calculated the energy people burned by the food they ate. Before the agricultural revolution, they were hunters and gatherers so they didn't have as much energy available to them due to the nomadic lifestyle and the lack of stable food sources."
She continues, "Studying ancient Mesopotamia and Greece between 2500 BC and 100 AD, I was able to look at the low-technology solutions to harness energy, from water-pumping devices and wind-powered transportation systems to animal domestication and the animal-powered agricultural practices."
The research required an abundant amount of time in the library, but it helped contextualize the ancient Mesopotamian and Greek civilizations with another civilization Akpinar-Ferrand studies: the Maya.
For her dissertation at UC, Akpinar-Ferrand visited Petén, Guatemala and Orange Walk, Belize, where she studied the water availability of the Mayan civilization before their population decimated. Akpinar-Ferrand and
Geography Professor Nicholas Dunning
found that even though the region is tropical, most of their water went underground, requiring the community to create water collection systems to sustain life.
"While studying what happened and why those areas are mostly uninhabited now, we noticed that water conservation was one of the most important things the Maya had to do environmentally. We looked at water collection points (
aguadas
) and found that they were able to find ways to make their difficult landscapes habitable," she says.
"Overall, by looking at ancient human-environment interactions, one can see low-technology solutions to environmental problems and possibly use these solutions in developing countries."
Many global organizations have found out ways to bring water to populations in Africa, for example, but their infrastructure is expensive, cumbersome and far from realistic. But by studying the Maya and Mesopotamian cultures, she says, we can invest low-cost solutions that could help people in the developing world.
Akpinar-Ferrand became even more aware of global environment and energy problems in 2009 when she interned for the United Nations Environment Programme, studying climate change, energy demand and human health in India.
"Our energy consumption these days is much more complex than it used to be. For example, in a place like India, there are more than one billion people but only 2 percent of their population has access to air conditioners. In the U.S., air-conditioner penetration is about 87 percent. But just imagine what's going to happen as the climates warm in India and they start using air conditioners. They don't have the same energy resources."
Even though her internship ended in 2009, Akpinar-Ferrand continues working with the U.N. as a data worker for their Global Environment Outlook Report, due out in 2012.
Akpinar-Ferrand defended her dissertation this spring and will be moving to South Carolina with her husband and fellow graduate student, Yann Ferrand. She plans to continue collaborating with UC's Departments of Anthropology and Geography as they head to Belize next year for more field research.
Ultimately, she hopes to visit Africa and look at possible ways to implement Mayan water management systems into the developing nations there.

Read more about UC's projects on the Mayas:
UC Pioneers Research on Environmental Practices of Ancient Maya at Tikal: Watch VIDEO of "Tikal Through Time"
UC researchers are strongly represented among the hundreds of presentations at the upcoming Society for American Archaeology meeting. In fact, one entire symposium session is dedicated to groundbreaking UC research on the agroforestry and water management of the ancient Maya.
UC Scientists Determine That Ancient Maya Practiced Forest Conservation 3,000 Years Ago
Researchers from the University of Cincinnati find the forest and water conservation practices of the ancient Maya hold lessons for the future — ours.

Interaction Between the Ancient Maya of Tikal and Their Local Environment
With support from the National Science Foundation, principal investigator (PI) David Lentz (biological sciences), co-PI Nicholas Dunning (geography) and co-PI Vernon Scarborough (anthropology), along with an international team of scientists, will conduct two seasons of archaeological and paleoenvironmental field research at the Tikal site in northern Guatemala.
Three A&S professors do field research in Guatemala to better understand the ancient Maya of Tikal and their local environment.