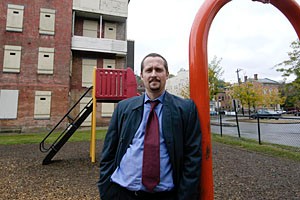 Who They Are Matters: Researchers Assess Immigrant Stereotypes and Views on The Impact of Immigration
A new study led by the University of Cincinnati examines stereotypes of immigrants from four global regions and measures opinions of the impact of immigration on U.S. society. The researchers say their findings provide the most solid evidence yet that Americans' perceptions of the characteristics of Latin American immigrants in particular are strongly linked to their beliefs about the impact of immigration, especially on unemployment, schools and crime. The research will be presented on Aug. 20 at the 107th annual meeting of the American Sociological Association in Denver.
The study was conducted by Jeffrey M. Timberlake, a UC associate professor of sociology; Junia Howell, a graduate student at Rice University; Amy Baumann Grau, a UC graduate student; and Rhys H. Williams, a professor of sociology at Loyola University Chicago.
They used data from two waves of the Ohio Poll, a semiannual UC-sponsored survey of registered Ohio voters. The Ohio Poll data for this study were collected by the UC Institute for Policy Research in November 2007 and May 2008. The researchers' findings came from a sample of about 2,150 people.
Respondents were randomly assigned a group of immigrants – either from Latin America, the Middle East, Asia or Europe – and asked to evaluate that group on five commonly used racial and ethnic stereotypes, including:
Rich versus poor
Intelligent versus unintelligent
Self-sufficient versus dependent on government assistance
Trying to fit in vs. staying separate from Americans
Violent vs. nonviolent

Without mention of any particular group of immigrants, respondents were asked questions about the likelihood of five outcomes resulting from immigration:
Higher levels of unemployment
Lower quality schools
Difficulty in keeping the country united
Higher levels of crime
A terrorist attack in the U.S.

The researchers report that Ohioans do not strongly link their beliefs about the traits of Asian, Middle Eastern or European immigrants to views of the impact of immigration. In contrast, effects of stereotypes of Latin American immigrants are "large and robust, especially regarding attitudes about the impact of immigration on unemployment, school quality and crime." The findings also showed a relatively weak association between stereotypes of all groups and the belief that immigration makes it harder to keep the country united.
U.S. Census data indicate that residents in most parts of Ohio have little direct contact with recent immigrants. As a result, the researchers say that makes the Buckeye State ideal for understanding public attitudes toward immigrants by populations that are relatively unaffected by actual immigration levels.
"Anyone who follows the public discourse on the current politics of immigration cannot escape noticing the number of times people preface their opinions – both for and against many different versions of immigration reform – with the claim to feel positively about immigration in principle, or with a bow to our 'nation of immigrants' history," conclude the researchers. "However, as our findings show, reaction to immigration is often filtered through attitudes toward the particular characteristics they believe immigrant groups hold. Who
'they'
are matters."
The study was supported by funding from the Charles Phelps Taft Research Center at the University of Cincinnati.
1
Pitch 'deck' perfect
March 31, 2023
"You never get a second chance to make a first impression." ~ Will Rogers Just ask anyone who has pitched potential investors for the opportunity to secure funding for a new startup. Individuals and teams present a thorough slide deck highlighting their qualifications, skills, research and successes.
2
Vox: How fake AI images can expand your mind
March 31, 2023
Seeing is believing, to the mind. In a Vox article on the impact of AI-generated imagery, UC's Tony Chemero, a philosopher and cognitive scientist, is cited as saying that technology has the potential to expand the mind. The article comes at a time when leading tech influencers are asking for a pause on the development of AI.
3
Political interests cause inefficiencies in insurance
March 31, 2023
Research by a University of Cincinnati professor illustrates how insurance markets are broken, Massachusetts Institute of Technology economist Amy Finkelstein said during a Freakonomics Radio Book Club discussion.
Debug
Query for this