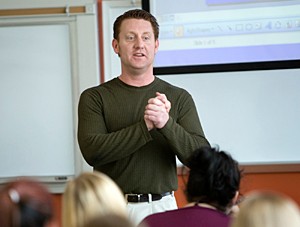 New Study Finds A Common Bond Between School Bullies and Their Targets: Alcohol Abuse
A new study out of the University of Cincinnati finds that both school bullies and their victims are likely to abuse alcohol after a bullying episode. Keith King, a University of Cincinnati professor of health promotion, along with Rebecca Vidourek, a UC assistant professor of health promotion, will present early findings of a new study on Oct. 29, at the 140th annual meeting of the American Public Health Association in San Francisco.
The study examined bullying, recent alcohol use and heavy drinking episodes among more than 54,000 7th-through-12th grade students in schools across Greater Cincinnati, including the Tristate regions of Ohio, Kentucky and Indiana. The data was collected by the Coalition for a Drug Free Greater Cincinnati as part of the 2009-2010 Pride Survey on adolescent drug use in America.
Results of the Greater Cincinnati analysis found that more than 38 percent of students were involved in school violent victimization, defined as ranging from verbal intimidation to threatening with and using a weapon.
The study found that school violent victimization was associated with increased odds of recent alcohol use and heavy drinking among males and females and across 7th-12th grades. King and Vidourek say the analysis also found that males, non-whites and junior high school students were more likely to be victimized by bullying.
King adds that junior high and high school students were one-and-a-half times more likely to have abused alcohol if they had been bullied. "The overall effect of victimization and alcohol use did not differ based on sex, age or race. It has an overall impact on their drinking rates and level of intoxication across all categories," says King.
"Also, bullies and their victims are reporting similar types of activity in relation to their drinking patterns. We believe the alcohol abuse may often be an effort to escape problems and to self-medicate," says King.
The UC researchers also found that bullies and victims of bullying were less likely to be engaged in positive activities such as school clubs, sports or community and church organizations. "The results of this study mirror our past studies in examining adolescent behavior, and how positive connections with schools, families and their communities can positively and significantly impact the social and emotional health of youth," says King.
King says future studies will closely examine other adolescent drug use besides alcohol.
The Pride Survey is a national survey that provides an independent assessment of adolescent drug use, violence and other behaviors. The Coalition for a Drug-Free Greater Cincinnati promotes drug-free environments for youth by enhancing partnerships to educate, advocate and support locally-based, community mobilization.
The American Public Health Association is the oldest and most diverse organization of public health professionals in the world and is dedicated to improving public health.
UC's College of Education, Criminal Justice, and Human Services
has been dedicated to excellence in education for more than a century. With more than 38,000 alumni, close to 5,000 undergraduate and graduate students and more than 350 faculty and staff, the college prepares students to work in diverse communities, provides continual professional development and fosters education leadership at the local, state, national and international levels.
1
Why we still need Black History Month
January 26, 2023
While Black History Month is an opportunity for all Americans to consider concepts central to the founding of the nation — democracy, freedom and equality — the University of Cincinnati propels the diversity, equity and equality momentum by honoring Black Americans' extraordinary impact through engaging lectures, open classes, food, galas and off-campus activities.
Debug
Query for this