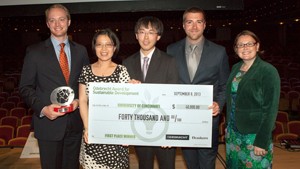 UC's "Team Effuelent" Trumps Competition with Trap Grease, Wins $40,000 Prize
The University of Cincinnati student entrepreneurship team that's fueling worldwide media attention is at it again. Team Effuelent recently took the $40,000 top prize of the Odebrecht Award for Sustainability Development Competition with their innovative concept of "Using Trap Grease As the Raw Material for Biodiesel Feedstock Production."
is led by UC students
Ron Gillespie
, Carl H. Lindner College of Business industrial management student;
Ethan Jacobs
, College of Engineering and Applied Science ACCEND student earning his bachelor's degree in civil engineering and also his MBA; and
Qingshi Tu
, UC doctoral environmental engineering student. The top three winning teams of the 2013 Odebrecht Award for Sustainable Development were unveiled Sept. 9, 2013, at the award ceremony in Miami, Fla.
The team's innovative Waste Grease Extraction process extracts substances such as fats, oils, and greases from the municipal wastewater stream and converts them into a low-cost biodiesel feedstock using processes compatible to the current biodiesel industry.
Not only does the WGE process generate a marketable product of value, it also results in lowered landfill costs for wastewater treatment plants and positively contributes to the environmental, economic, and energy sustainability of the United States.
Mingming Lu
, associate professor in CEAS' Department of Biomedical, Chemical, and Environmental Engineering, originally developed the novel process and serves as the team's advisor. The students were awarded $20,000, Professor Lu receives $10,000, and another $10,000 goes to the University of Cincinnati.
Team Effuelent discovered their market by looking for alternate sources of biodiesel production. They've been collaborating with the Metropolitan Sewer District of Greater Cincinnati (MSD) to solidify their process.
Currently, the researchers are working towards building a prototype system for the Waste Grease Extraction process.
Qingshi Tu reflects, "This is the second year for the Odebrecht Award for Sustainability Development Competition in the U.S., and it's our first time attending this competition. We are deeply honored by this award and we greatly appreciate the recognition from our esteemed peers.
We believe that we can move forward with this project and alter people's mindset from treating trap grease as a waste to taking advantage of it as a resource for energy generation."
The Odebrecht Award for Sustainable Development was created to give students a chance to show their best ideas to Odebrecht USA, Braskem America and to the world. Established in Brazil in 2008, the Odebrecht Award has expanded to Panama, Peru, Dominican Republic, Venezuela, Angola, Argentina and now, the United States.
The competition is open to students nationwide. The award, which includes cash prizes totaling $65,000, invites university students to search for innovative technologies and methods to promote sustainable and responsible development. Odebrecht USA, headquartered in Florida, and Braskem America, based in Philadelphia, sponsor the U.S. competition.
To enter the competition, teams submit a 20-page paper demonstrating their idea of sustainability development. The idea needs to address the following aspects: innovation, results & impact, potential to scale up and replicate, viability, organizational capacity, value creation and sustainability.
About Odebrecht and Braskem
Founded in 1944 in Brazil, the Odebrecht Organization is today a diversified business leader that operates in more than 25 countries and employs more than 185,000 people worldwide. Odebrecht USA opened its office in 1990, and since then it has successfully delivered projects throughout the United States. Odebrecht has a particular emphasis on public-sector infrastructure projects of vital importance.
Braskem is the largest producer of thermoplastic resins in the Americas. With 36 industrial plants in Brazil, the United States and Germany, the company produces over 35 billion pounds of thermoplastic resins and other petrochemicals per year. Braskem is the world's leading biopolymers producer with its 440 million pound green polyethylene plant that produces polyethylene from sugarcane-based ethanol.
Congratulations Team Effuelent!


1
Trailblazing engineering professor honored with alumni award
January 30, 2023
Professor Awatef Hamed is a trailblazer. She came of age during a time when few women were going to college to study engineering. In 1968, she left her home in Egypt and came to the University of Cincinnati as the only female graduate student in the aerospace engineering program. She went on to get her master's and doctoral degrees from UC and then was hired as a faculty member, where she was the only female faculty member for two decades. In 2001, she became the first woman to head a college aerospace engineering department.
3
Engineering alumnus presented with lifetime achievement award
January 24, 2023
Michael Valentine's career as an innovator and entrepreneur has spanned more than four decades, and has included the creation of an industry-changing radar detector and two successful companies, Cincinnati Microwave, and his current business, Valentine Research. Through the years, Mike and his wife, Peg — both UC alumni — have become prodigious philanthropists at the University of Cincinnati and within the region, giving of their time and treasure to many causes close to their hearts.
Debug
Query for this