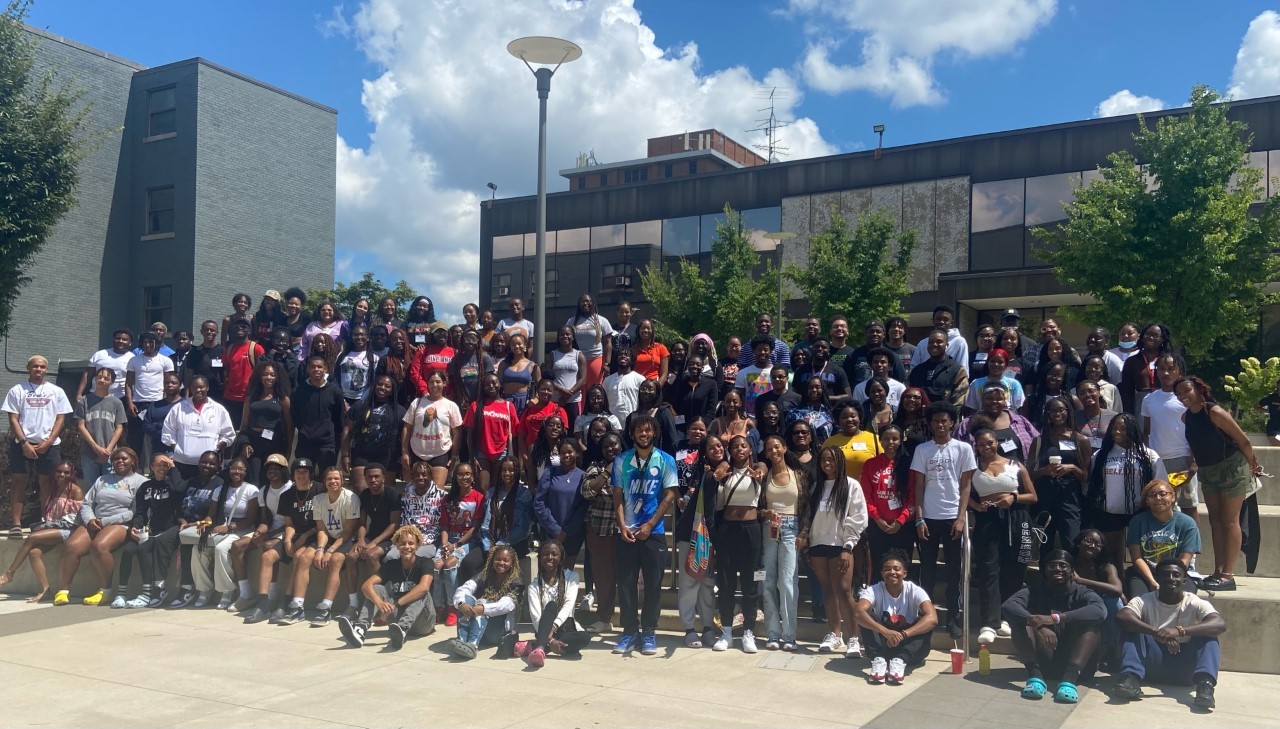 Video link: https://www.youtube.com/embed/R8-X-Vk8PRY?rel=0
Transitions is a program designed to enhance the first-year experience for incoming Black students by providing leadership training, workshops, peer mentoring, and other social and academic activities to ensure that all participants are successful. Accepted students will have the opportunity to move in early to enable them to attend the required early arrival program.

Graduates of the program have gone on to become elected members of Student Government and have also obtained membership and been leaders in a myriad of organizations from fraternities and sororities to Resident Assistants (RAs), Student Orientation Leaders (SOLs), and BASE Mentors...all while maintaining a standard of excellence in the classroom. Transitions is the premier program of the AACRC. Participation in it will undoubtedly help you begin a successful academic career here at the University of Cincinnati. Apply online today!
Program Objectives
Retain & Matriculate Black Students
Receive Guidance through Mentorship
Nurture & Develop Cultural Foundations
Cultivate Leadership Skills
Provide Community Service Opportunities
Develop an Affinity for UC
Create a Culture of Belonging
Transitions Application Deadline for Students interested in the Dr. P Eric Abercrumbie Living-Learning Community

5/5/2021 
* Students interested in the ALLC must apply for Transitions and the ALLC on the Housing Application by May 5th.
Final Transitions Application Deadline
6/27/2021 11:59 pm
Early Move-in
8/15/2021
Early Arrival Program
8/16/2021 - 8/18/2021
Weekly Meetings

Each Wednesday, 4:45 PM - 5:45 PM during the Fall and Spring Semesters.
Dr. P Eric Abercrumbie Living-Learning Community
The Dr. P Eric Abercrumbie Living-Learning Community (ALLC), supported by the Office of Ethnic Programs and Services (EPS) and the African American Cultural & Resource Center (AACRC), is a residence-based learning community in Daniels Hall for students who have been accepted into the Darwin T. Turner Scholars Program and/or the Transitions Program. Participants will live in an environment that fosters personal and social identity development, leadership engagement, and academic success. Spots in the ALLC are limited and can be selected on the Housing Application. 
Through this community, we honor the history and legacy of those who came before us, while providing students the opportunity to create their own path towards leaving their mark at the University of Cincinnati and larger community. Students participate in a variety of service learning projects and meet monthly. Members of this community engage in dialogue and reflection that facilitate a sense of pride in one's racial and ethnic identity, as well as their other intersecting identities.
Application Information
The ALLC application should be completed through the Housing Application. All Applications for housing are due on May 5th. If you are not a member of the Turner Scholars Program and want to participate in the ALLC, make sure you have applied to Transitions and the ALLC by the Housing Deadline.
Requirements:
Be a first-year student accepted into the Darwin T. Turner Scholars Program and/or Transitions Program.
Live in Daniels Hall, on a designated floor, with other members of the community.
Roommates must also be accepted into the ALLC.
Meet the expectations and requirements of the Darwin T. Turner Scholars and/or Transitions Program.
Participate in monthly ALLC meetings, attend cultural campus events, and participate in service-learning projects.