Home to a new hub that fast-tracks marketplace breakthrough ideas and stokes creativity in teaching and basic research, the University of Cincinnati is proving that innovation is a mindset, not a major
M
ere months after two University of Cincinnati graduates founded Amplify Sciences, the startup had already filed invention disclosures and patents that promise the world a better flu test. Today, its founders, Eliot Gomez and Andrew Jajack, are locking down seed funding from Cincinnati to San Francisco.

How did they go from birthing their idea to hitting their stride in front of the open market so quickly?
Enter 1819 Venture Lab, UC's brand new startup ecosystem that readies students, along with faculty, staff, alumni and business partners, to deep dive fast – really fast – in pooling know-how, resources and research to find solutions around today's most pressing challenges.
Rooted in the university's strategic direction, Next Lives Here, UC's Innovation Agenda is guided by the understanding that talent has choices, proximity matters and innovation is the new currency — the currency to attract, retain and grow talent. The 1819 Venture Lab pre-accelerator is just one of several ways the Innovation Agenda is taking shape, as UC and its partners have also taken major steps toward creating an innovation district with the potential to reshape Greater Cincinnati and the surrounding region. 

Gomez, CEAS '09, D (CEAS) '14, and Jajack, D (CEAS) '18, were Company Zero for what would become the 1819 Venture Lab. When they went in, Jajack and Gomez thought the direction to go with their technology was water quality testing. They came out of the pilot program — an "eye-opening experience," says Gomez — with a very different business model.
"We realized that building a business is much more than just doing great science," says Jajack. "Our mentors challenged us and kept pressing us to talk to potential customers. They asked us questions — 'OK, what is the business case here? Who's gonna buy it? Will they buy it today?' — that helped us determine what direction to take."
Working with entrepreneurs in residence at UC's new 1819 Innovation Hub, the Amplify Sciences team has set their sights on developing the first at-home flu test. Today's flu tests require a difficult-to-collect specimen; imagine sticking a cotton swab as far back into your nose as it will go. It is no wonder why all of these tests are currently performed only by health care providers. To make it possible for people to test at home, Amplify developed a way to use a small sample of saliva instead. Flu testing is just the beginning — the basis for their business has the potential to redefine the $17 billion immunodiagnostics industry. 
The path is far different than either UC grad ever envisioned. After he returned to Cincinnati at the beginning of 2017, fresh off of a research fellowship at Linköping University in Sweden, Gomez immediately began thinking about leaving the Queen City once more, this time for San Francisco. A position in the UC College of Engineering and Applied Sciences' Novel Device Lab caught his eye, though. Gomez was intrigued by the wearable sweat sensor research of Jason Heikenfeld, a UC professor and the lab's director, and he saw appeal in Heikenfeld's entrepreneurial approach. 
"It was a really interesting opportunity to be research-oriented, but industry-focused," Gomez says. Instead of looking for a place to fit into San Francisco's tech startup scene, Gomez stayed in Cincinnati, working as a research scientist in Heikenfeld's lab. That's where Gomez met Jajack, who had envisioned himself pursuing a career in academia. 
In a roundabout way, Gomez's Bay Area dream has come true. For instance, Amplify Sciences spent the early part of 2019 in a 10-week accelerator class at Y Combinator, a seed investor in San Francisco for startups that helps companies refine their pitches and connect with other investors. Y Combinator counts companies such as Airbnb, Dropbox and DoorDash among its alumni.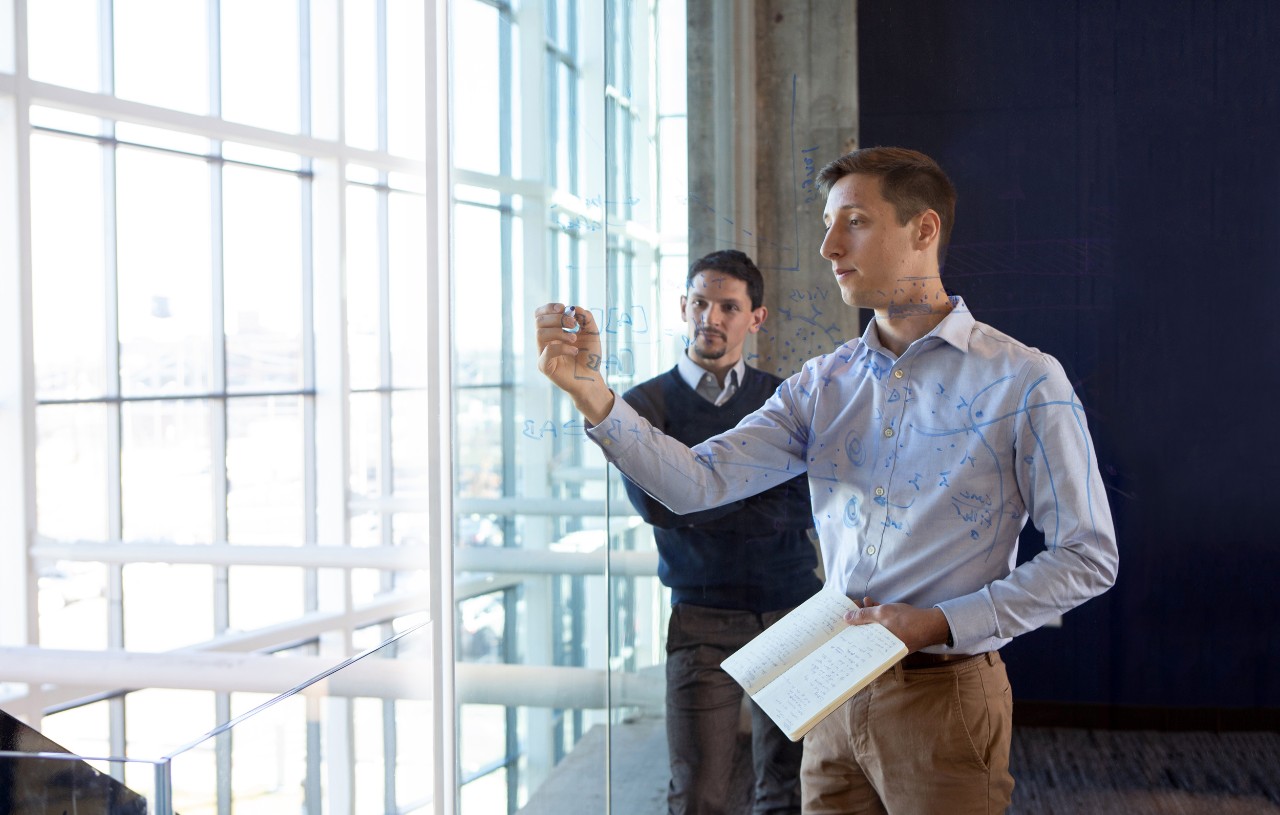 A novel approach to innovation
Now the UC Office of Innovation's assistant vice president of commercialization, Heikenfeld says the Venture Lab pre-accelerator is building on the past investments in startups, including the previous accelerator model and UC's Center for Entrepreneurship and Commercialization in the Carl H. Lindner College of Business. What makes it different: speed and volume. Venture Lab's second cohort graduated at the end of October, and its third finished in February.
Technology commercialization moves at a glacial pace at most universities, fettered by concerns about the potential success or failure of a given startup spun out of university-owned intellectual property. UC's new pedal-to-the metal approach leaves those concerns to others.
"The market is terrible at picking winners and losers, so why would we be any better?" Heikenfeld asks. "Seventy percent of all royalties go to the top 10 universities. Do you really want to play that game? Or do you want to build an innovation district?" 
Instead of focusing on predicting success, Venture Lab prepares teams quickly so the outside world can inform them if they have a winning value proposition. "What is magic about this is that by creating this density of opportunity," says Heikenfeld, "external entrepreneurial talent and investor capital can then sweep in early and aggressively to lead the teams forward."
The pre-accelerator program has already caught the attention of early-stage investors and entrepreneurs, and it appears to be on pace to exceed its goal of establishing 10 or more startups per year. UC's Office of Innovation has also taken steps to speed up the process of technology commercialization. Students who create new technologies own them, while UC faculty get a much more favorable deal on intellectual property through an express license — a set of terms that are straightforward and easy to comprehend at the time that companies graduate the 1819 Venture Lab.
"Faculty know what it's going to cost to take the technology out the door, and they get a deal that anyone else who wants to invest in the company won't find restrictive," says Geoffrey Pinski, director of tech transfer. "UC still gets its return if they're highly successful, and the company is in a position to raise capital and move forward as quickly as possible."
New front door for business
For decades, companies hungry for access to talent and technology struggled to interface with UC, in large part simply because they were unsure of where to even begin. UC President Neville Pinto signalled in February 2018 that those days were numbered when he announced the launch of "Next Lives Here," the university's new strategic direction to lead urban public universities into a new era of innovation and impact.
The 1819 Innovation Hub, completed in August 2018, now serves as one of the Uptown Innovation Corridor's anchors and the university's front door — the first touchpoint for organizations interested in UC talent, technology and partnerships. It is here where transdisciplinary student collaborations are forming, where faculty are leveraging their creations into business ventures, where companies are turning for access to talent, and where investors are seeking to commercialize UC-owned intellectual property.
UC, city and business leaders envision an innovation district in the Cincinnati neighborhood of Avondale.
"We now live in a world where organizations understand that they need talent, in terms of both access to students and faculty," says UC Chief Innovation Officer David J. Adams. "They need the research capabilities that our great university provides, and, given the pace of change that they live in, the ongoing educational needs of businesses are vast. They are looking to us as a university to be able to provide that.
"We have to be a net attractor and retainer of talent, and the economic engine of the University of Cincinnati is here to support our community." 
The university is uniquely placed to do just that, in part thanks to the national spotlight turned on the Cincinnati region. Since 2014, Cincinnati has seen a 353-percent growth in the number of startups. Venture funding has grown from $15 million in 2010 to over $100 million in 2018. It's the reason why Forbes just placed Cincinnati on the list of the "Top 10 Rising Cities for Startups."
Silicon Valley may be the country's oldest and largest innovation district, but it's hardly the only one. Just as Silicon Valley's fate is intertwined with Stanford, Boston's Kendall Square shares connections with both Harvard and the Massachusetts Institute of Technology. Similarly, Georgia Tech has Tech Square in Midtown Atlanta, and the Pittsburgh Innovation District benefits both the University of Pittsburgh and Carnegie Mellon.
UC's Adams knows this isn't a new idea, and he sees a chance to learn from the mistakes of other innovation districts and to create something truly unique and, well, innovative.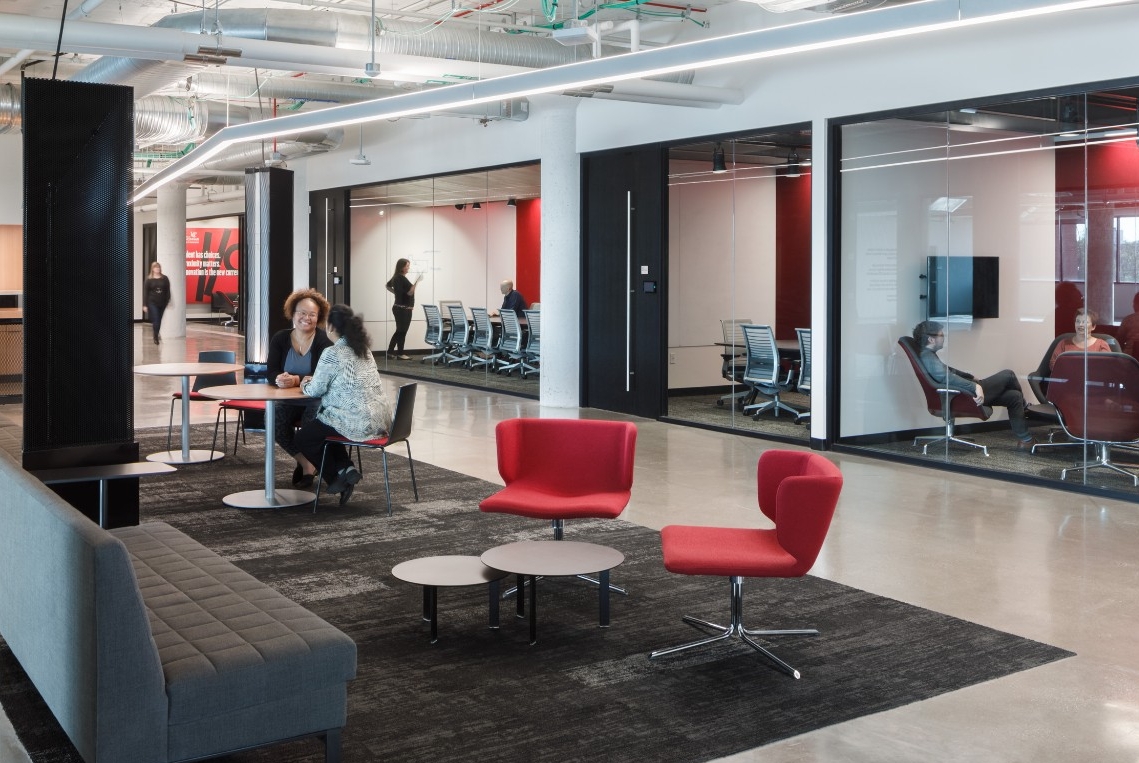 The 1819 Innovation Hub, he says, is a strong start and a tone-setter for the community. Named for the year of UC's founding, the 1819 Innovation Hub occupies a structure built in 1929 that once housed a Sears, Roebuck & Co. department store and was later the home to UC Campus Services. But make no mistake: Leaders here say UC's $38 million investment in the renovation of the cavernous, 133,000-square-foot building signals that the 1819 Innovation Hub is all about UC's future.
"UC is where 'next' lives," says Adams. "This is where 'next' happens."
By design, the 1819 Innovation Hub fosters collaboration and partnerships. In addition to being home to the UC Office of Innovation — which came into existence when Pinto created the position of chief innovation officer — the facility now counts Procter & Gamble, Kroger, seed investment fund CincyTech, Cincinnati Bell, Cincinnati Financial, the Village Life Outreach Project, the Simpson Urban Futures Fund, Kingsgate Logistics and the Live Well Collaborative among its tenants. Although each organization has private space on the third or fourth floors, they share several glass-walled meeting rooms and a central kitchenette area.
The 12,000-square-foot makerspace called "The Ground Floor" attracts students from a variety of disciplines, including nursing, engineering and industrial design, to name a few. The second floor is regularly abuzz thanks to its classrooms and large multipurpose room, as well as the office of the Venture Lab. Programming such as evening networking events and weekend hackathons attract students and businesspeople alike, giving UC and the Hub's tenant companies numerous opportunities to connect and identify opportunities for collaboration.
The University of Cincinnati's 200-year history is rich with innovation. UC is the birthplace of cooperative education, an idea that has spread to places of higher learning around the globe. The world has UC alumni to thank for improvements to virtually every facet of quality of life, including how we eat, work, play and relax. UC research has resulted in groundbreaking discoveries in the field of medicine, including the first heart-lung machine, the first prescription antihistamine and the oral polio vaccine used worldwide.
"What we're really creating here is a place where organizations of all sizes, from startups to small- to mid-sized organizations to large organizations, can collaborate, can create, can connect with the resources of this great university," Adams says. "Additionally, they can connect with the resources of Cincinnati Children's Hospital Medical Center, which does a significant amount of research in conjunction with the University of Cincinnati."
UC's contributions to the effort to establish the Uptown Innovation Corridor are ongoing. Just weeks after the 1819 Innovation Hub's grand opening, Pinto announced in August that UC has committed to leasing a 180,000-squarefoot building that will anchor the southeast quadrant of the Uptown Innovation Corridor. Dubbed the Digital Futures Building, UC's new space will primarily house UC researchers focused on a digital future — a future filled with sensors, robotics, smart transportation, cybersecurity, artificial intelligence, augmented and virtual reality, and quantum computing — and how those technologies translate into products and services that attempt to change our lives for the better.
"This new space will be interdisciplinary in form and forward-leaning in function," Pinto says. "It will empower diverse teams of thinkers and doers to push the boundaries of what's possible — to bend the future in Cincinnati's direction."
As UC and its partners recruit future innovators to Cincinnati, having a place to demonstrate and illustrate the kinds of innovation going on becomes critically important.
"One of the key characteristics of our developing an innovation district here is that we are truly creating a live, work, learn and play environment," Adams says. "This isn't just about office space and the educational aspects. There are planned developments around apartments, as well as retail and restaurants. We're creating a place where talent can collaborate with other talent."
The Uptown Innovation Corridor is closing in on becoming a reality. With the city-led effort to reconfigure the Interstate 71-Martin Luther King Drive interchange, the area is more accessible than ever before. The Centers for Disease Control and Prevention's National Institute of Occupational Safety and Health is consolidating its Cincinnati operations to a $110 million facility on land in the northern end of the corridor. And in December, former P&G executive and CincyTech co-founding CEO Rich Kiley announced that he'd reached an agreement with the Uptown Consortium to secure acreage in the corridor for CoMade, a manufacturing, prototyping and job-training facility that will include affordable rental space for entrepreneurs. CoMade aims to open in fall 2020.
Not every piece of the puzzle is yet in place, but UC Chief Innovation Officer David Adams is pleased with the signs of positive momentum.
"I think it's an extremely exciting opportunity for us as a university, as well as for the broader community and region," he says. "Part of our job is going to be making this visible. We want this to be a beacon to the nation and the world that we want you to be part of our talent ecosystem here in Cincinnati."