CCM's streaming concert series continues on Feb. 12
Watch the Ariel Quartet perform with CSO/CCM Diversity Fellows Cristian Diaz and Denielle Wilson
The show goes on with the next episode of CCMONSTAGE Online!
The second episode of CCMONSTAGE Online is now available for on demand viewing. Originally broadcast on Friday, Feb. 12, this 30-minute-long virtual concert features CCM string quartet-in-residence the Ariel Quartet collaborating with master's degree students Cristian Diaz and Denielle Wilson, who are also both second-year participants in CCM's innovative Diversity Fellowship initiative with the Cincinnati Symphony Orchestra.
To open the concert, Wilson and Diaz – a cellist and a violist respectively – join the Ariel Quartet on the stage of CCM's Robert J. Werner Recital Hall for a performance of the first movement of Johannes Brahms' String Sextet in B-flat Major.
The Ariel Quartet – which is comprised of CCM faculty members Alexandra "Sasha" Kazovsky, violin; Amit Even-Tov, cello; Gershon Gerchikov, violin; and Jan Grüning, viola – then perform the third movement of Felix Mendelssohn's String Quartet in D Major.
For the finale of this digital program, the Ariel Quartet are rejoined by Diaz for a performance of the fourth movement of Wolfgang Amadeus Mozart's String Quintet in G Minor.
Like other episodes in CCM's new virtual performance series, Joining Hands also features commentary from CCM students and faculty. All episodes of CCMONSTAGE Online can be digitally streamed for free. After the premiere broadcast, each installment in this ongoing series will remain available for on-demand viewing on CCM's website, YouTube channel and Facebook page.
Video production by MasseyGreenAVP, LLC. Additional footage provided by the Cincinnati Symphony Orchestra. This digital performance series is made possible by support from CCMONSTAGE Online Broadcast Sponsors CCMpower and ArtsWave, and CCMONSTAGE Online Production Sponsors Dr. & Mrs. Carl G. Fischer.
The CSO/CCM Diversity Fellowship
Funded by The Andrew W. Mellon Foundation, the CSO/CCM Diversity Fellowship provides an unparalleled learning experience for graduate-level violin, viola, violoncello and double bass players coming from populations that are historically underrepresented in classical music.
Participants get paid to perform with the acclaimed Cincinnati Symphony Orchestra while completing your two-year graduate degree at CCM with full scholarship support plus stipend. Learn more
7:30 p.m. EST Friday, Feb. 12, 2021
Johannes Brahms: String Sextet in B-flat Major No. 1, Op. 18 (1860)
Felix Mendelssohn: String Quartet in D Major No. 3, Op. 44, No. 1 (1838)

III. Andante espressivo ma con moto

Wolfgang Amadeus Mozart: String Quintet in G Minor No. 4, K. 516 (1787)
Distinguished by its virtuosity, probing musical insight, and impassioned, fiery performances, the Ariel Quartet has garnered critical praise worldwide over the span of nearly two decades. Formed in Israel as teenagers at the Jerusalem Academy Middle School of Music and Dance and celebrating their 20th anniversary in 2020-21, the Ariel was named recipient of the prestigious Cleveland Quartet Award, granted by Chamber Music America in recognition of artistic achievement and career support. Since 2012 the members of the ensemble have served as the faculty quartet-in-residence at CCM since, where they direct the chamber-music program and present a concert series in addition to maintaining a busy touring schedule in the United States and abroad.
The ensemble has dedicated much of its artistic energy and musical prowess to the groundbreaking Beethoven quartets, and has performed the complete Beethoven cycle on five occasions throughout the United States and Europe. The Quartet has written a powerful and comprehensive series of program notes on the sixteen quartets, open to the public on their website. The Ariel Quartet regularly collaborates with today's eminent and rising young musicians and ensembles, including pianist Orion Weiss, violist Roger Tapping, cellist Paul Katz, and the American, Pacifica and Jerusalem String Quartets. The Quartet has toured with cellist Alisa Weilerstein and performed frequently with pianists Jeremy Denk and Menahem Pressler. In addition, the Ariel served as quartet-in-residence for the Steans Music Institute at the Ravinia Festival, the Yellow Barn Music Festival and the Perlman Music Program, as well as the Ernst Stiefel String Quartet-in-Residence at the Caramoor Festival.
Formerly the resident ensemble of the Professional String Quartet Training Program at the New England Conservatory, from which the players obtained their undergraduate and graduate degrees, the Ariel was mentored extensively by acclaimed string quartet giants Walter Levin and Paul Katz. It has won numerous international prizes in addition to the Cleveland Quartet Award: Grand Prize at the 2006 Fischoff National Chamber Music Competition and the Székely Prize for the performance of Bartók's String Quartet No. 4, and Third Prize at the Banff International String Quartet Competition. About its performances at the Banff competition, the American Record Guide described the group as "a consummate ensemble gifted with utter musicality and remarkable interpretive power" and noted, in particular, their playing of Beethoven's monumental Quartet in A minor, Op. 132, as "the pinnacle of the competition." 
The Ariel Quartet has received significant support for its studies in the United States from the American-Israel Cultural Foundation, Dov and Rachel Gottesman, the Legacy Heritage Fund and the A.N. and Pearl G. Barnett Family Foundation. The members of the Ariel Quartet are graduates of the Young Musician's unit of the Jerusalem Music Centre. Visit the Ariel Quartet's website to learn more.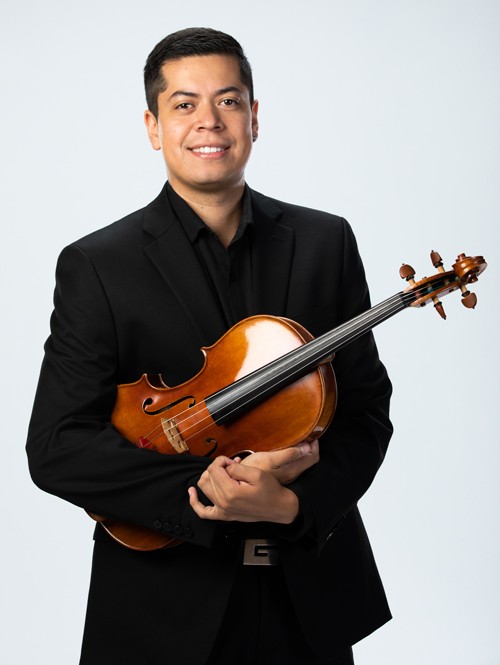 Cristian Diaz is a violist from Colombia who holds a bachelor's degree in violin performance from Colombia's National University-Conservatory of Music, and a master's degree in chamber music from Kent State University. His former professors include members of the acclaimed Miami String Quartet, Keith Robinson and Cathy Meng Robinson, and his viola professor Joanna Patterson Zakany, member of the prestigious Cleveland Orchestra.
Diaz has been part of many orchestras across the globe, and was runner up in the Kent State University concerto competition (2017), he was selected to become part of the Mahler Chamber Orchestra Academy 2018 in Dortmund, Germany, winner of the inaugural Diversity Fellowship of the CityMusic Cleveland Chamber Orchestra and is also a member of the Efferus String Quartet.
He has attended the XI Cartagena Music Festival (Colombia, 2017), the first and second International Festival of String Quartets (Colombia, 2015 and 2016), III Bogota's Viola Festival (Colombia, 2015), Santa Catarina Music Festival FEMUSC (Brazil, 2012) and also the Kent Blossom Music Festival (2019). Diaz began his master's degree at CCM in the fall of 2019 where he studies with Professor Catharine Lees.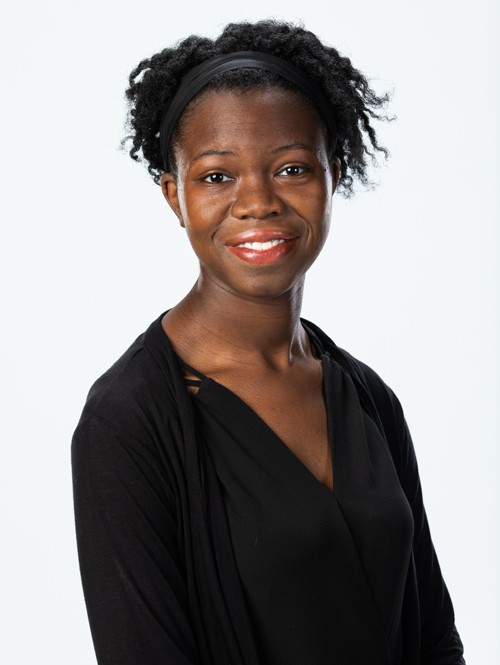 Denielle Wilson is a cellist from Lithonia, Georgia. A former resident of Evanston, Illinois, she has played in the Civic Orchestra of Chicago and maintains a studio of private cello students. She completed an undergraduate degree at Northwestern University in 2017, having majored in cello performance and music education. Her musical mentors have included Hans Jørgen Jensen, Joel Dallow and Nan Kimberling. She has spent summers at the Meadowmount School of Music, Bowdoin Music Festival, Aspen Music Festival and School, and the Grant Park Music Festival. She plays in a piano trio with her siblings, and they enjoy sharing classical and religious music with their local community.
Louise Dieterle Nippert Trust
Scholarship and Resident Artist Sponsor
The Andrew W. Mellon Foundation
The Patricia Kisker Foundation
CSO/CCM Diversity Fellowship Sponsors
The Corbett Endowment at CCM
Dance Department Sponsor
All-Steinway School Sponsor
H. Wayne Ferguson Family Foundation
Louise H. & David S. Ingalls Foundation, Inc.
Community Partners
The Joseph and Frances Jones Poetker Fund of the Cambridge Charitable Foundation, Ritter & Randolph, LLC, Corporate Counsel
Visiting Artists & Thinking About Music Sponsor
CCMpower: Friends and Alumni Fueling the Future of the Arts
ArtsWave: Funding Arts, Fueling Community
CCMONSTAGE ONLINE Broadcast Sponsors
Dr. & Mrs. Carl G. Fischer
CCMONSTAGE ONLINE Production Sponsors
Elizabeth C.B. & Paul G. Sittenfeld
Musical Theatre Showcase Sponsor
Genevieve Smith
Opera Production Sponsor
An Anonymous Donor
Estate of Mr. William A. Friedlander
Mrs. William A. Friedlander
Dr. Randolph L. Wadsworth
Judith Schonbach Landgren and Peter Landgren
Mr. & Mrs. Harry H. Santen
Elizabeth C.B. & Paul G. Sittenfeld
Mr. & Mrs. Thomas E. Stegman
Dr. & Mrs. Theodore W. Striker
Mrs. Harry M. Hoffheimer
Ariel Quartet Sponsors
Jan Rogers
Willard and Jean Mulford Charitable Fund of the Cambridge Charitable Foundation
Choral Studies Sponsors
Robert & Debra Chavez
Three Arts Scholarship Fund
CCMpower Partners
Mr. & Mrs. Joseph W. Hirschhorn
Orchestral Sponsor
Mr. & Mrs. James L. Miller
Musical Theatre Production Sponsor
Graeter's Ice Cream
Greg Mathein
Musical Theatre Performance Sponsors
CCMpower: Friends and Alumni Fueling the Future of the Arts
Richard E. Thornburgh
Jeff Thomas Catering
Trish and Rick Bryan
The Harmony Endowment Fund: Challenging Hate and Prejudice Through the Performing Arts
The Castleberry Family
KMK Law
Paula Boggs Muething and Brian Muething
Sandra and Stephen Joffe
Patti Myers and Alan Flaherty
Graeter's Ice Cream
Al. Neyer
Taft Law
Truepoint Wealth Counsel
Kenton Shaw Interior Design
Waldman & Company, CPAs
Event Sponsors
CCMONSTAGE Online is a series of free digital concerts and performing arts presentations showcasing the unparalleled artistry and expertise of CCM's students, faculty and staff. Enjoy a sneak peek at a few of our upcoming episodes:
A preeminent institution for the performing and media arts, the University of Cincinnati College-Conservatory of Music offers nearly 120 possible majors, along with a wide variety of pre-collegiate and post-graduate programs.
The synergy created by housing CCM within a comprehensive public university gives the college its unique character and defines its objective: to educate and inspire the whole artist and scholar for positions on the world stage.
For more information, please visit us online at ccm.uc.edu.
Featured image at top: the Ariel Quartet and special guests from the CSO/CCM Diversity Fellowship program perform in a still image from the second installment of CCMONSTAGE Online. Photo/MasseyGreenAVP
1
UC celebrates Marian Spencer Scholars
September 22, 2023
The University of Cincinnati celebrated the legacy of UC alumna Marian Spencer by recognizing 20 students awarded her namesake scholarship during a Sept. 9 induction ceremony. The Marian Spencer Scholars are all high-achieving graduates of the Cincinnati Public School system.
2
UC and GE partner to introduce high schoolers to engineering
September 21, 2023
Rising 9th and 10th graders experienced a free, weeklong, immersive engineering camp at the University of Cincinnati as part of GE's Next Engineers program. Students completed hands-on engineering design challenges while being mentored by GE Aerospace volunteers, industry professionals and current College of Engineering and Applied Science (CEAS) students.
3
Ariel Quartet opens season with chamber favorites on Sept. 26
Event: September 26, 2023 7:30 PM
The UC College-Conservatory of Music's resident professional ensemble, the Ariel Quartet, opens their 2023-24 season with a jovial evening of long-standing fan favorites at 7:30 p.m. on September 26 in Robert J. Werner Recital Hall. Get your tickets now through the CCM Box Office!
Debug
Query for this