UC launches public health undergrad degree
Responding to demand, nine UC colleges join forces to prep students for a career in public health
When the University of Cincinnati opened enrollment for its first undergraduate degree program in public health, third-year UC student Olivia Heltman was elated. Heltman says she had gone through a "roller coaster" in terms of what she wanted her future career path to look like — medicine or law — but knew for certain, after a trip to Uganda in 2019, that the foundation of her future life's work would be grounded in public health.
"In considering what most people think of when they hear the title 'public health official,' I think that this definition has changed following the COVID-19 pandemic," says Heltman, whose vision is to earn a bachelor's degree in public health and pursue a complementary doctorate in medicine thereafter. "I now believe people understand the importance of public health and have a greater respect for individuals in this role." 
Heltman is a prime example of why UC officials launched the program. Classes will begin this August, and students will be able to work toward either a bachelor's or associate degree in public health. The university already has a master's degree program in public health, established in 2008.
Video link: https://www.youtube.com/embed/7LB7bh2Q8D4?rel=0
"As a premier urban public research institution, our purpose is to educate, engage and enhance the global community. The time is now, in the midst of a global pandemic, to pull together the expertise of UC's renowned faculty from multiple colleges to launch the university's first bachelor's degree in public health," says Kristi Nelson, UC's executive vice president for academic affairs and provost. 
The program, however, isn't just for pre-med majors like Heltman. It will prepare those aspiring graduates for careers as public health administrators, practitioners, analysts, epidemiologists and a multitude of other public health-related careers. 
The time is now, in the midst of a global pandemic, to pull together the expertise of UC's renowned faculty from multiple colleges to launch the university's first bachelor's degree in public health.
UC Provost Kristi Nelson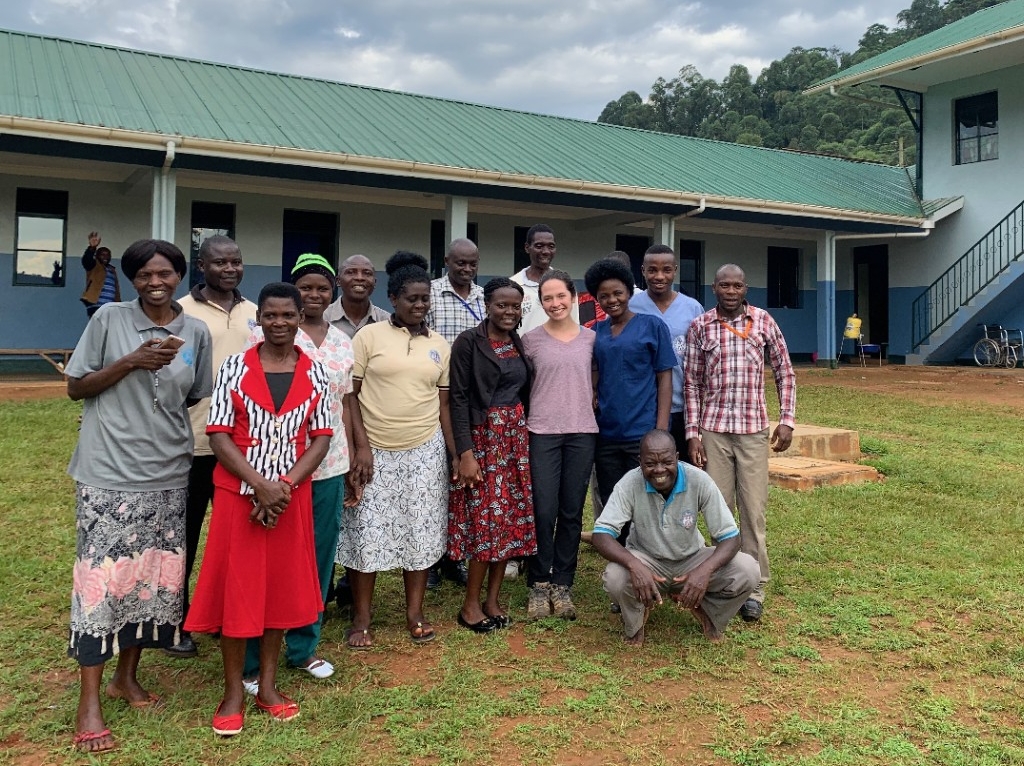 "As part of this program, students are able to select from a diverse offering of electives, both online and in the classroom, across multiple colleges as a part of this degree," says Regan Johnson, assistant professor at UC's College of Education, Criminal Justice, and Human Services (CECH). Johnson will serve as director of the degree program.
Additionally, public health entities such as the American Heart Association (AHA) will provide student internship opportunities. "These internships provide robust, real-world experience to prepare graduates to be future leaders in the public health field," says adjunct professor Angelica Hardee, vice president of health strategies at the AHA. 

The charge to advance the degree program, UC's Johnson says, was based on analysis of labor statistics and rapidly increasing opportunities for growth in the public health sector.
According to Johnson, their findings bear out that the demand for public health career opportunities will increase by 5.78% over the next 10 years, with average earnings of $60,900 annually. Select occupations in public health, she says, are expected to experience growth to an even greater extent. Those select occupations include health education and counseling (16.2% growth), project and program managers (8% growth) and health care administrators and managers (20.5% growth). 
Coordinated through the College of Medicine, the on-campus degree program, both as a major and minor, will focus on awareness of emerging issues in public health, the social and behavioral aspects of preventing disease, environmental health concepts, the changing U.S. health care system and the monitoring of diseases in the community. 
The bachelor's degree also will be offered online, coordinated by UC Online, providing the broadest possible access to students of all backgrounds and living throughout the U.S. 
"We have combined the best strengths of each of the participating colleges at the university into a combined single effort to create these very strong and competitive programs in public health, which will be wonderful additions to our growing master's degree public health program," says Andrew T. Filak Jr., MD, senior vice president for health affairs and dean at the College of Medicine. "The current pandemic certainly has amplified student interest in public health and the need for public health professionals in communities throughout the country." 
9 colleges collaborate
UC's new interdisciplinary public health degree resulted from collaboration across campus, led by:
Andrew T. Filak Jr., MD (Medicine), dean and senior vice president for health affairs
Larry Johnson (CECH), dean



Valerio Ferme (A&S), dean

Tina Whalen (AHS), dean and professor

Timothy Jachna (DAAP), dean

Greer Glazer (Nursing), dean and Schmidlapp professor

Pam Heaton (Pharmacy), interim dean

Robin Lightner (Blue Ash), dean and professor of psychology

Jeffrey Bauer (Clermont), dean and professor
Special thanks also to Christopher Lewis, MD, vice provost of academic affairs; Jason Lemon, vice provost and dean of UC Online; Jack Miner, vice provost for enrollment management; Philip Diller, MD, PhD, College of Medicine senior associate dean for educational affairs; and Anil Menon, PhD, College of Medicine associate dean for baccalaureate education, who served as the provost's appointed facilitator for the program. 
The degree offerings will be an interdisciplinary effort between nine UC colleges: Medicine; CECH; Arts and Sciences; Allied Health Sciences; Design, Architecture, Art, and Planning; Nursing; Pharmacy; and Blue Ash and Clermont colleges, where students can take the first two years of the program. 
Through the interdisciplinary constructs of the public health degree, students will acquire a basic understanding of each of the core areas of public health, will be introduced to career opportunities and participate in learning experiences that will prepare them for making a difference in the health of their communities following graduation, says Nelson. 
"It is the most opportune time to create this type of degree program," adds Johnson. 
The undergraduate program will begin with concentrations in health promotion and education, with additional concentrations added in the future. 

For more information about the degree program visit the website or email studypublichealth@uc.edu or call 513-556-6308. For online inquiries, please visit UC online or email onlineenrollment@uc.edu or call 833-556-8611.
Impact Lives Here
The University of Cincinnati is leading public urban universities into a new era of innovation and impact. Our faculty, staff and students are saving lives, changing outcomes and bending the future in our city's direction. Next Lives Here.