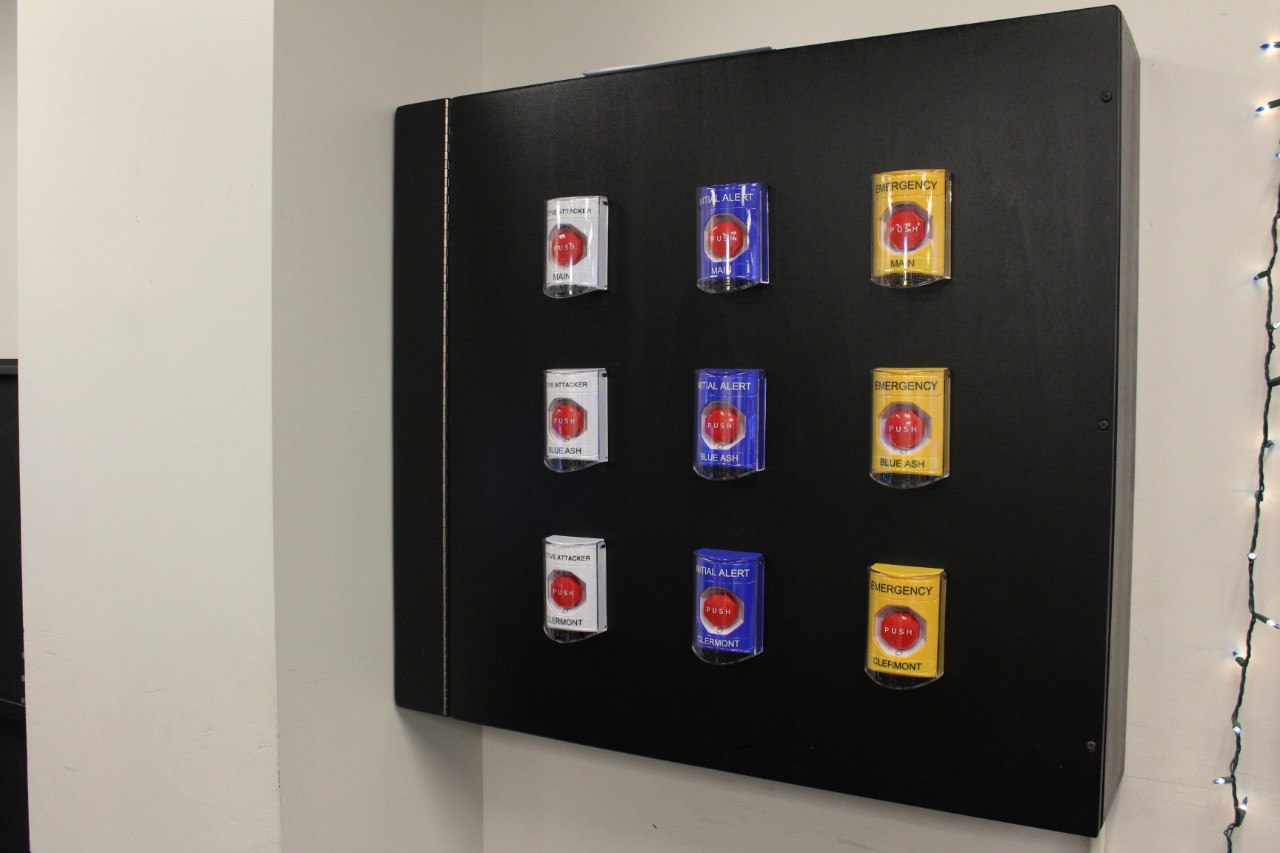 UC Public Safety adds valuable tool to emergency communications
UC will be testing new Alertus buttons Feb. 7
The University of Cincinnati Public Safety Department recently made a significant upgrade to the department's emergency communication tools.
The UC Communications Center now includes three situation-specific buttons that emergency communications dispatchers can use to immediately send a notification to the campus community.
The buttons, created by Alertus Technologies, allow for one touch activation of a message that will notify all students, faculty and staff of an active attacker, a police emergency or a non-police emergency, such as a fire. There are three buttons per situation, one for the Uptown, the Blue Ash and the Clermont campuses. Previously, the emergency communications dispatchers used a web-based method. The buttons greatly reduce the amount of time needed to send an alert.
"In emergency situations, time is crucial. These buttons will help us notify our community as quickly as possible, allowing them to take any necessary measures to keep themselves safe," said Director of Public Safety and Chief of Police James Whalen.
When activated, the buttons will send a standard message through text message, email and the Bearcat Guardian app. In addition, the message will be displayed on campus digital signage and campus cable, and will be posted to Public Safety's Twitter account.
The message sent will be a standard message intended to make the community aware of the incident. Follow up details will be sent via text message, email, Bearcat Guardian, digital signage and Twitter as soon as Public Safety has additional information.
For example, the initial alert for a police emergency will say, "UC Alert-Police responding to emergency report on Blue Ash Campus. If safe, stay at your location. Be observant/take action as needed. More info soon."
If you want to confirm you are enrolled in emergency text messages and emails, please check your Catalyst account, if you are a student, or your directory information, if you are an employee. Those interested in the Bearcat Guardian app can download it by searching "Rave Guardian."
The Public Safety Department will be testing the Alertus Buttons on Feb. 7. The message will indicate that it is a test.
Featured image at top: The Alertus buttons hang in the UC Emergency Communications Center, allowing dispatchers to notify the campus community of an emergency quicker.
1
Accreditation assessment team invites public to comment
October 27, 2023
A team of assessors from the International Association of Campus Law Enforcement Administrators will start on Nov. 5 an assessment to examine all aspects of the University of Cincinnati Police Division and procedures, management, operation, and support services. University members, agency employees and the public are invited to offer comments on Nov. 6.
2
Plan ahead for UC Homecoming activities
October 6, 2023
Around the University of Cincinnati campus, some streets will close during the early-morning hours on Saturday, Oct. 14, while traffic and parking on other nearby streets will be restricted.
3
UC Serves 2023 underscores university's commitment to Cincinnati...
April 27, 2023
This year, the university is celebrating the return of UC Serves – a day for staff and faculty to share the experience of intentional, focused service to the communities surrounding the University of Cincinnati campuses and beyond. The day of service helps connect UC with community neighbors and build stronger connections among university employees. UC Serves brings staff and faculty to the front lines in supporting UC's institutional commitment to service and community impact in support of our local non-profit partners.
Debug
Query for this