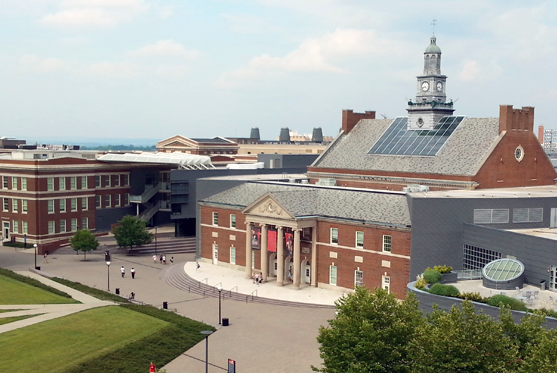 First Staff Professional Development Week begins March 1
UC staff members: Register for an array of professional development sessions

Register today for an array of professional development sessions selected with you in mind!  UC's Bob Ambach, Sr. Vice President for Administration and Finance assists us in kicking off Staff Professional Development Week on Monday, March 1, 2-4 p.m., by welcoming attending and Keynote speaker Drew Boyd, who will lead participants to their "innovation epiphany" during his presentation "Inside the Box".
A full schedule of workshops and mini sessions follow from March 2-5, providing opportunities to learn new skills, indulge in self-care and engage in professional relationship building.  Live captioning will be provided at all sessions (requests for other disability related accommodations can be made by emailing pettyjhc@ucmail.uc.edu no later than February 23).
Each day of event week prizes will be drawn from participating staff names and announced on the Staff Professional Development Week webpage on Bearcats Landing (UC login required).
Prize schedule:
March 1 – Five (5) Kindle downloads of Drew Boyd's book "Inside the Box".  A $12.99 value each.
March 2-5 – Eight (8) $50 Visa gift cards. Two gift cards will be awarded each day.
March 5 – GRAND PRIZE – One lucky winner will receive a $100 Communiversity gift certificate for the class(es) of your choice.
UC staff members only are eligible to win prizes. One prize will be awarded per winner. Prizes will be emailed or mailed to homes of winning staff members as applicable.  Prizes are subject to taxes. Winners will be provided necessary documentation to complete per university policy.
3
UC Ground Floor Makerspace offers summer intensive for K-12...
June 2, 2023
The University of Cincinnati Ground Floor Makerspace and the Greater Cincinnati STEM Collaborative (GCSC) are piloting a professional development opportunity for K-12 STEAM teachers in the greater Cincinnati region. The Makerspace Intensive will take place June 5-16 weekdays in the 1819 Innovation Hub, 2900 Reading Road in Cincinnati.
Debug
Query for this