Listen to CCM singers in Cincinnati Opera's 'Blind Injustice' recording
The live recording of the opera's world premiere is now available for purchase
In 2019, Cincinnati Opera premiered Blind Injustice, with music by Scott Davenport Richards and a libretto by David Cote. The work tells the story of Ohioans who were falsely convicted of serious crimes and later exonerated by the Ohio Innocence Project. Blind Injustice was lauded as a "powerful piece of music theater" (The Wall Street Journal) and a "masterpiece" (CityBeat) upon its premiere. Recently, Cincinnati Opera released the live audio recording of the opera through Fanfare Cincinnati, which is now available for streaming and download.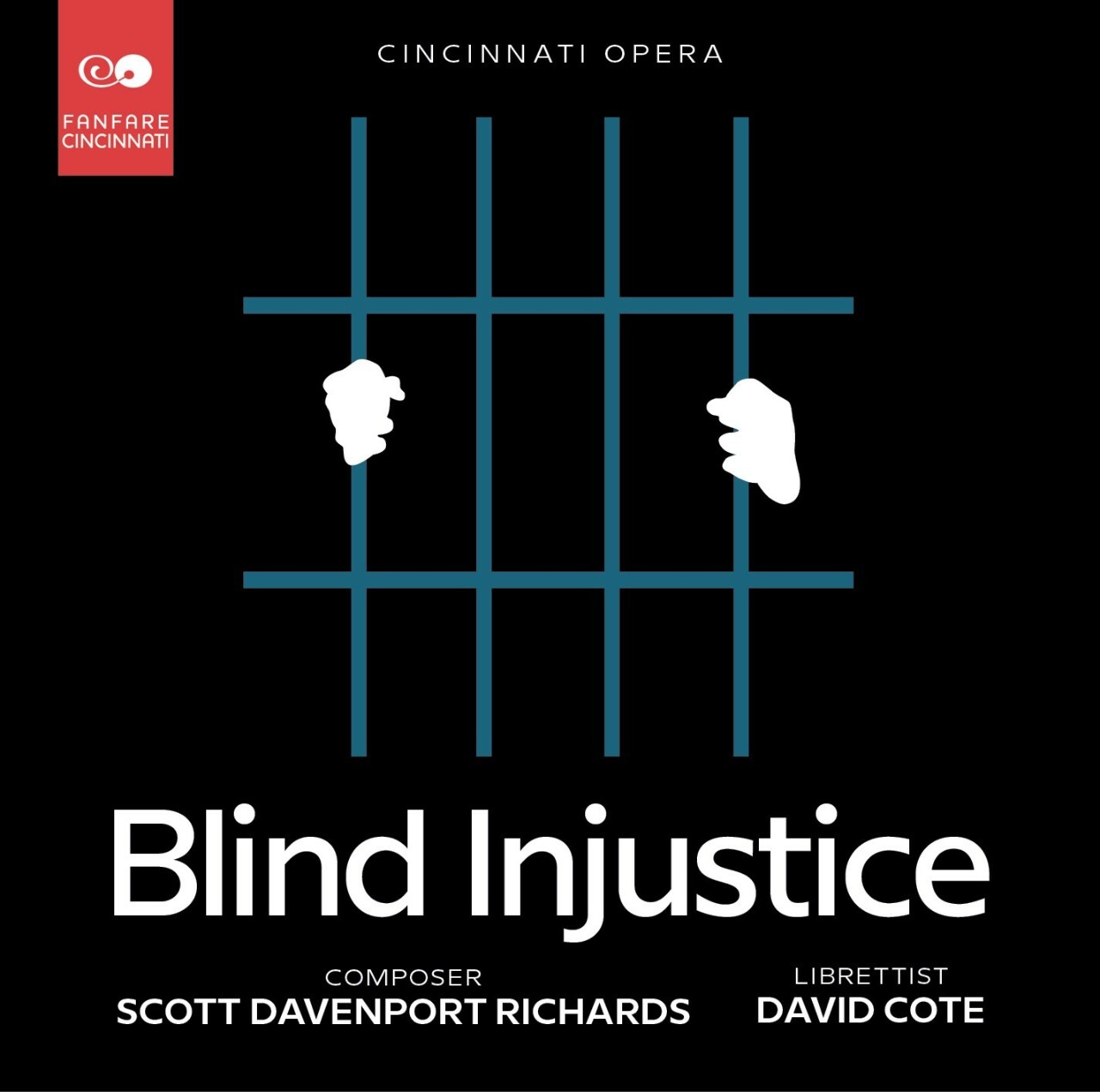 Cincinnati Opera has long had numerous ties to CCM, and this production is no different. Blind Injustice received its initial workshop through Opera Fusion: New Works, a partnership between Cincinnati Opera and CCM that supports the development of new operas. Opera Fusion: New Works is made possible through funding from The Andrew W. Mellon Foundation.
Additionally, CCM Professor of Opera Robin Guarino stage-directed and served as dramaturg for the opera, while numerous alumni held roles in Blind Injustice. These include Thomas J. Capobianco (MM Voice, '16), Shannon Cochran (MM Voice, '18; AD Opera, '20), Joseph Lattanzi (MM Voice, '15; AD Opera, '15), Maria Miller (BM Voice, '17, MM Voice '19), Deborah Nansteel (MM Voice, '10; AD Opera, '12), Victoria Okafor (MM Voice, '19) and Joseph Parrish (BM Voice, '20). Not only that, but the opera is based on a book of the same name by UC College of Law Professor Mark Godsey, co-founder and director of the Ohio Innocence Project.
The digital album is now available for purchase via Amazon, iTunes, and other digital music retailers, and it is also streaming via Spotify, Apple Music, Pandora, and similar music services. Blind Injustice will soon be available on CD and can be preordered through the Cincinnati Opera Bravo Shop.
Commissioned and produced by Cincinnati Opera
Composed by Scott Davenport Richards
Libretto by David Cote
Cincinnati Symphony Orchestra
John Morris Russell, conductor
Robin Guarino, stage director and dramaturg
Presented in partnership with the Ohio Innocence Project and the Young Professionals Choral Collective
Released by Fanfare Cincinnati
Prosecutor: Joseph Lattanzi
Defense Attorney: Samuel Levine
Alesha/Ensemble #1: Victoria Okafor
Nancy Smith: Maria Miller
Laurese Glover: Terrence Chin-Loy
Derrick Wheatt: Sankara Harouna
Eugene Johnson: Miles Wilson-Toliver
Clarence Elkins: Thomas J. Capobianco
Rickey Jackson: Eric Shane
Derrick's Mother/Ensemble #2: Deborah Nansteel
Earl Mann/Ensemble #3: Morgan Smith
Earl Mann's Cellmate/Ensemble #4: Joseph Parrish
Voice of Clarence's Niece: Shannon Cochran
Edward Vernon: William Boatwright
Featuring the Cincinnati Symphony Orchestra, the Cincinnati Opera Chorus, and the Young Professionals Choral Collective
Cincinnati Opera's mission is to enrich and connect our community through diverse opera experiences. Founded in 1920 and the second-oldest opera company in the nation, Cincinnati Opera presents a thrilling season of grand opera every summer and engaging programs throughout the year. The company's repertoire includes beloved classics and contemporary masterworks brought to life by some of the world's most dynamic performers and creative artists.
Cincinnati Opera receives support from ArtsWave, the Ohio Arts Council, The Louise Dieterle Nippert Musical Arts Fund, Patricia A. Corbett Estate and Trust, and the Harry T. Wilks Family Foundation, along with many other generous individuals, corporations, and foundations. Cincinnati Opera is a proud member of OPERA America.
To learn more, visit cincinnatiopera.org.
Featured image at top: Cincinnati Opera's "Blind Injustice." Photo/Philip Groshong
Alexandra Doyle
CCM Graduate Assistant , Marketing + Communications
Alexandra Doyle is a doctoral candidate studying clarinet performance at CCM. Alexandra's master's degree is also from CCM, and she holds bachelor's degrees in clarinet performance and journalism from the University of Houston.