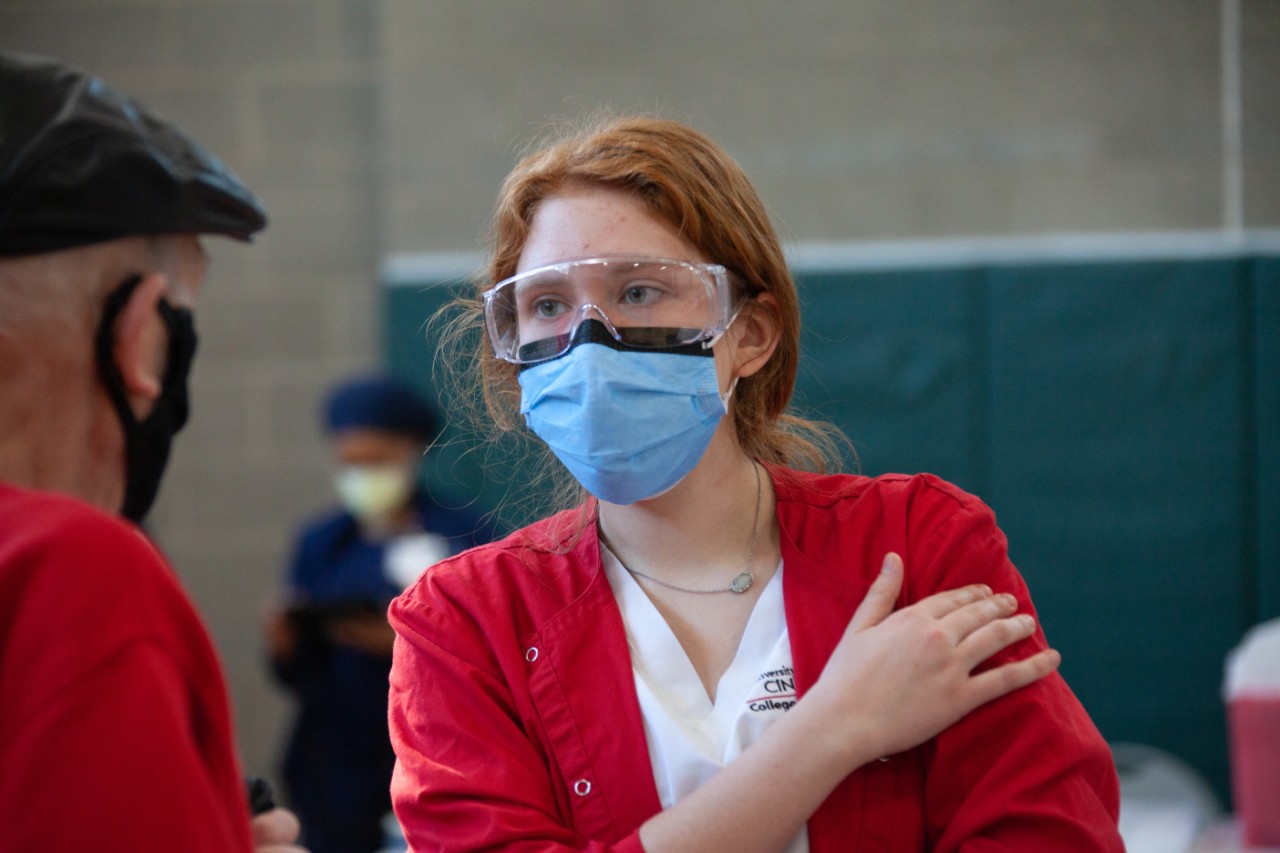 Nursing students help distribute COVID-19 vaccines
Community clinic rotations provide front-line experience
Students from the University of Cincinnati College of Nursing are getting firsthand experience in patient care during the pandemic by staffing local COVID-19 vaccine clinics.
Nine students were serving in a variety of roles at a Cincinnati Health Department clinic at a nearby recreation center on a sunny but chilly morning in late January.
"All the students here today are juniors in the Bachelor of Science in Nursing program," says Rosalind Moore, DNP, a clinical faculty member in the College of Nursing. "This is part of their community clinical [experience]. We're going out to the community to assist with COVID-19 vaccines over the next few weeks. It gives them good experience in how we manage a pandemic, from the COVID testing to the contact tracing to the vaccination process. It's important for students to understand how vital vaccinations are in combating this particular virus."
The patients at the vaccine clinic were eligible for the vaccine as they were 75 years of age and older or they had a variety of health conditions. The nursing students rotated their time engaging with residents, registering them, learning how to prepare the doses, administering the doses and then monitoring the patients after getting vaccinated.
There are several benefits to having the students at the vaccine clinics, according to Virginia Scott, the nursing director for the Cincinnati Health Department.
"First, our nursing students have the opportunity to have hands-on experience with the community and learn more about how public health fits into the health care continuum," says Scott. "I personally trained each of the students on both vaccines, including how they should be stored and handled, but mostly about the virus. The community approach to public health increases nursing students engagement and assessing skills by encouraging them to have direct communication during the monitoring portion of the vaccination clinic."
It's a great experience to get out here and see people and work on communicating with not only the nurses but our community, too.
Amy Barto UC nursing student
Building those skills is a critical part of this activity for nursing student Amy Barto.

"A lot of us are working on our communication skills and some of us are getting to vaccinate people so there's that skill as well," says Barto. "It's a great experience to get out here and see people and work on communicating with not only the nurses but our community, too. Being out here and talking to people, we're trying to lead our community to get this vaccine and do what they feel is safe and right for them. Even wearing our masks out in public and the face shields or goggles sets a good example and trying to lead by action and not just by words."
Nursing student Grace Moschel was in between registering patients when she talked about how this part of their community rotation provided some real-world experience.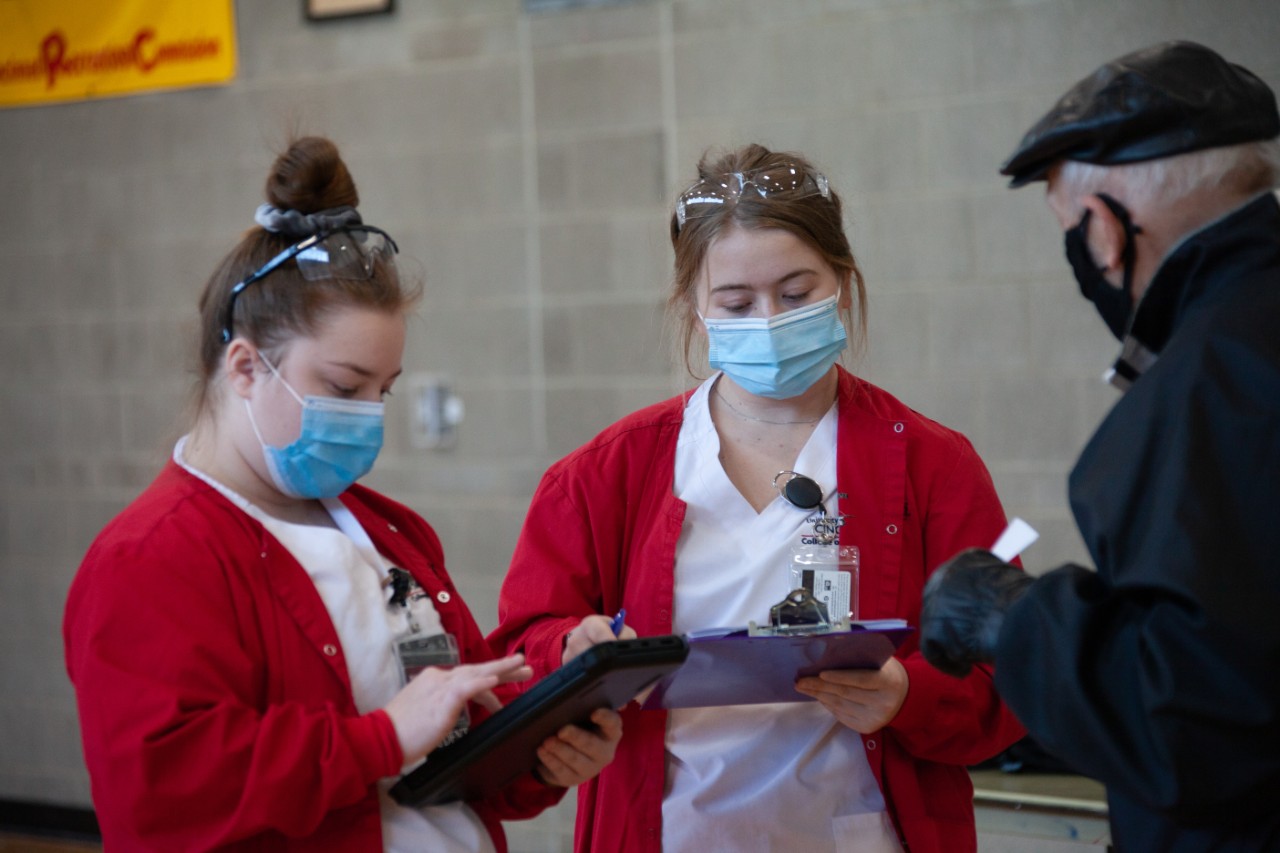 "This is helping us reach out to our community and learn about how the nurses are here for the community and today learn about the vaccine and administering it in the pandemic," Moschel says. "It feels great that we're here."
Fellow student Madyson Gilbert says helping out with the vaccination clinic embodies the College of Nursing motto, "UC Nurses. We See Leaders."
"When am I ever going to be able to say that I worked in a pandemic and was able to give people these vaccines and change their lives and make them safer?" Gilbert says. "It is so rewarding being able to vaccinate the people in the community and see the excitement and smiles on their faces as they wait in line. I think we're setting a good example for people of all ages to come out and get vaccinated to ensure the safety of themselves, their loved ones and others in the community."
UC's Moore says outreach like this with the nursing students helps strengthen the relationship between the College of Nursing and the community it serves.
"It's very important that we support our community partners and make sure nursing students understand the role of a public health nurse," Moore says. "They learn about it and now they get to experience it one-on-one and hands on. That supports our mission as well." 
Lead photo of nursing student Kayleigh Finlayson by Ravenna Rutledge/UC Creative + Brand.
Impact Lives Here
The University of Cincinnati is leading public urban universities into a new era of innovation and impact. Our faculty, staff and students are saving lives, changing outcomes and bending the future in our city's direction. Next Lives Here.

Stay up on all UC's COVID-19 stories, or take a UC virtual visit and begin picturing yourself at an institution that inspires incredible stories.