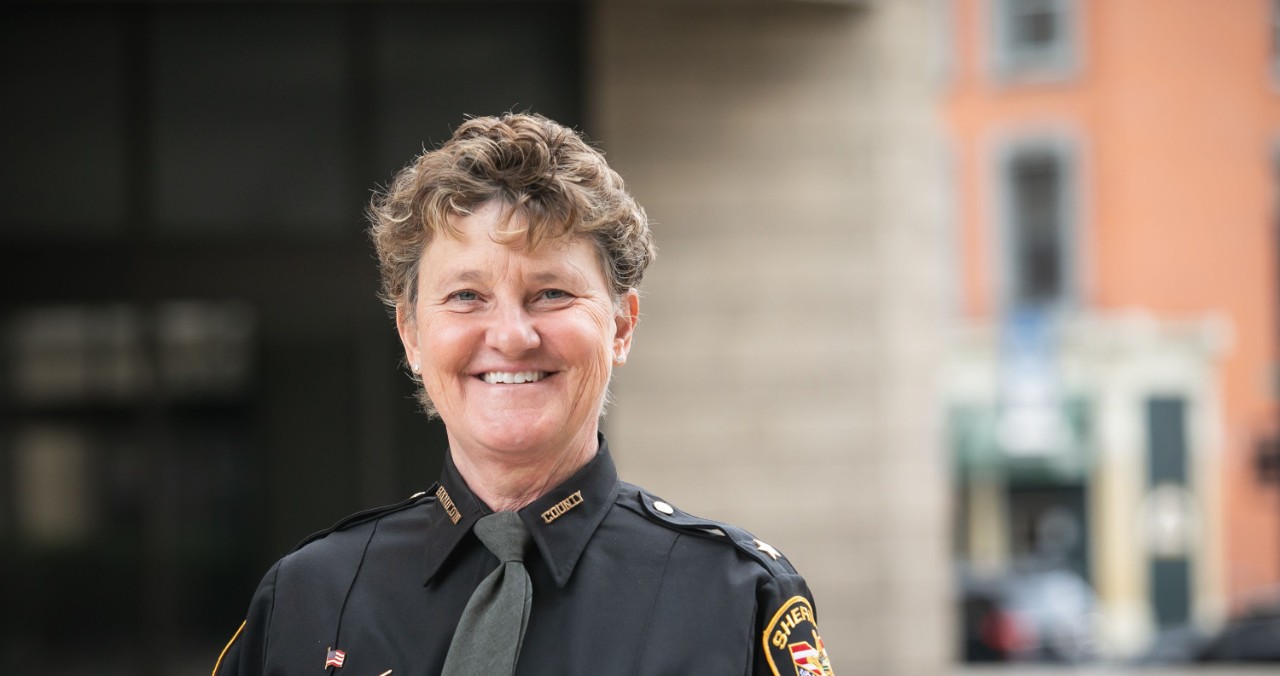 UC grad sworn in as Hamilton County sheriff
Sheriff Charmaine McGuffey (CECH '88) brings over 33 years of law enforcement experience to position
Join us on April 9 to hear directly from Sheriff Charmaine McGuffey as she discusses some of her career highlights, hurdles and accomplishments.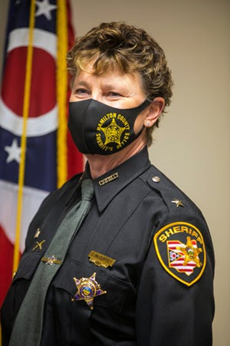 Sheriff Charmaine McGuffey (CECH, Criminal Justice '88) never imagined she'd be where she is today — the first woman and first openly gay person to serve as Hamilton County sheriff. She never imagined herself in a political role where she could elevate humanitarian standards in criminal justice. She never imagined that she might one day have the potential — and the very real power — to help create a new model of law enforcement.
"I never would have thought it," McGuffey said in a recent interview. "It was not something I aspired to, even during my career. I really just wanted to have a good career. I wanted to achieve some rank in the department, and I wanted to influence some things and wear the uniform as long as I could. Those were my goals."
Propelled by grit, a people's touch and a trauma that sparked rebirth, McGuffey achieved those goals, exceeded them, and today is ushering in a new era of reform at the sheriff's office. Her platform is expansive, ranging from de-escalation during confrontations to inmate rehabilitation to ethnic diversification in staffing and outreach. She has promoted the first African American woman to the rank of major. She has authorized the launch of a transparent, user-friendly Community Affairs Unit that will connect callers with real people. She is re-imagining the Citizens' Review Board so that it "brings people to the table from all walks of life, with intentional diversity and with neighborhoods in mind." She is a champion of no-cash bail for low level, non-violent crimes.
Within the jail itself, she's working to provide a better, more hopeful life for inmates by shifting the focus from punitive to rehabilitative strategies. "I want to improve their food; I want to improve their medical care; I want to improve the way they're treated," McGuffey said. "I want them to start learning that you can come to jail to become whole again, meaning that you meet people who can help you, people who are mentoring you. So when you walk out that door you have a strong likelihood of not coming back. And there are people who do come back. So I'm not someone who doesn't have my eye on reality. But each and every time you come back, we're going to offer you opportunities to become healthy again. Those are my plans."
A world view cultivated at UC
McGuffey set her sights on a career in law enforcement while growing up in Price Hill on Cincinnati's near West Side. McGuffey remembers it as a place where kids ran free in the streets while their parents worked and where the person in charge was usually the oldest kid. When the wrong kid was in charge, McGuffey soon saw, bad things happened. "When there is structure, good structure, things go well," she said. "When there isn't good structure, wow, you run into problems. I decided I needed to be one of those kids in charge."
After graduating from Western Hills High School, McGuffey enrolled in the School of Criminal Justice at UC, where she acquired a broad, nuanced world view. Her eyes were opened to what racial inequality really meant, and she began to see the realities of violence against women.
"The other young adults who were with me at UC had different experiences and were in different areas of criminal justice," McGuffey says. "That part of the experience was great."
McGuffey also praised her professors, including Joanne Belknap, who was then an associate professor of criminal justice and women's studies at UC and is now a professor at the University of Colorado, Boulder. "She really taught me a lot about social justice, something I had not experienced. She showed us the film "Eyes on the Prize," and there I was, 20 years old, maybe 19 – and that was my first introduction to racial inequality, my first real knowledge of what racial inequality meant.
"And it really started me down the journey that I'm still on today. It became more than just law enforcement. And I think what really enhances criminal justice reform as we move forward is for us to stop thinking about criminal justice as law enforcement. That's one piece of it. It's so much larger than that. And I think that's what has helped me develop over the years, to develop that eye, of wait a minute, let's look a little deeper. Let's look behind the scenes; let's look at what happens when people are incarcerated, and let's really care about that outcome. That's what my UC education did for me."
Stop thinking about criminal justice as law enforcement. That's one piece of it. It's so much larger than that. … Let's look at what happens when people are incarcerated and let's really care about that outcome. That's what my UC education did for me.
McGuffey looks forward to an increased symbiosis between the sheriff's office and UC's School of Criminal Justice in the years ahead. She would enjoy speaking with students, and she knows the Sheriff's Office can continue to benefit from the academic findings and statistics that UC professionals can provide.
J. C. Barnes, PhD, professor and interim director of the School of Criminal Justice, said the school is honored to have been a part of Sheriff McGuffey's journey. "We are fortunate to have a distinguished list of alumni who have achieved excellence in leadership. We are proud to have Sheriff McGuffey as part of that legacy, and we look forward to continuing our work with the Hamilton County Sheriff's Office for many years to come."
McGuffey did not come out as gay during her college years. "We lived in conservative Cincinnati," she said. "You had to be very careful because it could affect your career. When I started going to UC, the people I knew, we were all closeted. None of us were willing to come out at all."
She remained closeted after beginning her career as a jail service officer with the Sheriff's Office in 1983 and for many years after, for fear her sexual orientation would affect her chances of being promoted. She rose steadily up the ranks and was promoted to captain in 1996. She was outed in 2010 after an incident that occurred when she and some friends were confronted by patrolmen while leaving a gay bar in Northern Kentucky. She recalls being yelled at, which precipitated "a bit of a dust-up" that led to misdemeanor charges (later dropped). "Well, that meant I had to report to my boss that I was in a gay bar, and there I was," she said. "I was outed. Hey, I'll tell you what. I'm glad in a way, because it made my life a lot easier."
In 2013 McGuffey was promoted to major and commander of jail and court services. She began instituting major reforms at the jail, which improved from the state's worst large jail to the best. She upgraded services and treatment for veterans through a "veterans' pod," initiated specialized re-entry services for incarcerated men as they neared release, and created a recovery pod for incarcerated women who were addicted to heroin. She called out excessive use of force by deputies and corrections officers.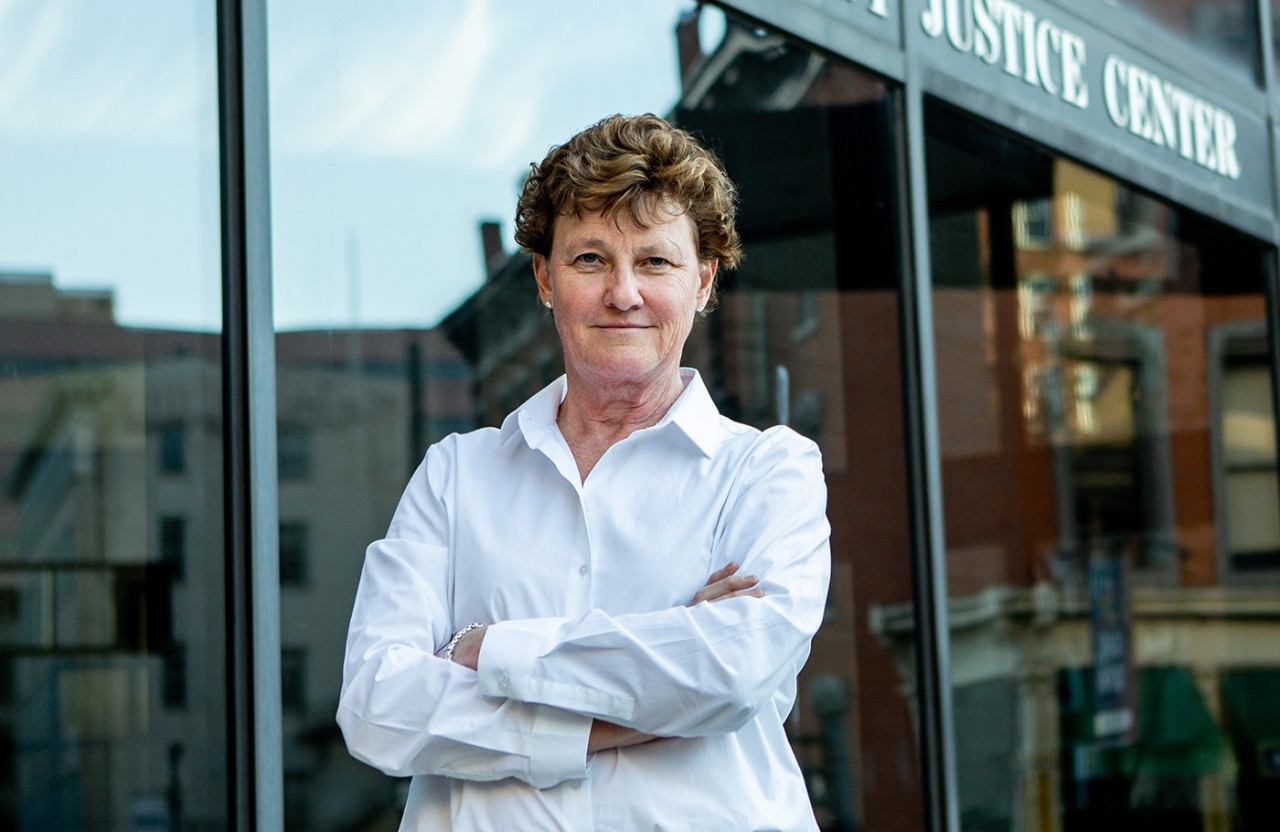 McGuffey came to work one day in 2017 and, without any forewarning, was stripped of her badge, her uniform and her job in a span of 15 minutes.
"I was a whistleblower," McGuffey says. "I was fired because I refused to stand down when I saw bad behavior being tolerated — and sometimes even encouraged — in this department, and that was with sexual harassment against women; that was with excessive use of forces. So when I was fired, wow, that was a fall. I was devastated. It was incredibly traumatic."
It took McGuffey a year to recover. During that time, she called on the never-give-up resilience she acquired while growing up poor, one of three daughters of a determined, hard-working single mother. "I watched her, honestly, accomplish the impossible more times than I can count," McGuffey said. "And whenever we thought we were really down, we weren't down. We were never down. But we had some trying times. We were very poor. But here's the thing: we were spiritually and emotionally rich. I became strong in those ways. And that's what carries you through hardship."
McGuffey also used that time to reflect on who she might become. One of her mentors, Mary Carol Melton, phoned her and admonished: "Get up. There's a lot of work to be done. You've got to do things!"
Encouraged by her wife, Christine Sandusky, Melton and others close to her, McGuffey made a bold decision. She would run for sheriff. "Because after I thought about it," she said, "I thought, yeah, I can do a better job."
In 2018 McGuffey also filed a federal lawsuit against the sheriff's office. She claimed that she was fired because she was openly gay and because she exposed excessive use of force.
McGuffey expected the sheriff's race to be bitterly and relentlessly fought. It was. She parried attacks about her character and qualifications by telling her own side of the story. "It's a story that people understand and can relate to," she said. "It's exactly why none of that mud they were putting on the wall stuck to me."
Her campaign raised $400,000, and she won the Democratic Party's endorsement in the primary run against incumbent Sheriff Jim Neil. She upended Neil to win the Democratic primary with 70 percent of the vote and then won the general election against Republican Bruce Hoffbauer with 52% of the vote. Three years after her firing, McGuffey was sworn in as Hamilton County sheriff. Her victory was sweetened a few weeks later when she and the county settled her lawsuit, with the county agreeing to pay her $212,500 in lost wages and benefits as well as court costs.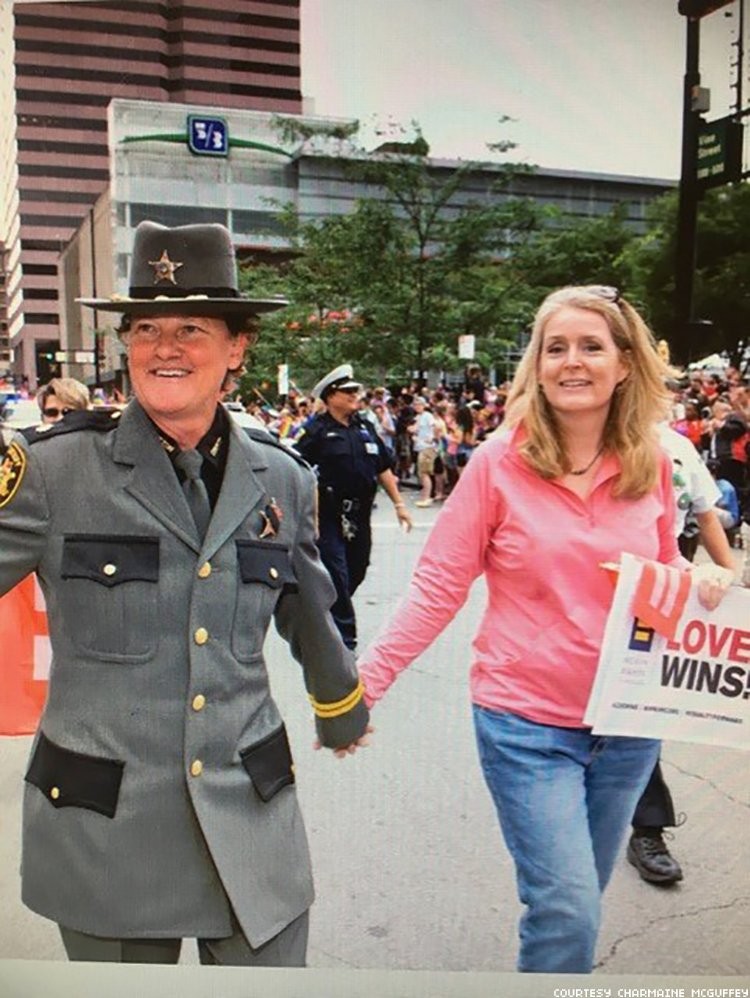 When McGuffey took the oath of office on January 4, 2021, she became one of five openly gay sheriffs in the United States and one of only three women. From the despair of a traumatic firing, she had come back to achieve a rank she could not have fathomed three years earlier. "It was a climb," she said then.
But it was not the climb, nor the election, that McGuffey reflected upon when asked to name her most singular accomplishment.
"When I became the major of this jail, I would walk out of my office to go to lunch or just walk in between the buildings," she said. "As people encountered me, they would stop me and talk to me. I mean homeless people, people who were mentally ill, people who were former prisoners, people who worked as attorneys, people who I knew professionally. Someone who was homeless recognized me and understood that they can engage me and they can talk to me and I will listen to them and they have no fear or hesitation. And that is something I aspire to because in this business, when you're wearing a uniform, particularly if you're of rank, a lot of times people don't even know who you are, you're so high up. I'm proud I've worked on that level and have that kind of rapport with everybody in Cincinnati."
Featured Image at top: Sheriff Charmaine McGuffey poses in her uniform in downtown Cincinnati.
2
Making music and paying it forward
May 31, 2023
Newly minted University of Cincinnati alum Hayden Glasgow says the path to becoming a working artist can be challenging. Fortunately for Glasgow, CCM '23, the generosity of others is allowing him to pursue a music career.
3
UC hosts aerospace conference on AI
May 31, 2023
Aerospace experts from across North America are coming to the University of Cincinnati this week for a conference on artificial intelligence.
Debug
Query for this