KFC chief marketer awarded UC engineering alumni honor
Industrial engineering alumna oversees U.S. marketing of the fried chicken giant
Andrea Zahumensky proves that an engineering degree can provide a valuable foundation for a successful career in any field. 
Zahumensky earned her degree from the University of Cincinnati in industrial engineering in 2000 and carved a path from engineering through information technology and into marketing.
Since 2017, she has been the chief marketing officer of KFC U.S., a subsidiary of Yum! Brands, leading marketing, advertising, media and digital initiatives. Prior to joining KFC, Zahumensky had a 20-year career at Procter & Gamble, where she was most recently brand director for baby care in North America. 
"I am so happy to have my engineering degree because it taught me problem solving," Zahumensky said. "Even as a marketing executive, having that engineering background has been so incredibly valuable to me."
Zahumensky is being honored with the 2020 Herman Schneider Distinguished Alumni Award from the UC College of Engineering and Applied Science (CEAS).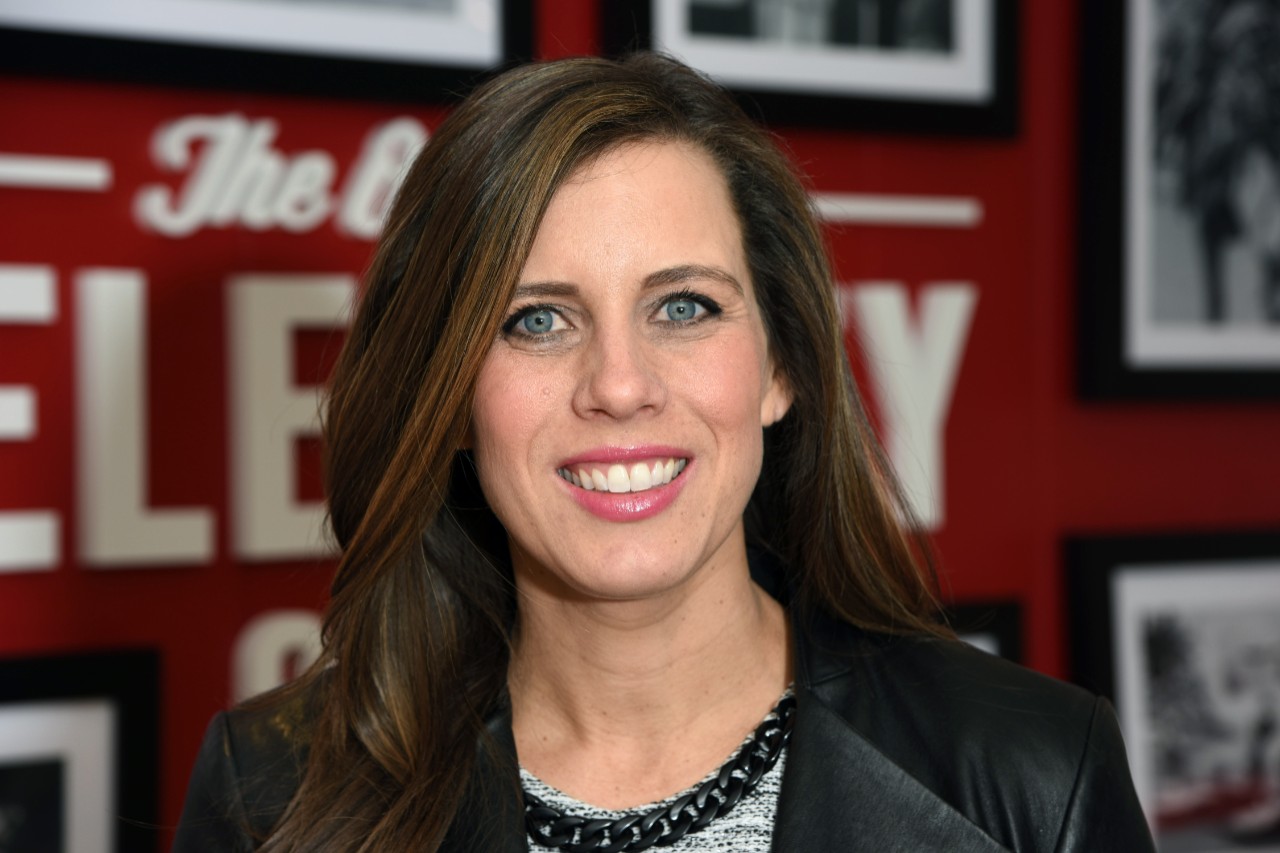 The UC CEAS award is one of many accolades she's earned in recent years. Forbes named Zahumensky one of its "Most Influential CMOs" for 2020. In 2019, she was executive of the year by Marketing DIVE for helping drive six years of sales growth for the fried chicken franchise. She was listed as part of the "Power 20" by Restaurant Business Magazine in 2019. Zahumensky received UC's Jeffrey Hurwitz Young Alumni Outstanding Achievement Award in 2012.
In her role as CMO, Zahumensky has worked to shake up the KFC brand, introducing edgy and dynamic campaigns, like the customizable "Chickendales" video greeting and a fried chicken-scented firelog, as well as many menu innovations, including Kentucky Fried Chicken and Waffles, Secret Recipe Fries and the KFC Chicken Sandwich.
She's particularly proud of the marketing team's fast pivot from a brand-in-culture focus to a brand-in-community focus as the COVID-19 pandemic unfolded. They shifted their attention to being accessible via digital channels and the drive-throughs, emphasizing their bucket meals to feed a family with the comfort of a home-cooked meal that you didn't have to cook. They also gave away 2 million pieces of chicken to teachers and frontline workers, donated to Blessings in Backpacks and provided grocery cards to their restaurant team members. These efforts garnered the attention of Forbes in May 2020, which named KFC one of nine brands — and the only fast-food chain on the list — that have shown their value amid the pandemic. 
Even as a marketing executive, having that engineering background has been so incredibly valuable to me.
Andrea Zahumensky KFC CMO
Zahumensky is a generous philanthropist to UC. She and her husband, Chris, BBA '98, vice president of sales for Hobsons, have hosted numerous events for student/alumni programs and the Student Alumni Council at their alma mater. In 2018, Zahumensky was elected to the University of Cincinnati Foundation Board of Trustees. While working for P&G, she presented to students at the Lindner College of Business and mentored and guided UC co-op and full-time applicants to P&G. 
"UC is such a huge part of my story and a big foundation block of who I am," she said. "As I think about the places where I want to give back, especially being a first-generation student, I wanted to invest back in UC with my time, talent and resources. I think UC has so much to offer students — first generation or not — that I want to just be able to help in any way that I can." 
A positive campus visit as a high schooler led Zahumensky to apply to study engineering at UC — and only UC — because she felt it was the perfect fit. She was drawn to the cooperative education (co-op) program integrated into the UC engineering curriculum because she could earn money. She paid her own way through college. Zahumensky was also concerned with landing a good job after graduation. Co-op was a win-win, providing resume-boosting experience and income to help fund her education. Her campus visit was capped off by an evening visit to Devou Park across the Ohio River to take in the impressive view of Cincinnati's downtown skyline. 
"It was one of those moments I will never forget. When I saw the city skyline following my campus visit, I knew at that moment I was going to UC and I'm not going to go anywhere else," she said.
It was UC's co-op program that helped Zahumensky discover what she did — and did not — want to do after graduation. Following traditional industrial engineering co-ops, Zahumensky realized she didn't have a passion for that work. She was enamored by P&G as a corporation and based on its reputation in Cincinnati, so she set out to find a way into the company. A classmate who was a co-op at P&G told her about available part-time data entry positions, which Zahumensky quickly landed. After a few weeks, she asked the manager there about open co-op jobs and was interviewed by a recruiter on the spot. She ended up as an IT co-op and then took a full-time job in IT at P&G after graduation. She eventually shifted into a business analyst role, where she interacted with the marketing team. That experience ignited her passion for marketing and launched her career in that field at P&G, where she worked with some of the company's most iconic brands, including Pampers and Crest.   
While at UC, Zahumensky gained early leadership skills she has carried into her CMO role. She was president of the Student Alumni Council, president of the Cincinnati Women in Excellence and Spirit Together Honorary Women's Society, and held leadership roles in the Chi Omega sorority. 
She credits her involvement in campus activities and the team nature of engineering for creating lifelong friendships she still maintains today. 
"I love working with my peers and that is something that has carried through my whole career," she said. "And I think that started for me in engineering school, because I just simply wouldn't have gotten through it without really relying on my peers and figuring out that tough stuff together."
Zahumensky and her husband live in Louisville where KFC is headquartered and they are the parents of three children.  
[Editor's Note, 5/4/21: After the original publishing date, Zahumensky left KFC for a new opportunity.] 
2
Ongoing quest for justice a life-changer for all parties
December 7, 2023
The Ohio Innocence Project and its student fellows, past and present, recently marked 20 years working to exonerate the wrongfully convicted. OIP co-founder and director Mark Godsey, as well as past OIP fellows and Cincinnati Law alumni, Eric Eckes, Law '08, and Simar Khera, Law '15, spoke about their shared experience and its life-changing impact.
3
Joe Burrow Foundation awards grant to UC service-learning co-op...
December 7, 2023
UC's service-learning co-op program has received a "Do Good Grant" from The Joe Burrow Foundation. The funding will provide stipends to UC students pursuing degrees in social work for their meaningful, service-oriented work in the mental health field.
Debug
Query for this