UC medical students ready for a match
Pandemic won't dampen enthusiasm for annual 'rite of passage' for future physicians
Surreal. Exciting. Butterfly sensations.
This is how fourth-year medical students are describing the week leading up to Match Day — an annual rite of passage for future physicians across the nation during which they learn where they will spend the next three-to-seven years training in medical residencies. 

But this year is like no other at the University of Cincinnati College of Medicine because of COVID-19. Fourth-year medical students weren't allowed to travel far or near because of pandemic restrictions and all interviews have been virtual. The medical students will find out at 12 noon Friday, March 19, where they will match into residency, and for most they will begin training at health systems later this summer in places they've not actually visited.  Follow their experiences on twitter #CincyMatch2021. 
"Match Day is the culmination of four years of hard work," says Sven Wang, who hopes to match into internal medicine. "Where we train during residency will shape what kind of doctor we become and will play a large role in determining our career trajectory. I wish the match ceremony could be in person as years past — there definitely won't be as much fanfare due to COVID restrictions."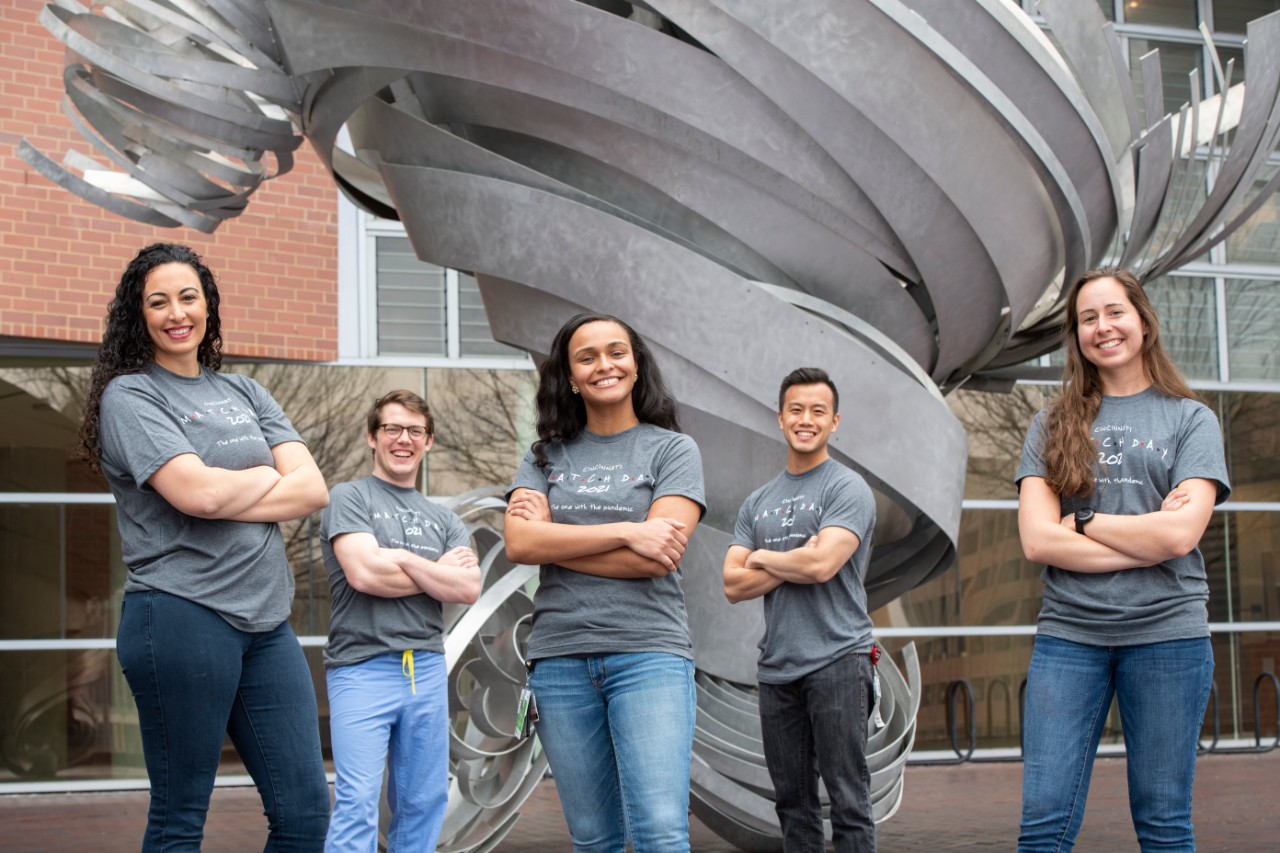 "However, I will enjoy the opportunity to celebrate with close friends and family. It's just a few days away and I am feeling mostly excited, but there is definitely some requisite anxiety," says Wang. "I am looking forward to finding out where I spend the next three years of my life."
After a monthslong residency interview process, the National Resident Matching Program (NRMP) does the actual matching, linking the program preferences of students with those of residency program directors. In previous years students would spend time and money traveling to locations for interviews for a residency with program directors and other physicians. The face-to-face interaction with future employers and the experience of visiting a new community were lost because of COVID-19, but students could apply to more places because they aren't as limited because of finances or time.
"Match Day is an exciting time," says Sarah Smith, who is hoping to match into obstetrics and gynecology. "I remember watching the Match Day celebrations during my first year of medical school. I watched as students celebrated their incredible accomplishments together as they each walked up on stage and shared where they had matched for residency. I found myself coming close to tears."
"Now that I have reached this point in my medical school journey, it feels surreal," says Smith. "Yes, it is not going to be exactly the day we thought it would, but it is still going to be special and something to celebrate. Being just days away from Match Day, of course, there are lots of emotions ranging from eagerness to anxiety, getting palpitations just thinking about it. Ultimately, I am just so incredibly grateful to be here and to have this opportunity. I am thankful for the amazing people in my support system who have helped me along the way."
Medical students have been able to bond with their classmates, mainly over Zoom and GroupMe, about the challenges of finding the perfect match. Those who wish can join their classmates at UC on a Zoom celebration that will be live streamed onto a Facebook event at 12:30 p.m. on Match Day.
"The entire UC College of Medicine community, along with family and friends, will have the opportunity to participate on Facebook Live since this is livestream," explains Alexandra Schoenberger, co-president to the Medical Student Association at UC. "While we wish we could all be together in person, we are optimistic that this virtual setup will allow for individuals near and far to join us in an interactive way."
Schoenberger, who hopes to match into internal medicine-pediatrics, says one thing that will remain as in previous years to celebrate the day is the donning of Match Day T-shirts for fourth-year medical students. The t-shirt reads, Cincinnati Match Day 2021: The one with the pandemic and is a nod to the popular sitcom "Friends."
Elizabeth Hellmann, a fourth-year medical student, will await the results of the match at home with her parents, Robert Hellmann, MD, and Gail Hellmann, MD, both College of Medicine alums.
"I am proud to be walking in my parents' footsteps," says Elizabeth. "I am hoping to match into emergency medicine. I love the variety, team-based setting, procedures and opportunity to help people in their critical time of need. Though our Match Day looks a little different than previous years, the significance of the day is the same. As long as I can be with family and friends, I am happy."
For some like Hagar Elgendy, a fourth-year medical student hoping to match into physical medicine and rehabilitation, the big day couldn't get here fast enough for her and her husband, Cedric Peerman, a former player for the Cincinnati Bengals.
"As a mother of four children five years old and under and having had all those four children during my time in medical school, Match Day could not come soon enough," says Elgendy. "It almost feels surreal. For years I would wake at 3 a.m. to do my coursework so when the children woke, I could manage the home and take care of them to the best of my ability. All of that hard work has paid off. My training challenged me, as did motherhood, and it grew me into a physician that I am proud of today.
"I am stronger and better for the journey of which I have come through," says Elgendy. "Whether virtual or not, Match Day for me is about celebrating it with my family and the kids. As the big day approaches, I find myself packing our home with not a single idea of where we will be or even if we will be making a move this year. Only because it is the one thing I can control at this time. Much of it is out of our hands, but our faith has maintained us and we are so looking forward to the next steps as a family."
[Match Day] isn't in the way we imagined, but it doesn't diminish our achievements. In fact, I think the changes will highlight the adaptability and resilience we have all displayed this year.
Thomas Daley Fourth year medical student
Thomas Daley, a native of Springboro, Ohio, hopes to match into pediatrics and will be learning his place of residency with a small group of family members and friends. He will then update his classmates about his destination via livestream. 
"To be honest, because this past year was crazy for all of us, the fact we are even having Match Week on time is thrilling," says Daley. "It isn't in the way we imagined, but it doesn't diminish our achievements. In fact, I think the changes will highlight the adaptability and resilience we have all displayed this year."
Stefany Hernandez, a native of San Antonio, Texas, is expecting her immediate family to visit her in Cincinnati for Match Day. She hopes to match into obstetrics and gynecology.
"My family has really rallied around me during this time and are making my Match Day warm and intimate in our own way," explains Hernandez. "I feel like although circumstances are different, this experience has brought out the thoughtful nature of my friends and family, which has meant the world to me. As Match Day comes closer, I am starting to have the butterfly sensation of not knowing what the next four years will bring but am excited to have those supportive individuals surround me during this incredible time."
Featured photo of Sarah Smith, Elizabeth Hellmann, Sven Wang, Thomas Daley and Hagar Elgendy in front of the UC College of Medicine by Colleen Kelley.
Impact Lives Here
The University of Cincinnati is leading public urban universities into a new era of innovation and impact. Our faculty, staff and students are saving lives, changing outcomes and bending the future in our city's direction. Next Lives Here.

Stay up on all UC's COVID-19 stories, or take a UC virtual visit and begin picturing yourself at an institution that inspires incredible stories.