Support your school and save a life during Hoxworth's #MarchMadness Challenge
Hoxworth Blood Center, University of Cincinnati is playing up the rivalry between the Tri-State's universities during the month of March and inviting friends, family and alumni to make a blood donation on behalf of their school during a month-long March Madness event.
Donors are invited to pledge a blood donation in honor of one of seven local universities — University of Cincinnati, Xavier University, Northern Kentucky University, Thomas More University, Mount St. Joseph University and Miami University —  and fulfill that pledge by the end of March.
The winning school will be crowned the "MVP of Lifesavers" on April 5.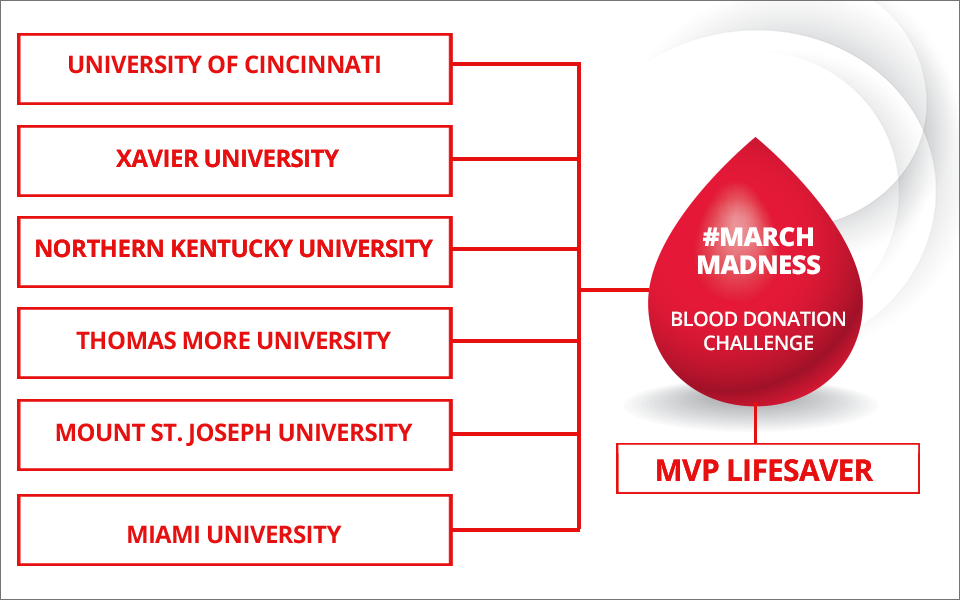 "Most of us have been following the ongoing 'Tipping Wars' between XU and UC fans, and seeing that legendary rivalry being used to benefit restaurant employees in our community has been a source of much-needed positivity," says Alecia Lipton, director of public relations at Hoxworth Blood Center. "Not all of us can afford to tip thousands of dollars to support local restaurant workers, but something most people can do is donate blood and save lives here in the community. That's why we decided to leverage the friendly competition between our local universities to help save lives here in the Tri-State."
To have their donation count towards their school's totals, individuals must pledge to donate on behalf of their favorite school by filling out the form on the Hoxworth website: https://hoxworth.org/donors/marchmadness.html. Then, they must donate blood during the month of March at one of Hoxworth's Neighborhood Donor Centers or blood drives.

Masks are required at all Hoxworth locations in accordance with local mandates. Hoxworth staff will be following all CDC guidelines, including changing gloves between each donor and sanitizing all shared surfaces at regular intervals.
Appointments for blood donation are highly encouraged at this time to manage donor flow and follow social distancing guidelines. Donors can schedule appointments by calling (513) 451-0910 or by scheduling online at www.hoxworth.org. 
Hoxworth Blood Center, University of Cincinnati was founded in 1938 and serves over 30 hospitals and medical facilities in Ohio, Kentucky and Indiana.  Hoxworth collects blood from local donors to help save the lives of patients in area hospitals. Hoxworth Blood Center: Saving Lives Close to Home.