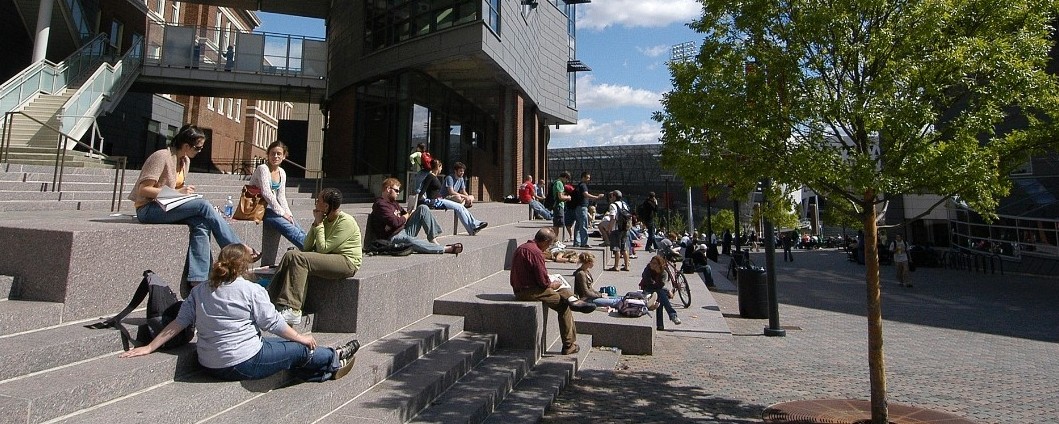 University of Cincinnati designated a "Voter Friendly" campus
Voter registration and engagement efforts receive national recognition
The University of Cincinnati has been designated as a "Voter Friendly Campus" for its efforts in encouraging students to register and vote in the 2020 elections. UC is one of over 231 campuses in 37 states and the District of Columbia who received the designation. The initiative, led by national nonpartisan organizations Fair Elections Center's Campus Vote Project (CVP) and NASPA – Student Affairs Administrators in Higher Education, held participating institutions accountable for developing and implementing student voter registration practices.
The "Voter Friendly Campus" designation aims to bolster efforts that help students overcome barriers to participating in the political process. UC was evaluated based on campus plans to register, educate and turnout student voters in 2020, the facilitation of voter engagement efforts on campus, and a final analysis of efforts. The designation is valid through December 2022. 
Lauren White, program coordinator in the Center for Community Engagement, said, "It is an honor to be recognized on a national level for the hard work that our faculty, staff, and students continue to do surrounding civic engagement." 
As part of these efforts, UC's Center for Community Engagement led the charge in creating engaging and interactive ways for students to get their fellow Bearcats registered to vote and to the polls for the November 2020 election. For example, a campus-wide voter registration challenge was implemented within each residence hall. Additionally, the "IVoteBecause" social media challenge debunked voting myths and provided educational materials around presidential elections.
"As a CEEP fellow, I have had the opportunity to encourage students to get engaged in the electoral process and use their voice to make change, said Kish Richardson, a Campus Election Engagement Project fellow at UC, who added that the team's educational efforts have helped to dispel myths and misinformation that ultimately discourage people from voting. 
The designation shows UC's strong commitment to civic engagement in higher education to prepare students to be engaged participants in democracy. White added, "It is so important for young people to know how important their vote and their voice is in all elections — national, state and local."
1
WVXU: Tech CEOs talk AI with lawmakers
September 22, 2023
Professor Richard Harknett is a guest speaker on WVXU's Cincinnati Edition on the topic of AI and the need, or lack thereof, for government regulations. Professor Harknett is the head of UC's School of Public and International Affairs and is an often sought out media resource on technology, cybersecurity and governmental affairs.
2
UC celebrates Marian Spencer Scholars
September 22, 2023
The University of Cincinnati celebrated the legacy of UC alumna Marian Spencer by recognizing 20 students awarded her namesake scholarship during a Sept. 9 induction ceremony. The Marian Spencer Scholars are all high-achieving graduates of the Cincinnati Public School system.
3
Drugs.com: Lowering blood pressure after clot removal may not be...
September 22, 2023
Drugs.com and HealthDay highlighted University of Cincinnati research recently published in JAMA that found using blood pressure medications to lower the top number of blood pressure readings (systolic blood pressure) may not be safe or effective among people who have an acute ischemic stroke and undergo a successful mechanical clot removal.
Debug
Query for this