The New York Times: Karen Olivo teaches at CCM amid Broadway break
Olivo will not return to 'Moulin Rouge!,' instead focused on building better industry for students
A year into the Broadway shutdown, actress Karen Olivo (she/they) has shifted their sights to the next generation of stars.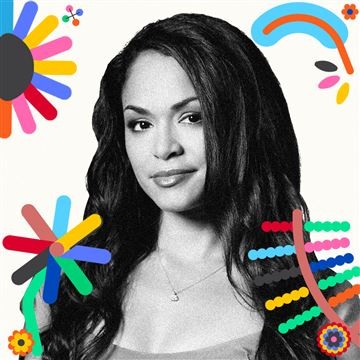 The Tony-nominated star of Moulin Rouge! The Musical has spent the pandemic teaching musical theatre at their alma mater, UC's College-Conservatory of Music.
Committed to helping develop aspiring artists, Olivo has been teaching CCM classes virtually from their home in Madison, Wisconsin. During the pandemic, they and another actor, Eden Espinosa, also formed an advocacy organization, Afect, that seeks to bring greater financial transparency to the theater industry.
This past fall, Olivo (BFA Musical Theatre, '97) was nominated a Tony Award for Best Performance by an Actress in a Leading Role in a Musical for their work as Satine in Moulin Rouge!, which also features fellow alumni Kyle Brown (BFA Musical Theatre, '08) and Max Clayton (BFA Musical Theatre, '14) in the ensemble. The Tony Awards have been postponed until Broadway's reopening later this year.
In December, Olivo expressed concerns about whether Broadway would evolve after the shutdown, and whether they would return to it. "I hope that everyone is working to change the industry and not just trying to get back so we can fill our coffers again," they told the New York Times.

In a recent interview with The Times, Olivo discussed their decision to not rejoin the Moulin Rouge! cast when Broadway performances resume. Read the full story.
About CCM Musical Theatre
The Musical Theatre program at the University of Cincinnati College-Conservatory of Music (CCM) is the oldest in the country and was the first of its kind. A four-year bachelor of fine arts (BFA) program, it was used by the National Association of Schools of Theatre in formulating the guidelines for the accreditation of Musical Theatre programs nationwide.
The program provides professional conservatory training designed to help singers, dancers and actors become accomplished musical theatre performers. Students participate in a number of productions while in residence and create a freshman and a senior showcase, the latter functioning as their New York debut for agents and casting directors. In addition, students undertake courses in English, history, psychology, dramatic literature, social and ethical issues and the humanities.
CCM Musical Theatre is widely recognized for its "triple-threat" approach to training and many of its graduates are following careers as performers and creative artists in every facet of the entertainment industry. CCM Musical Theatre graduates are working on Broadway and throughout the nation in such productions as Anastasia, Hamilton, Waitress, Moulin Rouge, The Phantom of the Opera, The Book of Mormon, Pippin, Wicked, Jersey Boys, Les Misérables, Kinky Boots, Big Fish, Newsies and The Lion King. Students represent CCM in national and international touring productions, in dinner theatres and theme parks, on cruise ships, on television, in talent agencies, as producers and in many of the related entertainment fields.
The Musical Theatre program is part of a larger academic division known as TAPAA: Theatre Arts, Production and Arts Administration. At the time of its establishment in 1991, the Patricia A. Corbett Distinguished Chair of Musical Theatre at CCM was the only academic chair of its kind in the United States, the American equivalent of the Chair in Musical Theatre endowed by Cameron Macintosh in honor of Stephen Sondheim at Oxford one year later.
Learn more about CCM's BFA Musical Theatre program.
Featured image at the top: Karen Olivo and Aaron Tviet in Broadway's Moulin Rouge! Photo/Moulin Rouge! The Musical.
2
Fox19: UC hosts international aerospace conference on AI
June 2, 2023
UC College of Engineering and Applied Science Professor Kelly Cohen talks to Fox19 about how artificial intelligence is becoming more ubiquitous as it becomes more trustworthy. UC is hosting an international conference on artificial intelligence.
3
WVXU: Companies are losing ground on DEI efforts
June 2, 2023
Littisha Bates is a featured guest on WVXU's Cincinnati Edition to discuss the topic of diversity, equity and inclusion (DEI) in the workplace. Bates is UC's associate dean for inclusive excellence and community partnerships.
Debug
Query for this