CCM alum Scott Coulter receives Distinguished Service Award
The award-winning Musical Theatre alum is one of New York's most honored vocalists
UC College-Conservatory of Music alumnus Scott Coulter (BFA Musical Theatre, '93) is recognized for his extraordinary service and contributions to CCM at this year's Virtual Graduation Convocation Ceremony, which will be streamed on the CCM website and YouTube channel at 10 a.m. EDT on Saturday, May 1. An award-winning vocalist, Coulter is the recipient of CCM's Distinguished Service Award.
Coulter is one of nine alumni award winners who will be recognized in CCM's Virtual Graduation Ceremony. Learn more about this year's award recipients on the event website. In the evening on May 1, Coulter hosts an online discussion with Oscar and Grammy winner Stephen Schwartz, presented by the New Jersey Performing Arts Center (NJPAC).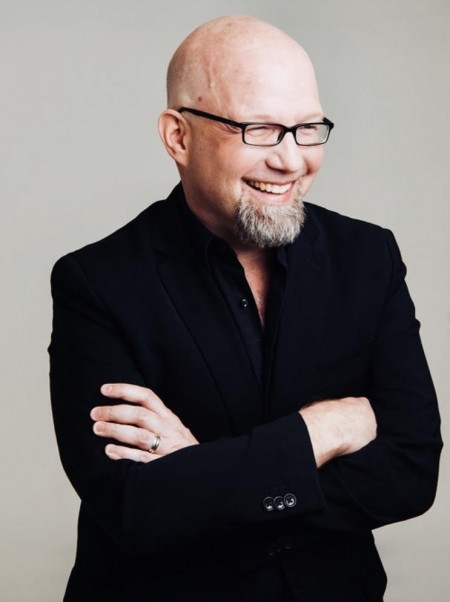 Scott Coulter is one of New York's most honored vocalists. For his work in cabaret, he has received five MAC Awards (Manhattan Association of Cabarets & Clubs), five Bistro Awards and two Nightlife Awards for Outstanding Vocalist and has performed at most of NYC's top rooms including Birdland, 54 Below, The Oak Room at the Algonquin, and Feinstein's at The Regency where he spent a record-setting eight months performing the revue 11 O'clock Numbers At 11 O'clock which he also co-created, directed and musically arranged. His self-titled debut CD won the 2003 MAC Award for Outstanding Recording and was chosen as the best recording of the year by TheatreMania and Cabaret Scenes magazines. Coulter was director and star of A Christmas Carol: The Symphonic Concert in its world premiere with the Baltimore Symphony and reprised his performance in the Emmy-nominated PBS production which premiered in December 2013. He was an Emmy nominee himself for his performance in American Song at NJPAC. Coulter regularly performs in concert both as a solo artist and with a variety of legendary performers including Stephen Schwartz, Tony-winner Ben Vereen and Grammy-winner Sheena Easton and has performed with symphonies all over the world including San Francisco, Baltimore, Seattle, Phoenix, Detroit, Winnipeg, St. Louis and Calgary.
Since 1997, Coulter has performed with award-winning songwriting duo Marcy Heisler and Zina Goldrich in their many award-winning revues. While singing with Goldrich and Heisler he was discovered by Oscar and Grammy winning composer Stephen Schwartz who then invited him to join the revue Stephen Schwartz & Friends. That revue (starring Schwartz and Coulter along with Liz Callaway and Tony Award-winner Debbie Gravitte) has been performing all over the world since 1999. Schwartz has said, "One of the greatest things that can happen to a composer is to have his music interpreted by Scott Coulter."
Coulter is creator, arranger and director of several touring shows (symphonic and non-) including Music Of The Knights, The Wonderful Music Of Oz, Respect: A Tribute To Aretha Franklin, Blockbuster Broadway! and, for The ASCAP Foundation, Jerry Herman: The Broadway Legacy Concert. As a director his credits include many shows for The Town Hall in NYC and Broadway By The Way for The Berkshire Theatre Festival and Broadway by the Bay. Along with Michael Kerker and ASCAP, he's a regular producer/director of Michael Feinstein's Standard Time at Carnegie Hall.
Coulter recently wrote the book for the new musical Got To Be There which celebrates the life and music of songwriter Elliot Willensky. Coulter is founder/owner of Spot-On Entertainment and is a resident director of programming at 54 Below (Broadway's Supper Club) in NYC.  He is the artistic director of the Pocono Mountains Music Festival and a proud graduate of CCM.
1
How one UC med student plans to make a difference
September 25, 2023
In her heart, Keirsten White '26, knew she wanted to become a doctor. She was attracted to UC in part because of its family medicine psychiatry program, which she said will help enable her to provide whole-person healthcare to individuals who are homeless and underserved.
2
Playbill: CCM ranks in top 10 most represented colleges on...
September 25, 2023
The University of Cincinnati College-Conservatory of Music has once again been named as one of Playbill's "Big 10." Ranked as one of the top star-producing institutions in the nation, CCM was represented by at least 24 alumni performing on Broadway stages during the '22-23 season.
Debug
Query for this