CCM piano professor featured in online events with Human Rights Watch and New World Symphony
Awadagin Pratt shares his story of Being Black in America & debuts a world premiere in April events
Awadagin Pratt, a UC College-Conservatory of Music piano professor and artist-in-residence, shares personal experiences and new music in upcoming virtual events with the Human Rights Watch and New World Symphony. 
Over the summer, Pratt recorded a podcast segment with The Art of Piano titled "Awadagin Pratt, Black in America." The podcast contains both music and conversation as it mixes performance and narrative. Fellow CCM Professor DeMarre McGill, flute, and the St. Lawrence String Quartet join the award-winning pianist to play works by Bach and Liszt, and Pratt shares his story of police stops and arrests, from the time he purchased his first car when he was 18 to more recent experiences.
The Human Rights Watch in collaboration with Fellows of the New World Symphony are presenting Pratt's story as a performed piece at 7 p.m. on April 22, presented as part of a live virtual event "Being Black in America: An evening of music, storytelling and real talk about racial inequality and policing in the US." It's part of the Human Rights Watch Salon Series, and will feature Pratt reading his story, and a panel discussion with Nicole Austin-Hillery, the executive director of Human Rights Watch's US Program.
Additionally, Pratt has an ongoing commissioning project involving many renowned composers including Alvin Singleton, Jessie Montgomery, Tyshawn Sorey, Peteris Vasks, Paola Prestini, Judd Greenstein and Jonathan Bailey Holland. The composers are writing solo pieces for Pratt or pieces that would also be performed with String Orchestra and Roomful of Teeth. 
The first piece of the commissioning project premieres at 2 p.m. on April 25. Titled Time Past, Time Future, the new work by Alvin Singleton will be performed by Pratt and the New World Symphony and streamed online; tickets are available on the event website.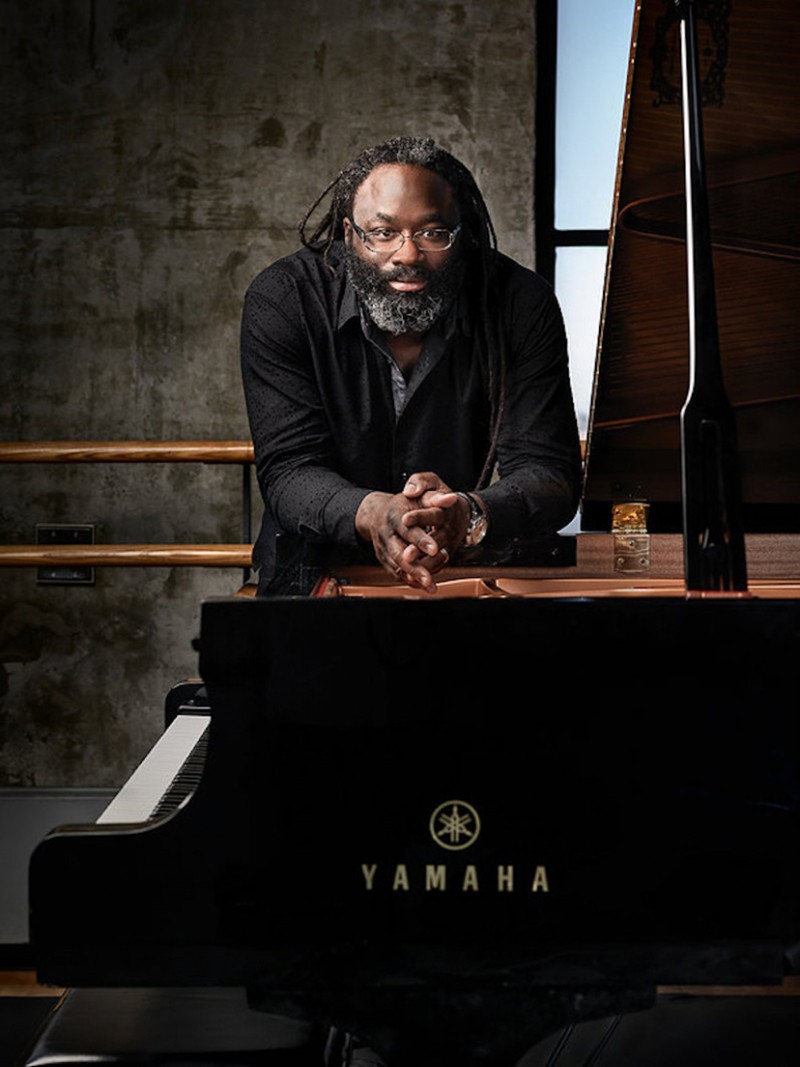 Among his generation of concert artists, pianist Awadagin Pratt is acclaimed for his musical insight and intensely involving performances in recital and with symphony orchestras.
Born in Pittsburgh, Awadagin Pratt began studying piano at the age of six. Three years later, having moved to Normal, Illinois with his family, he also began studying violin. At the age of 16 he entered the University of Illinois where he studied piano, violin and conducting. He subsequently enrolled at the Peabody Conservatory of Music where he became the first student in the school's history to receive diplomas in three performance areas - piano, violin and conducting. In recognition of this achievement and for his work in the field of classical music, Pratt recently received the Distinguished Alumni Award from Johns Hopkins.
In 1992, Pratt won the Naumburg International Piano Competition and two years later was awarded an Avery Fisher Career Grant. Since then, he has played numerous recitals throughout the U.S. including performances at Lincoln Center, Kennedy Center, Dorothy Chandler Pavilion in Los Angeles and Chicago's Orchestra Hall. His many orchestral performances include appearances with the New York Philharmonic, Minnesota Orchestra and the Pittsburgh, Atlanta, Baltimore, St. Louis, National, Detroit and New Jersey symphonies among many others. Summer festival engagements include Ravinia, Blossom, Wolf Trap, Caramoor and Aspen, the Hollywood Bowl and the Mostly Mozart Festival in Tokyo. 
Recent and upcoming appearances include recital engagements at the New Jersey Performing Arts Center in Newark and in Baltimore, La Jolla, Los Angeles, Pittsburgh and at Duke University, as well as appearances with the orchestras of Cincinnati, Indianapolis, Seattle, Colorado, Portland ME, Utah, Richmond, Grand Rapids, Winston-Salem, Allentown and Springfield, OH. He played a recital in Carnegie Hall for the Naumburg Foundation in November 2010 and appeared at the 2012 Ravinia Festival in a duo recital with cellist Zuill Bailey.
As a conductor, Pratt participated in the American Symphony Orchestra League and Conductor's Guild workshops and the National Conducting Institute, where he worked closely with Leonard Slatkin and conducted the National Symphony at the Kennedy Center. He has also conducted the Toledo, New Mexico, Vancouver WA, Winston-Salem, Santa Fe and Prince George County symphonies, the Northwest Sinfonietta, the Concertante di Chicago and several orchestras in Japan.
A great favorite on college and university performing arts series and a strong advocate of music education, Pratt participates in numerous residency and outreach activities wherever he appears; these activities may include master classes, children's recitals, play/talk demonstrations and question/answer sessions for students of all ages.
Internationally, Pratt has toured Japan four times and performed in Germany, Italy, Switzerland, Poland, Israel, Colombia and South Africa.
Pratt has been the subject of numerous articles in the national press, including Newsweek, People Magazine and New York Newsday. He was named one of the 50 Leaders of Tomorrow in Ebony Magazine's special 50th anniversary issue and has been featured on National Public Radio's Performance Today, St. Paul Sunday Morning and Weekend Edition. On television, Mr. Pratt has performed on the Today Show, Good Morning America and Sesame Street, been profiled on CBS Sunday Morning and was one of the featured soloists on PBS's "Live from the Kennedy Center - A Salute to Slava."
In November 2009, Pratt was one of four artists selected to perform at a White House classical music event that included student workshops hosted by the First Lady, Michelle Obama, and performing in concert for guests including President Barack Obama. He has performed two other times at the White House, both at the invitation of President Bill Clinton and Hillary Clinton.
Pratt's recordings for Angel/EMI include A Long Way From Normal, an all Beethoven Sonata CD, Live From South Africa, Transformations and an all Bach disc with the St. Lawrence String Quartet. His most recent recordings are the Brahms Sonatas for Cello and Piano with Zuill Bailey for Telarc and a recording of the music of Judith Lang Zaimont with the Harlem Quartet for Navona Records.
Pratt is currently Professor of Piano and Artist-in-Residence at CCM. He is also the Artistic Director of the Art of the Piano Festival.
Awadagin Pratt is a Yamaha artist.
Feature image at the top: Awadagin Pratt.
Kelly Barefield
CCM Graduate Assistant, Marketing + Communications
Kelly Barefield is pursuing her degree in Arts Administration at CCM. She currently interns at the Cincinnati Symphony Orchestra and hopes to continue to work at influential arts organizations in the future, where she can apply her passion for music.