UC Blue Ash Dental Hygiene Program receives service-learning award
Students gain real-world experience while providing free dental care
Each year, the University of Cincinnati's Service-Learning Steering Committee recognizes a collaborative educational team or individual whose engagement in service-learning demonstrates collaboration, creativity, character and the potential to form lasting relationships.
The 2021 Jack Twyman Award for Service-Learning goes to the faculty and staff of the Dental Hygiene Program at UC Blue Ash College, led by Elizabeth (Biz) McClure, RDH, M.Ed. The program is an outstanding example of service-learning at UC because students gain real-world learning while providing real value to the community.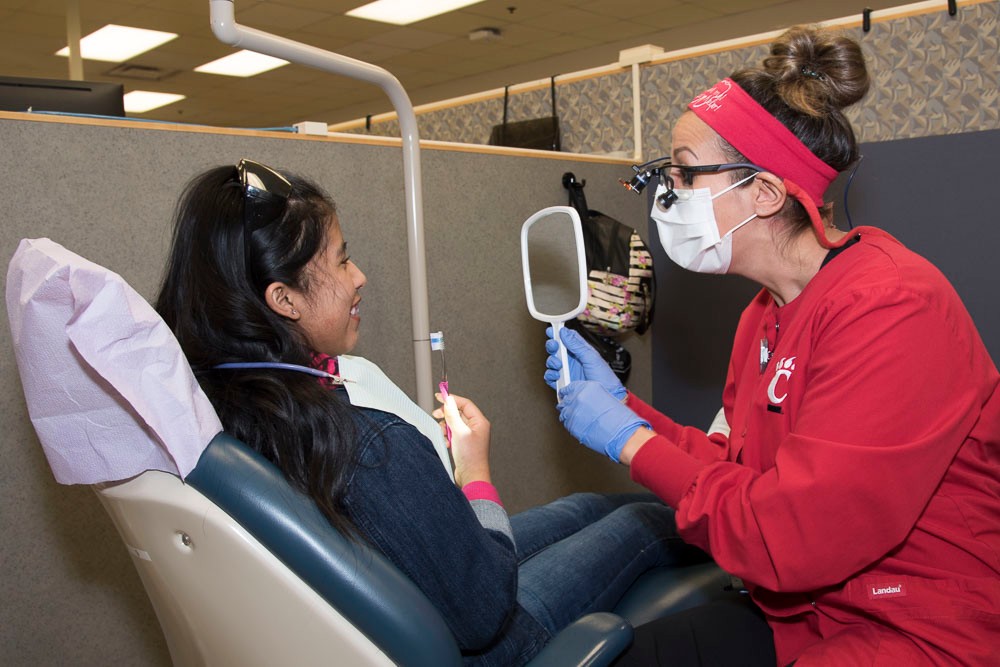 At the program's UC Smiles events, dental hygiene students provide dental cleanings, fluoride treatments, X-rays, and oral health instruction to underserved children and teens from Greater Cincinnati schools. Participants also receive home-care supplies provided by P&G's Crest and Oral-B brands. In the past decade, the program has reached more than 2,700 students at dozens of area schools.

Similarly, at the annual Community Dental Day, dental hygiene students and faculty – along with local dentists and dental professionals – provide free cleanings, extractions and fillings to adults, many of whom have no dental insurance and no regular dental care.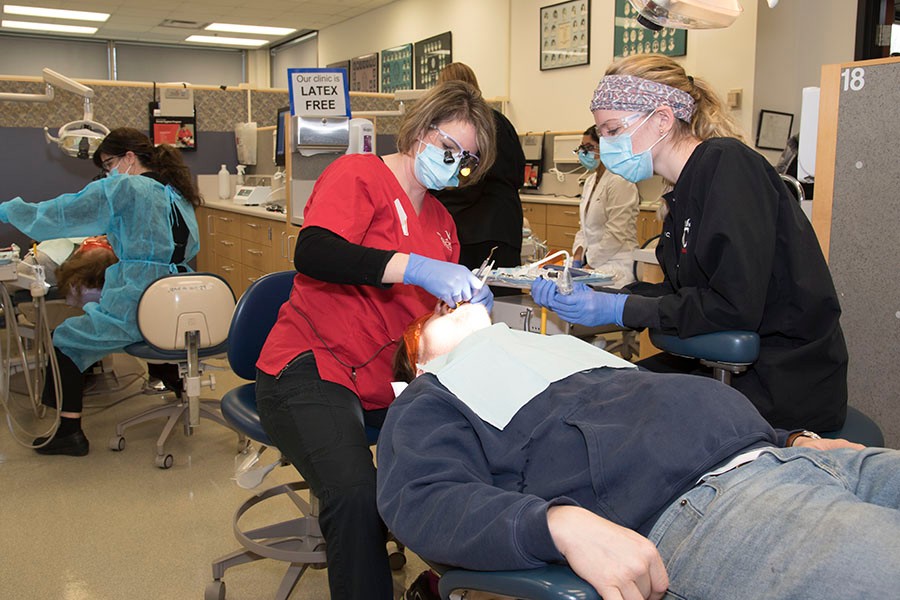 Together, the programs serve up to 180 patients per year and have provided $150,000 in free dental treatment to the community over time.
Serving at UC Smiles and Community Dental Day events is built into the dental hygiene curriculum. Second-year students commit to multiple events as part of their clinical coursework.
"One of the primary goals of the UC Blue Ash Dental Hygiene Program is to instill in our students the importance of serving the public," says McClure. "The populations who receive services in the UC Smiles and Community Dental Day programs are the most at-risk for and susceptible to oral disease, and generally they do not receive access to dental treatment on a regular basis. Through these programs, our students are exposed to these vulnerable populations and must assess and treat their unique dental needs. The personal clinical interactions are often life-changing for the patients and our students."
Next year, McClure and her team hope to expand their community outreach by sending dental hygiene students on an offsite rotation to treat patients at the Good Samaritan Free Health Center. Since the center relies solely on volunteers, McClure hopes that her students can provide more consistent dental care for those patients in this way.
What is service-learning?
Service-learning is a powerful approach to education that pushes students outside the classroom to produce work of real value in the community.
The University of Cincinnati has one of the largest service-learning programs in the country in terms of number of courses offered and student enrollment. In addition, about 400 students have benefited from the new Service-Learning Co-op program which converts otherwise unpaid nonprofit internships into paid work experiences.

As an undergraduate at UC, Jack Twyman was a standout member of the Bearcats basketball team. His accomplishments as a student-athlete led to a career as an NBA player and later analyst. In 1958, at age 23, Twyman, who was White, became legal guardian to Maurice Stokes, a Black teammate who had suffered a paralyzing brain injury during the NBA season. Despite the difficult climate of race relations at the time, Twyman put the needs of his teammate and friend at the forefront of this life-altering decision. The award is inspired by Jack Twyman's character, courage and service.
About Experience-Based Learning and Career Education
UC's Service-Learning program is housed in the Division of Experience-Based Learning and Career Education, which facilitates real-world work experiences for students, teaches students to prepare for their professional lives, and provides career services to students and alumni. The division also connects employers and external partners with the talent they seek in a variety of arrangements both inside and outside the classroom.
Feature image at top: Faculty and staff of the dental hygiene program at University of Cincinnati Blue Ash College. Photo/Provided

1
Eating smarter with diabetes
January 25, 2023
St. Vincent de Paul's teaching kitchen offers UC students a service-learning co-op and a teachable moment. Residents battling diabetes learn recipes that will help lower blood sugar levels and the amount of medications needed.
2
Spectrum News: Clovernook Center program brings braille...
January 24, 2023
During a co-op experience, a DAAP graduate student designed 3-D storybooks for the Clovernook Center's East Africa children's braille books project. The center is the parent company for the Cloverknook Braille Printing House in Cincinnati, Ohio. .
Debug
Query for this