UC student leads effort to clean up campus adjacent Coy Field
Green space is used by community, UC and high school students
Fran Larkin wants UC students to use their time, talents and labor to benefit their neighbors and those in need.
It's why the director of the UC Center for Community Engagement is pretty excited about the Care about Coy Initiative — an effort to clean up and enhance about five acres of three-tiered recreational space called Coy Field just west of the Uptown campus.  

Families with children enjoy playground equipment and basketball hoops on a lower tier of the field while student athletes participating in baseball, softball and football at nearby Hughes High School use the second tier and UC track and field athletes practice on the top level of the field.
Larkin started speaking with a community action group, the Clifton Heights Community Urban Redevelopment Corporation, a couple of years ago about improving Coy Field and enhancing the space. He mentioned the idea to Karthikeyan Sakthivel, a senior medical sciences undergraduate, who quickly took ownership of the project.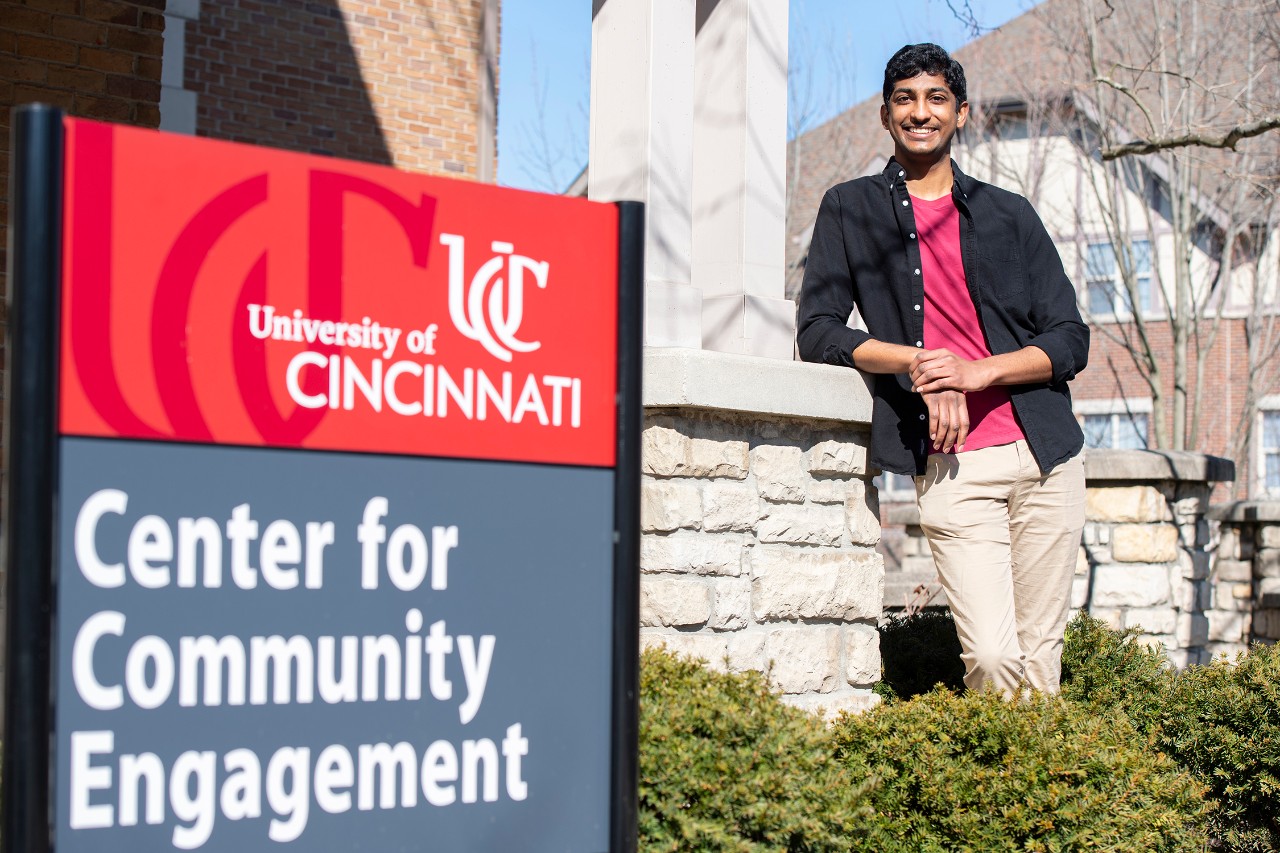 Sakthivel says he felt he could make a difference and tackle a need in his community.
"I live nearby in Corryville, but I had not previously visited Coy Field or knew that this huge green space was available until working with UC's Center for Community Engagement," says Sakthivel. "It's a beautiful space with a lot of potential, and I have tried to raise awareness, especially among UC students who could better utilize the field."
Sakthivel organized the Coy Field Care Day event in 2019 — a service day event aimed at beautifying the space which attracted close to 100 volunteers including students from UC, Hughes High School and workers from the Cincinnati Recreation Commission. Volunteers picked up trash, cleared overgrown shrubbery and cleaned off graffiti before painting a storage facility on the field used by the high school students and staff. 
A repeat of the Care Day event along with a planned community kickball game pitting UC students and staff against Hughes High students and staff stalled in 2020 because of the COVID-19 pandemic. Instead, Sakthivel organized events where volunteers wearing masks, socially distanced and in groups of no more than 10 cleaned trash and graffiti on Coy Field in October and November 2020.
Sakthivel says he hopes to hold similar events for Coy Field this spring, as well as pass on the Care about Coy Initiative to interested students after he graduates.
"I think that it is essential as students that we are engaged with the community that we are in. The Care about Coy Initiative provides a unique opportunity for us to interact with and support partners in the community."
Delaney Smith, a second-year accounting major, who participated in this past year's clean-up effort, says he lives near Coy Field and noticed it needed some care and attention.
"I was excited to see a volunteer opportunity for a park I walk by and around frequently," says Smith. "It was great to see a place I know transform with a few days of painting and picking up trash. I stumbled upon the park randomly one day and liked the secluded nature of the park and the different fields available. I plan to be involved with the next volunteer event for Coy Field because it is a safe way to volunteer. There is plenty of space to keep a distance of six feet and everyone wears masks."
UC's Larkin calls Coy Field a "hidden gem" that he hopes more students will visit.
"It is campus adjacent but it is not on a lot of people's radar," says Larkin. "We want to activate the space not only to make it safer, but now we need spaces to get fresh air and also have distance from each other. It's a gem so I suggest you go check it out."
Learn more about the UC Center for Community Engagement online.
Featured image at top: UC students volunteered to cleanup Coy Field in the fall of 2020.  Photo submitted by Karthikeyan Sakthivel
Impact Lives Here
The University of Cincinnati is leading public urban universities into a new era of innovation and impact. Our faculty, staff and students are saving lives, changing outcomes and bending the future in our city's direction. Next Lives Here.

Stay up on all UC's COVID-19 stories, or take a UC virtual visit and begin picturing yourself at an institution that inspires incredible stories.