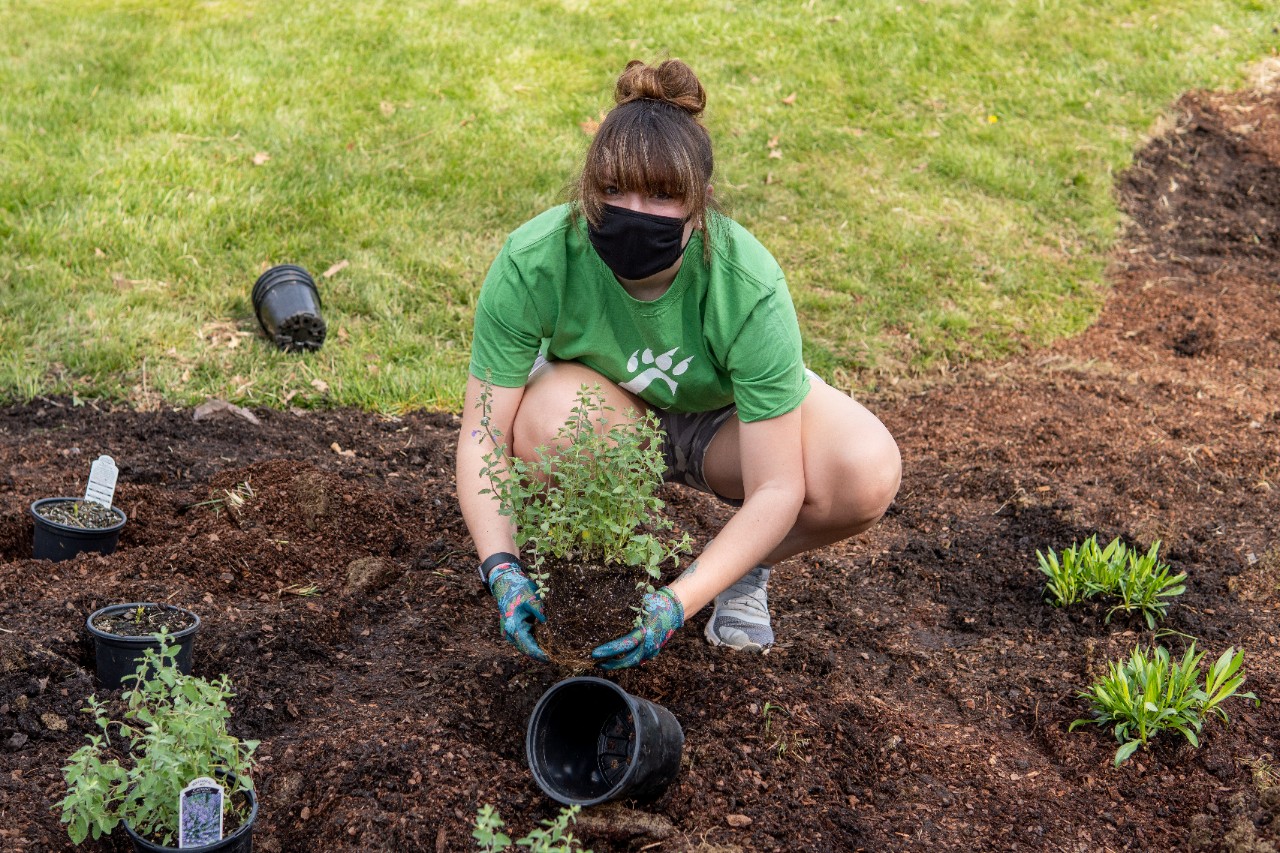 Pollinator garden takes root at UC Clermont
New plants add beauty and function to Batavia campus
The University of Cincinnati Clermont College Sustainability Committee has coordinated the planning and installation of a pollinator garden on the college's Batavia campus, near the west parking lot.
"The pollinator landscape installation at the UC Clermont College campus is designed to be a multi-functional form of green infrastructure, as it is intended to support biodiversity, provide pollinator habitat, slow stormwater runoff and enhance the aesthetic beauty of the Clermont campus," said Daniel Hart, UC sustainability coordinator.
UC's Landscape Architect John Martini and his co-op students worked with the UC Clermont Sustainability Committee on the garden design. The actual installation was done in early April by members of the Sustainability Committee, UC Clermont Associate Director of Operations and Maintenance Kevin Peck, student volunteers from Clermont College and the Uptown Campus, and Facilities Management support staff.
"This project provided experiential education and service learning opportunities for students while also enhancing the physical environment and supporting UC's mission related to real world learning," Hart said.
Learn more about the UC Clermont College Sustainability Committee. To learn more about UC's broader sustainability efforts, visit the Department of Planning + Design + Construction's (PDC) UC | Sustainability page. 
Featured image at top: UC Clermont student plants perennials in a new pollinator garden on the Clermont campus. photo/Danny Kidd/UC Clermont Marketing Services
1
UC Clermont to host Rapid Application Events in June
Event: June 28, 2023 6:00 PM
UC Clermont will hold free Rapid Application Events on campus Wednesday, June 28, at 6 p.m., and Friday, June 30, at 10 a.m. The last day to apply for admission to the college for fall semester 2023 is July 1.
3
UC Clermont online program receives national recognition
May 3, 2023
The University of Cincinnati's online Health Information Systems Technology program has received national recognition with Exemplary Program certification through Quality Matters. The program, designed and taught by UC Clermont faculty, is delivered in partnership with UC Online.
Debug
Query for this