Prestigious green and gold accolades highlight UC Earth Day 2021
Newly awarded Gold LEED designation for Lindner Hall points to UC's green innovations, efficiencies
There's no making light of the 'Gold' accolade recently earned by the University of Cincinnati's Carl H. Lindner College of Business' new home on campus.
This Gold LEED (Leadership in Energy and Environmental Design) recognition from the U.S. Green Building Council represents a first on UC's Uptown West Campus and the third overall for UC, after CARE/Crawley and the Health Sciences Building.
It's a result that reflects the deliberate decisions around eco-design and materials that the college educators and the architectural designers pursued at every opportunity — from use of a below ground rainwater management system to the four green roofs that now crown Lindner Hall.
Perhaps, most importantly, it further advances expectations around design and sustainability in a campus architectural environment that is already first-in-a-world-class, having earned  extensive coverage and kudos in books and media, including The New York Times, Los Angeles Times, Chicago Tribune and countless others.
"On behalf of the many interdisciplinary teams that worked together and leveraged their expertise to construct and open Lindner Hall, the college is incredibly honored and thankful to have achieved Gold LEED certification," said Marianne Lewis, PhD, dean of the college.
"While this recognition bestowed on the college is about the impressive advances in sustainable design, materials and systems, it underscores the business case for ecological efficiencies in any industry. Most of all, it fosters learning and connections that our students, faculty, staff and partners can experience only at Lindner."
An environmental, educational and economic 'case study' for sustainability
Many environmentally sensitive features of the new LCOB home are easy to see and appreciate — first and foremost how natural light cascades into every space, including those without traditional exterior-facing windows.
Other features may be more subtle but no less important, according to Campus Planning, Design + Construction Project Manager Bob Marton, who added that lead design firm for the building was a firm known for being a sustainability change agent, internationally renowned Henning Larsen Architects. HLA  partnered with Cincinnati-based KZF Design on the project, which was the first in the U.S. for the Danish firm.  
The materials and design -- and the resulting recognition -- resonate with Honors-PLUS student Ganesha Ravela, who stated, "LEED certification is definitely a great award the building has earned for its ability to reduce environmental impact. This is very important to me as this is a building I spend a lot of time in, and I want...a greener future."  
Natural light, a bright idea
The centerpiece element of Lindner Hall is a three-story atrium capped by a massive skylight. That skylight, exterior wall windows and two interior greenspace courtyards — combined with interior glass walls as well as "light wells" — allow daylight to cascade deep into the interior of the building. There isn't a single office or classroom without natural light.  
Importantly, natural light has been shown to not only improve student outcomes but reduce energy use and costs, due to reduced need for artificial illumination.
Indeed, where artificial light is in place, it consists of LED lighting, which uses less energy than traditional lighting fixtures and also lasts much longer. It's expected that the lamp life of the fixtures within LCOB may last at least ten years.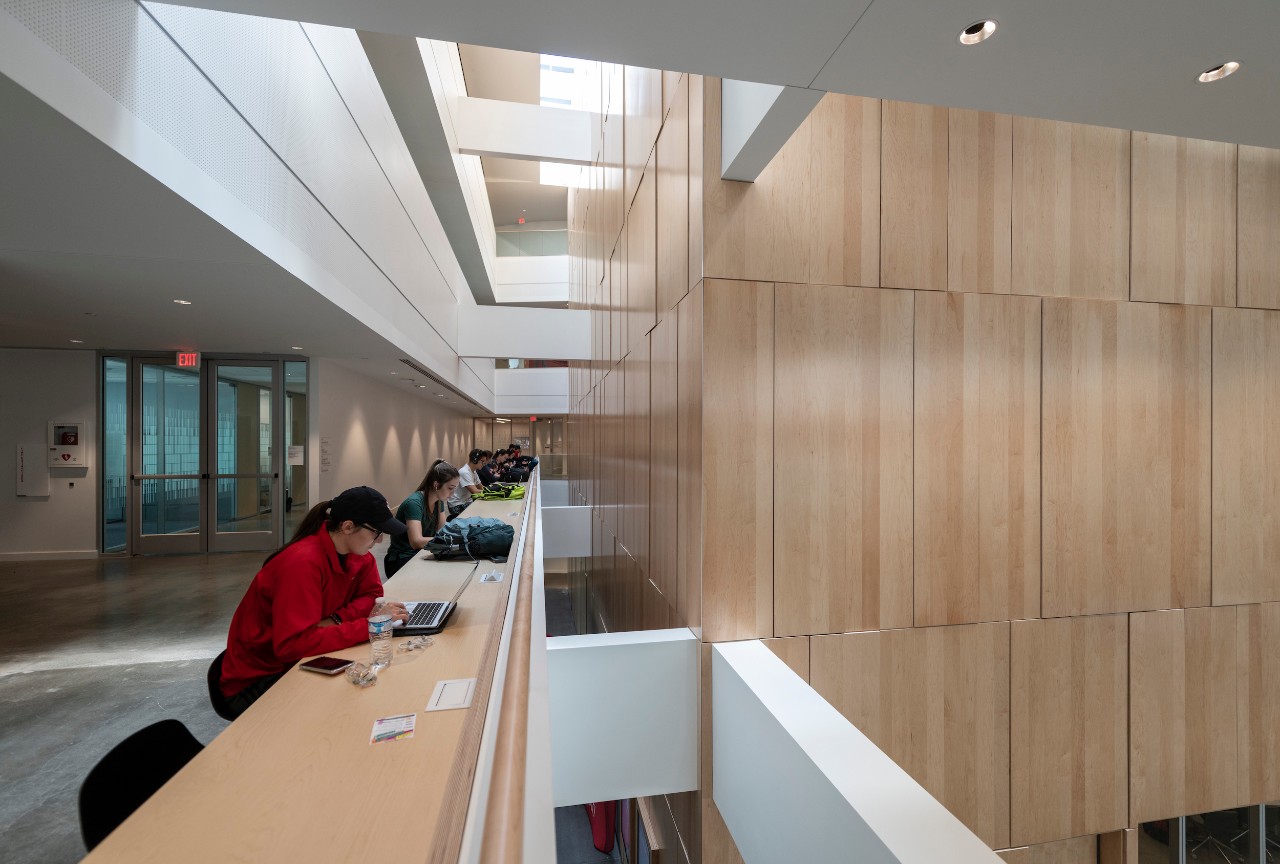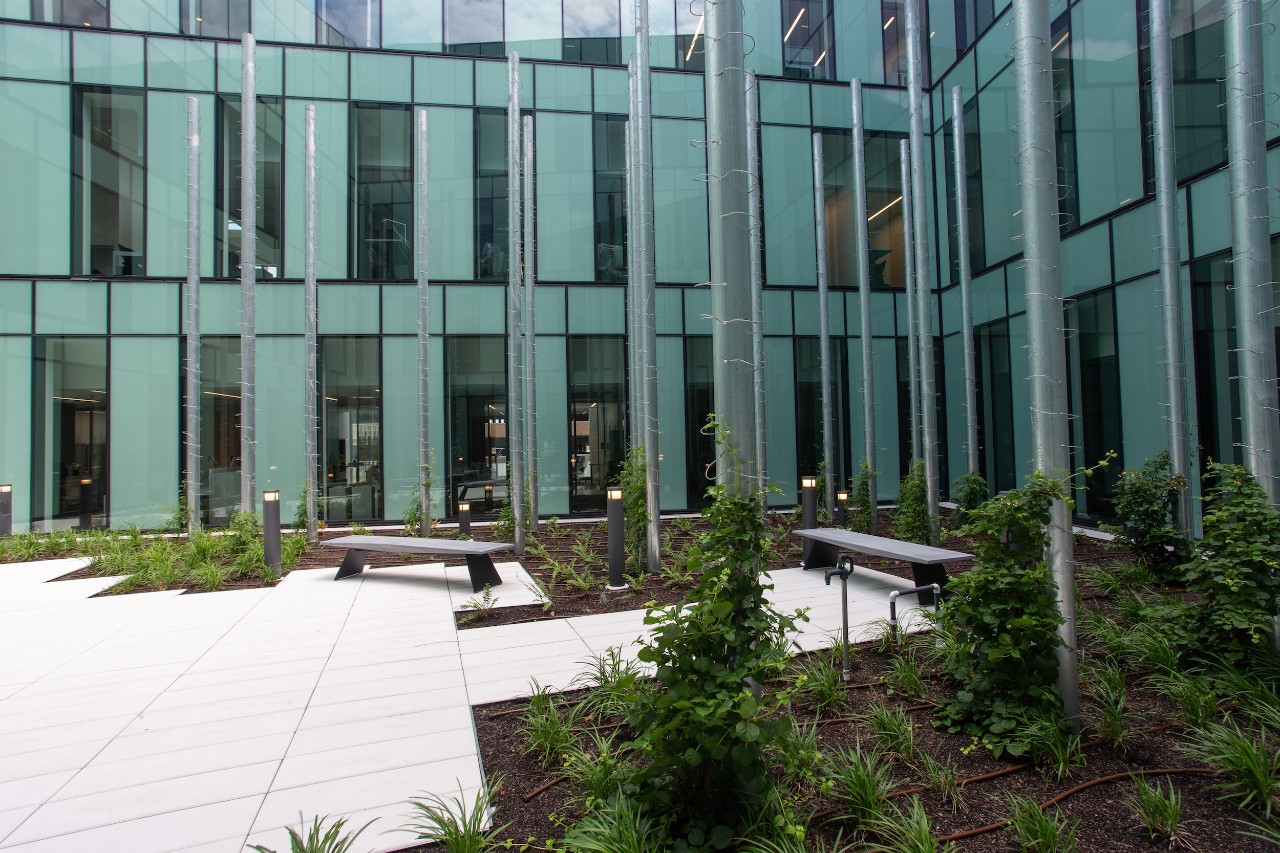 Four green roofs "like the leaf of a clover"
The green roof system atop Lindner is now among a small handful on campus — now including Procter Hall and DAAP as well as a roof garden atop Zimmer Hall.
The LCOB green roof space is sloped to angle slightly downward in order to increase solar exposure but  to also prevent rainwater that is not absorbed by the plants and soil from pooling. The green space reduces storm water runoff and aids with storm water management, and also reduces both heating and cooling needs and costs — not to mention that it provides safe nesting space for birds, enhances biodiversity and provides flowering plants (e.g., wildflowers like butterfly weed, beebalm, black eyed Susan, coneflowers, bachelor buttons, milkweed) for pollinators.
Overall, the Lindner project green roofs and additional vegetated greenspaces, courtyards with vertical vegetation/climbing plants, and bioswales (trench/drainage areas with water-loving plants) comprise 60% of the total project site.
Avoiding 'hot spots' and solar gain
The exterior wall windows are interspersed with angled panels of varying heights, and the combination of these windows and panels regulate incoming light and create an engaging pattern of light-and-shadow lines within the building. Said Marton, "These not only creates visual interest for users, the panels also allow us to control the amount of incoming light. Importantly, the panels are of concrete that also allow us to avoid creating reflective 'hot spots' on adjacent ground surface. Lastly, the light-colored concrete panels also reflect heat away from the building in the summer."
The economics of energy efficiency
It's estimated that the avoided energy use resulting from the sustainable design and materials employed in the new Lindner Hall are 35% below what would be expected in terms of annual energy use within a baseline structure of similar size. That translates to avoided energy costs, 32% below what would be expected in a baseline structure of similar size — or an estimated $165,000 annually in avoided energy costs. According to UC Utilities Director Mike Hofmann, that reduction would be enough to power the annual electricity needs of more than 1,000 U.S. homes. "Or," he said, "It's equivalent to more than 6.7 million pounds of coal burned or more than 14,000 barrels of oil consumed."
Increasing collaborative interactions, valuing people and relationships
Many of the building's notable features – natural light, open spaces, flexibility – are purposefully human centered, designed to encourage meaningful interactions and relationships, which in turn lead to innovative and creative collaborations. For instance, approximately 40% of the building space is dedicated to flexible spaces where the 10 types of furniture can be easily rearranged and reconfigured for diverse needs and work or study groupings.
Student Ganesha Ravela praised the relationship building made possible within the new space, "The atrium has to be my favorite part. As soon as you walk in, you are greeted with an expansive opening. Building relationships and personal networks are so important in the world of business, and this space really fosters that idea of connectivity. Right when you come in, you can see almost everyone in the atrium, giving you the opportunity to meet up with old friends or make new ones."
Building relationships and personal networks are so important in the world of business, and this space really fosters that idea of connectivity.
Ganesh Ravela Honors-PLUS student
Henning Larsen Doctoral Fellow Krister Jens performed a post-occupancy evaluation of Lindner Hall and found that "on a regular day (pre-COVID), more than 5,000 people enter and exit the facility, of which 20% come from other facilities to work and socialize in Lindner Hall. The potential for design to increase interdisciplinary exchange between students and faculty from across campus is evident. Where the old building had long corridors and few breakout spaces, the new building offers space specifically geared toward the kind of casual interaction crucial to work and education."
He added that the number and variety of informal meetings spaces has eased pressure on more formal meeting and seminar rooms. The new atrium, for instance, has high interaction levels. Working desks spread throughout the building have shown to support individual and pair-work, while groups of every size use the food service space.
The intentionally design provides both opportunity for engagement and contemplation within the same spaces. Students are able to select spaces according to individual need at any moment in time.
In other words, said Jens, "It's a place you want to be."
Further action is required to make this video accessible
The below criteria must be satisfied:
Affirm Accessibility must be checked

AND

Kaltura or embed is selected, or YouTube or Vimeo is selected and a title is entered.
The video will not display on the live site until the issue above is resolved.
Featured image at top: Many environmentally sensitive features of the new LCOB home are easy to see and appreciate – first and foremost how natural light cascades into every space by means of a massive skylight, window walls, light wells, an interior courtyard and more. Photo/Courtesy: Alex Fradkin.
Become a sustainable Bearcat
Interested in creating a more sustainable path to academic success? Apply to UC as an active and environmentally conscious undergrad or graduate Bearcat. Join in what's Next:#NextLivesHere
1
UC Gardner Neuroscience Institute to lead new national stroke...
December 7, 2023
The UC Gardner Neuroscience Institute has received $19 million in federal funding from the National Institutes of Health to serve as the lead center for a Phase 2 clinical trial that will study the efficacy of a new monoclonal antibody treatment for patients ineligible for currently available treatments.
2
Lindner student named to Schwarzman Scholars class of 2024-25
December 7, 2023
Carl H. Lindner College of Business student Lance Entsuah, BA '24, recently earned admission to the prestigious Schwarzman Scholars program that offers a one-year, fully funded master's degree program in global affairs from Tsinghua University's Schwarzman College in Beijing, China.
Debug
Query for this