A beautiful day to celebrate together
Record number of UC graduates celebrate first in-person commencement since pandemic
The University of Cincinnati on Friday recognized its biggest-ever graduating class at its first in-person commencement since the COVID-19 pandemic.
The celebration marked one of the first in-person events of any kind at UC since the pandemic, now in its second year, disrupted life around the world. That made Friday's joyous occasion even more meaningful for the families that gathered at Nippert Stadium to cheer their loved ones.
The class met under blue April skies, a day after torrential rains on Thursday postponed the first of two ceremonies. The graduates' beaming faces in the spring sunshine had a palpable sense of optimism for their bright futures — even under layers of protective face masks required for social distancing.
"I've met many of you over the years and you are an inspiration to me," UC President Neville Pinto said in his commencement address. "You give me confidence that the future is in the hands of a caring, courageous and capable generation."
He quoted physicist Marie Curie: "Nothing in life is to be feared. It is only to be understood. Now is the time to understand more so that we may fear less."
"Even in the middle of the pandemic, the human race has not halted in our quest to know and discover," he said.
Pinto urged the graduates to embrace lifelong learning as they begin their careers.
"Be humble and curious enough to appreciate that there is a great deal to learn. And be confident in your ability to learn what you do not know. Never stop learning."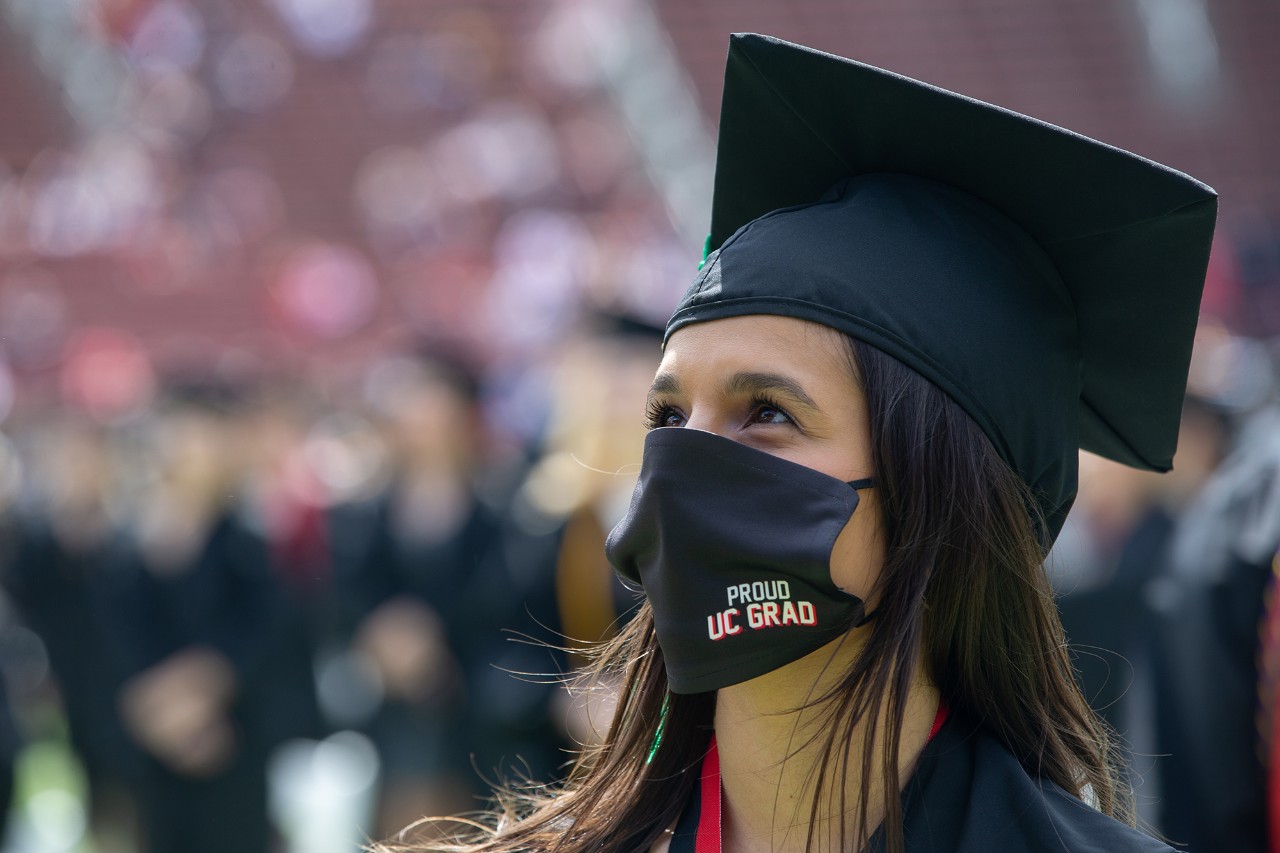 Board of Trustees Chairman Ronald D. Brown greeted the graduates and their families gathered at Nippert Stadium, where he once celebrated his own graduation as a Bearcat.
"This class is a great example of how no matter what life throws your way — a pandemic or a rainstorm — you make the most of it," he said. "Thank you for everything you did to keep yourselves and your classmates safe during the pandemic. We wish you much success and look forward to the ways you use your education and degree to make an impact."
UC College of Arts and Sciences graduate Julius Freeman delivered a speech on behalf of the student body that touched on the past year of social distancing and social unrest nationwide. Society, he said, sometimes makes people feel as though their only value is the income they generate.

"But we are human beings, not human doers," he said.
Freeman urged his classmates to hold onto their sense of self when life gets difficult.
UC College-Conservatory of Music student Victoria Popritkin performed the national anthem and sang the Alma Mater to close each ceremony.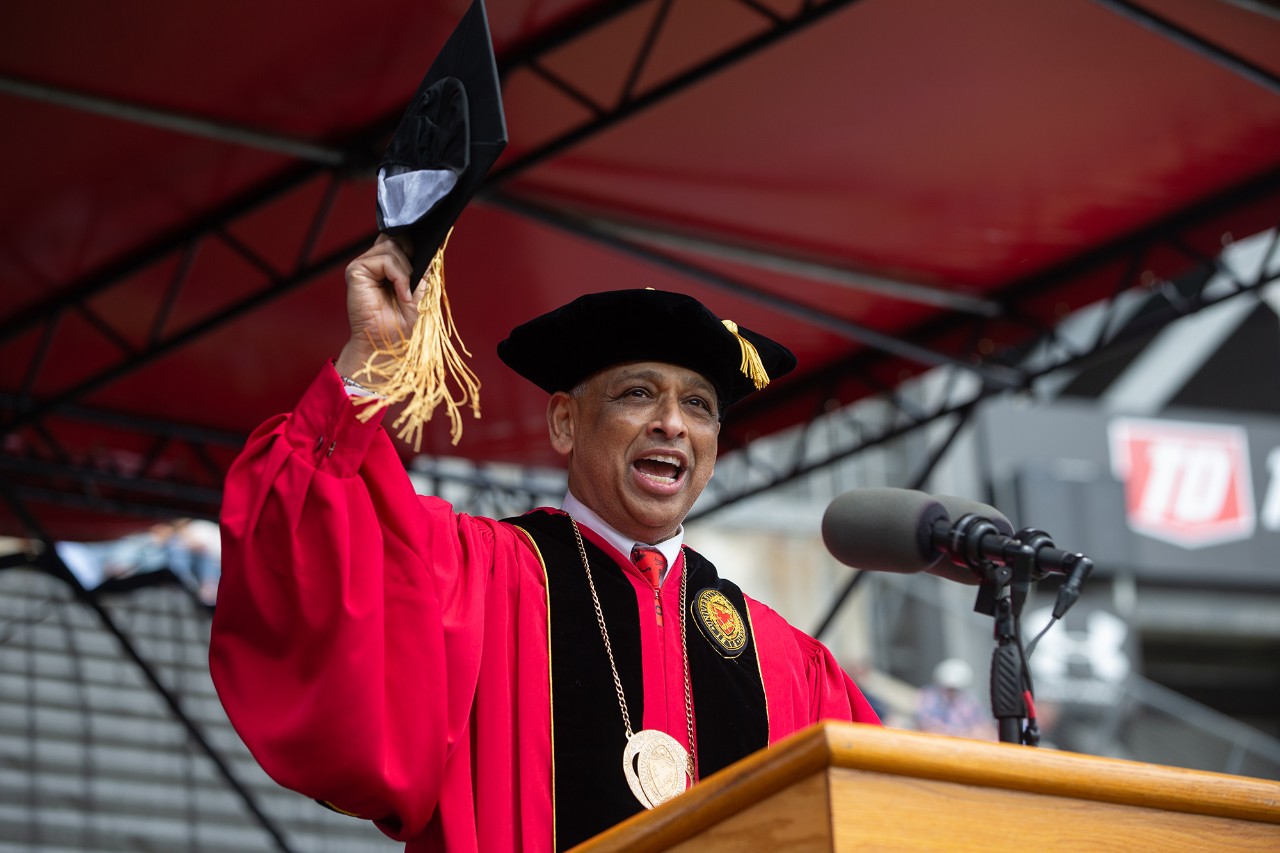 UC Provost Kristi Nelson presented the Excellence in Mentoring of Doctoral Students to UC professor Pankaj Desai of UC's James L. Winkle College of Pharmacy.
"He has mentored over 30 doctoral students, many of whom are leaders in the pharmaceutical industry," Nelson said.
UC also awarded its 2021 Presidential Leadership Medals of Excellence to six students: Nicole Baah, industrial design major from the College of Design, Architecture, Art, and Planning; Chinmay Bakshi, neurobiology and medicine, health and society for the College of Arts & Sciences; Chloe Elleman, medical sciences program from the College of Medicine; Chandler Rankin, economics and political science from the Carl H. Lindner College of Business; Priyanka Vemuru, medical sciences program from the College of Medicine, and FearGod Okwubido-Williams, biomedical engineering from the College of Engineering and Applied Science.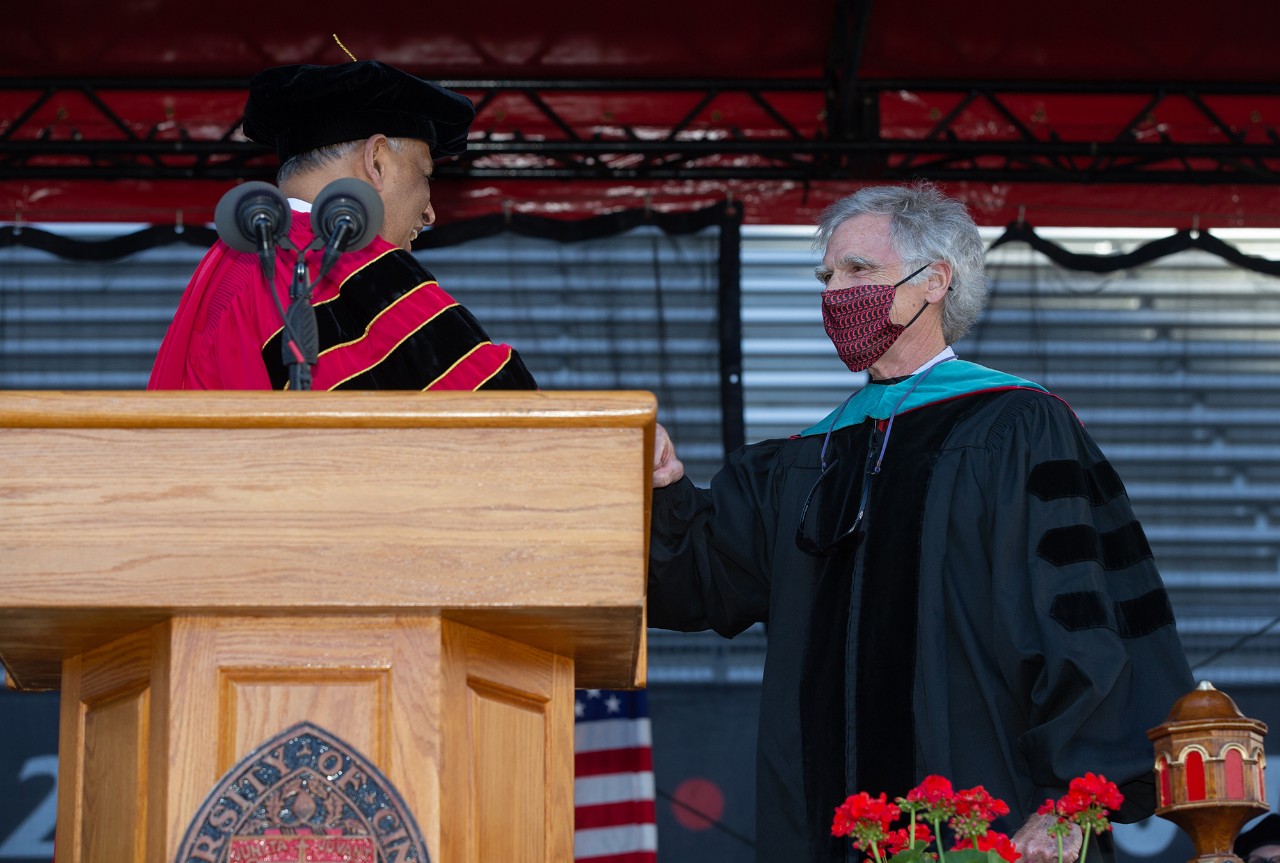 UC presented an honorary doctorate to former Board of Trustees chairman William C. "Wym" Portman III in recognition of his loyalty, support and true affection for the University of Cincinnati.
The former CEO of Portman Equipment Company now serves as director of sustainability for Pon North America. He served on UC's board from 2011 to 2020.
Portman also served on the boards of UC Health, UC Healthcare System and local and national nonprofits, including Lebanon House, Inc., the Greater Cincinnati Foundation, the Cincinnati Museum Center and Big Brothers/Big Sisters of Greater Cincinnati, among many others.
"He is tremendously kind and humble in giving of his time and talent to serve our region and other causes as a caring business leader, citizen and volunteer," former Board of Trustees member Thomas Cassady said in his nomination letter.
"It is clear Wym possesses a genuine concern for UC students and their success," Cassady said.
Pinto presented a doctor of humane letters, honoris causa and commended Portman's efforts to address conservation and sustainability around the world.
"You have been a wise steward of your time on this planet," Pinto said. "Our very survival as a human species and that of our precious Earth has captured your passion, inspiring your exertions to advance conservation, embrace the beauty of our natural resources and wildlife and promote sustainability."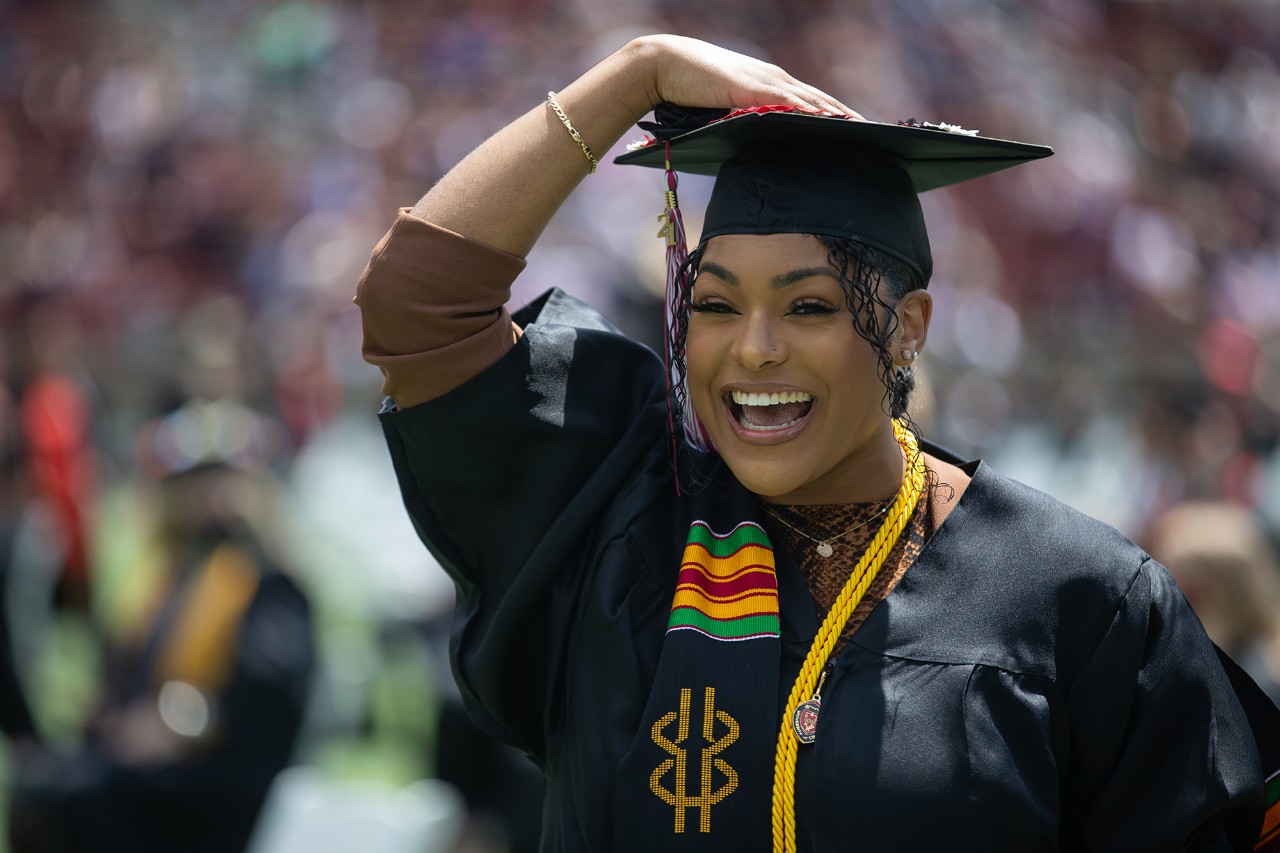 About the Spring Class of 2021
UC recognized a record 6,866 students earning 7,225 degrees at its spring celebration. Some students earn multiple degrees. The graduates earned 504 associate degrees, 4,749 bachelor's degrees, 1,433 master's degrees, 242 doctoral degrees and 297 professional degrees.
Nearly half of all degrees, or 46%, are in the STEMM fields of science, technology, engineering, math or medicine.
More than 16% of graduates are first-generation college students; 204 come from Cincinnati Public Schools and 211 students are U.S. veterans or dependents of veterans.
The youngest grad is just 17; the oldest is 72. 
Graduates in the Class of 2021 come from 82 countries around the world from Algeria to Zimbabwe. Students also hail from all 50 states and 85 of Ohio's 88 counties.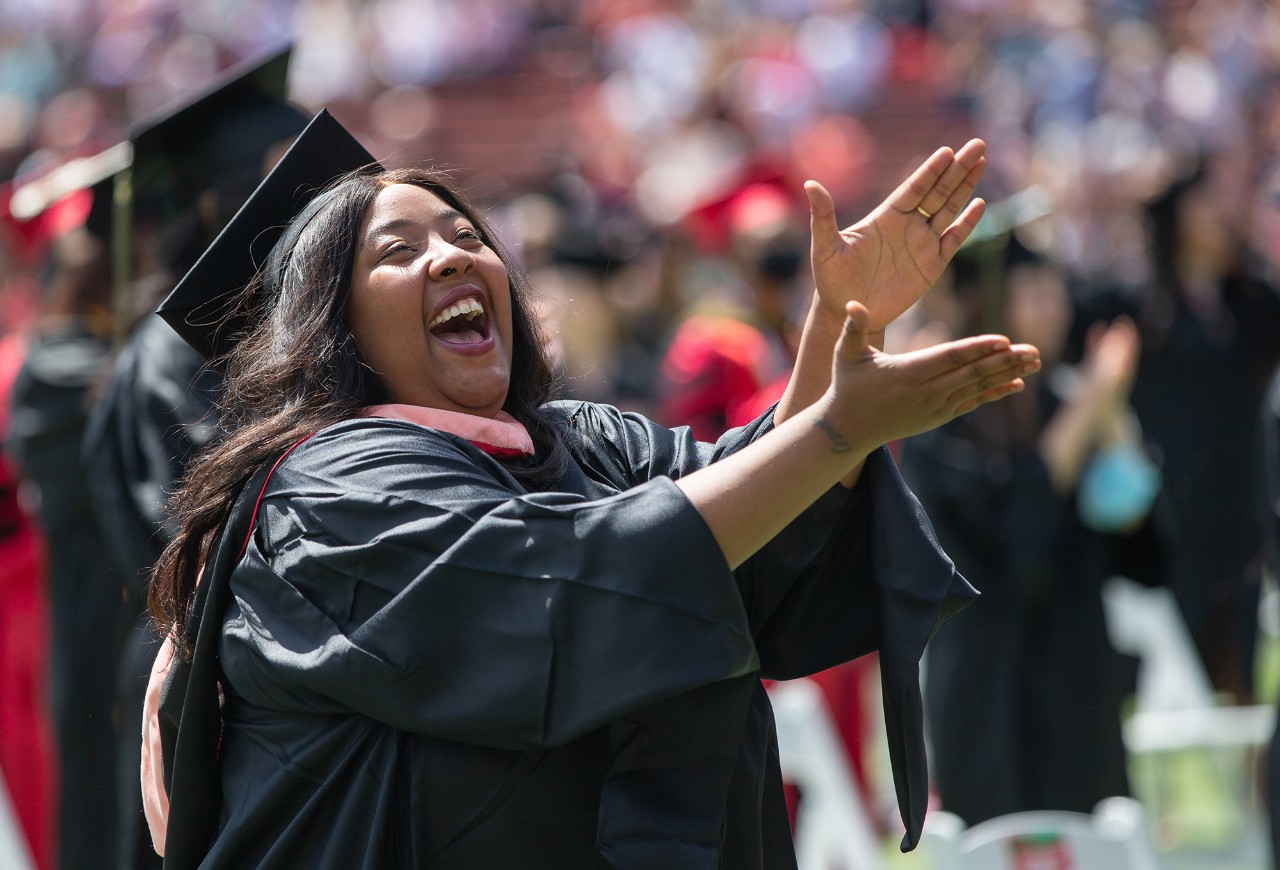 UC College of Arts and Sciences graduate Brittany Collier used her experience in marketing to land a job with a social media company after graduation. Collier produced an explainer video about why she embraced a new social media app called Cappuccino that went viral on TikTok, earning nearly 4 million views. The post attracted the interest of the social media upstart, which offered her a job managing its own social media.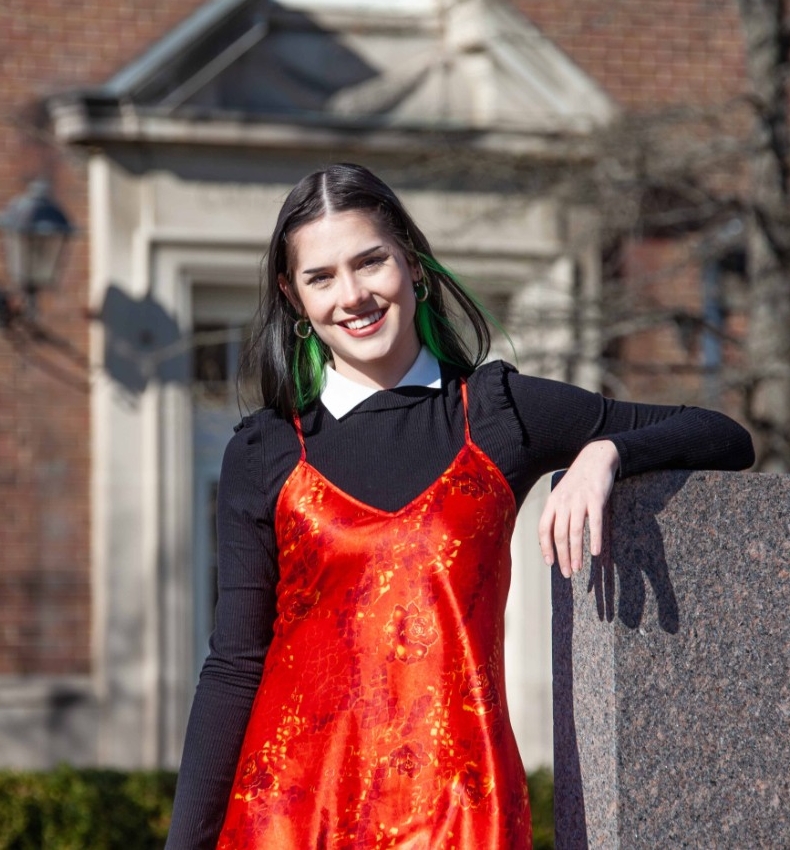 Like many first-year students, Collier wasn't sure what major she wanted to pursue, so she enrolled in UC's Exploratory Studies. She took a class on exploring professional paths taught by UC associate professor Michael Sharp.
"I fell in love with the idea of communication and what it could do for me," Collier said.
Collier participated in UCommunicate, a graduate-led consulting group that helps businesses and other clients with their marketing and communications strategies. Collier helped a Greater Cincinnati restaurant with its social media messaging and worked with an educational nonprofit on its recruiting campaign.
"Getting real-world experience was important. We got to work with real clients. I took leadership roles. That was a great resume builder as well," Collier said. 
Collier said social media was useful to keep in touch with friends during the COVID-19 lockdowns. She is excited that this year's commencement will be in-person for the first time since the global pandemic.
"Going to UC has been a great experience," she said.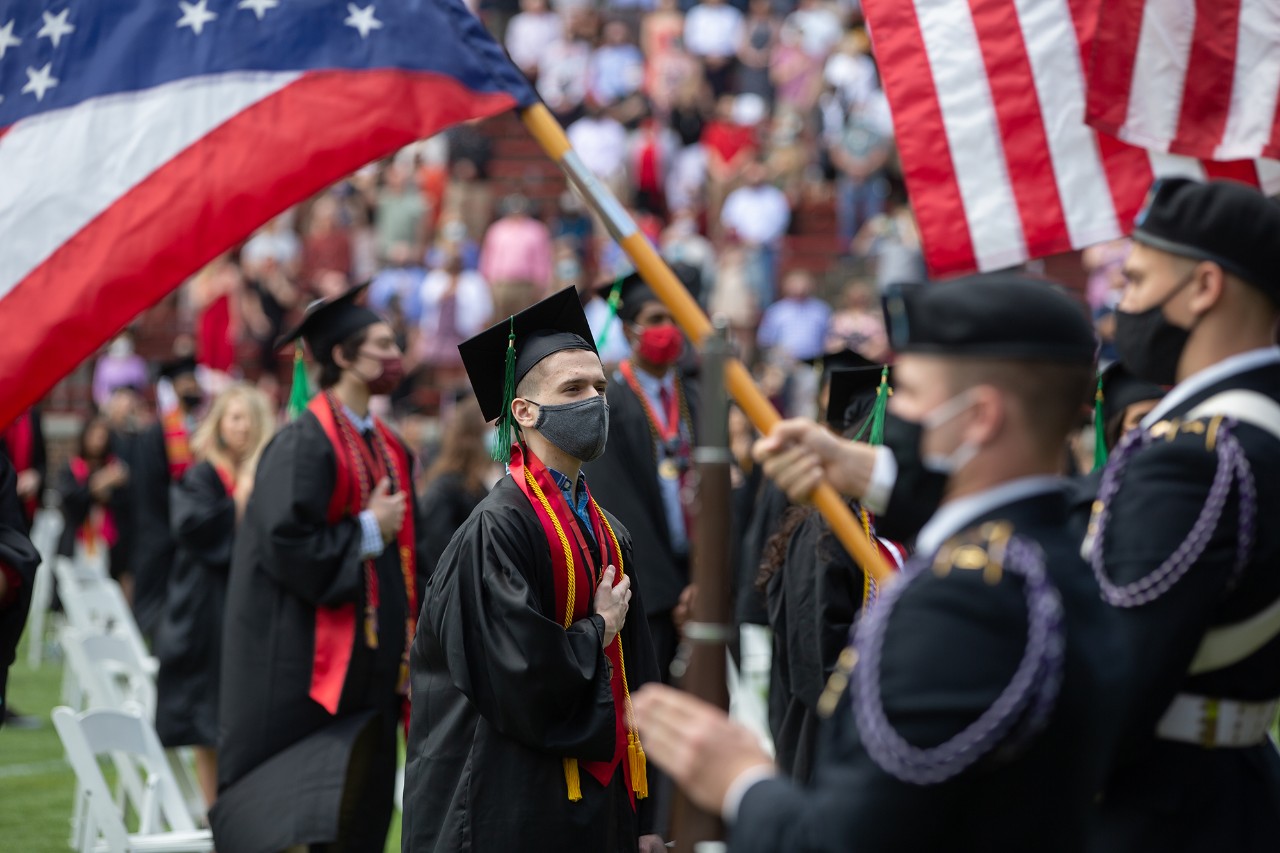 Ella Tanner, a graduate of UC's College of Education, Criminal Justice, and Human Services, persevered through a family tragedy to reach commencement.
In 2020, her older brother, Stephen "Alex" Tanner, died in a cycling accident. Always a big influence in her life, Tanner said she was devastated by the sudden loss.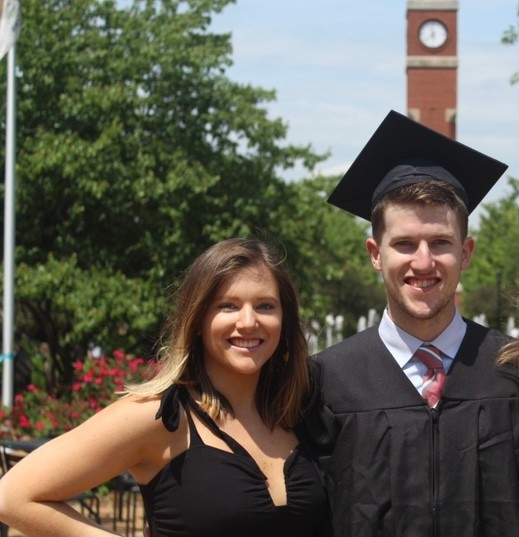 "He was someone who was smart and confident — president of his fraternity. He was a really good guy," she said. "But he wouldn't have wanted me to put my life on hold to grieve."
Tanner, a public and community health major, got a hospital internship at UC that allowed her to give presentations on injury prevention. She visited area high schools to talk about bicycle safety, distracted driving and the accident that killed her brother, who at 23 had just earned a master's degree in Missouri and was beginning his career in accounting.
"Instead of falling apart with the added stress of the year, Ella took this internship knowing she would be telling her story about Alex," her mother said. "She's used her story to help others. As a parent, I couldn't be more proud."
"It was a horrible tragedy," Tanner said. "But my professors were very supportive."
At UC, Tanner followed her brother's footsteps into Greek life by joining the sorority Kappa Kappa Gamma. Her brother gave her advice about maintaining a work-life balance at school.
"His advice was always funnier. He would tell me to work really hard but to work for the weekend," she said. "Every day he would say, 'It's a great day to be great!'"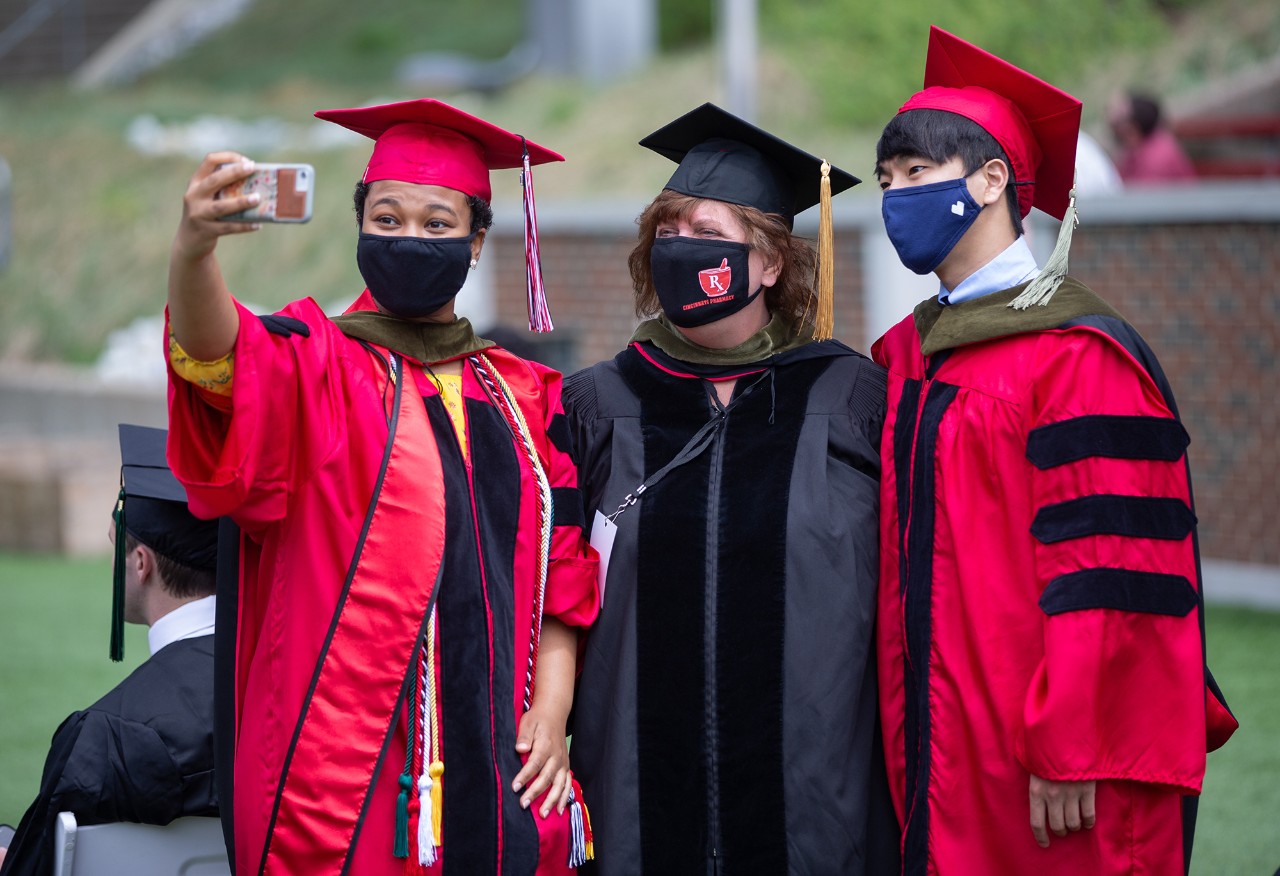 Education and experience at UC
UC College of Engineering and Applied Science graduate Sydney O'Connor left one dream co-op for another that landed her a job offer from Apple Inc.
O'Connor took part in UC's accelerated engineering degree, or ACCEND, program, which combines undergraduate and graduate degrees. She earned a bachelor's degree in computer engineering and a master's in computer science. Along the way, O'Connor took part in the college's mandatory and top-ranked co-op program, in which students spend part of the year taking classes and part of the year working at employers in their chosen field.
"I came to UC because of the co-op program — the opportunity to explore the world and get that important real-life work experience," O'Connor said.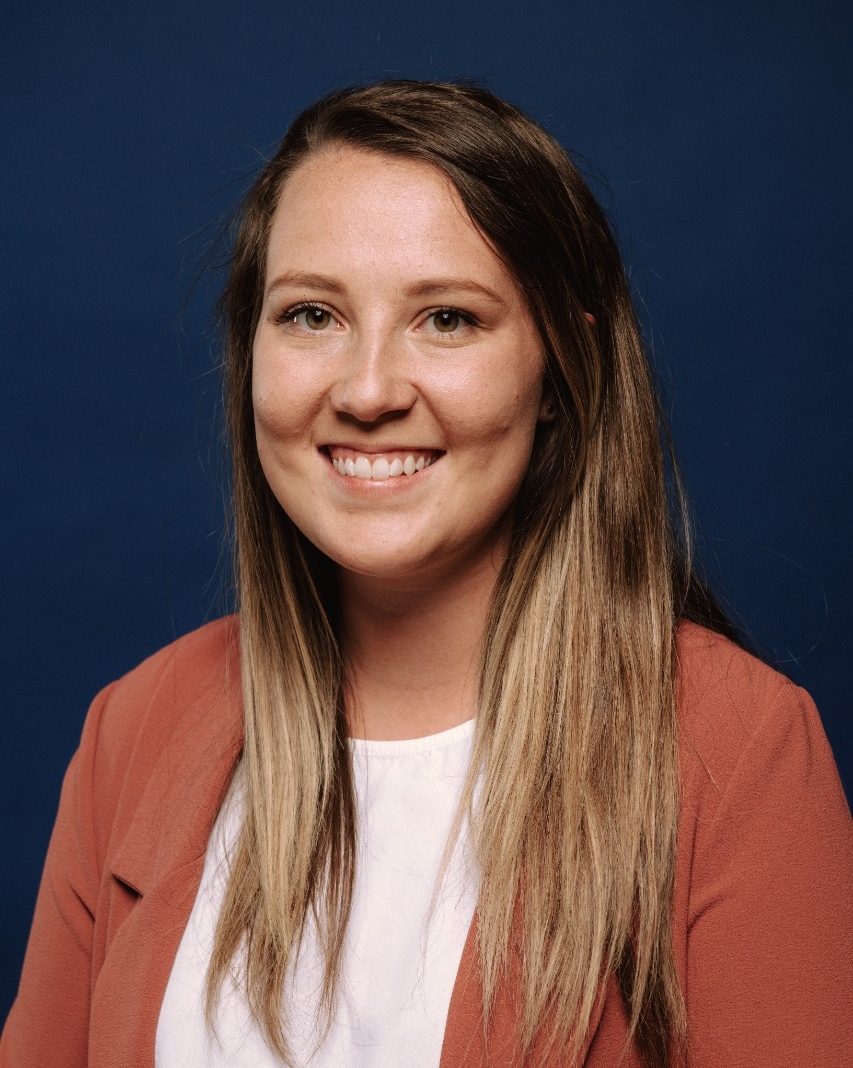 Now she already has two years of work experience on her resume, first at the U.S. Department of Defense contractor L3 Technologies and then at Tesla in Palo Alto, California, where she worked on superchargers and home energy devices.
"The company culture was very diverse. I was one of two or three Americans working with people from all over the world," O'Connor said. "That diversity really contributes to Tesla's success. Having people from diverse backgrounds often means people tackle problems in new ways."
Her last co-op was with Apple, a telecommuting position because of the pandemic. 
"But they did a fantastic job of making the virtual experience feel like normal," O'Connor said. "It was a dream opportunity for me."
O'Connor this year was awarded the college's Herman Schneider Medal, given to exemplary co-op students. At UC, Schneider was the first in the country in 1906 to introduce and pioneer co-op, now a fundamental part of the UC experience.
Apple offered O'Connor a full-time position after graduation. She hopes to move to California when the pandemic permits.
"I loved my time at UC. I can confidently say I wouldn't have gotten this job if I hadn't gone to UC," O'Connor said. "My schooling helped prepare me for these jobs. I really enjoyed the classes. I liked my labs. They helped teach me to problem solve and think for myself. The work ethic developed in the program taught you to go the extra mile."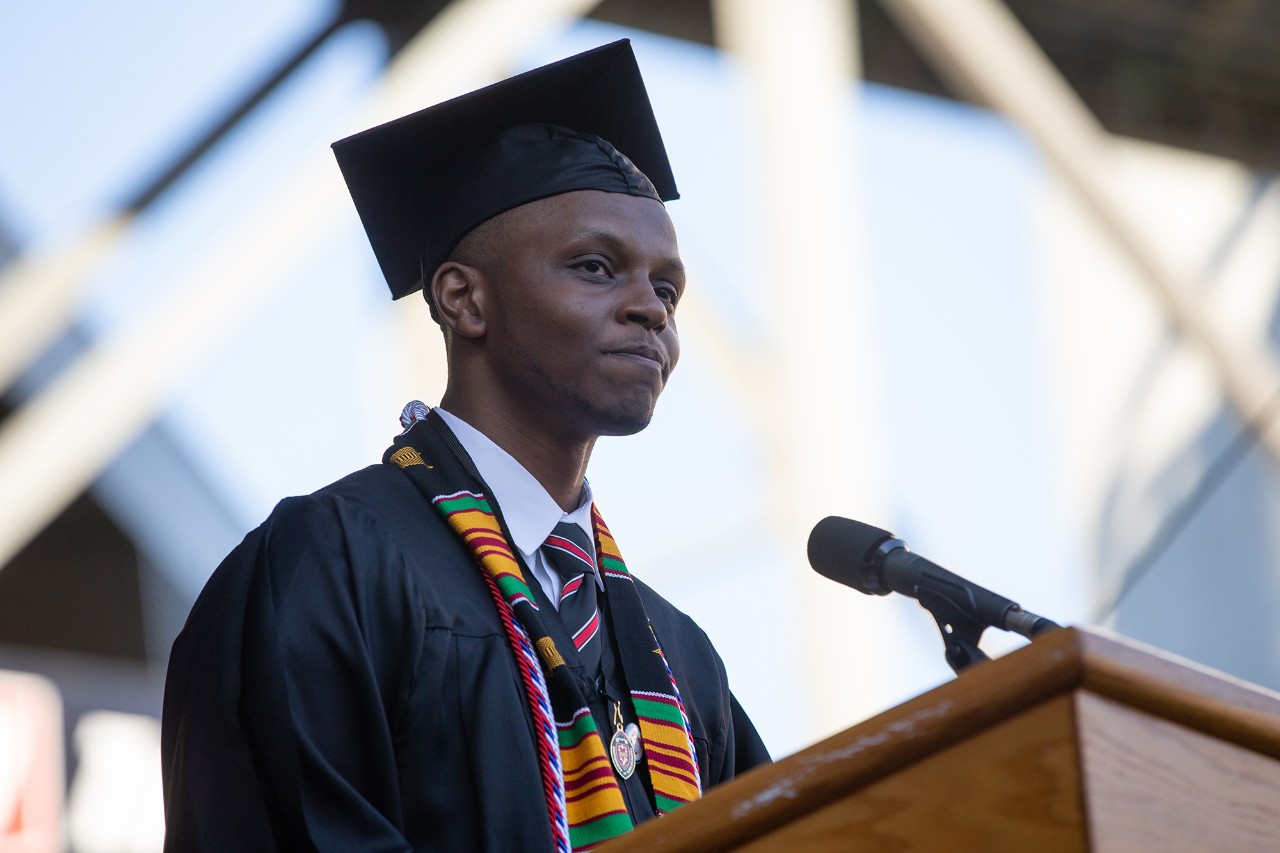 Associate Professor Ayman Mahdy, MD, wears many hats in the UC College of Medicine and the Department of Surgery at UC Medical Center. He is the interim director of urology, director of Voiding Dysfunction and Female Urology, urology medical director at the UC affiliate hospital in suburban Cincinnati and the R. Bruce and Barbara Bracken endowed chair in surgical urology.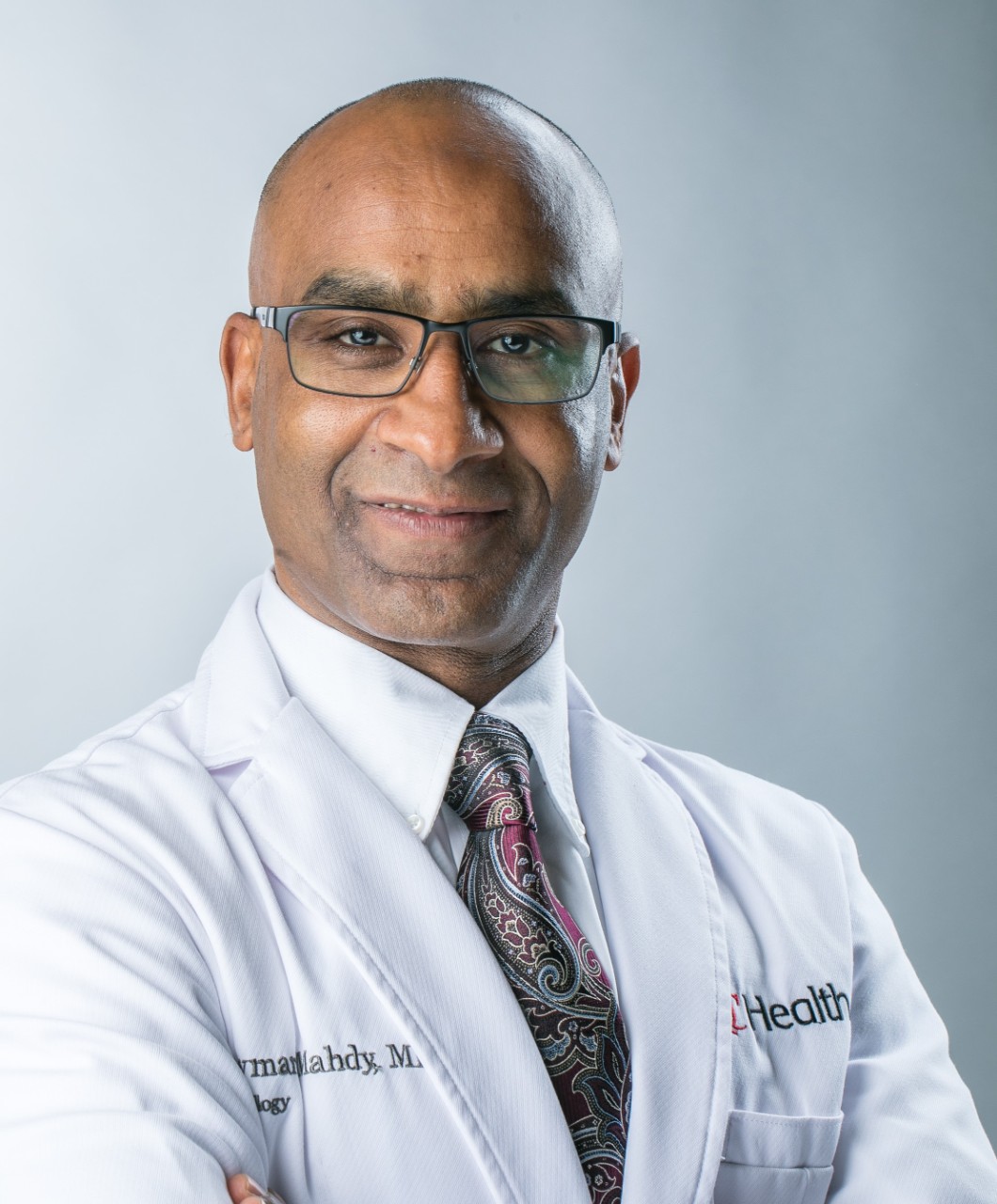 But on Friday, he donned a graduation cap and tassel to celebrate receiving his master's degree in business administration (MBA).
"You can probably tell time-management was the hardest part," Mahdy said. "I am a full-time clinician and also serve a few administrative roles. What helped was the flexibility of the online classes and the support from instructors and staff to get assignments done." 
Mahdy said UC's MBA program appeals to professionals from all backgrounds. 
"The MBA covers four major areas relating to finance, marketing, operations and management," Mahdy said. "I really enjoyed it. The areas that most benefited me are the management courses I had about leadership in health care." 
He and his wife, Mona, are raising four children ages 6 to 17. On Friday, Mahdy plans to bring his boys Ahmed and Nasr to celebrate commencement. Both teens are contemplating their own educational futures.
"Ahmed wants to go to medical school while Nasr is thinking about business school," he said. "I believe in lifelong learning. I decided to bring my two older children hopefully to inspire them."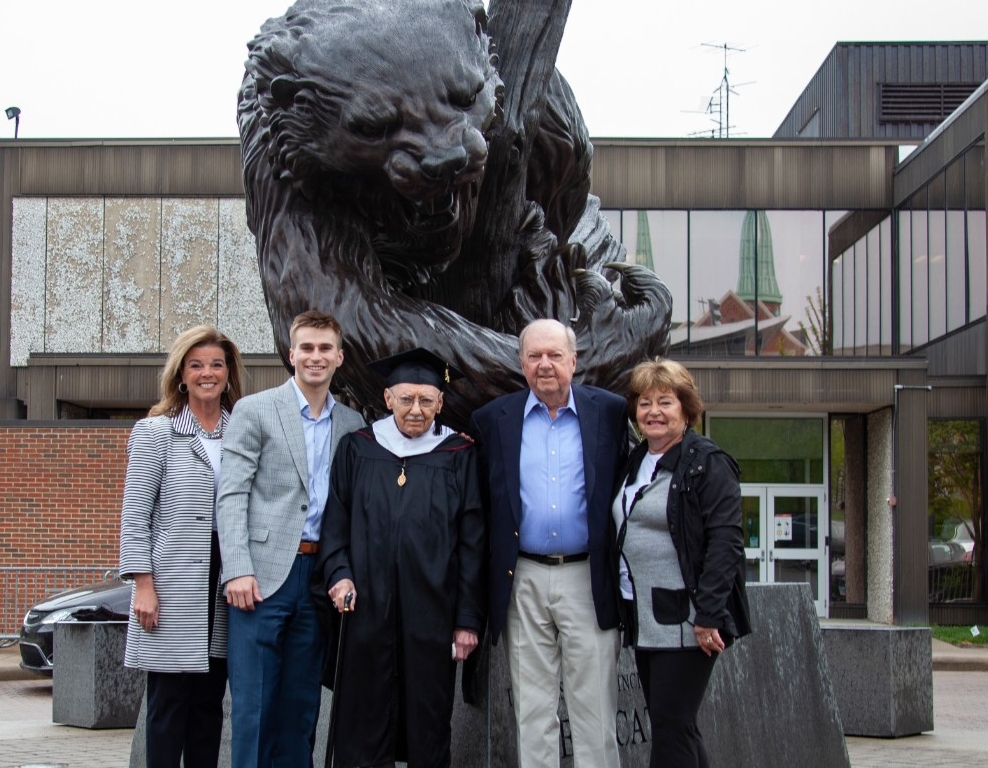 Celebrating an accomplishment
William Hackman was poised to celebrate receiving his master's degree from the College of Arts and Sciences during UC's 1954 commencement when he was drafted in the U.S. Army and shipped out to basic training.
"I never got to the graduation ceremony. They sent my diploma through the mail," he said. "I thought about what I missed from time to time."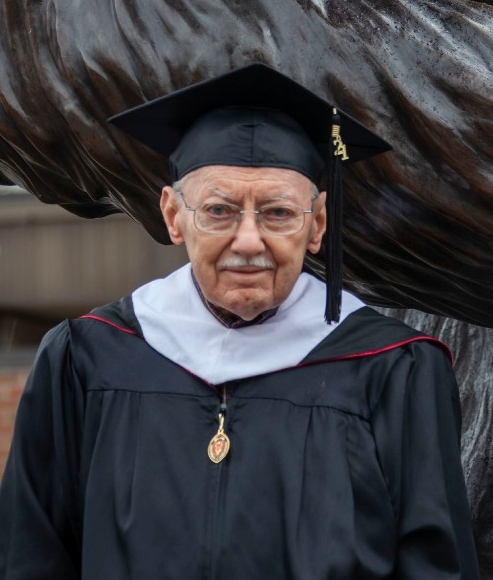 When he turned 91 this month, niece Stephanie Hackman surprised him by arranging an invitation from UC to participate in the Bearcat Walk at Fifth Third Arena as part of this year's commencement. Now, 67 years after earning his master's degree, the retired Cincinnati Public Schools teacher could wear his cap and gown and be recognized publicly.
"My niece made the arrangements. I knew nothing about it," he said. "She's always been very considerate. I don't know what I would have done the past year during the pandemic without her help."
After serving two years in the Army, Hackman said his bachelor's degree in education and his master's degree in social studies at UC launched a 35-year career in education in Cincinnati. Countless of his students graduated from college as well.
"I was teaching college-prep classes. I had very good students," he said. "Most of them went to college and became professionals. So I am pleased about that."
Featured image at top: A UC student turns her tassel to celebrate the completion of her degree at UC. Photo/Andrew Higley/UC Creative + Brand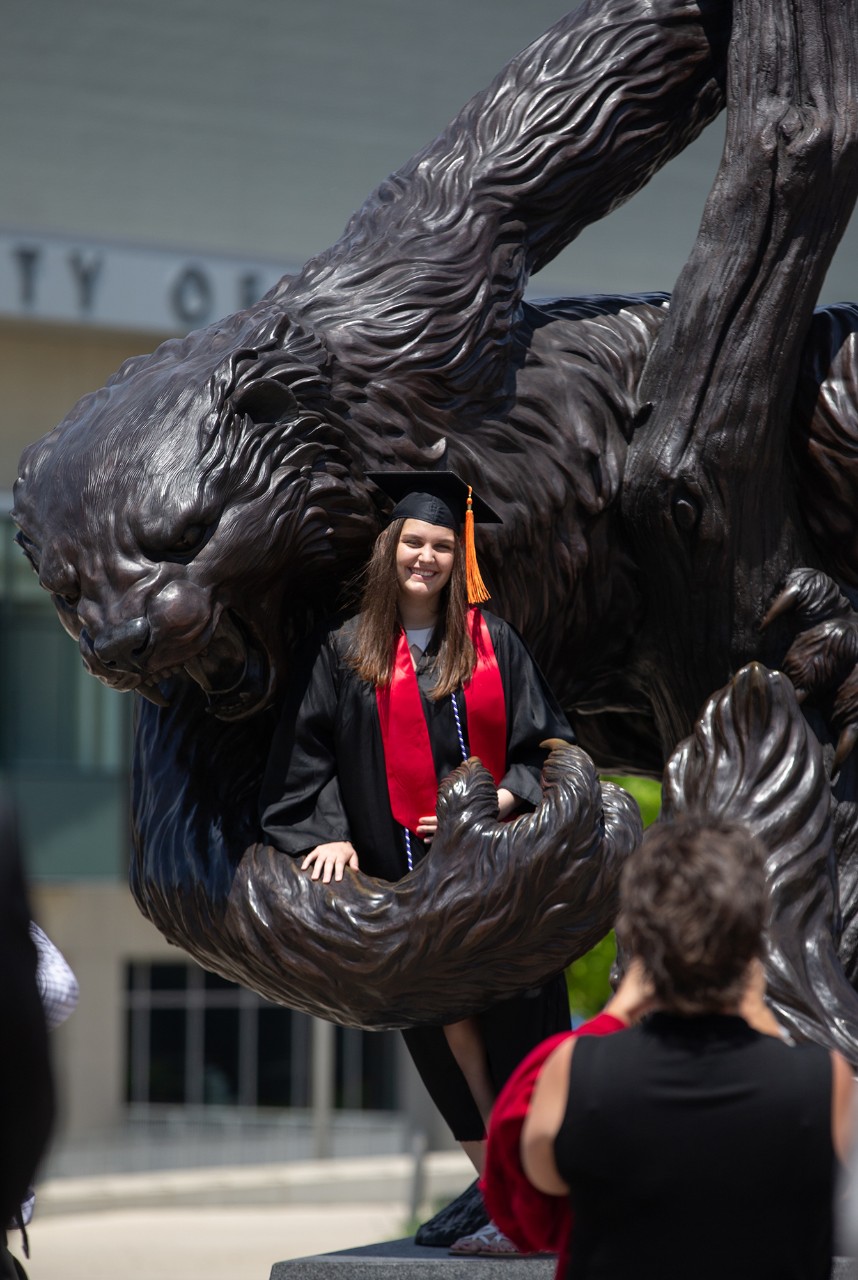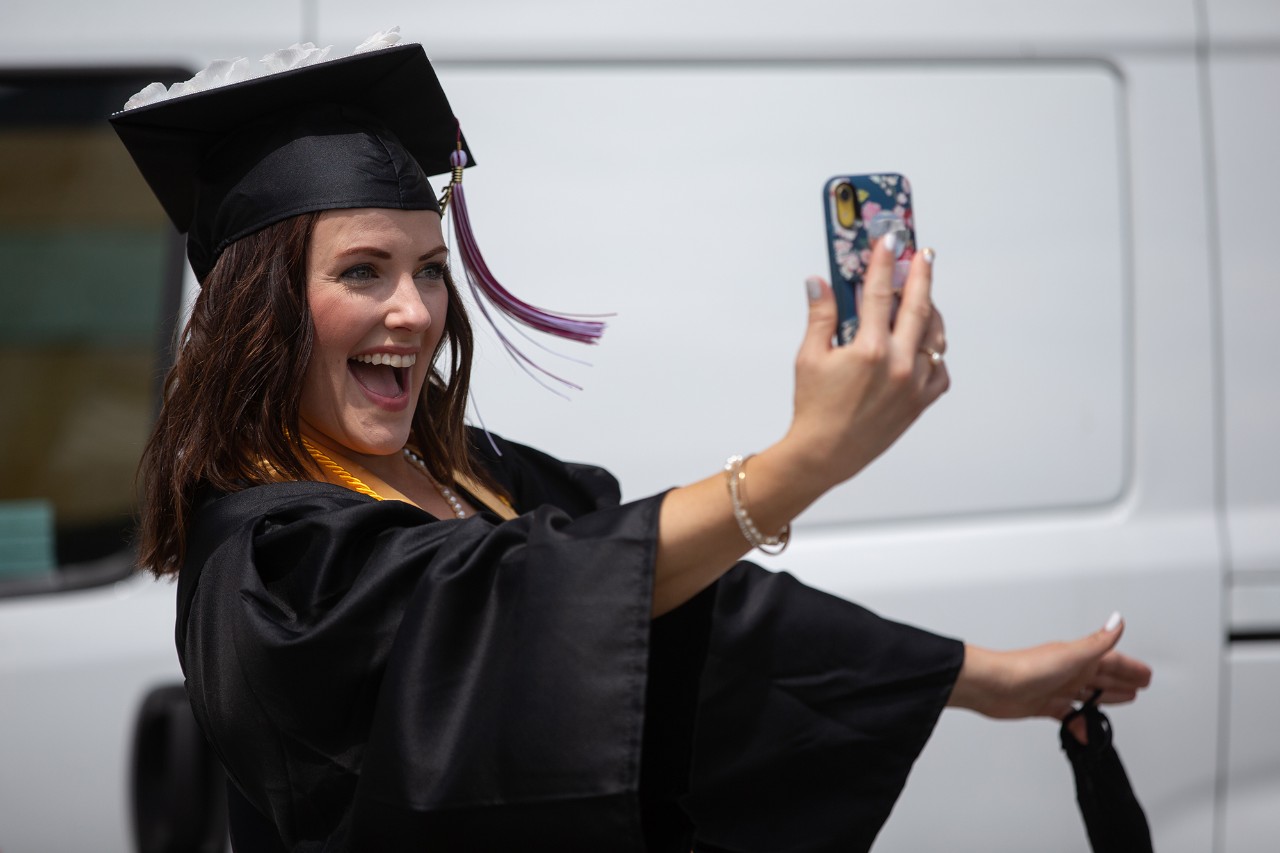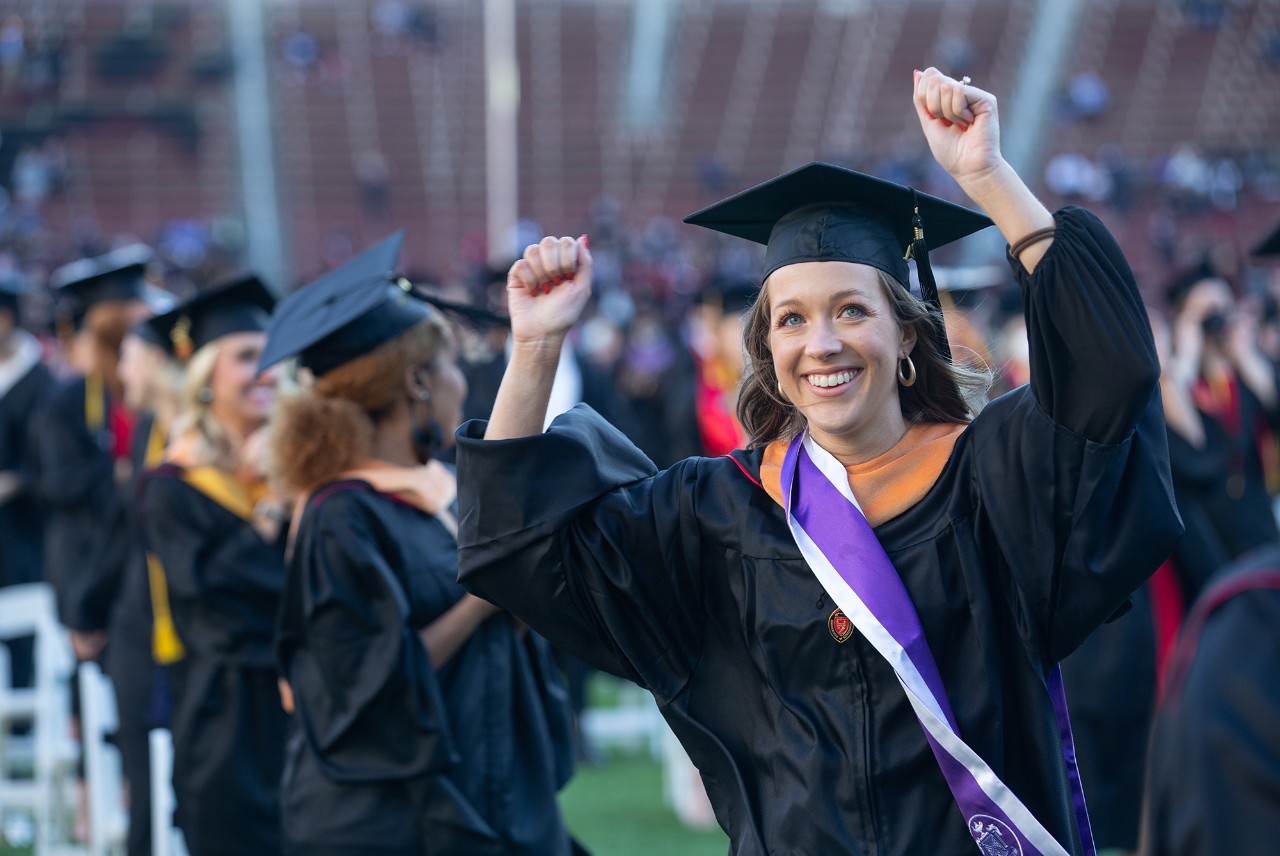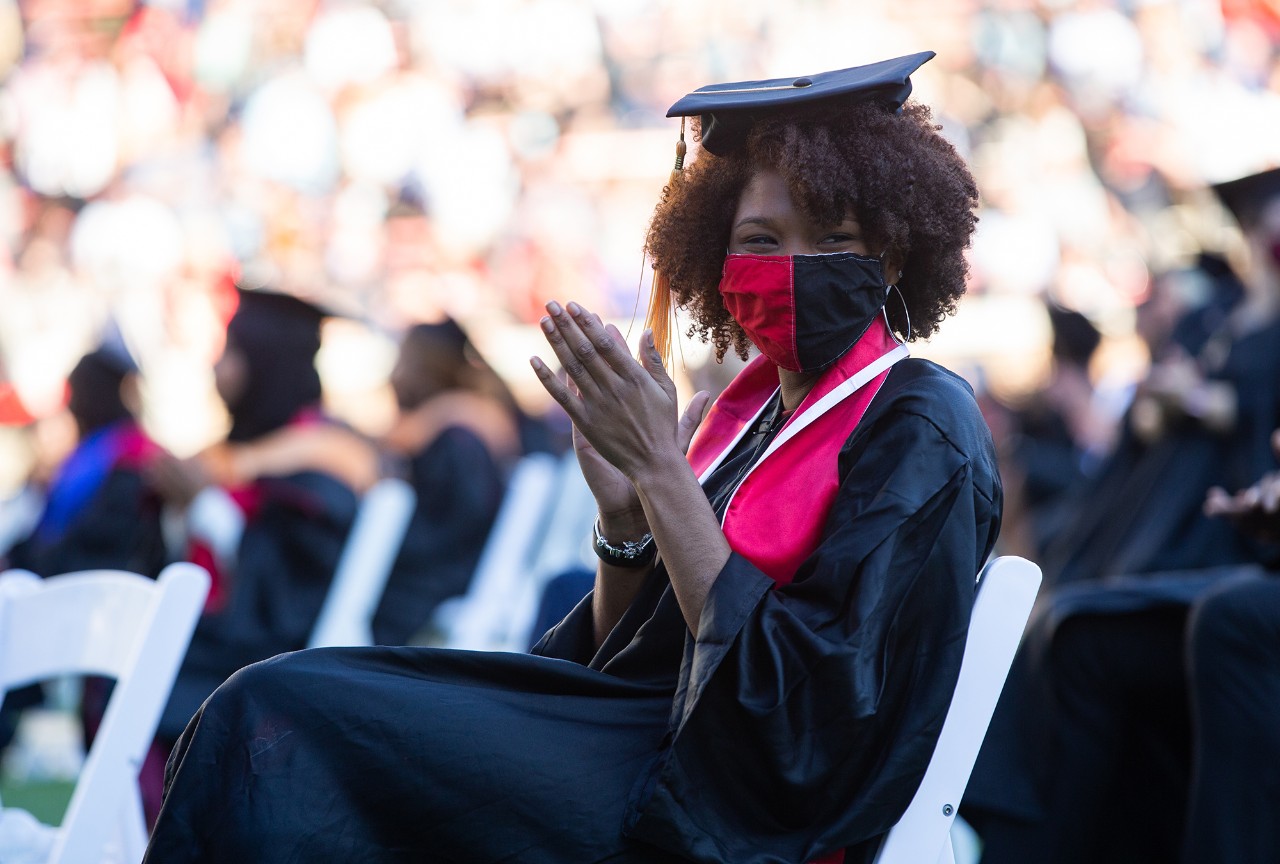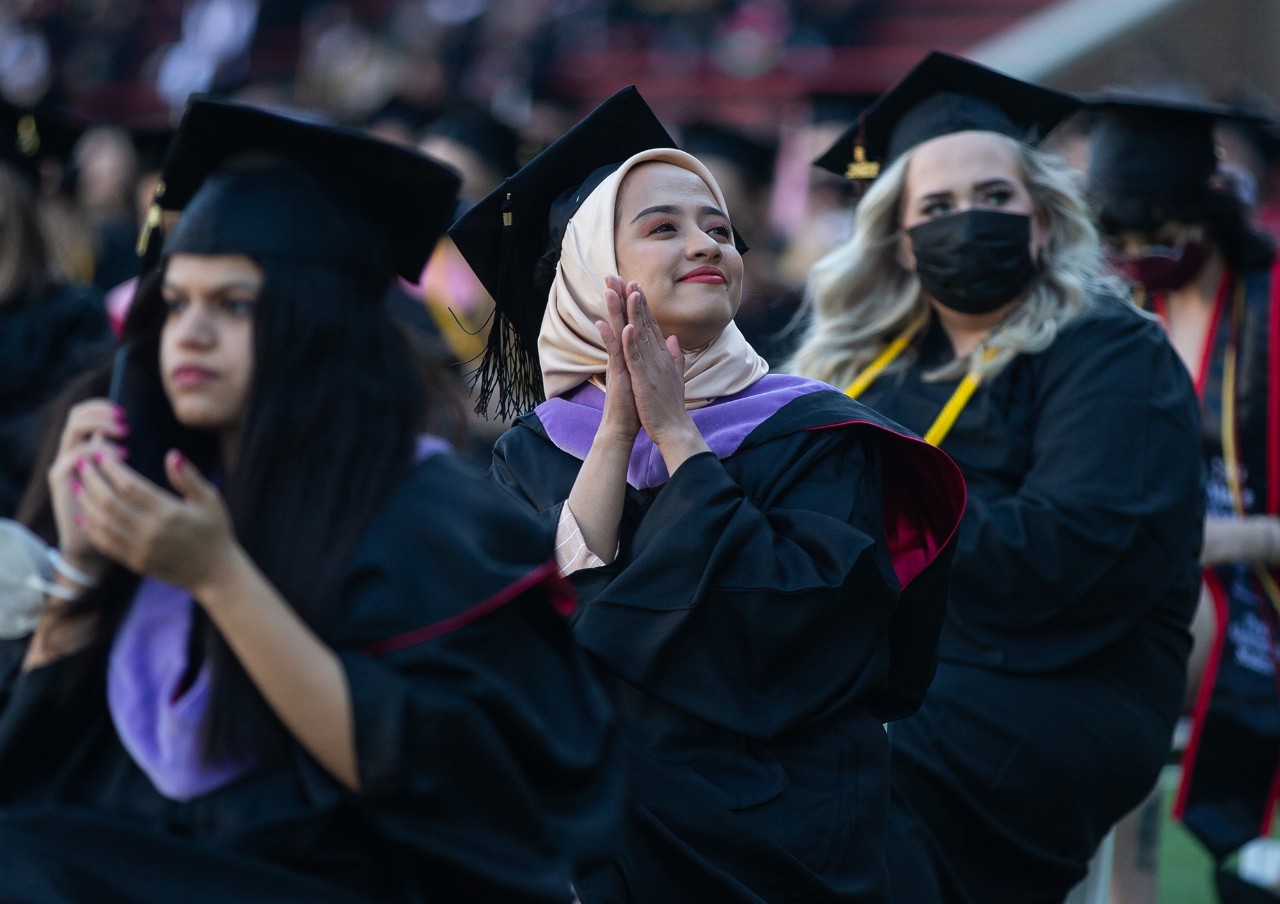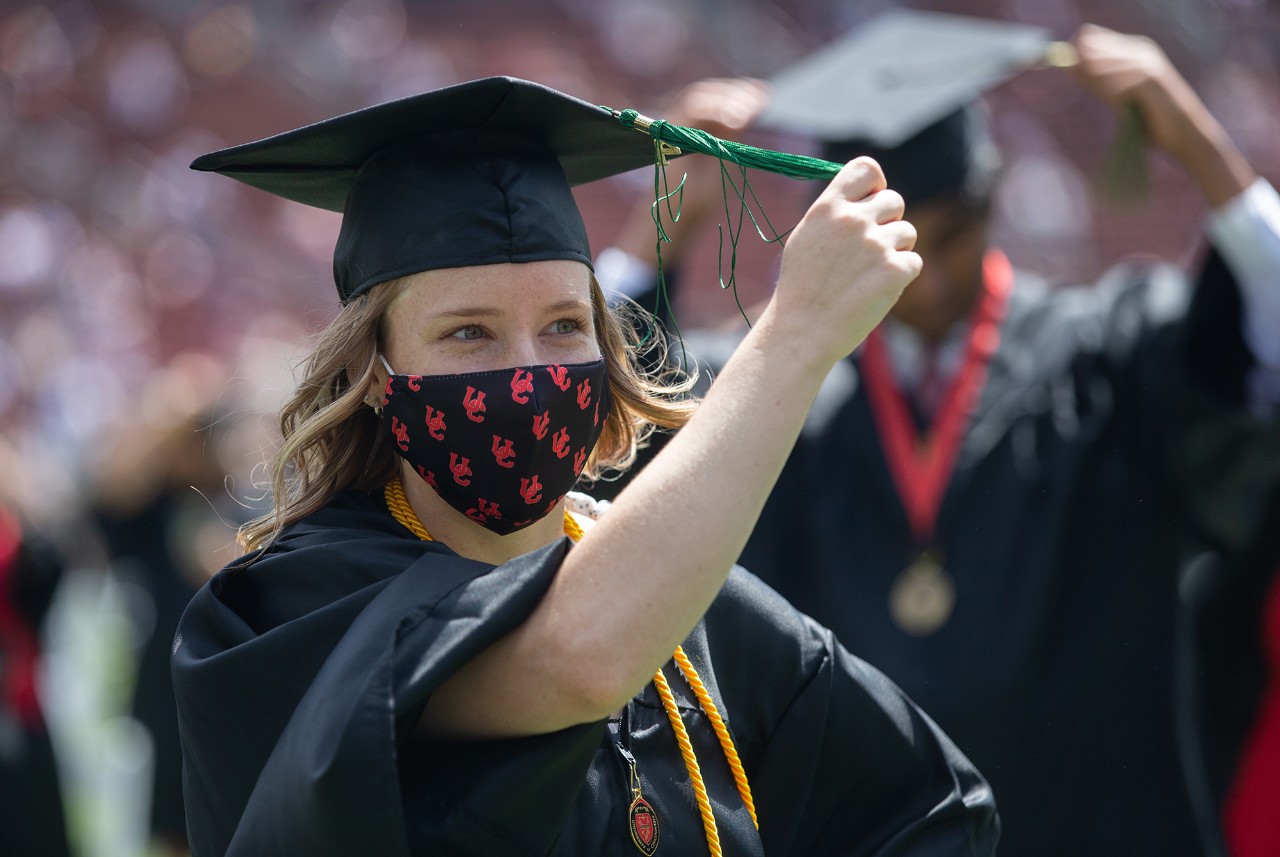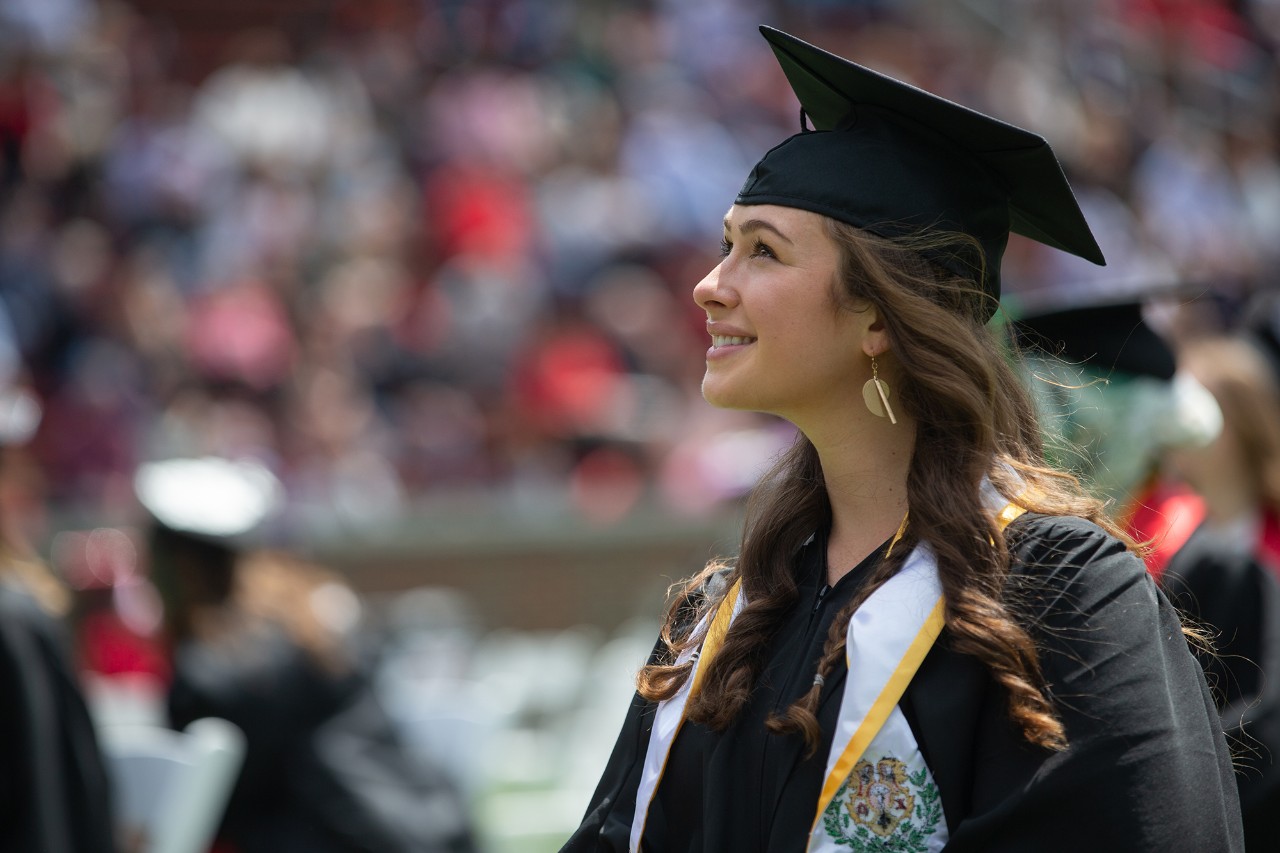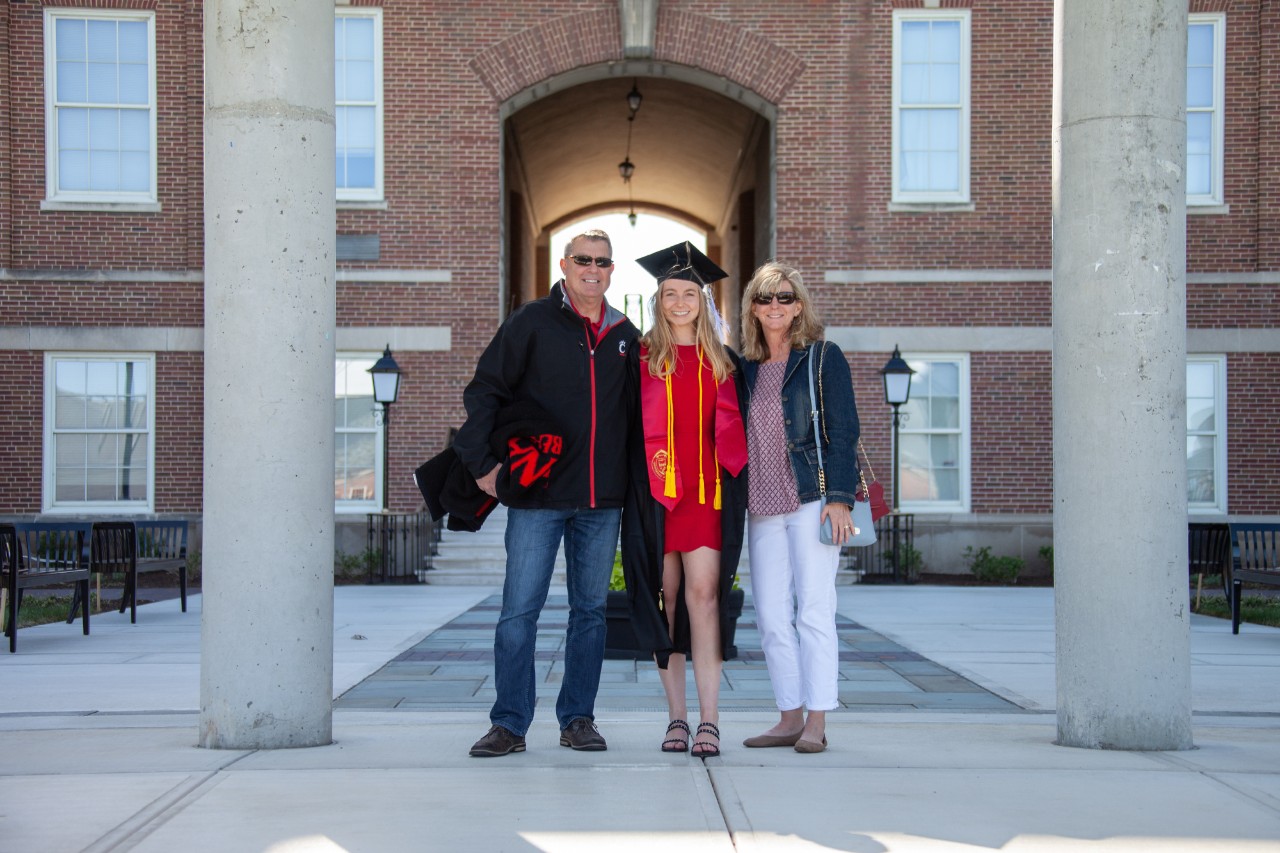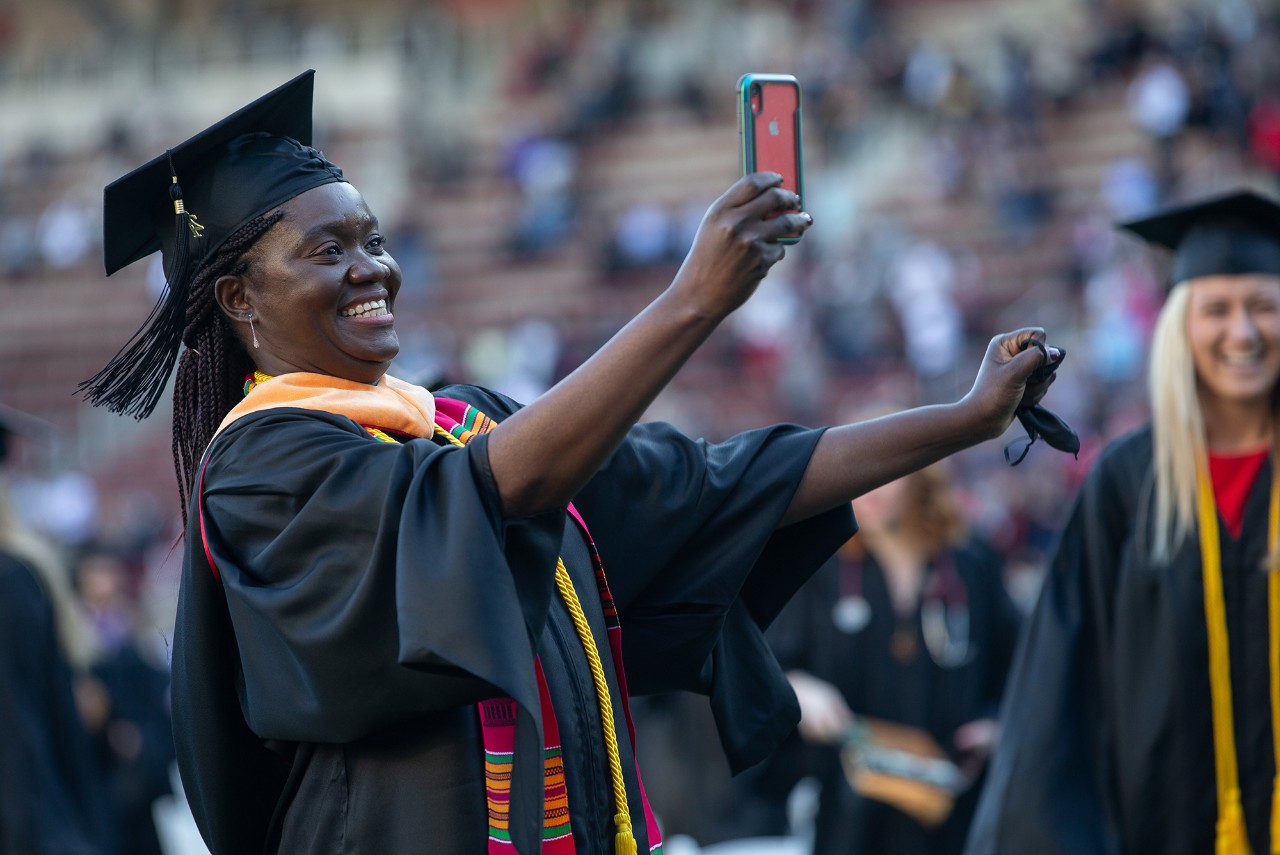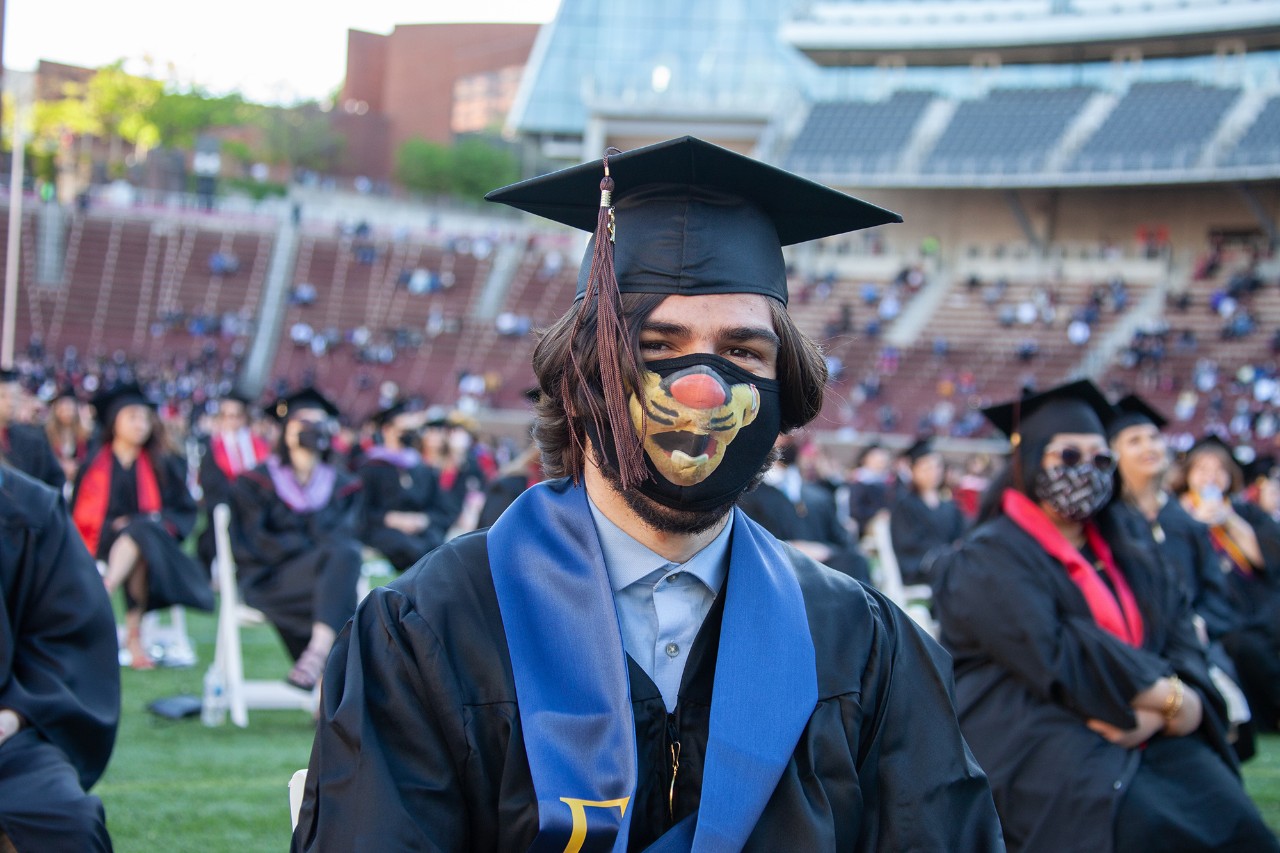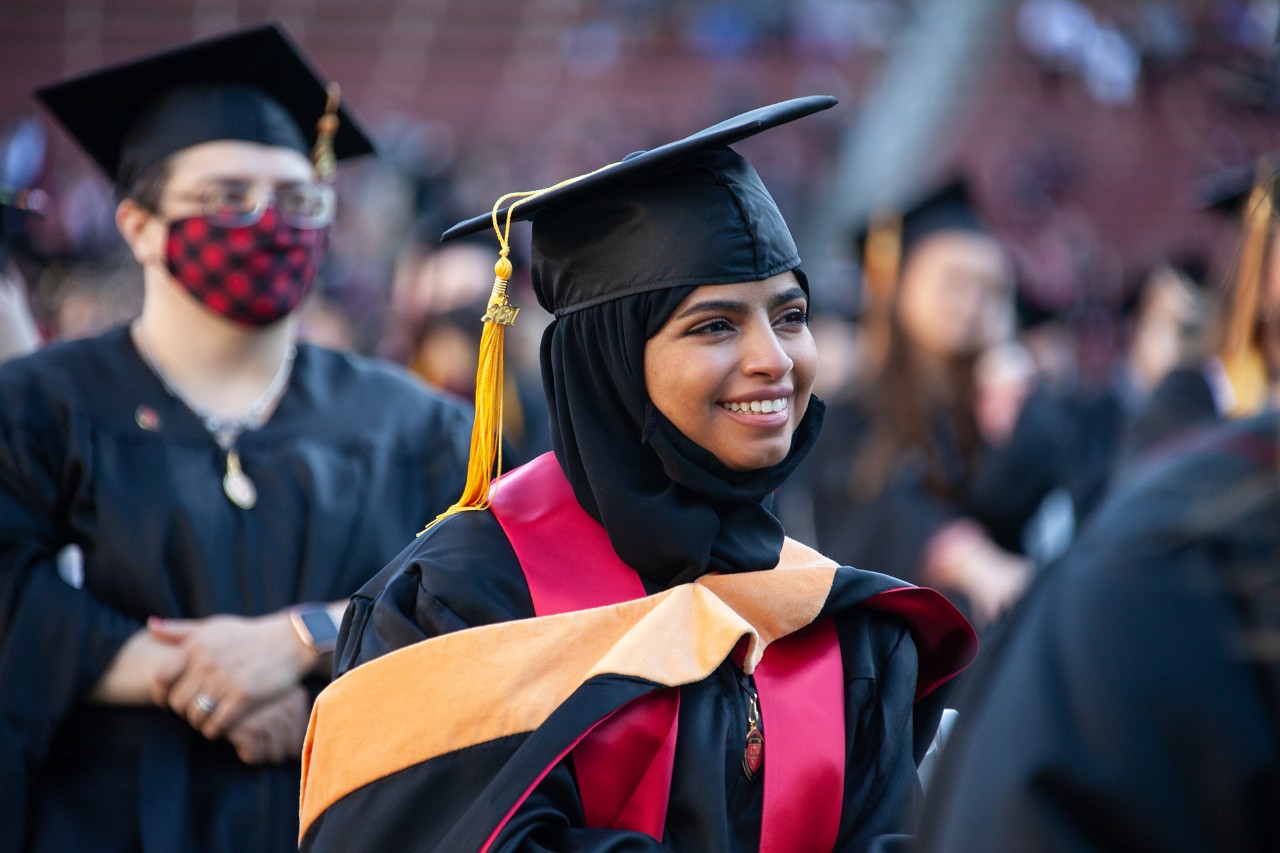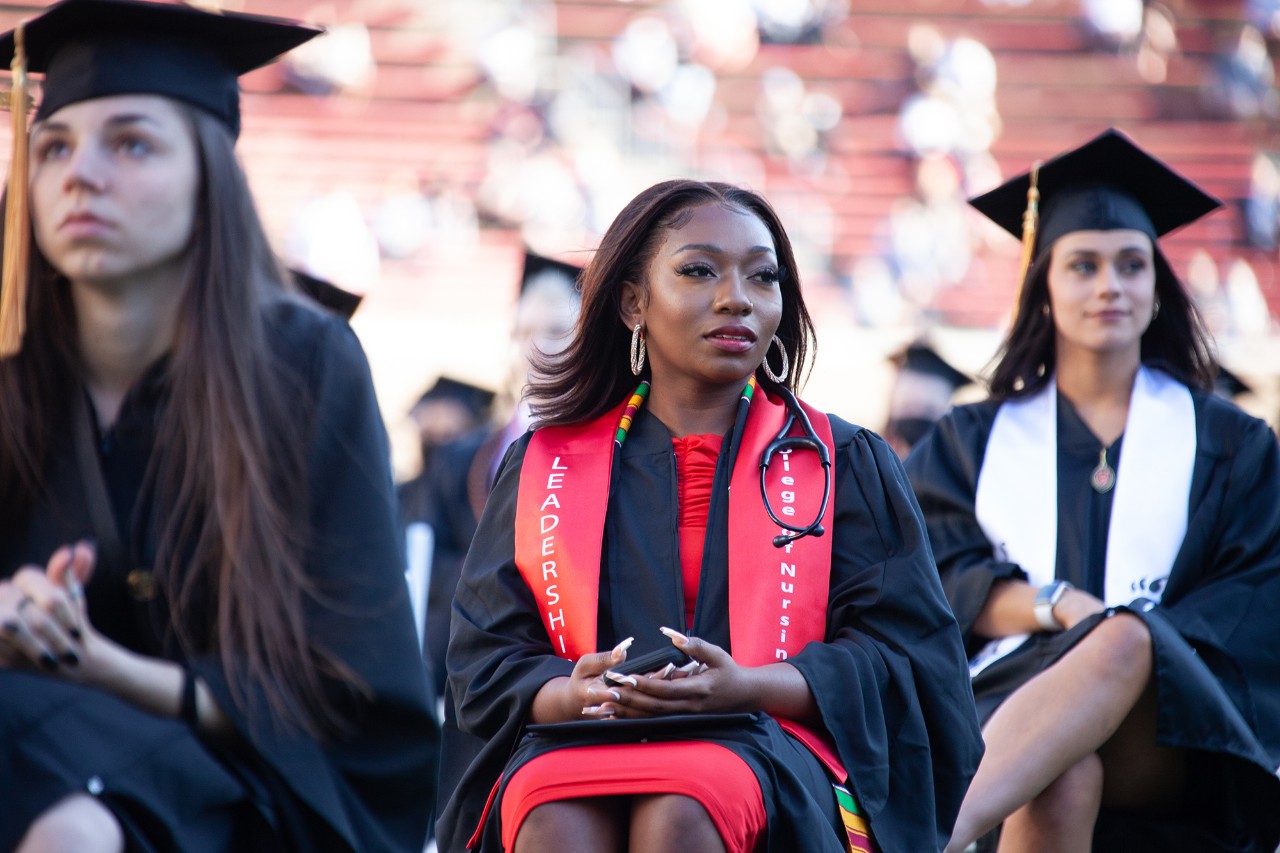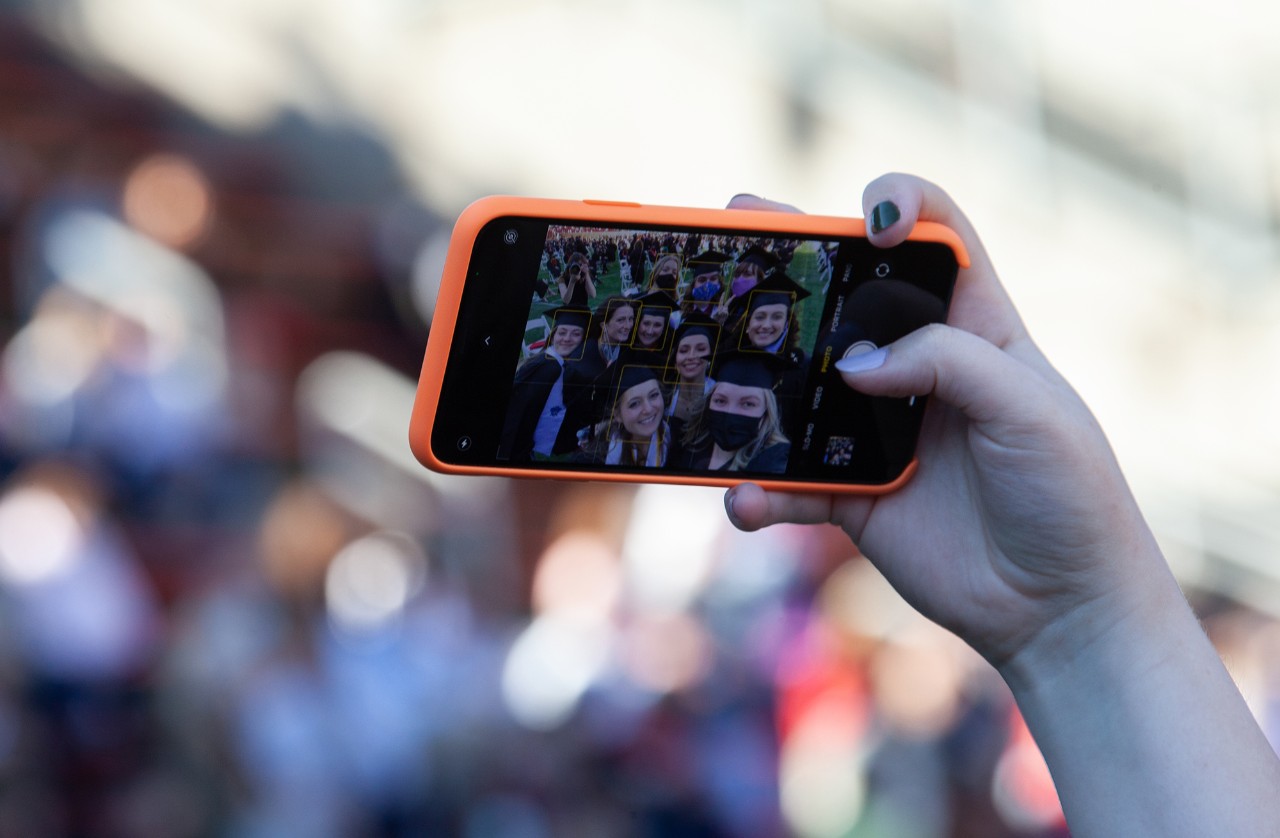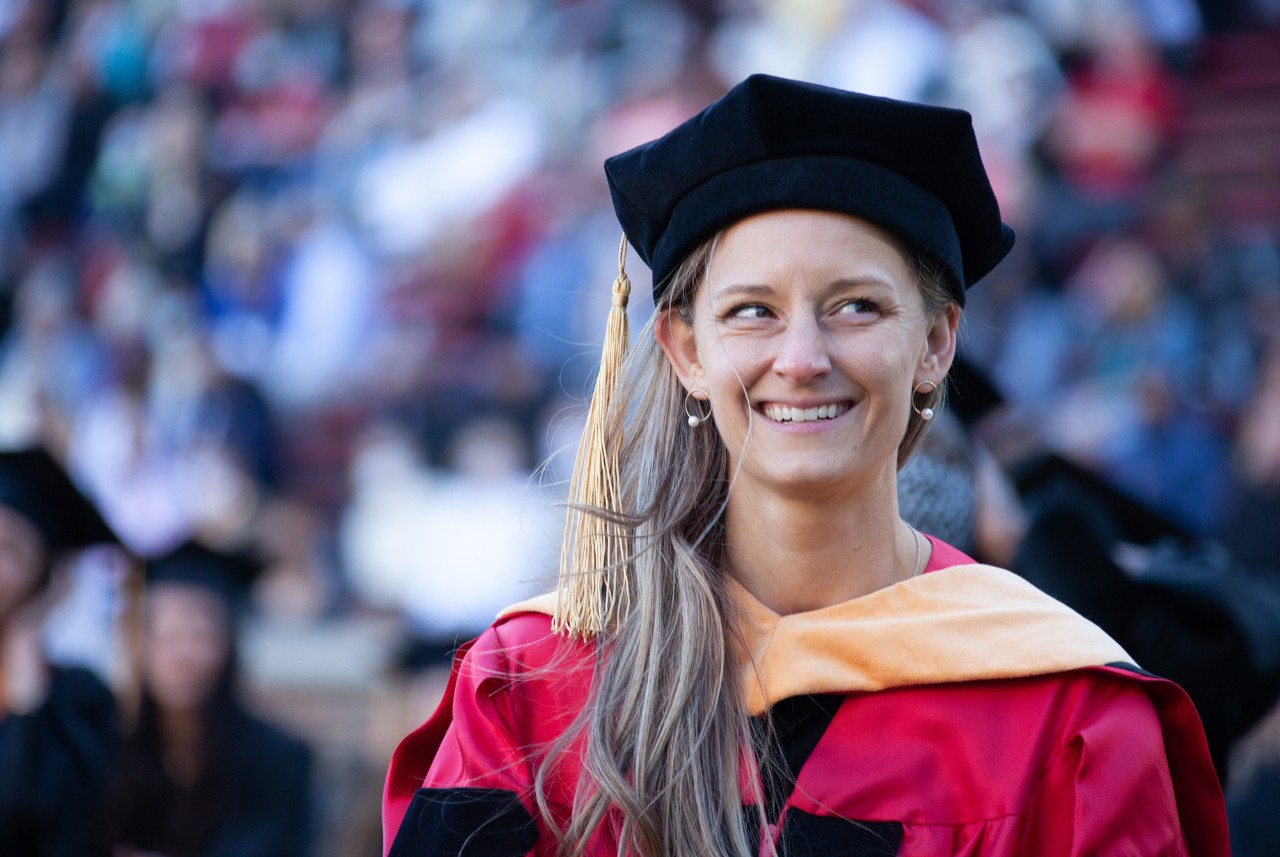 Impact Lives Here
The University of Cincinnati is leading public urban universities into a new era of innovation and impact. Our faculty, staff and students are saving lives, changing outcomes and bending the future in our city's direction. Next Lives Here.

Stay up to date on all UC's COVID-19 stories, or take a UC virtual visit and begin picturing yourself at an institution that inspires incredible stories.
2
Ongoing quest for justice a life-changer for all parties
December 7, 2023
The Ohio Innocence Project and its student fellows, past and present, recently marked 20 years working to exonerate the wrongfully convicted. OIP co-founder and director Mark Godsey, as well as past OIP fellows and Cincinnati Law alumni, Eric Eckes, Law '08, and Simar Khera, Law '15, spoke about their shared experience and its life-changing impact.
3
Lindner student named to Schwarzman Scholars class of 2024-25
December 7, 2023
Carl H. Lindner College of Business student Lance Entsuah, BA '24, recently earned admission to the prestigious Schwarzman Scholars program that offers a one-year, fully funded master's degree program in global affairs from Tsinghua University's Schwarzman College in Beijing, China.
Debug
Query for this