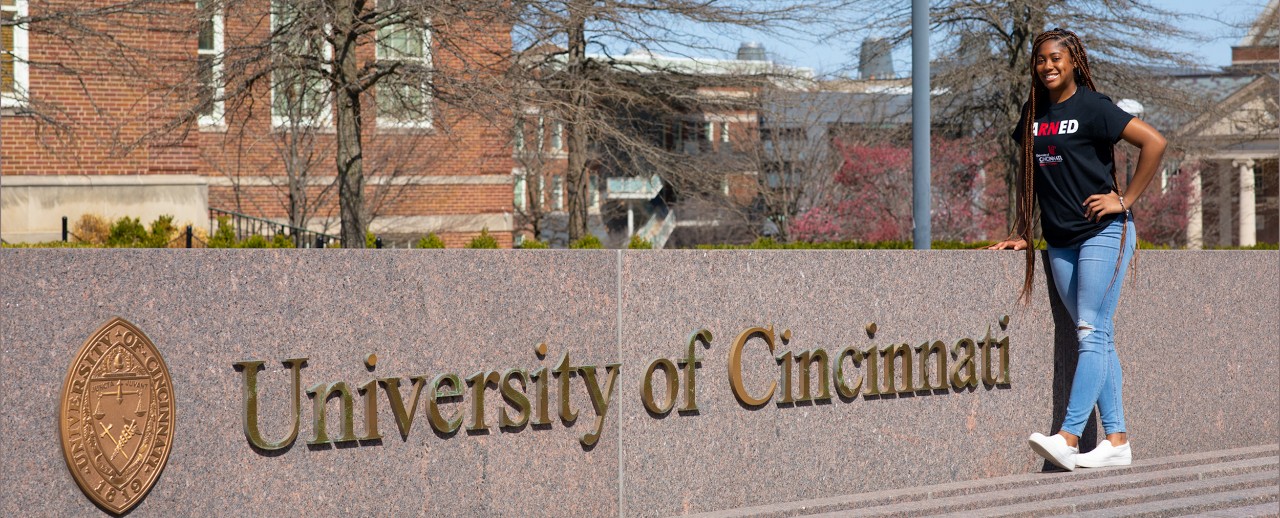 'To make him proud was high on her list'
Where are they now? Catching up with incoming students who were part of UC's Decision Day surprise
No doubt that "Doda" would be beaming with pride.
Alex Lewis lost her 82-year-old grandfather to COVID-19 just five weeks before her dream school showed up on the front steps of Roger Bacon High School to tell the senior that she had been admitted to the University of Cincinnati College of Nursing as part of a touching Decision Day surprise effort this year.
Alex was the last one from the family to see Bill Lewis, who she affectionately called "Doda." In fact, she drove him to the hospital the day he died on Dec. 31. The retired Cincinnati Police specialist was her biggest cheerleader — never missing an opportunity to root her on at soccer, swimming, track or any of her academic endeavors — so it was extremely fitting when a handful of officers from the Cincinnati Police Department joined her mother, Sheri Lewis, to take part as UC presented Alex with her admission letter. 
"It was almost like he was there," says Alex.
This "where-are-they-now" series of stories is designed to catch up with the newly admitted students who were lucky enough to be part of UC's first Decision Day surprise effort to find out how their life has gone since that joyful Friday on Feb. 5.

"Getting a chance to do an in-person surprise for the students was such a great nod to the direction we are going as a university," says Jack Miner, vice provost for enrollment management. "Day by day we are increasing campus activities as we move toward fall. Students are going on campus tours again, and we are thrilled that we will be able to congratulate our graduating seniors at an in-person commencement ceremony later this month. Also, plans are underway for Bearcats Bound Orientation and more courses and activities on campus for the fall."
As for Alex, once the Bearcat mascot and the rest of the crew left the front of her high school following the Decision Day surprise, she re-entered the building carrying all sorts of UC swag to face tons of students who had witnessed the special moment through the school's front windows.
She was so excited to see that all of her hard work did not go unnoticed.
Sheri Lewis Alex's mother
"A lot of people had questions and were congratulating me," she laughs. "I'm not one to be in front of all the cameras. I was sort of speechless because being directly admitted to the UC nursing program is what I've always wanted."
Alex will be following in the footsteps of her mom, who graduated from UC's nursing program and now works at UC Health. 
"Once she got home that day, the first thing she wanted to know was whether I had something to do with it [her being admitted and chosen for the surprise]," says Sheri. "I said, 'no, they called me. You earned it.' She was so excited to see that all of her hard work did not go unnoticed."
Though Alex applied and was accepted to multiple nursing schools in Cincinnati and around the country, UC was her first choice, so soon after learning she had been admitted, she formally confirmed her admission by logging into UC's "Check My Status" page and walking through a few simple steps. All incoming students are encouraged to confirm as soon as possible and ahead of UC's May 1 confirmation deadline.
For Alex, confirming her admission was the next step in a journey in which she intends to complete her undergraduate degree, then her master's degree at UC so she can become a nurse anesthetist.
In the meantime, she's excited that COVID-19 restrictions are easing some and her high school class of 2021 will be having their senior prom, then she hopes to take a trip to Italy this summer before attending nursing classes in person at UC in the fall.
"Really, I'm just glad that I can make my mom proud and really make my grandfather proud," says Alex.
Mom agrees: "She knew what she meant to him," says Sheri. "To make him proud was high on her list."

Read the Grayson Mentzel "Where are they now?" story
Featured image at top: Alex Lewis wore her new UC College of Nursing T-shirt during her senior pictures shoot, which included a stop at the UC fountain at the entrance to campus near University Pavilion. Photo/Courtesy Melson Photo Arts Studio
Make it official
If you are an admitted UC student and haven't yet confirmed your admission to the University of Cincinnati, simply login to your Check My Status page and complete a few simple steps. All incoming students are encouraged to confirm as soon as possible and ahead of UC's May 1 confirmation deadline.

1
Drugs.com: Lowering blood pressure after clot removal may not be...
September 22, 2023
Drugs.com and HealthDay highlighted University of Cincinnati research recently published in JAMA that found using blood pressure medications to lower the top number of blood pressure readings (systolic blood pressure) may not be safe or effective among people who have an acute ischemic stroke and undergo a successful mechanical clot removal.
2
Know Stroke Podcast: UC expert discusses past, present and...
September 21, 2023
The University of Cincinnati's Joseph Broderick, MD, recently joined the Know Stroke Podcast to discuss the current state of stroke research, including the FASTEST trial he is leading to test a potential treatment for strokes caused by ruptured blood vessels in the brain.
Debug
Query for this