Hoxworth Blood Center announces third year of "Cincinnati Favorites" Blood Drive Tour
Celebrate your love of all things Cincy and save a life during the process! Hoxworth Blood Center has announced that the hugely popular Cincinnati Favorites Summer Blood Drive Tour is coming back for its third season, beginning May 24.  
Hoxworth is teaming up with Skyline Chili, Frisch's, Graeter's Ice Cream, Busken Bakery, LaRosa's, Taste of Belgium, The BonBonerie, Kroger, United Dairy Farmers, Aglamesis Bros., The Coffee Exchange and Montgomery Inn for a summer-long series of lifesaving blood drives.
Each donor will receive a "Cincinnati Favorites" T-shirt as well as a special gift from one of the drive sponsors.
"The Cincinnati Favorites blood drive tour has been one of our most successful events over the past few years — even during the COVID-19 pandemic," says Alecia Lipton, Hoxworth spokesperson. "We're thrilled to partner with so many of Cincinnati's most-loved institutions, as well as add a few more partners this year, to save lives close to home."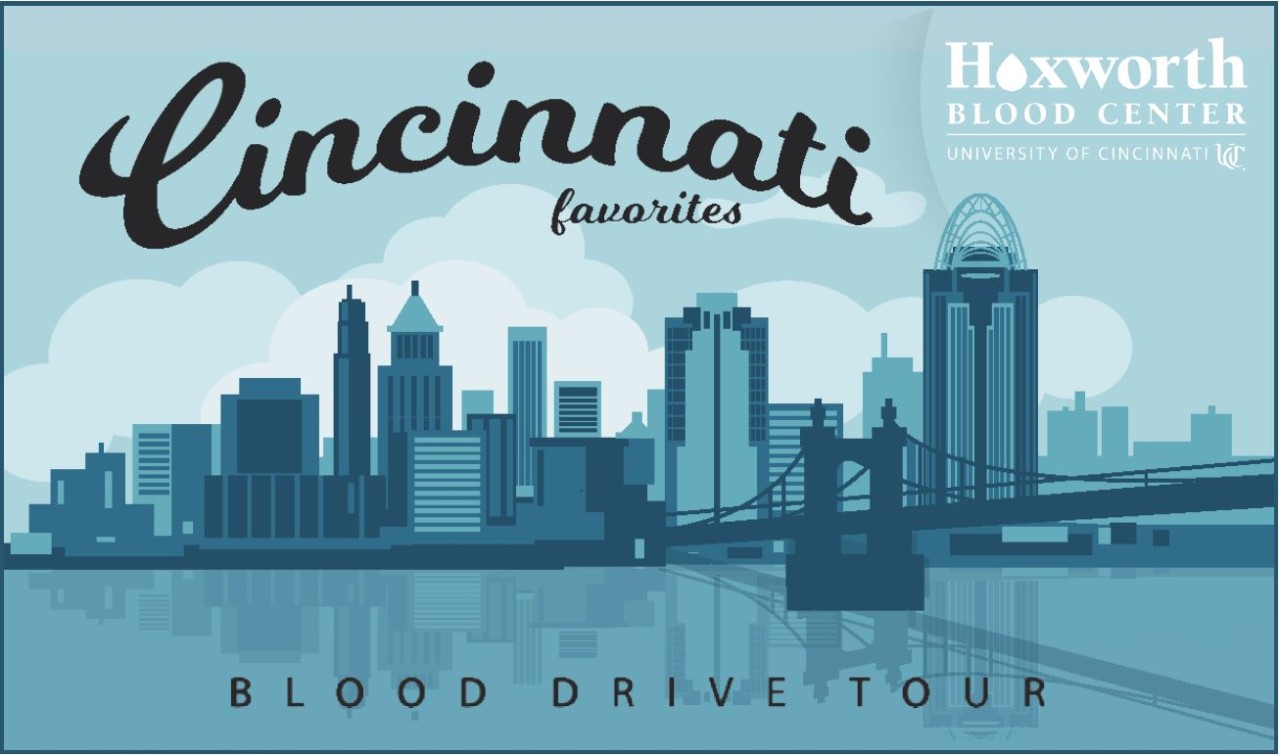 In addition to the limited-edition "Cincinnati Favorites" T-shirt, donors will receive a special gift from the participating sponsors:

A voucher for a free Big Boy from Frisch's
A voucher for a free one-topping personal pizza from LaRosa's
A coupon for a free dozen donuts from Busken
A free ice cream cone from Graeter's
A voucher for a free cheese coney from Skyline Chili
A bakery item from The BonBonerie
A free Belgian waffle from Taste of Belgium
A free pint of ice cream from Aglamesis Bro's.
A free post-donation meal and bottle of BBQ sauce from Montgomery Inn
A coupon for a free drink and treat from The Coffee Exchange in Pleasant Ridge
A UDF ice cream cup and $1 off coupon for Kroger at the UDF Dipper Truck, parked at select Kroger locations
The Cincinnati Favorites Blood Drive Tour kicks off on May 24 at Graeter's Ice Cream in Oxford. Visit www.hoxworth.org/cincyfavorites to find a participating location near you.
Appointments are highly encouraged. Donors can schedule appointments by calling (513) 451-0910 or by scheduling online at: www.hoxworth.org.
About Hoxworth:
Hoxworth Blood Center, University of Cincinnati was founded in 1938 and serves more than 30 hospitals in 18 counties in Southwestern Ohio, Northern Kentucky and Southeastern Indiana. Annually, Hoxworth collects more than 90,000 units of blood from local donors to help save the lives of patients in area hospitals. Hoxworth Blood Center: Saving Lives Close to Home.