New web version of UC COVID Check App now available
Campus and community can now obtain a Daily Green Pass using a new web-based version of COVID Check
The University of Cincinnati has launched a new web-based version of the COVID Check app. The news web-based version, uccovidcheck.uc.edu, includes the same features as the app but allows users to easily access the information, including the Daily Health Check to obtain a Green Pass, via the web.
UC began using COVID Check — a state-of-the-art app to help safeguard the campus community and keep COVID-19 infection rates low – last year. Both the app and web version include a Daily Health Check and self-reporting features to identify symptomatic individuals.
"We are committed to doing all we can to keep our campus community healthy and create a culture of care. UC COVID Check allows data regarding the number of cases, location of cases and more to be carefully reviewed by our health experts, allowing science to guide decision-making," says Michelle Renee Chyatte, DrPH, assistant professor in UC's College of Allied Health Sciences and College of Medicine and director of UC's COVID Check Response Team.
Employees who experience COVID-related symptoms should contact their health care provider, report any expected absence from work to their supervisor, and may contact the COVID Response Team via the app or new web-based tool.
Visitors are also strongly encouraged to use the app or the updated web-based tool to complete their Daily Health Check when they are coming to any UC campus.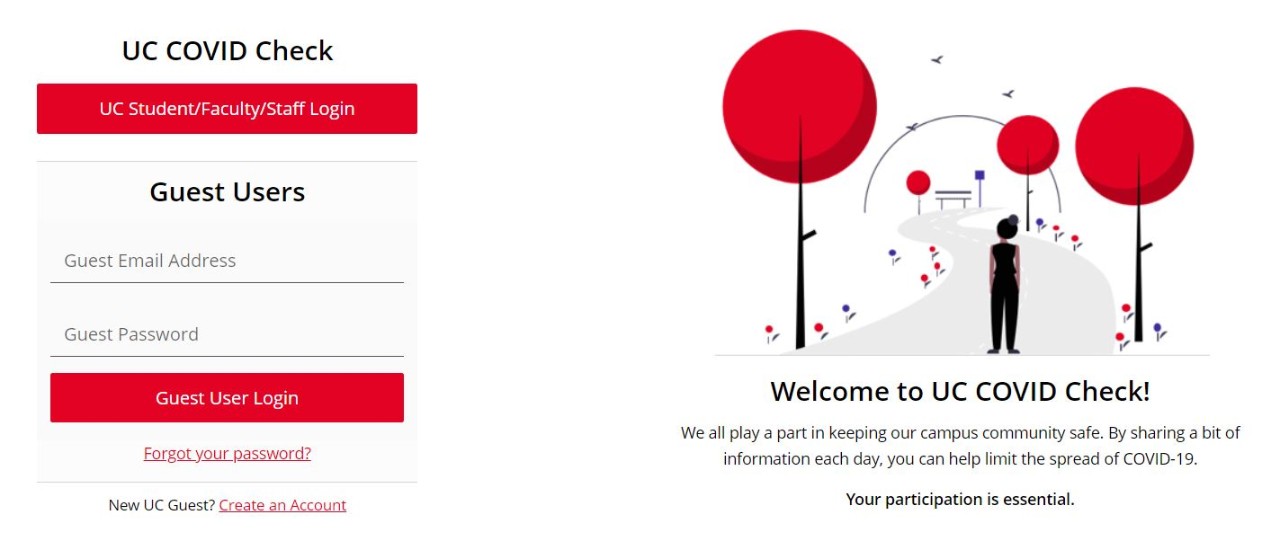 All students are required to report via the UC COVID Check app or web-based tool before coming to campus or before leaving their University Housing room each day. COVID Check includes health questions related to symptoms. If you have COVID-related symptoms, do not come to campus or leave your University Housing room. Stay home and contact the COVID Response Team using the COVID Check app or web-based tool.
The UC COVID Check app remains in use and operation.
Students are required to use the app before coming to campus. If residing on campus, students are required to use the App daily before leaving their University Housing room.
All are required to report (students by using the app;  employees/visitors may opt to use app or web-based tool) before entering certain facilities. These currently include the Campus Recreation Center, University Libraries, Tangeman University Center and dining halls.  
Based on answers submitted for the Daily Health Check, users receive a "Green Pass" to come to or move about campus or a "Red Pass" to isolate. If a Red Pass is issued, a member of UC's COVID Response Team personally connects with the user within 24-48 hours to provide additional information and next steps.  A "Green Pass" is required to access some campus buildings.
"It is important for members of the UC Community to commit to completing a Daily Health Check using the app or web version of COVID Check," adds Chyatte. "If we work together to follow safety guidelines, our community can reduce the risk of spreading COVID-19."
When members of the UC community report COVID-related symptoms through the COVID Check we-based tool or app, case managers can work with the individuals to identify interactions with others and develop a picture of potential infection points, which aids in COVID-19 prevention efforts. In addition to using COVID Check, members of the UC community are encouraged to wash hands frequently, wear a facial covering and social distance.
See more in UC's Return to Campus Guide and Public Health website.