Aerospace engineering student encourages women in her field
Rachel Wiggins launched the student organization Women in Flight at UC
Rachel Wiggins, aerospace engineering doctoral student at the University of Cincinnati, is testing a rotating detonation engine that is smaller and more efficient than existing combustion engine technology. Outside of her research work, Wiggins launched Women in Flight, a student organization that fosters a supportive environment for women in aerospace and aviation fields. She also landed a NASA internship and was named Graduate Student Engineer of the Month by the College of Engineering and Applied Science.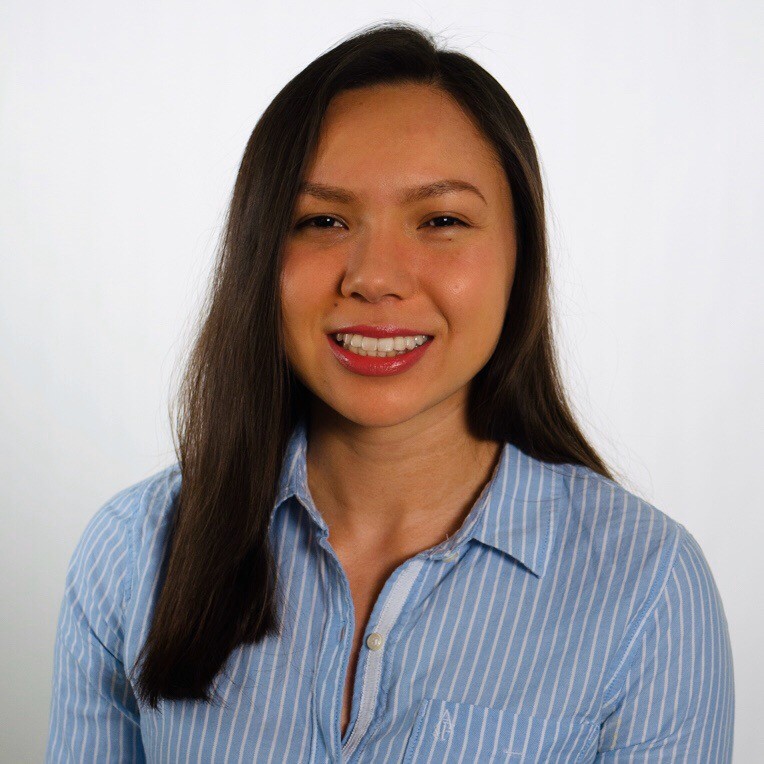 UC's Department of Aerospace Engineering and Engineering Mechanics is a leader in world-class research, promoting the highest levels of innovation, creativity and scholarship. The Greater Cincinnati area is home to a plethora of industry and research centers such as GE Aviation and the Air Force Research Laboratory. Moreover, UC has a history of renowned faculty, such as the legendary Neil Armstrong, the first person to walk on the moon.
When I further explored the different research topics offered by the department, I was drawn to Dr. Ephraim Gutmark's rotating detonation engine group. Collectively, these reasons made me feel like UC was the perfect environment to pursue my graduate studies. 
What does your research entail?
My primary research focus is on fluids and propulsion, specifically the field of pressure gain combustion, a fundamentally unsteady process whereby gas expansion by heat release is constrained, causing a rise in stagnation pressure and allowing work extraction by expansion to the initial pressure. One implementation approach of pressure gain combustion is the rotating detonation engine (RDE), a device that exploits continuous detonative combustion. 
The RDE configuration I am testing is based on continuous flow through a chamber in which combustion takes place through a transversely rotating detonation. Compared to existing combustor architecture, RDE technology offers a more compact design, increased fuel and thermal efficiency, and overall higher total pressure among other advantages, making this a promising future technology. 
You took part in UC's Engineering Education Mentored Teaching Experience. What did you gain from this experience?
This mentored teaching experience was a special opportunity to work alongside Department of Engineering Education faculty to learn about and establish good teaching practices, develop and deliver course content, and learn how to manage people (Peer TAs). I had the opportunity to assist with teaching two courses, Foundations of Engineering Design Thinking I and Foundations of Engineering Design Thinking II. Both of these courses provided insight into the teaching strategies of a college professor, a perspective which was new to me as a graduate student. Learning how to convey engineering concepts in an easy to understand method and observing my students grasping the course content is a rewarding experience and has not only strengthened my instruction skills, but also led me to discover my passion for teaching. 
What are a few of your accomplishments of which you are most proud?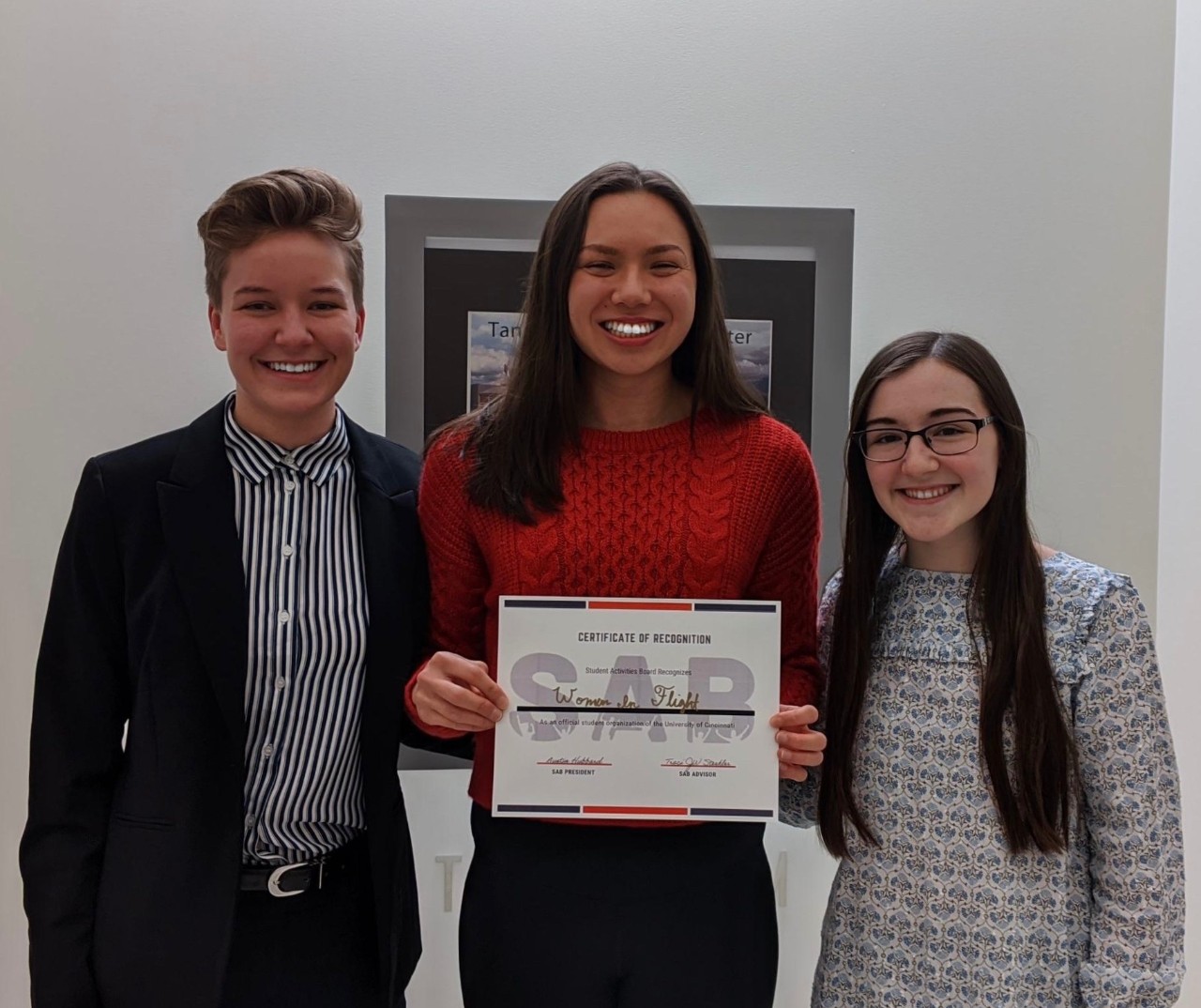 I am proud of establishing the student organization Women in Flight. Formed in 2019, the organization's mission is to ensure the success of women in aerospace and aviation academically, professionally and socially. Women in Flight fosters an environment for women to have support, to be able to discuss and relate to each other about the issues we face as being female in STEM, and to learn and grow together as students at UC.
Another accomplishment I am proud of is landing a NASA Pathways Internship at Langley Research Center. This particular research center supports NASA goals for aeronautics exploration, science and space technology, with a variety of flight simulators, wind tunnels, labs, and computational software. Having the opportunity to work on projects related to Artemis and missions to Mars is a truly a dream come true. 
How do you spend your free time?
When I am not busy in the lab, I like to spend my time running outdoors or at the gym. I participated in track and field competitively for eight years, from high school to the D1 level in college and I consider this to be one of my favorite hobbies. I also enjoy exploring Cincinnati's café scene; studying at one of the window seats at Coffee Emporium and taking a break at Washington Park in the Over-the-Rhine neighborhood is my ideal weekend morning. 
What are your future hopes and plans after completing your degree?
Post graduate school, I hope to lead the way in aerospace research, whether that be in academia or industry, and serve as a voice to promote female engagement in STEM. I find my research at the Gas Dynamics and Propulsion Lab satisfying, particularly taking part in the full engineering design process. I can definitely see myself in a similar type of work environment in the future, but at the same time, I still want to be involved with teaching and female STEM outreach as these are both important aspects in my career.
Featured image at top: Silhouette of a person looking into the night sky. Photo/Greg Rakozy/Unsplash.
Interested in engineering graduate programs?
Discover the advantages of a graduate degree from the UC College of Engineering and Applied Science. 
1
UC co-op student delves into digital complexities of operations...
May 26, 2023
Raised in the Queen City, Joel Engelhardt began college out of state but returned in 2022 to study in the University of Cincinnati's Carl H. Lindner College of Business. At a Cincinnati Innovation District (CID) career fair, Engelhardt met Jesse Lawrence, director of partner success at the UC 1819 Innovation Hub. While serving as a co-op student this spring, Engelhardt had the chance to blend his skills in operations management, research and software development to create customized solutions for strategic partners.
3
UC to be national leader in name, image and likeness...
May 25, 2023
It has been almost two years now since the NCAA instituted its policy regarding name, image and likeness (NIL) for student athletes. Almost immediately following the establishment of NIL rules and policies, University of Cincinnati Athletics dove headfirst by launching IMPACT, a comprehensive NIL development program. UC then went a step further to maximize those opportunities for UC student-athletes by establishing a groundbreaking partnership with Altius Sports Partners as one of six departments that will participate and place full-time Altius personnel as part of a new program.
Debug
Query for this