CCM student wins Kennedy Center's National Award for Excellence in Costume Design
MFA Costume Design student Brittannie McKenna Travis' 'In the Heights' project wins national award
The John F. Kennedy Center for the Performing Arts recently announced the national awardees of its American College Theater Festival, which was held virtually March 8-May 22, 2021. MFA Costume Design and Technology student Brittannie McKenna Travis won regional and national awards for her work throughout festival. Read more about the awards on Broadway World.
Students from across the country were selected from eight regional festivals to receive scholarships, fellowships and cash awards in recognition of their outstanding work. Travis worked remotely with a group of theatre design students on a project titled "The Collaborative Theatre Project" at the Kennedy Center American College Theatre Festival - Region II in January. They only had three days to work together on a theoretical production of Grenadine by Neil Wechsler. Travis designed the promotional poster, production design, was a co-costume designer and collaborated on creating an official website to share the work. In a separate project, she also designed, developed and created an animated costume piece; Travis created fairy wings for Thumbelina, complete with LED string wire lights.
She won the National Finalist Award for Theatrical Design Excellence - Costume, National Finalist Award for Allied Design and Technology Excellence, the Collaborative Theatre Challenge Certificate of Merit, and the Stagecraft Institute of Las Vegas (SILV) Award in Costume Crafts, which includes an internship at SILV in 2021 and 2022. The awards also made her a finalist at the National Kennedy Center American College Theater Festival.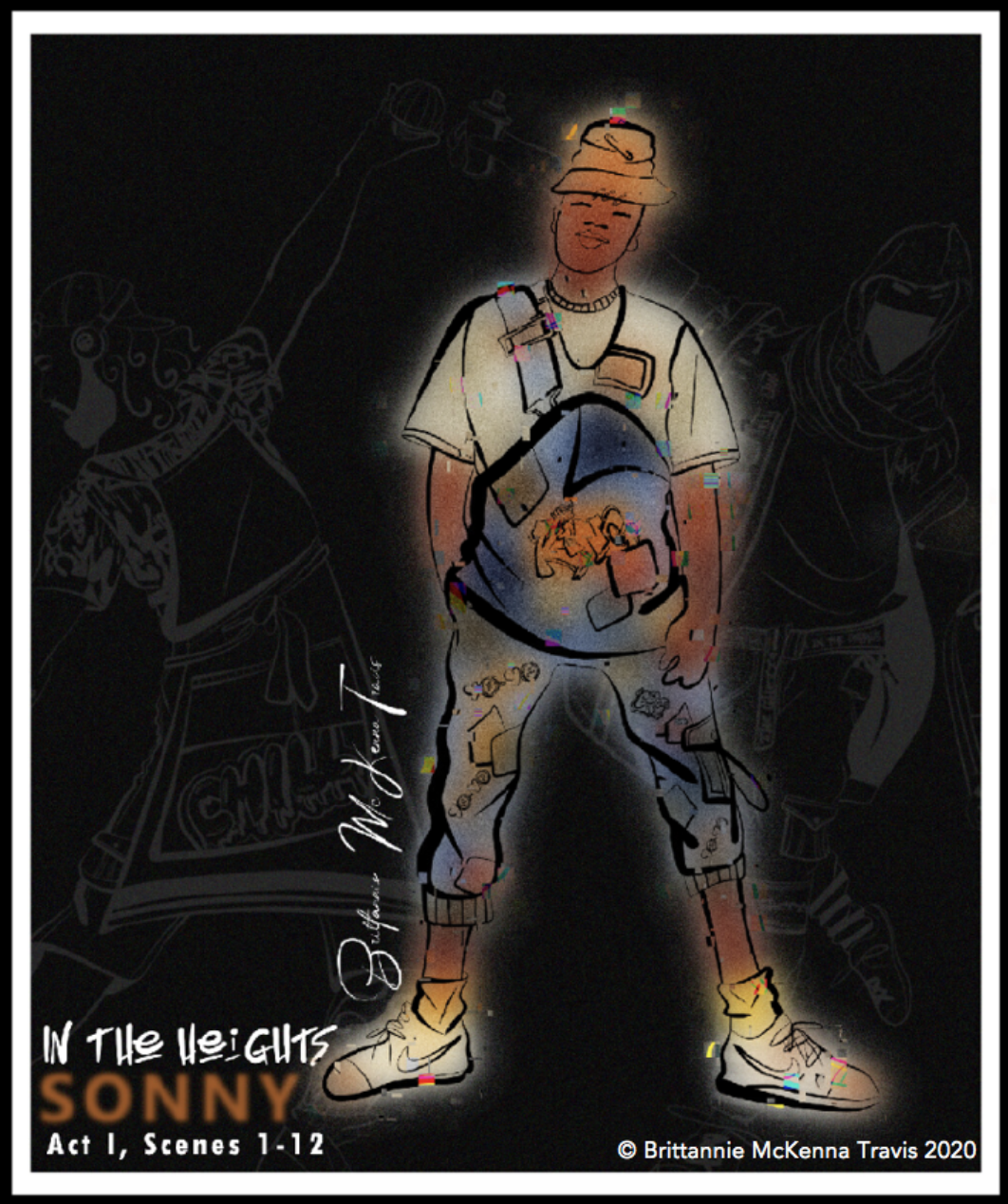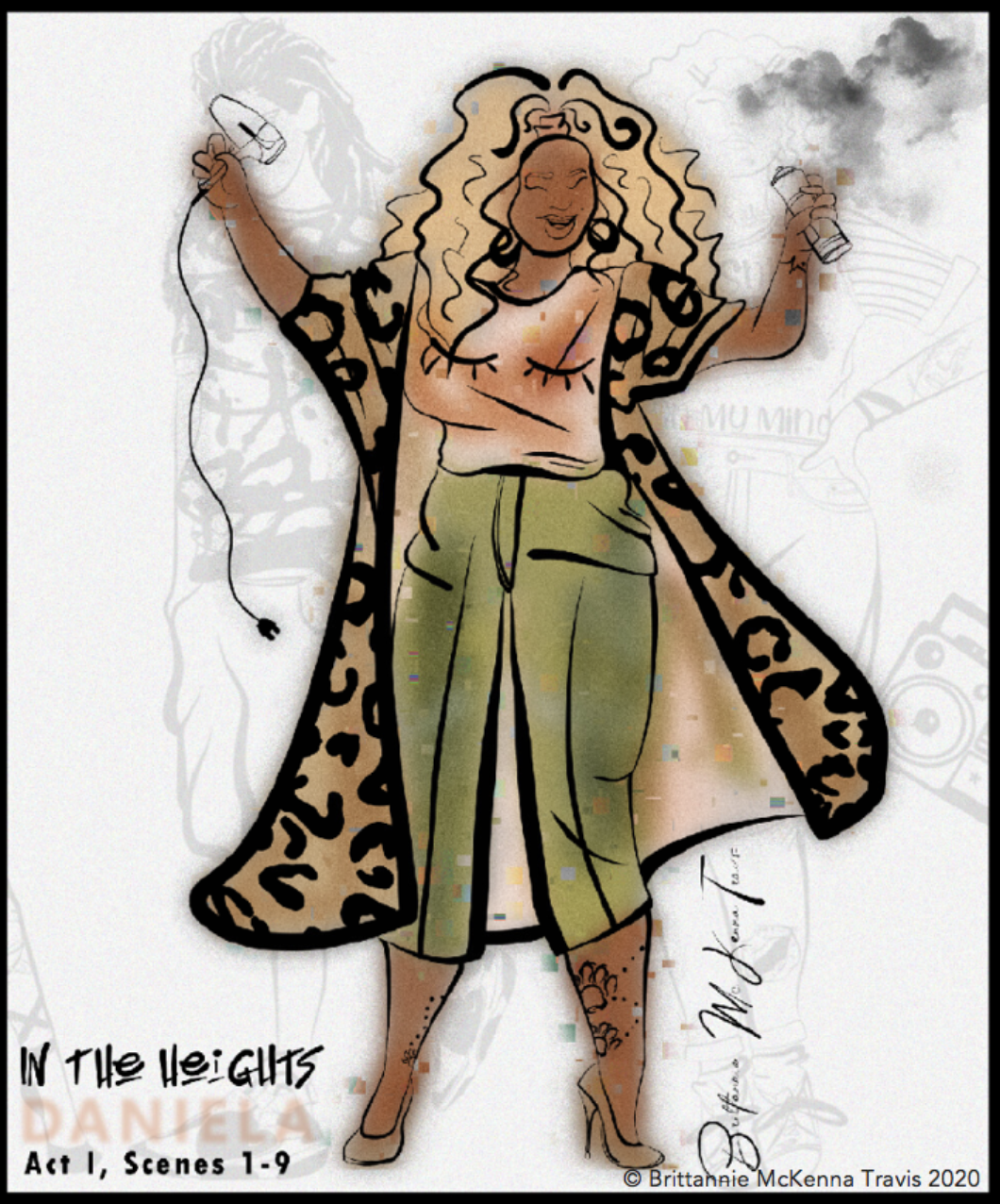 For the national festival, Travis created costume designs for Lin-Manuel Miranda's In the Heights. She put together a portfolio, including script analysis and research, to share her design process and final renderings. She received the Kennedy Center Award for Excellence in Costume Design, the Randy Lutz Allied Design and Technology Award, and the National Partners of the American Theatre Design Award, which comes with a $1,500 prize. The National Partners of the American Theatre (NAPAT) is an organization made up of former organizational leaders of KCACTF, committed to the goals and mission of the organization to support emerging artists. This summer, Travis is participating in a professional development opportunity at the Santa Fe Opera.
Brittannie McKenna Travis is from Indianapolis. She is a costume designer, technician, and graphic designer.
Currently, she is a first-year graduate assistant pursuing a Master of Fine Arts in Costume Design and Technology at CCM. She received her Bachelor's of Science in Apparel Design from Ball State University.
Currently, Travis is affiliated with Design Action, an organization that promotes and advocates for emerging and established BIPOC designers. This year at the 2021 USITT virtual conference, Travis was a speaker in the Costume Design and Technology Commission Poster Session, and had work included in the "60th+1" Costume exhibit. In summer 2020, Travis was featured on the cover of Phi Upsilon Omicron's (National Honor Society for Family and Consumer Sciences) national magazine.
Travis is always seeking opportunities to learn and grow within her craft. She regularly is seen attending workshops, festivals and digital classes. She has always had an interest in the performing, visual and fine arts. With this, she has acquired skills in playling the piano and violin, performing in the theatrical arts, drawing, painting, sculpting, printmaking, collages, photography, videography, graphic arts, the CAD (computer-aided design) system, apparel design, patternmaking, draping, garment construction and costume crafts.
Travis' future aspiration is to design for stage and film productions as well as drafting and pattern-making/draping costumes.
Featured image at the top: Brittannie McKenna Travis' costume design renderings for "In the Heights." View her work.