CSO and CCM announce 2021-23 class of Diversity Fellows
Meet the sixth class of the prestigious CSO/CCM Diversity Fellowship program
Born out of a mutual desire to help American orchestras become more inclusive and better represent the communities they serve, the performance fellowship program was launched in 2015 and continues with a generous grant from The Andrew W. Mellon Foundation.
Through the collaborative program, CCM and the CSO provide graduate level academic study and professional development and performance opportunities for the Diversity Fellows while catalyzing a more inclusive environment for underrepresented musicians in the orchestra field. The program's tagline — "Bravos Without Barriers" — gets to the heart of its mission: eliminating obstacles that can prevent extraordinary musicians from achieving their full potential.
"If this past year has taught us anything, it is the need to work even more diligently to address the systemic imbalance and inequity that has been inherent in classical music" said CSO President & CEO Jonathan Martin. "Our ultimate goals with the CSO/CCM Diversity Fellowship are twofold: to change the face of American orchestras to be more inclusive, and to be more reflective of our community so that we can more authentically serve the entirety of our community. The CSO/CCM Diversity Fellowship has been a way to jumpstart that process—for both the Orchestra and the fellows. More importantly though, is that this opportunity immediately immerses the fellows to the rigors and demands of the life of a professional orchestral musician, which benefits their musical and professional development. We are grateful that The Andrew W. Mellon Foundation has been our funding partner for this important work."
If we are serious about promoting a more diverse and inclusive atmosphere within the arts, then conservatories and professional arts organizations have to work together to effect that change.
CCM Dean Stanley Romanstein
"Part of our role as educators is to connect 'potential' with 'opportunity.' The CSO/CCM Diversity Fellowship is designed to revolutionize the talent pipeline by opening the doors of the orchestral industry to a more diverse population of emerging professionals. The Fellowship was a bold first step, but the work is ongoing. Thanks to our strong partnership with the CSO, the generous support of The Andrew W. Mellon Foundation and the vision provided by the University of Cincinnati's 'Next Lives Here' agenda, we will continue to build for tomorrow by cultivating an environment that focuses on accessibility while also providing artists with the support necessary for long-term success."
Five exceptional string players will officially join the two-year fellowship program in August 2021, bringing the total number of CSO/CCM Diversity Fellows to nine for the 2020-21 academic year and performance season. The incoming Fellows are:
Luis Celis Avila, (double bass)
Tyler McKisson, (viola)
Luis Parra, (cello)
Samantha Powell, (cello)
Mwakudua Kuo San "Dua" waNgure, (violin)
The CSO/CCM Diversity Fellowship Program is open to exceptional violin, viola, cello and double bass players coming from historically underrepresented populations in classical music. The program is highly competitive, and each class of Fellows is selected through a series of auditions. Every year, hundreds of candidates audition for CCM faculty members for admission to the Conservatory. From that pool a select group is then invited back for Diversity Fellowship auditions with CSO musicians. The program saw its largest finalist group ever during the 2020-21 audition cycle, with 29 applicants invited to the final round of auditions, which were conducted in-person and virtually.
The Diversity Fellows perform the equivalent of five weeks per season with the CSO while enrolled in a two-year Master of Music (MM) or Artist Diploma (AD) graduate degree program at CCM. The program also includes private lessons, mock auditions, professional development and audition travel assistance, career development workshops and mentorship from CSO musicians and artistic leadership.
Each Fellow receives full tuition scholarship support from CCM, a $10,000 per year graduate stipend and a one-time Graduate School Dean's Excellence Award of $3,000. Each Fellow also receives compensation of $8,000 per season while performing with the CSO.
"The CSO/CCM Diversity Fellowship provides the opportunity to learn with one of the greatest orchestras in the world, and when I read about the program I knew that I had to apply for my shot at making this dream a reality," incoming Fellow Zabawa-Martinez says. "In my first year as a fellow, I plan to take every opportunity presented to me in Cincinnati, and to learn by watching and listening to the musicians around me. The chance to gain experience with an orchestra like the CSO and to work with musicians from the orchestra and CCM will be a dream come true."
CSO/CCM Diversity Fellows can also participate in additional opportunities, including the chance to perform with the Chautauqua Symphony Orchestra and participate in professional development opportunities with the Chautauqua Institution during its summer season.
Seventeen musicians have graduated from the CSO/CCM Diversity Fellowship to date. The fourth class of Diversity Fellows, which is comprised of Jordan Curry (violin), Magdiell Antequera (violin), Cristian Diaz (viola), Edna Pierce (viola) and Denielle Wilson (cello), recently completed the program at the conclusion of the 2020-21 season. Alumni have gone on to work with orchestras such as the Dallas, National, and Nashville Symphony Orchestras, as well as continuing as freelance artists and educators across the country.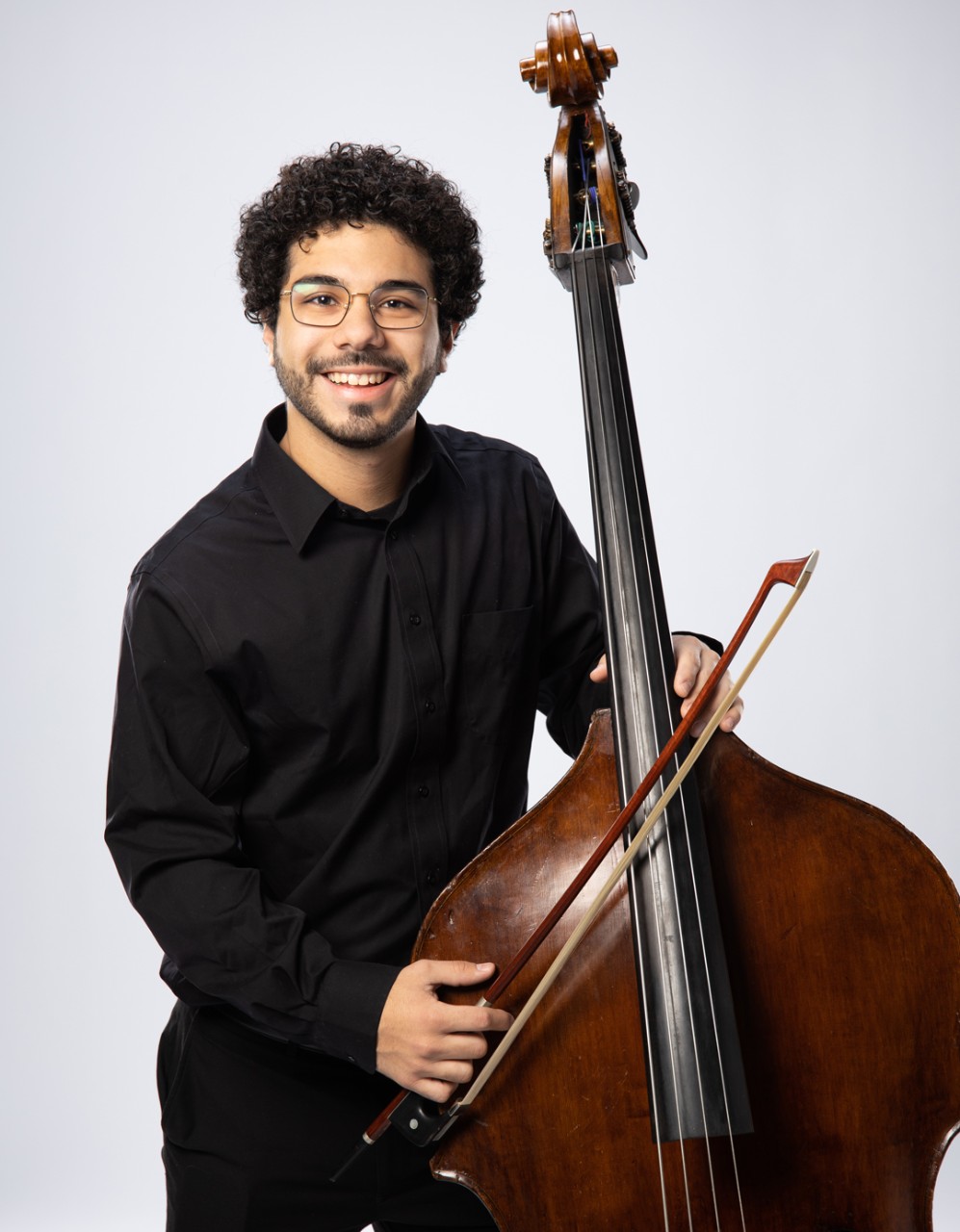 Master of Music (MM), Double Bass
A native of Maracaibo, Venezuela, Luis Arturo Celis Avila was a CSO/CCM Diversity Fellow from 2021-22. In 2022 he won the Cincinnati Symphony Orchestra's section bass position, out of 179 applicants. Previously, Celis obtained a position with the Kentucky Symphony Orchestra, and in 2022 Celis was accepted to Tanglewood, Boston Symphony Orchestra's summer academy for advanced musical study.
He started playing the double bass at age 14. In 2021 he graduated from Berklee College of Music in Boston where he studied with Susan Hagen on a full scholarship. Before that, he studied at the Jose Luis Paz Music Conservatory in his native Maracaibo for 11 years. During his time in Venezuela, Celis profusely enjoyed performing with a variety of youth and professional orchestras like the Maracaibo Symphony Orchestra.
During his time in Boston, Celis was fortunate to be part of one of the most vibrant and active communities in the world. As a former member of the Berklee Global Jazz Institute, he studied with Danilo Perez, Kenny Werner, Victor Wooten and John Patitucci. In 2018 Celis was chosen to perform at a master class for Ron Carter at the college. In addition to these experiences, Celis has also performed with the Plymouth Philharmonic Orchestra, Boston Philharmonic Youth Orchestra (including a tour to Brazil with pianist Anna Fedorova) and the Berklee Contemporary Symphony Orchestra.
Celis has participated in summer festivals such as the Curtis Institute Summerfest where he was able to work with Roberto Diaz, and the Bach Institute in Boston where he worked with John Harbison.
Celis has also performed with multiple Grammy-winning artists such as Jacob Collier, George Massenburg (Studio Recording), Aida Cuevas, Latin Grammy winner Miguel Siso and Tigran Hamasyan. Other highlights include performing for Lenin Moreno, president of Ecuador at Harvard, for Howard Shore as the principal bassist of the Berklee Contemporary Symphony Orchestra at a concert in Boston Symphony Hall and for the Nintendo Switch video game score Dragon Marked for Death composed by Ippo Yamada.
Artist Diploma (AD) student, Viola
Tyler McKisson is a 24-year-old orchestral and freelance violist from Arvada, Colorado who has recently received a Master of Music degree from the University of Colorado – Boulder in viola performance. During his Master's, he studied under Erika Eckert. McKisson received a Bachelor of Music degree in Viola Performance at the University of Northern Colorado where he studied under Christopher Luther and Anne Lanzilotti. McKisson's musical career started at age 10 when he joined his school's string orchestra program. At age 14, he began his studies under his first private instructor, Brian Cook.
McKisson has participated in master classes as part of an ensemble and as a soloist led by artists such as Guillermo Figueroa, Robert deMaine and Matthew Dane. McKisson has been a member of the Cheyenne Symphony Orchestra for four seasons and has been a substitute for other local orchestras including the Boulder Symphony Orchestra and the Greeley Philharmonic Orchestra. McKisson has also been named a substitute for the New World Symphony Orchestra, based in Miami, FL. He is a member of the Dynamix String Quartet which has performed an array of pop songs, classical pieces, and new music. Dynamix has performed two world premieres by local composers Eric Scott Alexander and Conner Lee Shaw. McKisson is also a member of the All Angles Orchestra which was the recipient of the Downbeat Student Music Award for Large Jazz Ensemble in 2018. Additionally, the ensemble recorded their debut album, New Angle, in 2017 through the Outside in Music Record Label.
He has been a national finalist in the MTNA Competition Chamber Division and has received a number of scholarships and grants to aid his undergraduate and graduate studies. McKisson has participated in several summer music programs including; Zodiac Music Academy Festival in Valdeblore, France; Music in the Mountains in Durango, CO; and Rocky Ridge Music Festival in Estes Park, CO. This summer, McKisson will be attending the Aspen Music Festival and School as a fellowship recipient.
Master of Music (MM) student, Cello
Venezuelan cellist Luis Parra, age 24, began his musical journey at age 10, studying with cellist Tibisay Silva at the world-renowned program "El Sistema'' in San Felipe, Venezuela. In 2012, Parra became a student of the Latin American Cello Academy, where he continued his studies with cellists William Molina and Wilfredo Perez and had the opportunity to work with other prominent cellists, including German Marcano and Marek Gajzler.
In 2013, Parra was named Principal Cellist of the Yaracuy Youth Symphony Orchestra and was invited to perform with the professional Caracas Municipal Orchestra and the Teresa Carreño Symphony. Parra made his solo debut with the Yaracuy Youth Symphony Orchestra in 2014, performing the Saint Saens Cello Concerto and his international debut with the Beirut Philharmonic in Ghalboun, Lebanon, where he performed the Elgar Cello Concerto.
As an accomplished chamber musician, Parra has participated in many festivals worldwide, including the Nuevo Mundo Festival and Academy in Aruba, the Yawmiyat Festival in Ghalboun, Lebanon, Center Stage Strings in Ann Arbor, Michigan, and the Amelia Island Festival in Florida.
In 2017, Parra moved to the United States, accepting a full scholarship to study at the Robert McDuffie Center for Strings at Mercer University with cellists Richard Aaron, Julie Albers and Leo Singer. At Mercer, Parra had the opportunity to perform in master classes for great cellists and pedagogues, such as Edward Arron and Clive Greensmith, and performed alongside the Cavani String Quartet. In May of 2021, Parra was awarded the General Excellence in Music Award from the Townsend School of Music at Mercer University and graduated Summa Cum Laude with a Bachelor's Degree in Music Performance. Luis Parra plays on a "Neuner & Hornsteiner" cello, generously loaned by the Carlsen Cello Foundation from Seattle, WA.
Artist Diploma (AD) student, Cello
Samantha Powell recently graduated with a Bachelor's in Cello Performance from the Cleveland Institute of Music. There she studied with the associate principal cellist of the Cleveland Orchestra, Richard Weiss. A 2017 graduate of Centennial High School, she was very involved in her orchestra as principal cellist, as well as her local church, where she has been a frequent featured soloist.
Powell started her music studies with cello at the age of five studying with John Landefeld, Associate Principal Cellist of the Plano Symphony Orchestra. She has won spots in the top All-Region orchestras in five consecutive years and has received All-State solo and orchestral honors. She was also a dedicated member of the Greater Dallas Youth Orchestra where she was featured as a concerto winner of the GDYO Philharmonic and the principal cellist of the top ensemble.
At CIM, she has been a principal cellist of the orchestra, been very active in chamber music being in groups like the Thalia Quartet which was selected for the Advanced String Quartet program, and has participated soloistically in Sonata Seminar where again being featured in concert. She was recently awarded for best Bach in the Cleveland Cello Society Scholarship Competition. Festivals where she has been a participant include The International Lyric Academy, Graz American Institute of Musical Studies in Austria, National Symphony Orchestra Summer Institute and recently received a fellowship with the National Orchestra Institute.
Mwakudua Kuo San "Dua" WaNgure
Artist Diploma (AD) student, Violin
Mwakudua WaNgure grew up in Fort Myers, Florida, where he started violin at the age of four through the Suzuki method. He continued to study violin throughout his childhood and graduated from high school at the Interlochen Arts Academy. WaNgure attended the Oberlin Conservatory where he earned his BM in Violin Performance and studied with David Bowlin. WaNgure went on to earn his MM in violin performance at the University of Michigan where he studied under Aaron Berofsky and Kathryn Votapek.
As a student WaNgure attended festivals such as the National Symphony Orchestra Summer Music Institute and the Detroit Symphony Orchestra Summer Intensive. As a professional WaNgure performed as a member of the various groups in the midwest such as the Lansing Symphony Orchestra, the Jackson Symphony Orchestra and the Baldwin Wallace Bach Festival Orchestra. He also served as a violin instructor at Scarlett Middle School and Mitchell Elementary School in Ann Arbor.
About the Cincinnati Symphony Orchestra
With a rich tradition that dates back more than 125 years, the Cincinnati Symphony Orchestra is considered one of America's finest and most versatile ensembles. Led by Louis Langrée, the Orchestra's distinguished roster of past music directors includes Frank van der Stucken, Leopold Stokowski, Eugene Ysaÿe, Fritz Reiner, Eugene Goossens, Max Rudolf, Thomas Schippers, Michael Gielen, Jesús López Cobos, and Paavo Järvi. Matthias Pintscher is the Orchestra's Creative, and past Creative Directors include Rafael Frühbeck de Burgos, Lang Lanag, Philip Glass, Branford Marsalis and Jennifer Higdon. The Orchestra also performs as the Cincinnati Pops, founded by Erich Kunzel in 1977. John Morris Russell has led the Pops since 2010 and Damon Gupton is Principal Guest Conductor.
Since its beginnings, the CSO been a proponent of the music of its time, performing the American premieres of works by important composers including Claude Debussy, Gustav Mahler, Richard Strauss, Maurice Ravel and Béla Bartók, and commissioning many works that have since become mainstays of the classical repertoire, including two iconic works by Aaron Copland: Fanfare for the Common Man and Lincoln Portrait. The Orchestra continues to commission works, amplifying new voices from a diverse array of backgrounds.
With groundbreaking initiatives including CSO Proof, CSO Look Around, LUMENOCITY and the MusicNOW Festival collaboration, the Orchestra champions innovation. As an ambassador for Cincinnati, the region, and for the U.S., the CSO has toured extensively, most recently to Asia and Europe in 2017. The CSO was the first American orchestra to be featured on a national radio broadcast and continues to reach millions of listeners across the country and around the world through the airwaves, digital streaming and commercial recordings on the CSO's own Fanfare Cincinnati label.
The Orchestra also performs, records and tours as the Cincinnati Pops and elevates Cincinnati's vibrant arts scene by serving as the official orchestra for the Cincinnati May Festival, Cincinnati Opera and Cincinnati Ballet.
Committed to inclusion, community relevance and enhancing and expanding opportunities for the children of Greater Cincinnati, the Orchestra brings music education to and currently serves more than 80,000 individuals annually. The CSO/CCM Diversity Fellowship, in partnership with the University of Cincinnati College-Conservatory of Music, provides Masters degree-level education and professional development opportunities for extraordinary young musicians from historically underrepresented populations in classical music. The CSO is also an incubator for and partner to NIMAN, a consortium of American orchestras, professional musicians and educators devoted to providing significant and ongoing opportunities for young instrumentalists at all stages of their pre-careers.
About the University of Cincinnati College-Conservatory of Music
Declared "one of this country's leading conservatories" by the New York Times, the University of Cincinnati's nationally ranked and internationally renowned College-Conservatory of Music is a preeminent institution for the performing and media arts. The school's educational roots date back to 1867 and a solid, visionary instruction has been at its core since that time.
CCM offers nine degree types (BA, BM, BFA, MA, MM, MFA, AD, DMA, PhD) in nearly 120 possible majors, along with a wide variety of pre-collegiate and post-graduate programs. The synergy created by housing CCM within a comprehensive public university gives the college its unique character and defines its objective: to educate and inspire the whole artist and scholar for positions on the world's stage.

CCM works to bring out the best in its students, faculty and staff by valuing their unique backgrounds, experiences and pespectives. CCM's student population hails from 43 different US states and 32 different countries. The school's roster of eminent faculty members regularly receives distinguished honors for creative and scholarly work, and its alumni have achieved notable success.
CCM is comprised of eight academic units, which span the spectrum of the performing and media arts:
Composition/Musicology/Theory,
Ensembles and Conducting (Choral Studies, Commercial Music Production, Jazz Studies, Orchestral Studies and Wind Studies)
General Studies,
Keyboard Studies (Harpsichord, Organ and Piano),
Media Production,
Music Education,
Performance Studies (Strings, Voice and Woodwinds/Brass/Percussion) and
Theatre Arts, Production and Arts Administration (Acting, Arts Administration, Dance, Musical Theatre, Opera and Theatre Design and Production)
CCM's world-class facilities provide a highly creative and multidisciplinary artistic environment. In 2017, the college completed a $15-million renovation of its major performance spaces, ensuring that CCM's facilities remain state-of-the-art.
CCM is an accredited institution of the National Association of Schools of Dance (NASD), the National Association of Schools of Music (NASM) and the National Association of Schools of Theatre (NAST), as well as a member of the University/ Resident Theatre Association (U/RTA). The University of Cincinnati and all regional campuses are also accredited by the Higher Learning Commission.
Featured image at the top: CSO/CCM Diversity Fellows Maalik Glover, Jordan Curry, and Cristian Diaz performing with the CSO at Music Hall.
2
Co-ops allow UC undergrad to explore passions, career path
March 29, 2023
According to national studies, as many as 75% to 85% of undergraduate students will change their major at least once before earning their degree. One in ten undergraduate students will change their major more than once throughout their college career. With over 40 majors to choose from in the University of Cincinnati's College of Arts and Sciences, declaring a major can be a comprehensive process. Fourth year undergraduate student Maggie Sweeney found her perfect fit in the International Affairs program. "I used my resources at UC and looked into a couple different majors," said Sweeney. "International affairs stuck out to me because it is an interdisciplinary major and all my interests in history, language, and social justice were encompassed into one major as a whole." 
Debug
Query for this