WLWT: UC returns to campus
School spirit, in-person engagement and friendly faces greet new UC students during orientation
Jaiden Link hasn't quite gotten the hang of "Down the Drive," but she's trying.
The spirited school inspired cheer was just one of several traditions, facts and tidbits the 18-year-old from Columbus, Ohio, learned about the University of Cincinnati during her orientation session.
She made the trip to the Queen City to do an in-person half-day session at UC's uptown campus this week. She wants to someday be a child psychologist and has found herself quickly becoming a Bearcat. Link is one of 6,000 incoming students at UC and most are deciding to opt for a face-to-face orientation, though a virtual online introduction is also offered to new students. The activities have been covered by local media with segments on WLWT-TV, WXIX-Fox 19 and WCPO-TV.
"I chose UC because of the atmosphere," says Link. "I could see myself here."
Link is opting for UC over her hometown's Ohio State University or going out of state to North Carolina Agricultural and Technical State University, a historically Black institution in Greensboro, North Carolina. Both were options for Link, a graduate of Bishop Hartley HIgh School in Columbus, Ohio.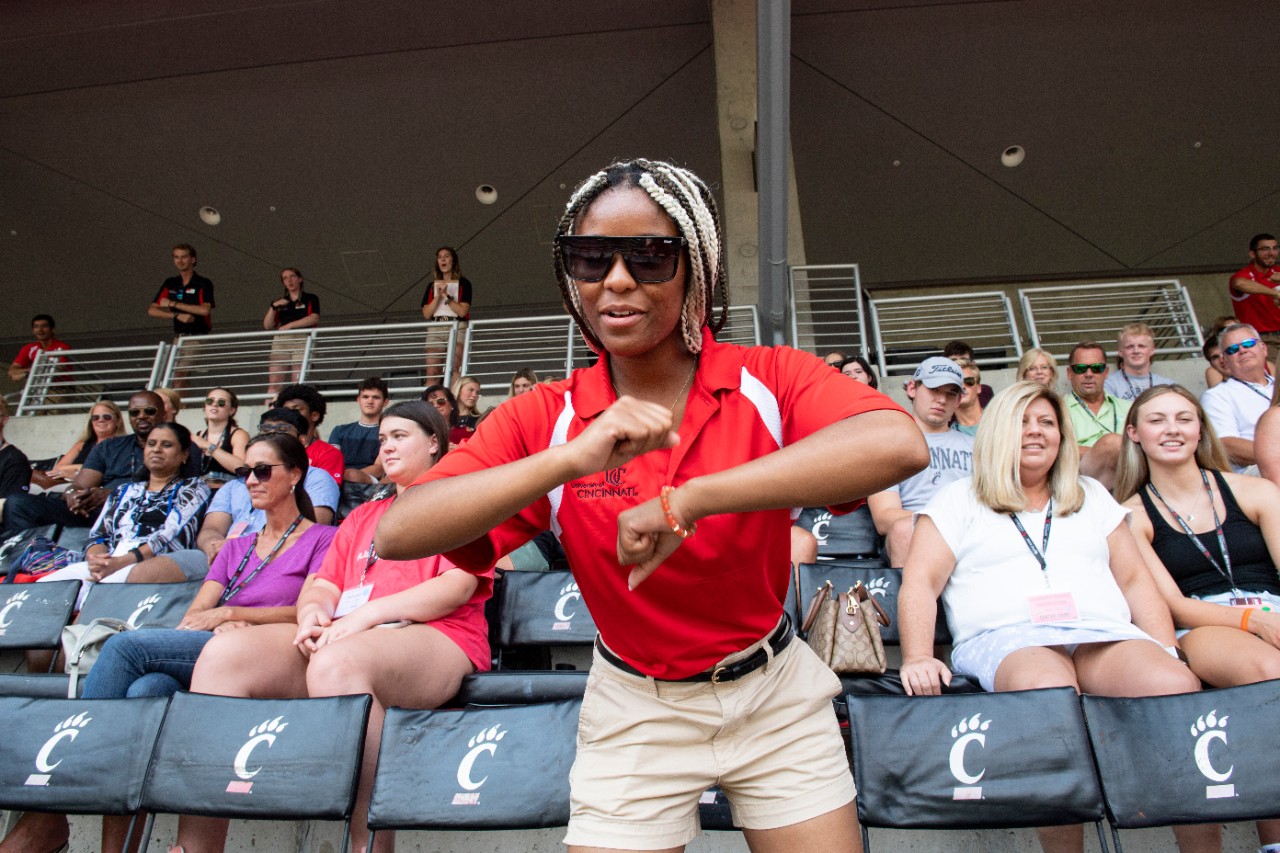 "Everyone is incredibly welcoming at UC," says Link. "The orientation leaders were friendly and kind. I've had personal conversations and engagement with people. It's great to have that experience."
Virtual orientation session began May 18 while in-person orientation started July 12 and will continue the week before the first day of classes on Aug. 23. Students and parents begin their in-person orientation session at Nippert Stadium, the third oldest among NCAA FBS schools.
"This is their chance to see themselves on campus," says Kasey Drennen, director of new student orientation at UC. "It makes it feel more real to them. Many have not interacted with others because of the COVID pandemic. They can now talk to other college students."
UC does offer guidance to parents and students attending orientation about COVID-19. 
Students and parents are directed to visit the updated and safety expectations page on the UC website to stay current with COVID-19 guidance, Drennen says. New students along with visitors are asked to either get the COVID-19 check app on their smartphones and complete it or fill out a questionnaire at check stations before entering UC facilities. Temperature checks are also available at those sites.
New student Broderick Mayes says it is UC's Lindner College of Business that convinced him he wanted to be a Bearcat. It was more attractive to him than other schools he considered such as Indiana University and the University of Kentucky.
"I really liked the hand-on-experience in class and learning at the business school," says Mayes. "I looked into co-ops and internships. I want to be able to apply what I learn in classes. Co-ops are a big deal at UC, so it was a big draw."
Mayes says classes in the business college allow freshmen to explore their options before deciding on a path.
"I was really excited to come to campus," says Mayes. "I got to see buildings I never saw before. After the tour, I like the campus even more. It was great to walk around and imagine myself going to and from classes. Getting to see my dormitory building was really cool."
Impact Lives Here
The University of Cincinnati is leading public urban universities into a new era of innovation and impact. Our faculty, staff and students are saving lives, changing outcomes and bending the future in our city's direction. Next Lives Here.

Stay up on all UC's COVID-19 stories, or take a UC virtual visit and begin picturing yourself at an institution that inspires incredible stories.