Dustin Calhoun, M.D., chairs UC COVID Response Team
Dr. Calhoun brings region-wide reputation and experience related to COVID-19 response
When the Greater Cincinnati region needed a highly trained and experienced medical practitioner and logistician to respond to COVID-19 needs related to clinical care and the preparations related to vaccine distribution, testing processes and strike-team models, the College of Medicine's Dustin Calhoun, M.D., FAEMS, Associate Professor of Emergency Medicine, was tapped.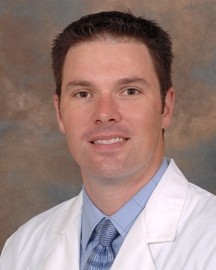 Already in position as the medical director for a number fire, law enforcement and emergency medical service agencies in the region (the largest of which is the Cincinnati Fire Department); as well as medical director for Emergency Management for UC Health, Dr. Calhoun has helped lead and has taught in many settings related to emergency management and has been sought nationally for his expertise. 
Contributing to and coordinating with The Health Collaborative related to COVID-19 — including the development of the Duke Convention Center alternate care site, he is also an active clinical provider, treating patients in the emergency department and other settings.
In 2018, Dr. Calhoun was designated a Health Care Hero award by the Cincinnati Business Courier for his role in improving health care in the region thank to his medical expertise, innovative approaches, management skills, entrepreneurial initiatives, community outreach and patient care. 
More information on Dr. Calhoun's certifications, education and peer-reviewed research is posted via UC Research Directory or the UC College of Medicine profile page. 
Bachelor's Degree: University of Georgia 2003 (Interdisciplinary Environmental Sciences and Political Science)
Medical Degree: Medical College of Georgia 2008
Residency: Carolinas Medical Center 2011 (Emergency Medicine)
Fellowship: University of Cincinnati 2012 (Emergency Medical Services)

American Board of Emergency Medicine: Emergency Medicine 
American Board of Emergency Medicine: EMS Medicine 

Grant: #Health Collab. "COVID-19 Testing and Data Collect." (US Dept. Treasury)
Investigators: Calhoun, Dustin; Faryar, Kiran; Freiermuth, Caroline; Lyons, Michael; Punches, Brittany; Ryan, Richard 07-01-2020 -12-30-2020 Department of Treasury
Early Intervention Program: COVID-19 Testing, Reporting, and Surveillance 
Role: Collaborator $7,611,499.00 Awarded 
Level: Federal

Peer reviewed publications
McVaney KE, Pepe PE. Maloney LM, Bronsky ES, Crowe RP, Augustine JJ, Asaeda GH, Eckstein M, Mattu A, Fumagalli R, Aufderheide TP, Osterholm MT, writing group on behalf of the Metropolitan EMS Medical Directors Global Alliance (including Calhoun D). The relationship of large city out-of-hospital cardiac arrests and the prevalence of COVID-19.  EClinicalMed (Lancet Open Access publication) April 7, 2021; 34: e100815   https://doi.org/10.1016/j.eclinm.2021.100815
Winterbauer E, Levy P, Calhoun D, Elwell T, Fishbein E, Donohue S, Little J. Qualitative   review of promising practices for testing vulnerable populations at off-site COVID-19 testing centers. Healthcare. 9 Jan 2021. https://doi.org/10.1016/j.hjdsi.2021.100519
Calhoun, Dustin J; Trimarco, Thomas W; Meek, Robbie J; Locasto, Donald A (2011). Distinguishing diabetes: differentiate between type 1 & type 2 DM. JEMS : A journal of emergency medical services,  36 (11) , 32-4, 36, 38 passim.

2
Cincinnati.com: COVID on the rise: Cincinnati doctors weigh in...
October 3, 2023
As cooler fall weather rolls into the Cincinnati region, COVID-19 cases are on the rise and we can expect to see the seasonal impact of the cold and flu season. The Enquirer interviewed Jennifer Forrester, MD, of the Division of Infectious Diseases at the UC College of Medicine, about wearing masks and getting the latest vaccines.
Debug
Query for this