LISTEN: CCM Wind Symphony releases 'Grand Pianola Music' recording
Featuring works by George Gershwin & John Adams, the recording is available for streaming online
The UC College-Conservatory of Music (CCM) Wind Symphony released a new recording, "Grand Pianola Music" on Aug. 20 through Klavier Records. Featuring works by George Gershwin and John Adams, the recording showcases faculty artist Michael Chertock, student artist Giuliano Graniti and alumni artist Fabio Menchetti (DMA Piano, '19).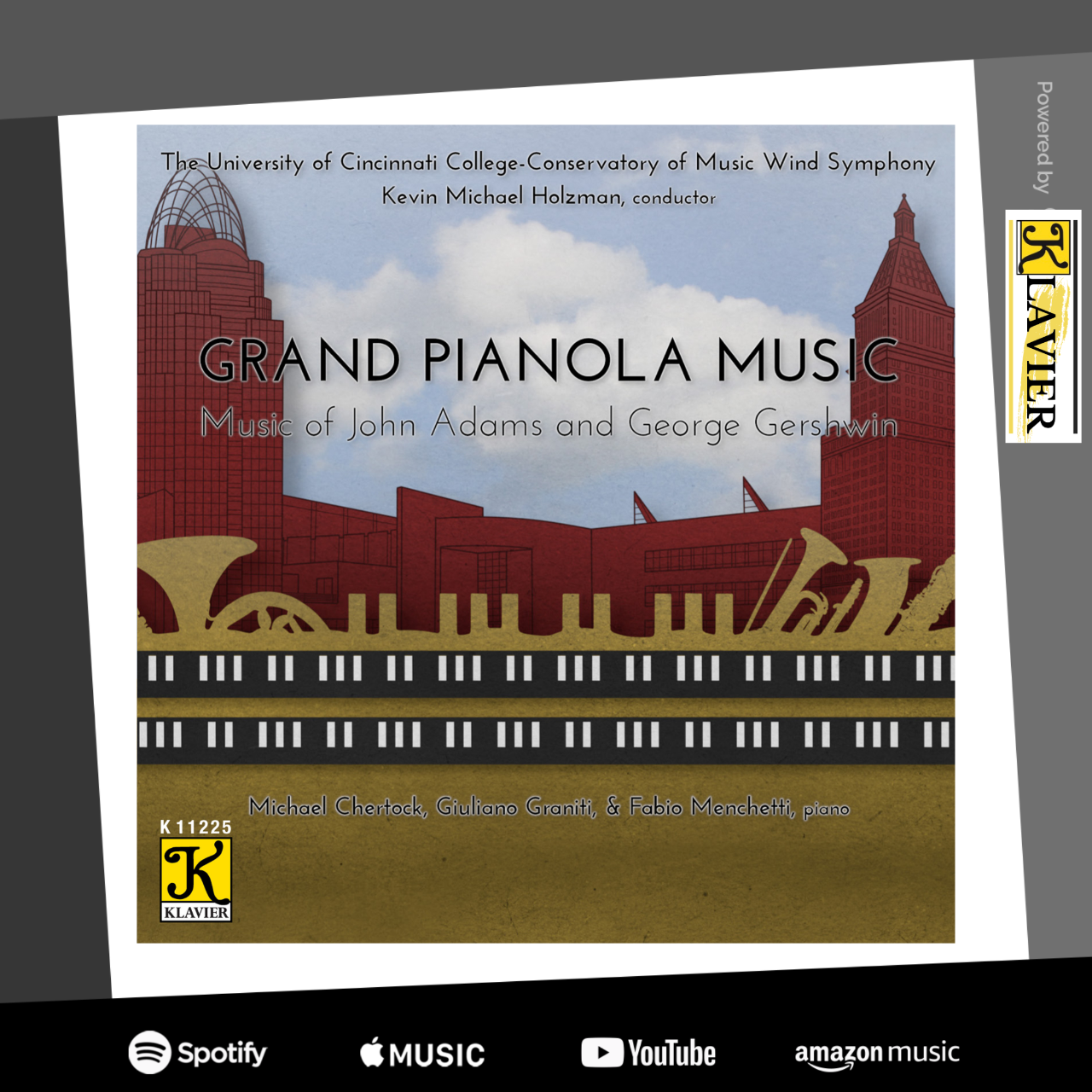 Conducted by CCM Director of Wind Studies and Division Head of Ensembles and Conducting, Kevin Michael Holzman, the CCM Wind Symphony performs Adams' Grand Pianola Music and Gershwin's Rhapsody in Blue and Piano Concerto in F Major. 
Planning for the recording started in 2018, when Holzman performed Rhapsody in Blue with the CCM Wind Ensemble and CCM Piano Department Chair and Cincinnati Symphony Orchestra pianist Michael Chertock. The pianist mentioned how he has performed the work hundreds of times, but never recorded it.
"I instantly knew we would base our album around that work," Holzman says. "The challenge then was … if Rhapsody in Blue is the central (and most popular) work, what other pieces would go well with it? I decided to do an All-American, all-piano album for a sense of cohesiveness and to showcase both our fantastic winds and pianists at CCM."
The performance was recorded over the course of three days in CCM's Corbett Auditorium in October 2019. Assistant Professor and Assistant Director of Wind Studies Thomas Gamboa was the recording producer and Joel Crawford was the recording engineer.
"For most of our students, this was their first experience recording for an album, which is different from anything else we do," Gamboa says. "The pressures of recording are immense, and what really stood out to me was how quickly the students adapted to the process, and the high level of focus and professionalism they brought to every moment."
Gamboa worked with a team of conducting graduate assistants to help provide immediate feedback to the ensemble in the recording process. After the recording process was done they combed through over 180 different takes of the works to find the best ones to include in the final product.
While listening, I hope that listeners are able to experience the joy that each soloist and the ensemble brought to each of these works. The entire album is full of life and excitement, and I hope that is palpable to the listeners.
Kevin Michael Holzman
CCM welcomes audiences back to our events
"Grand Pianola Music" Details
GERSHWIN: Piano Concerto in F Major, (trans. Stephen Bulla)

Featuring faculty artist Michael Chertock, piano

GERSHWIN: Rhapsody in Blue, (trans. Hunsberger) 

Featuring faculty artist Michael Chertock, piano

ADAMS: Grand Pianola Music, 

Featuring alumni artist Fabio Menchetti (DMA Piano, '19), piano
Featuring student artist Giuliano Graniti, piano
Kevin Michael Holzman, conductor
Donghyo Kim
Yuan Liu
Isaiah Postenrieder
Chaouye Zhang
Chandler Dorjahn
Meagan Flynn
Gabe Lane
Isaac Miller
Robert Bloomquist
Hannah Byrne
Andrew Compton
Pat Fansler
Emory Freeman
Rachael Hendricks
Sanchuan Li
Maria Seffrin
Leila Sereki
Jason Wilcox
Adelaide Young
Andi Bragiel
Melinda Hunt
Matt Abbott
Rico Allen
Alex Belkin
Chiane Boom
Peter Koury
Jonathon Nickell
Kash Sewell
Alex Dick
Hyunsu Jeoung
Tony Padilla
Lotti Ropert
Klayton Schaefer
Jacob Speakman
Jacob Haymans
Ben Hunter
Julia Kim
Sean McKay
Alex Strawn
Anastasi Fafalios
Brett Galey
Nick Gilmore
Zongxi Li
Bryan Patterson
Evan Sacks-Wilner
Evan Glover
Declan Hayden
Rob Howe
Kyle Lamb
Patrick O'Rourke
Ryan Thomas