UC Answers: What resources are available for parents and families of UC students?
Director of Parent & Family Programs shares ways to get involved and support your student
When a student becomes a Bearcat, so does their family. UC Parent & Family Programs and its director Whitney White offer a wealth of resources to help families support their students.
"As a family member, we want you to know that UC is your home away from home as well," says White. "You are a valued and important part of this process. Your student wants your support, and the university is excited to partner with you in your student's success. We know when they hit a snag or they're not quite sure where to go, they're going to reach out to you first and we want you to know how to help them."

What resources are available for parents and families of UC students?
UC Parent & Family Programs is your one stop at UC for everything that families need to support their students and successfully navigate the university experience. We provide information about student services, resources and campus engagement opportunities.

Our team is here to support you in becoming a knowledgeable partner and champion for your student.
We encourage you to stay informed. UC Parent & Family Programs offers several online resources to help you learn more about UC and stay updated on the latest news and information about our campus.
How can I help my student prepare for success this year?
Review Family Guides together. Talk to your student about the situations they may encounter in college and share your expectations about their behavior. The Family Guides will help you initiate these important conversations prior to your student's arrival at UC and on an ongoing basis. 
​​Encourage them to get vaccinated and voluntarily submit their vaccine documentation. UC's physician-led COVID Response Team advocates for vaccination as a safe and a significant contributor to the safety of our community. The university strongly recommends COVID-19 vaccination but will not mandate COVID-19 vaccination for students, faculty or staff for the coming academic year. In so doing, the university is in compliance with state law, which determines many of the protocols and practices governing public universities.
To further encourage vaccination against COVID-19, the university will conduct drawings for weekly awards in varying amounts of $2,500 or $5,000, depending on the week. In all, the university will award nearly $50,000. Students enrolled for fall 2021 who have received their COVID-19 vaccinations and voluntarily report those to the university are eligible to enter and win! See full details.

Check out our family webinar and Coffee Chat series designed to help families stay informed on all things UC.
Send your Bearcat a quick note of encouragement to let them know you're thinking about them throughout the year.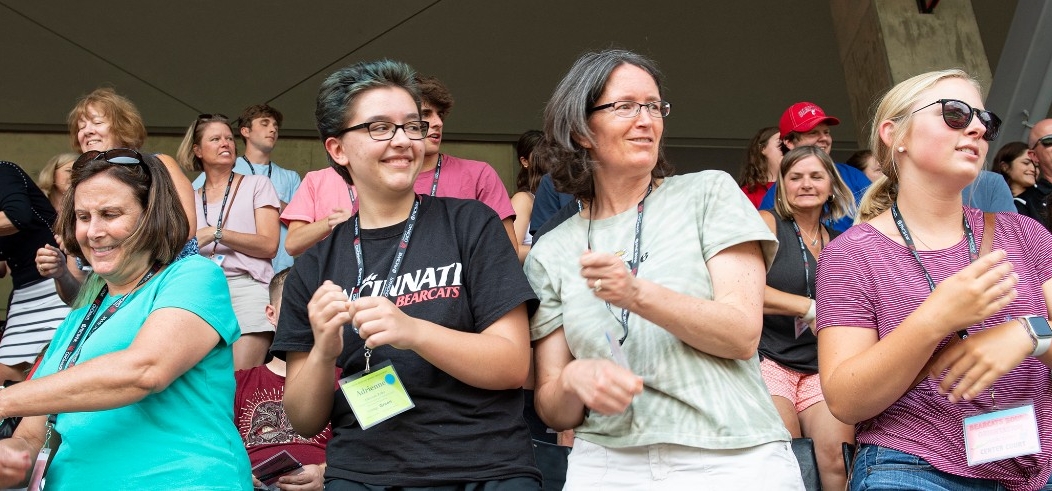 How can I connect with other UC parents and families?
The University of Cincinnati Families Facebook page and UC Family Portal are great resources to meet and chat with other Bearcat families.
From Family Weekend to monthly events held virtually and on campus, Parent & Family Programs offers a variety of organized events designed to help you get to know other Bearcat Families.
What UC events can we experience as a family?
We are excited to offer a combination of virtual and in-person events this year.
Family Weekend Oct. 8-10: Our favorite Bearcat family tradition is back! Catch the football game against Temple University, enjoy local events around Cincinnati and more family fun. Learn more and register online between Aug. 16 and Sept. 10.
Homecoming Nov. 6: The Cincinnati Bearcats take on the University of Tulsa Golden Hurricane in historic Nippert Stadium.
Beyond Homecoming, UC athletics hosts sporting events throughout the year. Find schedules and get tickets at gobearcats.com.
Featured image at top of a family at move-in/Andrew Higley/UC Creative + Brand
More resources for families
Sign up for our Family Portal.
Follow us on Facebook

.

Reach out to us anytime at 513-556-1200 or families@uc.edu. We are here to help!
Check out our resource list

 to learn more about the programs and support services available to help your student succeed at UC.

Sign up for weather and safety alerts

.