Moments that matter: From Decision Day to move-in
Where are they now? Catching up with new UC student Grayson Mentzel
First-year student Grayson Mentzel just moved onto campus, but six months ago, it was the University of Cincinnati that showed up at her door.
Grayson was one of the lucky area high school students to be part of UC's first-ever Decision Day surprise, when a shuttle with UC VIPs and members of the media surprised newly accepted Bearcats at their school or home.
A then-senior at Walnut Hills High School, Grayson was the very first UC applicant to get an official admission letter from UC on Feb. 4, when Vice Provost for Enrollment Management Jack Miner; Marianne Lewis, dean of UC's Carl H. Lindner College of Business; and the Bearcat mascot paid a surprise visit to her family's Cincinnati home.
It's truly a beautiful place.
UC student Grayson Mentzel on UC's campus
The personal touches convinced Grayson to pick UC over the other impressive universities that were recruiting her. Now officially a Bearcat, the marketing major is settling into her home at Morgens Hall and starting her first semester.
"It's truly a beautiful place," she says of UC's campus.

"My dorm is amazing. I'm really excited for the kitchen — I love to cook and bake. I'm also really happy that everyone from the Lindner Honors program is together in the same space."

The Lindner Business Honors community in Morgens Hall is an opportunity for first-year students entering the college's honors programs to acclimate to college life with other like-minded students. Living-learning communities like this allow students to live and learn together in an inclusive environment that promotes collaboration and success. Learn more about UC's communities.

Move-in wasn't Grayson's first experience on campus. After the Decision Day surprise, Lindner Dean Lewis arranged a personal tour of the new College of Business building for her with a current business student. Grayson says it was a valuable opportunity as an incoming first-year student.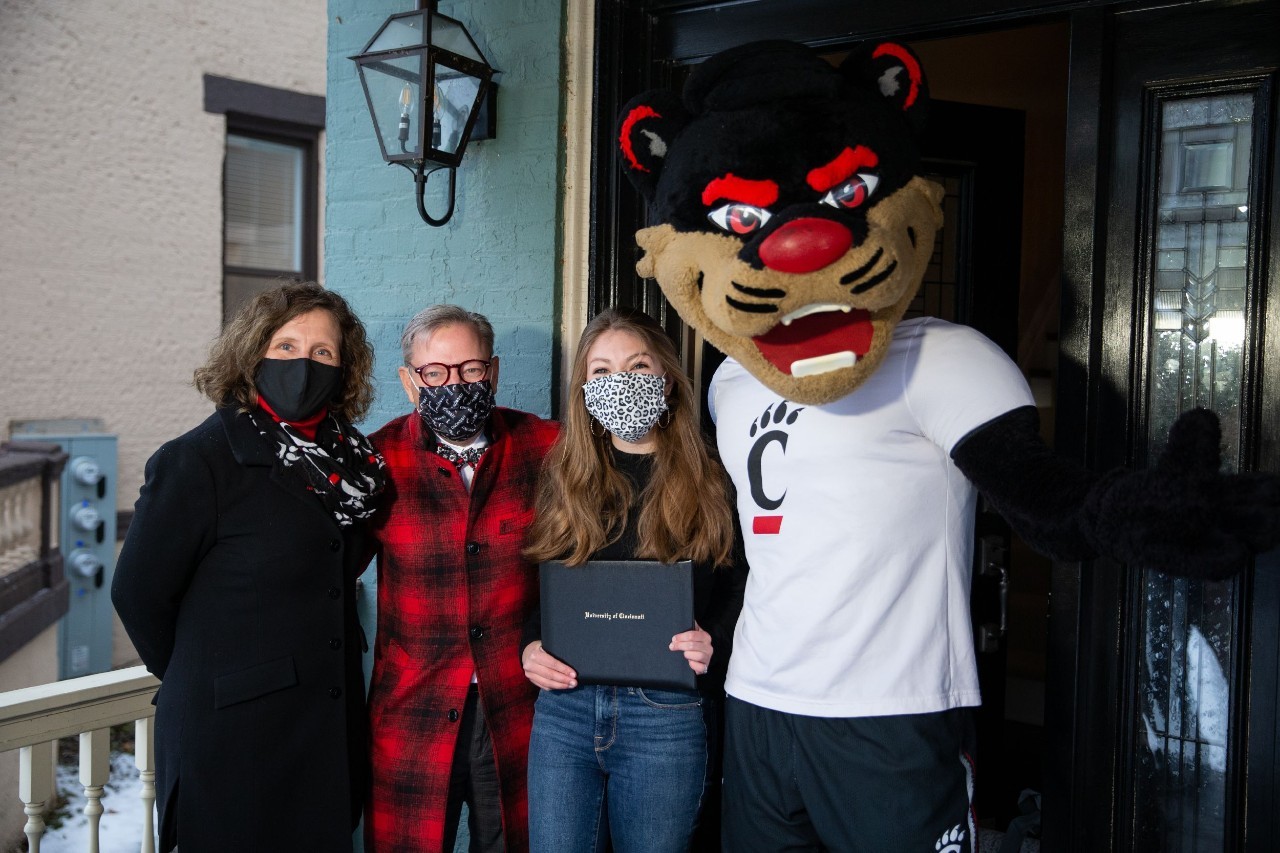 Like many students, Grayson is looking forward to a more traditional college experience this fall with more in-person opportunities.

"I am beyond excited for this semester, especially because as of now I'm very lucky and have all of my classes in person," she says. "I really can't wait to start classes, especially because I have courses that are specific to business. I'm mostly done with my gen ed, so my whole schedule is more business-focused." 
Grayson is one of more than 46,800 students enrolled at the university this fall. As classes began Monday, Aug. 23, UC's Uptown campus was bustling with a record-breaking 40,000-plus students. Read the full Back to School package.
Advice for high school students
For high school students considering UC, Grayson suggests doing research on the program you want to pursue. 
"UC has so many great options and pathways that I found by digging a little deeper than the tour pamphlet."
Featured image at top: On Decision Day 2021, Grayson Mentzel was surprised at her home with admission to UC. Photo/Andrew Highley/UC Creative + Brand
Are you ready to become a Bearcat?