Together again: UC celebrates summer Commencement
UC pays tribute to 2020 graduates with in-person commencement
The University of Cincinnati on Saturday celebrated a belated commencement for 2020 graduates whose in-person celebration was postponed by the COVID-19 pandemic.
Graduates gathered at Fifth Third Arena in their caps and gowns for a chance to be recognized on stage during two ceremonies. UC hosted a virtual commencement last year with pre-recorded speeches, music and poetry readings, but grads said it wasn't quite the same.
"Today makes me feel my time at UC is more complete," College of Arts and Sciences graduate Dillon Salter said.
Salter watched the virtual ceremony from home like other grads.
"I'm more grateful to have my name called on stage here rather than seeing my name scroll like credits in a movie," the Digital Media Collaborative major said. "The pandemic was a bummer."
UC President Neville Pinto on Saturday touted the remarkable achievements of the class of 2020, which included the conferral of 11,264 degrees.
"I say, pandemic, take that!" Pinto said. "Though long overdue, class of 2020, congratulations!"
Miss the ceremony? Watch it here
UC will livestream Friday's 2021 commencement and Saturday's 2020 in-person commencement here.
Saturday's 2020 commencement and Friday's for 2021 summer graduates offered a semblance of normalcy after more than a year of remote learning and social distancing during the COVID-19 pandemic.
Parents, friends and family cheered and took pictures from the stands. Graduates waved and raised their arms in triumph when they were acknowledged on stage.
And while everyone remained in masks, the face coverings could not disguise the giddy optimism among the graduates as they look to the future.
Students such as psychology major Taylor McMurry said commencement was an important milestone to celebrate in person. She wanted to be able to share memories of the experience with her newborn daughter some day, she said.
"It took me six years to graduate while working full time, so today is very special to me," she said.
"After the last year and a half, something as simple as gathering indoors should not be taken for granted," Pinto said in his commencement address. "You have worked incredibly hard to get here. And it shouldn't be lost on any of us that obtaining a college degree in the midst of a worldwide pandemic is nothing short of remarkable."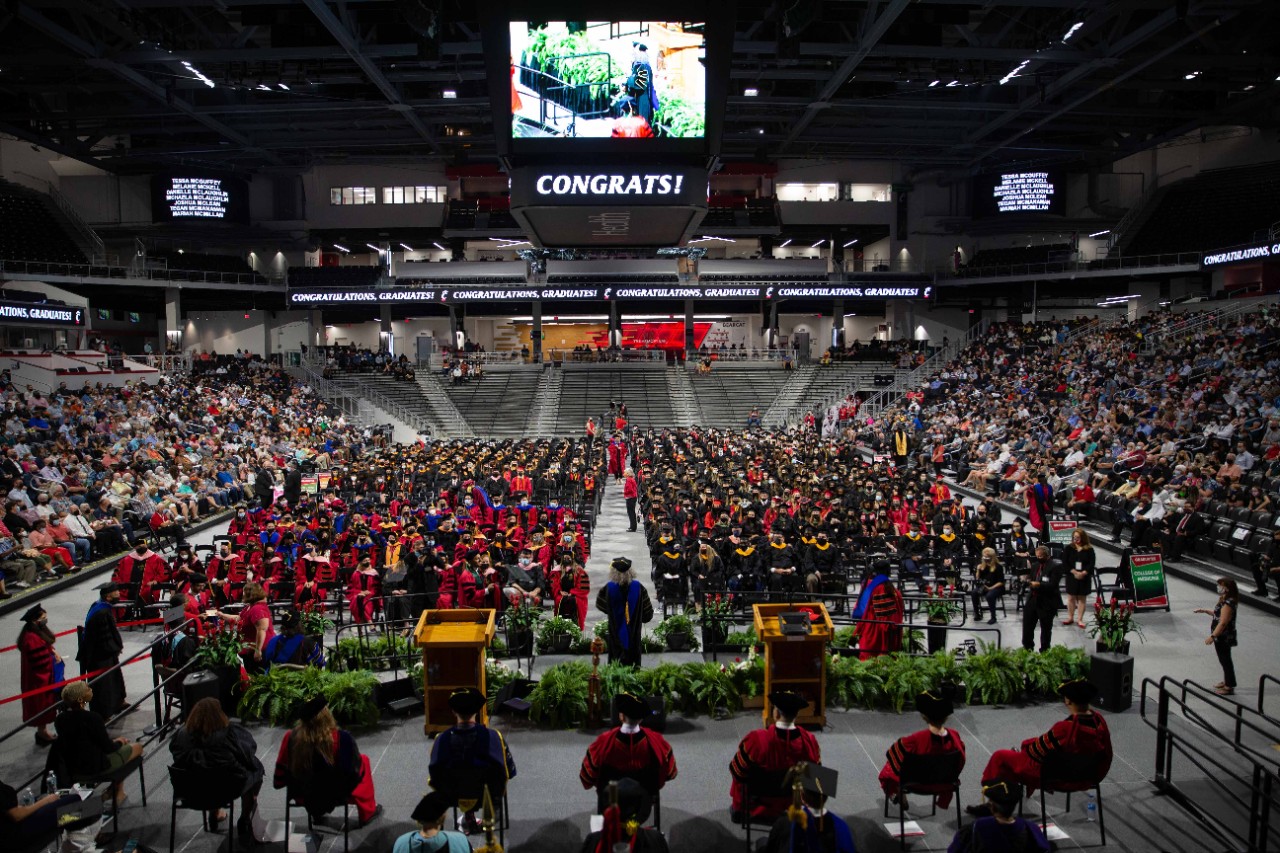 Pinto recognized the 50th anniversary of a federal law commonly called "Title IX" that provides for equal funding in men's and women's intercollegiate sports. This year, three UC Bearcats went to Tokyo to compete in the Olympic Games.

"All are women," Pinto said.

All-American volleyball player Jordan Thompson, Canadian soccer player Vanessa Gilles and Nigerian hammer-thrower and national champion Annette Echikunwoke represented their countries. (Gilles helped Canada secure a gold medal on Friday.)

"I have met many of you over the years — and you are an absolute inspiration to me," Pinto said. "You give me confidence the future is in the hands of a caring, courageous and capable generation."
Board of Trustees Chairman Ronald D. Brown and Secretary Kim Heiman congratulated the classes of 2020 and 2021 and welcomed graduates to the growing family of 327,000 UC Bearcats around the world.
"Our board views commencement as the most important day in the life of the university. It is the day that personifies the mission of this wonderful place," Brown said. 
"We wish you much success and look forward to the ways you will use your UC education and degree to make an impact — an impact in your personal life, in your professional life and in the life of your community," Brown said.
About the Summer Class of 2021
UC conferred degrees to approximately 2,079 graduates, based on preliminary applications. UC presented 159 associate's degrees, 749 bachelor's degrees, 1,026 master's degrees and 159 doctoral degrees. (Some graduates earned multiple degrees.)
UC's summer class includes 299 students who are the first in their family to attend college. UC also honored 67 military veterans or their children and 50 students from Cincinnati Public Schools.
The youngest graduate is 18 while the oldest, earning a bachelor's degree, is 70. The average age of a graduate earning a bachelor's is 27. Women graduates outnumber men, 62% to 38%.
Summer grads hail from 47 states and 52 countries on five continents, but 62% are from Ohio. And in Ohio, they represent 71 of Ohio's 88 counties.
In her commencement speech, UC College of Arts and Sciences graduate Mariam Elgafy spoke of her peers' resilience in the face of societal and personal hardships.
"When I look around me, I see individuals who overcame adversity," she said.
"I see friends who questioned whether they should remain enrolled in their program. I see friends who lost loved ones in a different state or country and were unable to grieve properly. Some of these loved ones began our college journeys with us, including my grandfather. Unfortunately, they're no longer here to see our accomplishments through. But I know we made them proud by our being here today."
She wore a stole of gratitude that she dedicated to her older brother and her parents.

"My parents have been my soundboard, my comfort and my strength," she said. "I am who I am because of my parents, their love, their sacrifice and their continued belief in me."
I say, pandemic, take that!
Neville Pinto, UC President
Elgafy, who earned a master's degree in communication, said she benefited from a strong support network to pursue her academic dreams.
"I want you to take a moment to think of those mentors, friends and family who stood by you and supported you. Those are the real keepers," she said. "Surround yourself with those who see your value and remind you of it. Surround yourself with those who will uplift and celebrate you."

She also singled out one relationship that played a consistent role in her academic life.
"I would like to thank Google for always being there for us day and night. Google never made us feel like a burden," she joked.
And she credited the professors who helped her and her peers cope with the stresses of the pandemic and the national movement for social justice that dominated news for much of the past two years.
"I would like to thank the faculty who did not pursue the business-as-usual mindset when our communities were experiencing hardships," she said. "When students reached out with mental health concerns, these faculty members were empathetic, understanding and compassionate. Much of this time, they might have been dealing with their own personal struggles, but they centered their students and made them a priority."
UC's CCM Commencement Band provided music for the celebration led by Conductor and Music Director Kevin Holzman.
Pinto recognized three graduates who were recipients of the Presidential Medal of Graduate Student Excellence: Adeboye Adejare, Ayad Ali and Sakinah Hofler. On Saturday, Pinto recognized Crystal Whetstone as a 2020 recipient of the Presidential Medal of Graduate Student Excellence.
Jadyn Riggs in UC's College-Conservatory of Music performed the National Anthem and led the graduating class in singing the Alma Mater. On Saturday, CCM grad Victoria Popritkin had the honor.
UC College of Arts and Sciences graduate Azaria Pittman-Carter gave a reading of an original poem she wrote for the occasion.
"We are here today celebrating the very power of the finish — of the finish line," she said. 
"From your first steps on Main Street to your last steps in this arena, you have embodied greatness and magic. Even in rough and tragic times you still pushed," she said.
Featured image at top: A UC graduate celebrates on stage at Fifth Third Arena during UC's summer commencement. Graduates were permitted to remove face coverings while speaking or being recognized on the stage. Photo/Andrew HigleyUC Creative + Brand
Next Lives Here
The University of Cincinnati is leading public urban universities into a new era of innovation and impact. Our faculty, staff and students are saving lives, changing outcomes and bending the future in our city's direction. Next Lives Here.

Stay up to date on all UC's COVID-19 stories, or take a UC virtual visit and begin picturing yourself at an institution that inspires incredible stories.